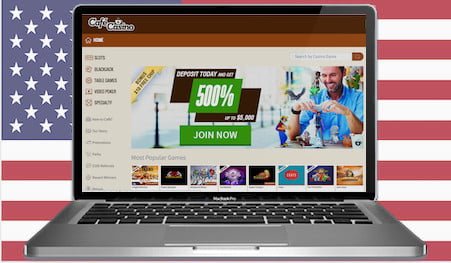 Special Offer:

100% up to $1,000

Your Bonus Code: QOOS

GET BONUS ➜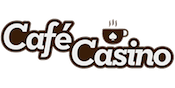 Like a warm cup of java peacefully waking you up in the morning, the Café Casino will stimulate your senses and have your eyes wide awake with excitement. It's time to grab your favorite mug, drink up and get caffeinated.
Tons of Jackpot Slots
Huge Welcome Bonuses
Great Mobile Product
---
---
Review of Café Casino
Welcome to the first USA online casino dedicated to java lovers and those who worship the almighty coffee bean. Some might be confused by the brand of Café Casino, however, it's name is simply an homage to the greatest caffeinated beverage to ever be brewed on this planet…and possibly a thinly-veiled reference to how excited you'll feel when you play their games.
No matter what your hot drink of choice is, you'll want to step inside this particular café because it's one of the only casinos on the internet that is strictly for those living in the United States, as they only accept players from that region. This is a huge plus in their favor since many operators in America take people from all over the world and therefore don't really specialize in any way. This is why this member of the Bodog network has stepped up and launched a website full of great games that will be enjoyed by everyone regardless of whether they go to Dunkin' Donuts or Starbucks: all of you are welcome here.
This expert review of Café Casino details everything you'll want to know about them before signing up for a new account, including how to get the biggest bonuses, the details of their VIP Program, and what you can expect to find in the dusty corners of their storeroom. Will you want to hang out here all day and work on your manuscript or will you be taking that double mocha-choca latte to go? Let's find out…
Screenshots
Hopefully you like to take your coffee brown because that's the main color throughout this entire website. Roasted chocolate accents and swirling coffee beans mixed with casino chips adorn the sides of every page, wetting your appetite to stack up more of each. First you get the coffee, then you get the jackpots.
Brown would probably have been most people's last color choice on which to build a website, but this café pulled it off nicely. Click the images below to stare directly into their filter and inspect the grounds.
Café Casino Slots
Once you've found a seat in this virtual coffeehouse you'll be pleased to see that all of the most popular online slots available to Americans are listed on their menu. Whether it's the classic Dog Pound Dollars Slots or newer titles based on zombies, cheerleaders, or forbidden love, you'll find something to suit every taste imaginable at Café Casino, including decaf. With close to 200 unique titles available there's something tasty on tap no matter what type of mood you're in.
One thing that's a little awkward on their desktop version is that you can't click through the list of featured slot games, and instead have to hover your pointer over the arrows to scroll through the titles. This isn't the greatest user experience since you can't personally control how fast you cycle through: a small complaint perhaps, but an issue that you will surely notice yourself.
There is a very nice search function however, which allows you to immediately find the machine that you're looking for.
Jackpots
Prepare to be over-stimulated with an increased heartbeat because there are a whopping 51 jackpot slot games at the Café Casino, with all of them having vastly different cash amounts on offer. They have tons of smaller prizes available on machines like Big Money Bigfoot, Treasure Island, Mister Money, and Indiana Jane, which usually have a few thousand dollars up for grabs at any given time.
Those looking to win big will also have their hands full with major titles like A Night with Cleo and Money Magic, which can easily have prize pools of $250,000. However, as we all know, it's not good to drink coffee on an empty stomach, so Café Casino also fills up our bellies with Food Fight, which can sometimes have an all-cash jackpot close to $1,000,000. Now that would be a tasty treat.
Café Casino Bonuses
When you order a warm beverage and it comes with an unexpected biscuit on the side of the plate it always makes your day, and here at the Café Casino they serve up two great welcome bonuses for you to nibble on like a Chinese almond cookie.
The first morsel of dough is a huge 500% Welcome Bonus up to $5,000 on your initial cash deposit. It comes with a sickly-sweet 35x rollover but the heartburn really flares up with the maximum cash out being capped at 10 times your deposit amount. This of course ensures that you won't be able to win a life-changing sum of money, so for all of you progressive jackpot players out there, make sure you wait to play those particular machines until you've deposited a second time.
However, if you're feeling lucky right out of the gate you can opt to receive the Café Casino No-Max Welcome Bonus that will give you a 100% match on your first deposit up to $1,000. You can withdraw whatever you win as along as you meet the rollover requirements, which are a much more reasonable 25x for this offer. Remember that different games contribute different amounts to the rollover, with slots wagers being 100%, table games being 20%, video poker 10%, and blackjack, roulette, and baccarat giving you 5%.
The generosity continues with the Café Casino Bitcoin Welcome Bonus which is a massive 600% match on your 1st real money deposit up to $6,000. However, just like their 500% offer there's a 35x rollover before you can withdraw and your winnings are capped at 10x your deposit amount, so some may want to look for something else on the menu.
The better brew to sip on might be their No-Max Bitcoin Welcome Bonus which is a 150% match of your initial deposit amount up to $1,500. In addition to being able to withdraw the full amount of your winnings, you'll only have to wager them 25 times before meeting the play through requirements, so this option should be much more palatable to those who only like to play progressive jackpot machines.
Promotions
Like a bohemian coffee shop in downtown Seattle that has live entertainment on the weekends, Café Casino also serves up some occasional surprises to keep things interesting. A favorite among players is their Weekly Mystery Bonus that is sent out every Thursday and can be cashed in an unlimited amount of times.
Simply log in to your account and you'll have that week's offer sitting there waiting to be gobbled up. Regardless of the actual bonus amount it always comes with a 30x rollover before winnings can be cashed out, with their standard games contribution percentages in full effect.
To be completely honest, their promotions calendar is definitely one of the weaker points at Café Casino because there's never a tremendous amount going on. It's like getting free refills but with watered-down coffee that's barely drinkable. Come on guys, get some pots on the stove and see what percolates.
VIP Program & Comps
What really differentiates U.S. online casinos these days is their VIP Programs and how they treat their loyal players because everyone wants to have their loyalty card punched as often as possible. This is why Café Casino launched their "Perk Points" system that rewards you with points while you play that can be redeemed for cash at any time.
Whenever you want to cash them in simply go to the Perks Portal and exchange as many as you want for bonus money, but just make sure that you don't wait too long because they expire after 12 months of inactivity. All perk cash comes with a 10x rollover before it can be withdrawn so you'll need to be ready to play when you're making the exchange.
You'll also be eligible for better casino rebates on any losses that you incur as you climb up their VIP levels via Tier Points that are automatically earned with the Perk Points as you play. There are eight different tiers in all, with the cashback starting at 10% of loses at Tier 1 and then ballooning up to 18% at Tier 8. All of the rebate money comes with a tiny 1x rollover so the terms are easy to clear. The other benefit of moving up tiers comes with the reduced Redemption Rate of Perks Points, which drops from 2,500 = $1 to 1,000 = $1.
As great as all that is, the best part about the Café Casino VIP Program is that you never lose your status or drop down levels due to inactivity. This might seem like common sense to some, but you only have to read a few of our other online casino reviews to see how many websites out there revoke VIP statuses due to inactivity. This happens at more places than you would think, which is why this website is so valuable for those looking to get all of the facts before jumping in.
Casino Software
Trust is something that can't be bought, borrowed or stolen, so Café Casino alleviates any jitters that you might have with their official certification from iTechLabs, the industry leader in American online gambling software testing. They ensure that their random number generators are indeed random, and that every game pays out what it should.
The trust factor is reinforced even further by the fact that Café Casino has partnered up with three of the biggest USA software companies in the business: Betsoft, Realtime Gaming (RTG), and Rival. These industry-leading heavyweights are the ones who ensure that there are over 200 amazing slot titles and dozens of Las Vegas tables crammed into this crowded café.
Mobile Casino
Those of you who are technologically-inclined might be disappointed to learn that there isn't a Café Casino app that you can download right onto your iPhone or iPad, however, that disappointment will soon be gone once you look at their fully mobile-optimized website. This thing looks fantastic on every device regardless of whether it's an Android or Apple product, with the animations flowing fluidly like a perfectly-percolated dark roast into your Sunday morning mug.
It's amazing that their slots look just as good on a cell phone as they do on an iPad, with zero loss in graphics or experience. You can even make a deposit or request a withdrawal from your smart phone, which was impossible to consider only a few short years ago.
Café Casino Banking Options
Since this java hut is only open to those in the United States you're not going to find the wide selection of banking options that you would at other operations around the world. However, every betting website on the internet should accept plastic and Café Casino is no different, and they will happily take your VISA or MasterCard to make a real money deposit. Remember that your winnings cannot be paid back onto your credit card so even though you used it originally, you'll still have to get paid out by another method.
This brings us to the "sugar cain" of global currencies, Bitcoin, the sweetest banking method ever to be engineered in a lab, (so maybe it's more like the Sweet 'N Low of the currency world?). This cryptocurrency is lightning-fast and very easy to understand, and the sooner you learn how to use it, the better your online gambling experience is going to be. I had my son teach me how to deposit with Bitcoin a few months ago and I haven't looked back since. There are little to no fees associated with it and your payouts never take longer than a few hours to complete.
However, if you're adamant about remaining in the 20th Century your only option to receive a payout will be Check by Mail, which can sometimes take as long as 28 business days to reach you. See – Bitcoin just started to look a whole lot better, didn't it?
Customer Service
One call into the Café's Customer Service Team and you'll know that they have free coffee in their office, presumably with rivers of the dark liquid flowing freely from cubicle to cubicle. I'd say that they probably have a deluxe expresso machine going 24/7 as well based on the speed and intensity at which the Café agents work to resolve any issues or calculate any rollover requirements. They're always on a caffeinated mission to please.
No matter how jittery or paranoid they seem on the phone you have to give them high marks because there aren't too many USA online casinos who still offer phone support to their players. Many players will always appreciate the personal touches and you can get them any time you want by calling 1-888-364-1850 toll free and speaking to one of their high-strung reps. For those who shun personal interaction, you can simply email into their Help Center at [email protected] and wait for a response.
Anyone who wants to be walked through something step by step should initiate a live chat with them by clicking on the dialogue bubble in the top right corner of the screen.
Other Gambling Products
When you step off of the busy streets and into a quiet café you don't want to be annoyed by loud talkers, screaming children, or failed writers banging away on their discounted laptop computers. In this same vein, when you enter a beautiful, brown, coffee-themed casino you don't want to be distracted by too many betting options like horse racing or major sporting events. And you certainly would want nothing to do with aggressive poker tournaments or Live Dealer Casino Tables where interaction with others is a necessity and not an option.
Don't worry – the Café Casino has removed all of these annoyances and left you only with a beautiful array of slots, video poker, and Vegas-style table games in their beautiful parlor adorned with rich mahogany and leather-bound books. If you want to take a break from spinning, simply hop onto the felt and play a few hands of blackjack or try your luck at the virtual roulette wheel.
Every popular game in Vegas is available and there are many variations of each. Just because you're in a café doesn't mean you need to always drink coffee so feel free to mix things up with a Blueberry Tea from time to time. Mmmmm delicious.
Conclusion
Any java lover in the land will tell you that it's hard to properly roast coffee beans and surely launching a player-friendly online casino based on the adult beverage is going to be even more difficult. However, this group of virtual baristas makes it look easy with their huge bonuses, long list of slot games, and amazing customer service.
If you're still on the fence it's time to wake up and smell the coffee: the simple fact that you never lose your VIP status after any amount of inactivity is reason enough to sign up for a new account with them and try out their "bottomless cup" of a rewards program. Numerous operators rob you of your status if you're inactive, sometimes as quickly as after one month, but Café Casino will always have a seat saved for you at the bar.
Some may be disappointed with their lack of promotions but if they're putting all of their efforts into comp programs and big bonuses, this totally makes up for it. Not to mention that their wide selection of progressive jackpot games are the best that you will find in the United States today.
So if you want to sweeten up your leisure time go sign up for an account with Café Casino today and enjoy the aroma of excellence. There aren't any squeaky chairs or sticky tables, just well-brewed online gambling action that's good to the last drop.

Game Selection:

8

Reputation:

7.5

Bonuses:

9

Customer Service:

7

Banking:

6