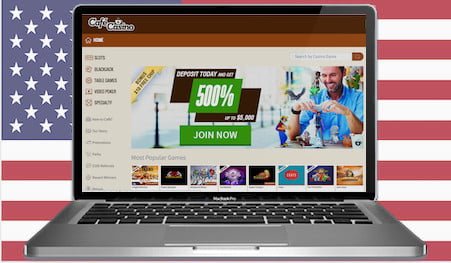 Special Offer:

100% up to $1,000

Your Bonus Code: QOOS

GET BONUS ➜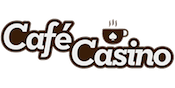 Like a warm cup of java peacefully waking you in the morning, the Café Casino will stimulate your senses and have your eyes wide awake with excitement. It's time to grab your favorite mug, drink up, and get charged up.
Tons of Jackpot Machines
Huge Welcome Bonuses
Great Mobile Product
---
---
Café Casino Review
Welcome to Café, the first USA online casino dedicated to java lovers and those worshiping the almighty coffee bean. The branding could confuse some, however, its name is plainly an homage to the greatest caffeinated beverage ever brewed, and possibly a thinly-veiled reference to the excitement encountered whenever visiting.
Hot drink of choice notwithstanding, most will want to step inside this particular establishment because it only accepts Americans, a true rarity. Peculiar investors decided to launch a website full of terrific Las Vegas attractions enjoyable by everyone, regardless of preferences of Dunkin' Donuts or Starbucks. All are wholeheartedly welcomed.
This expert Café Casino review details everything to know before registering, including how to get the biggest bonuses, VIP Program information, besides what lurks in their storeroom's dusty corners. Will patrons fancy hanging out here all day writing self-indulgent manuscripts, or should double mocha-choca lattes be ordered to go? Let's find out…
Screenshots
Hopefully, readers take their joe brown because that's the main color throughout the site. Roasted chocolate accents and swirling coffee beans mixed with chips adorn every page, wetting appetites to gather more of each.
Brown would probably have been most people's last color choice, yet expert designers pulled it off nicely. Click images below to stare directly into their filter and inspect the grounds.
Café Casino Slots
Once finding a seat in this virtual coffeehouse, customers are consistently pleased to observe piles of popular machines listed on the menu. Whether a classic like Dog Pound Dollars Slots or newer titles celebrating zombies, cheerleaders, or forbidden love, every thirst imaginable is quenched, including decaf. With close to 200 unique pokies, something mouthwatering is on tap no matter the mood.
Albeit, their desktop version is a little awkward since it doesn't permit clicking through featured games, instead visitors must hover pointers over arrows to scroll. This isn't an ideal user experience as cycle speed isn't personally controlled. A small complaint perhaps, but certainly a noticeable issue to many.
Although, an extremely nice search function allows guests to immediately find favored creations, somewhat compensating for the above.
Jackpots
Prepare to be over-stimulated with an increased heartbeat because Café Casino brews up a whopping 51 jackpots, all boasting a wide range of amounts. Tons of smaller prizes materialize on Big Money Bigfoot Slots, Treasure Island Slots, Mister Money Slots, and Indiana Jane Slots, usually dangling a few thousand dollars at any given time.
Those yearning monumental wins are stuffed full amidst major titles such as A Night with Cleo Slots and Money Magic Slots, which can easily boast pools of $250,000. It's obviously not good to drink coffee on an empty stomach, accordingly bellies stay filled by Food Fight Slots, sometimes holding an all-cash jackpot close to $1,000,000. Tasty.
Café Casino Bonuses
When a warm beverage arrives with an unexpected biscuit, it's unfailingly a pleasant surprise. Here, two great welcome offers are presented to nibble on, instead of Chinese almond cookies.
The first morsel of dough is a huge 500% welcome package to $5,000 on initial deposits. A sickly-sweet 35x rollover is affixed, although heartburn explodes with a maximum cashout capped at 10x transaction total. This of course ensures life-changing sums of money can't be won, ergo progressive jackpot chasers should wait until re-upping a second time.
Alternatively, if feeling lucky right out of the gate, snag the Café Casino No-Max Welcome Bonus extending 100% matches to $1,000. Any remittance desired may be withdrawn, provided play through obligations are met, a much more reasonable sum of 25x. Remember that different diversions contribute mismatched quantities to rollover, with slots yielding 100%, tables 20%, video poker 10%, and blackjack, roulette, and baccarat granting 5%.
Generosity continues via a Café Casino Bitcoin Welcome Bonus, a massive 600% match on initial transfers to $6,000. However, identical to the 500% inducement, a 35x burden is tethered plus gains are capped at 10x, hence some may opt for another menu item.
A better brew to sip on may be their No-Max Bitcoin Welcome Bonus, a 150% match to $1,500. In addition to being able to withdraw entire winnings, a modest 25x requirement is attached, making this option more palatable progressive players.
Promotions
Identical to a bohemian bakery in downtown Seattle presenting atrocious acoustic live entertainment on weekends, Café Casino also supplies occasional surprises to keep patrons interested. A favorite among members is a Weekly Mystery Bonus sent out on Thursdays that's redeemable on an unlimited amount of occasions.
Simply login to observe the already-posted gift waiting to be consumed. Despite actual match percentage, a 30x liability is inevitably mandatory before withdrawal, standard games contribution percentages in full effect.
Honestly, their promotions calendar is definitely a weaker point since there's never a tremendous amount going on. It's like getting free refills but with watered-down sludge that's barely drinkable. Perhaps it's time to get some pots on the stove and see what percolates.
VIP Program & Comps
What really differentiates iGaming destinations is VIP Programs and how devoted customers are treated, considering everyone craves plentifully-punched loyalty cards. This is why Café Casino launched Perk Points issuing credits redeemable for cash whenever coveted.
If seeking a trade, enter the Perks Portal and swap points for gratis moolah, nevertheless, don't wait too long given they expire after 12 months of inactivity. All funds hold a 10x responsibility, so be ready to go when exchanging.
Amazingly, Tier Points generate automatically alongside Perk Points to advance members through loyalty levels, each releasing upgraded rebates. Eight total tiers begin at 10% cashback, then systematically swell each level until ultimately hitting 18% at Tier 8, all refunds possessing a tiny 1x rollover. Another magnificent benefit of ladder climbing is a reduced Redemption Rate of Perks Points, dropping from 2,500 = $1 to 1,000 = $1.
Finally, the best part is seniority is never lost, meaning once a level is achieved, demotion due to idleness is impossible. This might sound like common sense to some, but many destinations actually cancel VIP status if accounts are dormant for certain periods, confirming this perk is perfectly potent.
Software
Trust can't be bought, borrowed or stolen, thus this chocolatey destination alleviates any potential jitters through an official certification from iTechLabs, an industry leader in iGaming software testing. Random number generators are tested to ensure true results and games accurately return stakes.
Trust factor is reinforced further by partnering with three professional firms, Betsoft, Realtime Gaming (RTG), and Rival. These industry-leading heavyweights provide over 200 spectacular titles alongside dozens of Las Vegas tables, cramming everything into a crowded, digital shop.
Mobile Casino
The technologically-inclined might be disappointed to learn Café doesn't extend an iPhone or iPad app, though that sadness will promptly dissipate upon seeing their mobile-optimized website. Diversions look fantastic on devices whether Android or Apple, animations flowing fluidly mirroring a perfectly-percolated dark roast into a Sunday morning mug.
Products appear just as breathtaking on smartphones as laptops, zero quality lost in graphics or experience. Sending funds and requesting withdrawals is also possible in the portable cashier, something impossible to imagine only a few short years ago.
Café Casino Banking Options
Considering this java hut is exclusively open in the United States, a wide selection of banking options isn't found. Nevertheless, correlative to competitors, plastic is accepted, Café Casino sanctioning both VISA and MasterCard to replenish balances. Remember, profits cannot be put back onto credit cards, even if originally used, necessitating payouts come via another method.
Which brings us to "the Sweet 'N Low of global currencies", Bitcoin, the most sugary banking method ever engineered in a lab. Crypto is lightning-fast and effortlessly understood, those adopting it earlier invariably enjoying iGaming experiences more. Negligible fees are incurred and transactions complete in minutes.
Conversely, if adamant about remaining in the 20th Century, the sole option to receive gains is Check by Mail, sometimes taking 28 business days to arrive Consequently, Bitcoin is naturally superior.
Customer Service
One call to Café's Customer Service Team will confirm coffee liberally flows in their office, presumably with rivers of the dark liquid flowing unimpeded between cubicles. A deluxe espresso contraption probably hums 24/7 based on the tempo and intensity at which agents work to resolve issues, clearly on a caffeinated mission to please.
No matter how jittery or paranoid they may seem on the phone, high marks are bestowed since very few places still offer this to clients. Countless individuals appreciate personal touches, so call 1-888-364-1850 toll free to speak to a high-strung rep any hour of the day. Those shunning personal interaction may simply email [email protected] and wait for a response.
Anyone requiring detailed walkthroughs should initiate a live chat by clicking the dialogue bubble in the screen's top right corner. This allows clear directions to be given regardless of the situation encountered.
Other Products
When stepping off busy streets into what should be quiet cafés, annoyances habitually arise such as loud talkers, screaming children, and failed writers banging away on cheap laptops. Similarly, if entering a beautiful, brown, coffee-themed iGaming site, nobody wants aggressive distractions like horse racing or sporting betting. Nor confrontational poker tournaments or live dealer tables, both requiring interactions with strangers.
Thankfully, Café Casino removed these distractions and left an extensive array of one-armed bandits, video poker terminals, and Vegas-style tables presented in luxurious parlors adorned with rich mahogany and leather-bound books. Those craving a break from spinning may comfortably hop onto the felt for a couple of hands of blackjack or rotations of a digital roulette wheel.
Every popular Vegas attraction is logged with multiple variations of each, concordant to brew houses serving blueberry tea. Variety is the spice of life.
Conclusion
Java lovers claim it's hard to properly roast coffee beans, so surely launching a player-friendly iGaming enterprise based on the adult beverage is even more difficult. Nonetheless, this group of virtual baristas makes it look easy by displaying huge bonuses, long games lists, and excellent customer service.
If you're still on the fence, it's time to wake up and smell the coffee. Never losing VIP status after inactivity is reason enough to register and gulp down the "bottomless cup" rewards program. Numerous operators revoke status due to absence, sometimes as quickly as after one month, despite that, Café Casino always has your stool reserved at their bar.
Some may be crestfallen by a lack of promotions, but considering efforts were put into comp programs and benefits, this totally makes up for it. Not to mention, a vast assortment of progressive jackpots impresses among several crowd favorites.
So anyone aiming to sweeten up their leisure activities should visit soon and enjoy the aroma of excellence. No squeaky chairs or sticky tables here, just well-brewed online gambling action that's good to the last drop.

Game Selection:

8

Reputation:

7.5

Bonuses:

9

Customer Service:

7

Banking:

6