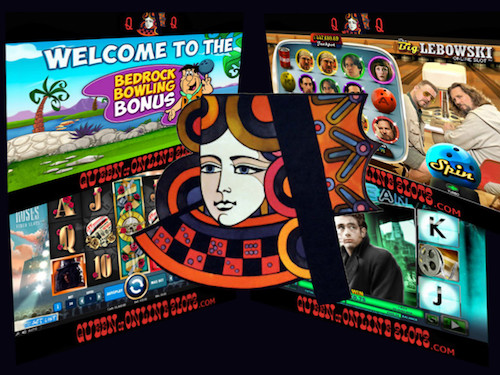 Gamblers who have been on the internet since the beginning know that playing online slots for real money started around the mid 1990s. However, many people still have questions regarding the details of how they work: players ask us if they're safe, if they're legal, and how you play all of the different variations that are out there today. Therefore, we have written this definitive online slots guide covering everything that you will ever need to know about the subject so you can play them with confidence. We dive deeper into specific topics throughout the pages of this website, so go click around if you want to read more about the finer points of internet gambling and become an expert.
Whether you like games based on movies, television, music, comics, celebrities, animals, or anything in between, you'll be able to play it at one of our recommended casinos that are listed on the right of ever page. Most places now have hundreds and hundreds of titles on offer and sometimes it can take a lot of digging to find what you're looking for. This is the original reason why we started The Queen of Online Slots and began to categorize machines by genre, in addition to playing and rating them for you.
We spend our time and money so you don't have to.
Play Online Slots
For some people in the world, where to play online slots is simply a matter of taste and preference but it's certainly not that easy for everyone. For example, those who live in the United Kingdom have literally hundreds of different choices on where to gamble online because it's both completely legal and fully controlled by government agencies. Thorough testing is regularly conducted to ensure that all casinos are fair and random, with the auditing requirements being very strict.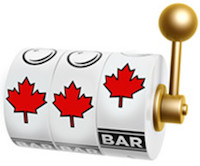 Then you can look at a place like Canada where betting on the internet is 100% legal but there are much fewer restrictions on licensing and there are virtually no government bodies that regularly test software to ensure that it's fair. Sometimes provincial lottery corporations like Lotto Quebec will complain that they're the only entity who are allowed to offer gaming in their province, but you only need to look at the poker rooms in Kahnawake to know that they're just being territorial and trying to push their lacklustre services via a fake monopoly. The simple truth is that all Canadians can place wagers on the internet with impunity because there are no laws or legislation stating otherwise.
Then we have a country like the United States of America where many people think that it's illegal to gamble online but in fact it's exactly the opposite. The only law in the U.S.A. dealing with this industry is in regards to the processing of certain financial transactions, ones that the government have tried to restrict in order to appease lobbyists from Las Vegas and Atlantic City. They complain that virtual operators are taking business away from them and should therefore be deemed "illegal". So it is currently against the law for banks in the U.S. to process transactions to and from online casinos – although if a player wants to process the transaction themselves with Bitcoin or another method, no one can legally stop them.
When politicians try to argue that established casinos are losing business, it doesn't carry much weight because if someone is in Atlanta and wants to play slots, they're not flying to Vegas to do it. Will they open up their computer instead and just play a few games online? Absolutely. This country was founded on freedom, personal liberty, and the pursuit of happiness – and if people find their happiness on the internet that shouldn't be any of the government's business. Period.
However, American players will want to note that some U.S. states have passed specific legislation restricting internet gambling from within its borders so always make sure that you are legally able to play at online casinos before making a deposit. As of now, Nevada, Kentucky, Washington, and New Jersey are the four main states who have gone out of their way to try to control the activity of their citizens.
Real Money Slots
When you're gambling with real money you're obviously going to win real money, and there have been tons of life-changing stories detailing how an online slot game made an instant millionaire out of a normal Joe Blow. The process usually involves hitting a huge jackpot prize or successfully doubling up winnings in "Gamble Mode" numerous times, and then cashing out with a six, seven, or even an eight figure check.
We often receive emails from people asking where they can play real money slots online and which casinos are the most trustworthy, and these questions are not easy to answer because as we outlined above, it all depends on where you live and what type of games you're looking for. The main thing to remember is that on QueenOfOnlineSlots.com we only recommend places who have proven themselves to be 100% honest in their dealings with players and of course, all of them will offer a real money version of their games.
When you're on this website you can rest assured that we only promote operators who are absolutely trustworthy and that we fully investigate everyone before approving them to be listed. Therefore, in the unlikely event that you ever have an issue with any of them you can report it to us and we will be happy to look into it for you. Oh – we also make it very clear which countries they accept players from so you'll never have to worry about going someplace where you're not wanted.
All of the most popular currencies are accepted at online casinos these days, like the United States Dollar, Canadian Dollar, British Pound Sterling and Euro, and many operators are starting to offer cryptocurrencies like Bitcoin as well. This is mostly due to American players wanting to easily move money around without the government trying to block the transactions. Also in recent years, many places have begun to accept deposits in Australian Dollars, Japanese Yen, Chinese Renminbi, and Indian Rupees, because players from these countries are beginning to come online.
Finally, always remember that you need to be careful when you're playing slots for real money because the action is extremely fast and if you hit a losing streak you can blow through your bankroll in no time. If you're used to the pace of the one-armed bandits in Las Vegas you'll definitely find that virtual machines spin at a break-neck speed so you should be conscious of this going in to pace yourself.
Free Online Slots
A lot of players are interested in free online slots and trying out new games without risking their bankroll and we obviously can't blame them for that. There's nothing worse than wasting your money on a machine and then realizing that it's terrible or boring, which is the exact reason why we put so much time and effort into our in-depth slots reviews covering everything you need to know.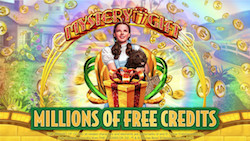 The good news for you is that between our lengthy reviews and our recommended casinos that offer free slots, you should have no problem finding the games that you want to play while still protecting your bankroll. Operators have different rules for accessing their free machines so make sure that you read up and know the requirements beforehand. Most often you will only have to sign up for an account with them and provide a valid email address, which is a small price to pay for unlimited free fun.
We always keep a watchful eye on the welcome packages at casinos because sometimes they'll throw in some free spins for certain games, which is obviously a nice little extra to anyone who signs up for a new account. Usually they won't release them until you make a real money deposit, so technically there's a small "catch" to receive them, but this is totally normal and is pretty much the industry standard.
Best Online Slot Games
If you're looking for the best slot games to play online you'll simply have to bite the bullet and read our ridiculously long reviews because we cover everything that you would ever want to know, and we ensure that we cover every genre imaginable. Or, if you don't want an in-depth breakdown, simply skip to the bottom of the page and read the conclusion that summarizes our findings. For those who don't even want to do that you can just look at our featured lists at the right side of any page, click a title that interests you, and you'll then see its rating and where to play it based on your country of residence. (We do try to make things easy for everyone around here!)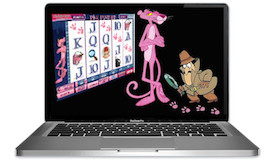 That said, we hate labelling something as the "best" because that word is very subjective so we always frame our statements in a way that makes it easy for you to understand why it is "the best in our opinion". When reviewing something you have to break things down and compartmentalize what's good and bad to try to give an objective opinion, but of course, personal preference will always influence our final thoughts.
Regardless of the genre, we've got you covered with all of the biggest titles that are released every month and our reviews are never tainted by biases or pre-existing stereotypes. (Except for our love of 1970s television shows, of course!) We are quite vocal that our preference is for releases that are based on movies or television shows, or celebrate the career of a musician or actor. These days there are simply too titles slots starring Leprechauns, Cleopatra, zombies, and personified food items. It's enough already!
Online Slot Machines
There are tons of differences between online slots and the machines that you will have played on traditional casino floors, with most of the differences obviously being physical. When you play from home you will probably not be sitting next to a loud bachelor party hooting and hollering every time they win even the smallest amount and there won't be anyone chain smoking or singing in the chair next to you either.
However, as much as I love gambling from home, the one main thing that I miss most about the one-armed bandits in brick and mortar casinos is…the arm! There's just something about pulling down that lever, hearing the gears clunk into place, and then watching the reels physically spin in front of your face. This arm is pretty much the only reason that I still go to Vegas from time to time.
Another big difference with online slots is that they are limited by the screen size of the devices that are being used. Anyone who's been to a brick and mortar casino will have seen machines 12 feet high with multiple screens, buttons, lights, bells and whistles that can totally blow you right off of your chair.
I saw a Star Wars game at the Winn a few years ago that was absolutely ridiculous in both size, shape, and level of volume – I spent $100 on it and I'm still not exactly sure what the heck happened. Another time I checked out a massive Wheel of Fortune one and I swear that that machine was bigger than my first apartment – the wheel itself was the size of most living rooms. Moving on…
Since companies that specialize in virtual software know that they can't replicate the in-person experience of gambling on a massive machine with tons of lights and booming sound systems, they work with what they have to ensure that the free spins modes are fun and that the bonus rounds are engaging and entertaining. Of course, many titles miss the mark and turn out to be a waste of time, so we'll always warn you if we think you'll be bored after five minutes of playing.
Another way software companies differentiate their releases is by having unique features, and over the past few years players have started to figure out which types of games are their favorites. For example, some have 20 paylines while others have a whopping 243 paylines, and you can even find ones with an insane 1,024 ways to win. Personally, I usually don't like games that have more than around 40 lines because it gets too hard to keep track of all the winning combinations and I never know what's going on. (Although, there are always exceptions to the rule based on the quality of the game.)
Some titles even go so far as to have "levelling up" capabilities where you unlock more features the longer you play, and the more winning combinations you hit. Good examples of this would be Playboy Slots or Aliens Slots, and Star Trek: Red Alert Slots even allows you to level up to an entirely new game. Beam me up!
Mobile Slots
As countries around the world make the transition from desktops to handheld devices, technology has rushed to keep up with that migration and the online gambling industry is leading the way. Companies realized years ago that the future was going to be mobile and began to design software that would function well on both traditional and portable computers. As a result, pretty much every new slot game that's released today can be played anywhere in the world, and on most mobile devices.
However, you still should be very careful when choosing a place to play because some operators are more "mobile friendly" than others. In our reviews we note which casinos are best for iPads, iPhones, and Android, and we can even remember playing on Blackberrys …back when they were actually a thing, of course. There are numerous other factors to consider like cell reception and Wifi connection, whether or not there is a mobile cashier that allows you to make deposits, and if the screen of your device is actually big enough to enjoy the whole experience.
Online Slots Bonuses
Everyone enjoys some free money now and again and slots players are no different. Many people end up choosing a casino based on their welcome bonus, however, all that glitters is not gold and there are usually many restrictions on how it can be used. For example, there can be a time limit on how long you have before your bonus "expires" after depositing, with the entire amount disappearing if you don't use it in time. Also, they will usually restrict where the bonus money can be used and several casino games will be off limits.
In addition, there's the dreaded "rollover" that leaves many players scratching their heads as they're trying to figure out if they can withdraw their winnings. Rollover is the amount of times that you have to wager the bonus money before you can take it out of the casino and operators are very strict about this particular requirement as it protects them from fraud.
Scary stuff aside, every operator will usually offer a specialized slots bonus to their players after they've made a few deposits to reward them for their loyalty. These will vary in size so the best bonuses will always be mentioned in our news section with weekly recaps to keep you up to date.
Online Slots Software
Contrary to what your parents told you when you were young, it is not the stork that delivers new slots games, but rather software companies who work hard to churn out dozens of titles per year. We've both loved and hated releases from every company out there, so we really have zero bias in regards to who is behind them.
That said, certain companies do seem to be separating themselves from their competition, with NetEnt launching some amazing titles like Guns N' Roses Slots and Jimi Hendrix Slots – musical legends from two different eras and both machines are absolutely fantastic. New releases also have distinct graphical differences these days, with designers trying to out do one another by thinking of the "next big thing" in the gaming world. For example, 3D slots are gaining in popularity and it seems like NetEnt is also leading the way in these occasionally strange creations.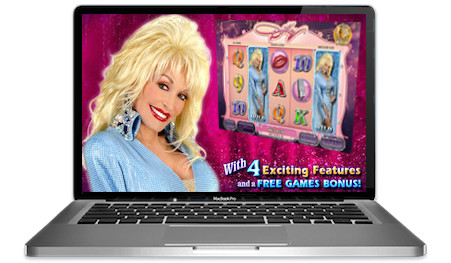 We're also quite fond of some of the smaller companies out there, specifically Leander Games, who were the creators of one of our favorite releases of all time, Dolly Parton Slots , which is always a blast to take a spin on. Another company on the rise is IGT who seem to be releasing more intricate games than their competitors, with their animations and bonus rounds being some of the best we've ever seen. Their machines are really well-designed and include things like characters walking out on to the reels to throw things, unique free spins modes that really get the player excited, and crystal clear graphics throughout the entire experience.
Each software has it's own look and style, especially when it comes to user controls, and you'll start to recognize them as you play more and more games. It's good to have a little familiarity and consistency between the ones that are built by the same company, and all of them seem to be in a fierce competition to design the perfect set of player controls. Sadly, it looks like we're decades away from that happening, though.
Online Slots Tournaments
It's good to see that the internet gambling industry is finally catching up with brick and mortar casinos and starting to offer online slots tournaments that are just as exciting, but much easier to register for and play. Instead of getting in the car and fighting your way through traffic to a smoke-filled casino off the interstate, you can now kick back and enjoy group events from the comfort of your own home.
Although online tournaments are steadily gaining in popularity they're still not being offered everywhere, which is why we make a point to mention in each casino review whether or not they are offered there. If they do have them there will usually be a tournament schedule clearly posted in their lobby.
For the most part, companies are starting to build tournament functionality into a lot of their slots but there's still a long way to go, especially with the branded games. Oh well, I suppose that's something for us to look forward to in the future.
Return to Player
I think that many of you might claim that the "best online slots" are the ones that pay out the most money and I can obviously understand this line of thinking. Therefore, many of you will want to concern yourselves with theoretical Return to Player (RTP), which dictates the odds and how much you can expect to win.
Simply stated, RTP is the percentage of your total wagers that an online slot machine should give you back in winnings on average. Why did I just put the word "average" in bold? Well, because many people don't understand that in order to realize a game's real return you have to play it for very long stretches of time to experience the true average payout. Playing for only an hour isn't going to cut it.
You can always verify a game's RTP by looking at the right side of its review page because we clearly post it in the list of details. However, as we mention throughout our website, we here at The Queen of Online Slots are much more concerned with how enjoyable a game is than with how much it pays out. Playing slots shouldn't feel like a job – it should always be lots of fun!