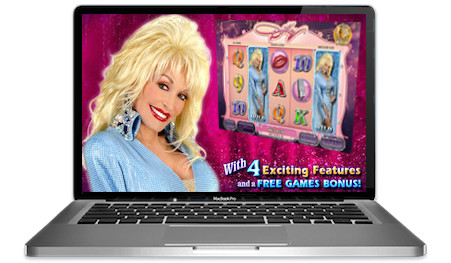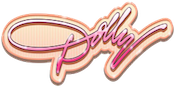 The original 9 to 5 working girl is back in Dolly Parton Slots, a fantastic game that will have you singing along while you spin. You don't have to go to Dollywood to enjoy her beautiful music anymore because it's all right here.
Full Soundtrack
Tons of Different Bonus Rounds
Non-Stop Action
---
---
Review of Dolly Parton Slots
Any woman working in America in the 1980s was influenced by Dolly Parton's anthem, "9 to 5", which was the lead song in the movie of the same name. The lyrics resonated with millions of women (and men) at the time who collectively began to wonder, "Is working 9 to 5 anyway to make a living?"
Fast forward a few decades and not much has changed with the relationships between workers and their bosses, but at least we have a fantastic music-themed slot game to unwind to. This review is being written by someone who has enjoyed Dolly Parton for the last 40 years, but the good news is there's no reason for me exaggerate how great this title is.
This slot stands on its own and the game's crazy bonus features ensure that it would be fantastic no matter who was in the starring role. However the fact that it's the "Backwoods Barbie" pushes it to another level – this is one of the best games ever made.
Screenshots
You will immediately see just how intricate Dolly Parton Slots is when you click on the screenshots below. This game is so detailed, it's shocking. My only criticism would be that they should have included a few classic photos of Dolly from back in the day, but I don't want to be too picky – modern day Dolly is fine by me.
Storyline
Where do we even begin with Dolly Parton's story? Her 25 songs that hit #1 on the Billboard Country Charts? Her 41 Top 10 Country albums? Her 46 Grammy Award nominations? Or maybe her 25 Gold, Platinum, and Multi-Platinum record awards? In short, Dolly Parton is one of the most successful country music recording artists in history, who holds numerous records for both sales and chart positions.
In addition to her amazing performing career, Dolly should also be praised for the number of songs that she has actually written herself. That's how she got her start in Nashville – writing hit songs for other people to sing. Oh – Dolly is also a very good actress and a noted philanthropist; she has donated lots of time and money to charitable endeavors like children's literacy. She's basically the perfect entertainer.
The storyline of this slots game is just "everything Dolly". Whether it's the flock of butterflies that swoop in to deliver Wild symbols, Gold Records, or the large selection of Dolly's greatest hits, this game has a little bit of everything from her long, illustrious career.
Unique Symbols
This game has one of the best symbols that I've ever seen in a slot game – the "Butterfly Super Extra Wild". Butterflies flutter onto the screen to change symbols on reels 4 and 5 into Wilds, which usually results in at least one 5 of a kind payoff. This reel feature occurs randomly without warning.
Also, the Dolly Expanding Wild symbol is as glamorous as it comes, with a full length image of Dolly in a beautiful blue dress. I would have requested some of her album covers as symbols, but I don't want to be greedy.
9
10
J (Jack)
Q (Queen)
K (King)
A (Ace)
Acoustic Guitar
Dolly's Lips
Dolly's Microphone
Dolly's Autograph
Dolly Parton (Wild)
Butterfly (Super Extra Wild)
The Dolly Autograph symbol is of course the highest paying of the game, giving you 500x your wager amount for five of a kind. The next highest paying symbol is Dolly's Microphone, followed by her Guitar and Lips, giving you 400, 300 and 200 coins respectively for five of a kind.
Jackpots
There aren't any Dolly Parton Slots jackpots, but that really doesn't matter to be honest. This game is already too crammed with bonus rounds, free spins, and fantastic Dolly songs to be concerned with a jackpot. Trust me, you won't miss it at all.
Bonus Rounds
Landing three Gold Record Bonus symbols on reels #2, #3, and #4 will trigger "Dolly's Wheel of Wealth" and get the extra features rolling. The amazing thing about this bonus round is that you keep spinning the wheel and receiving different bonuses until you hit the "End Bonus" symbol. This obviously means that you have multiple chances to win free cash within the same bonus.
The wheel will take you into one of the following three bonus rounds:
9 to 5 Free Spins Bonus
Heartbreak Express Bonus
Dolly's Albums Bonus
The "Heartbreak Express Bonus" is where you select suitcases that could give you the huge cash prize of 500x your original bet, and it's basically a Pick Em' style game. You can keep picking suitcases stuffed with cash prizes until you open up the suitcase that has the "Collect" image, which will then return you to the regular game.
The "Dolly's Albums Bonus" offers 20 of Dolly's records and a possible cash prize of 260x your wager. The albums appear at random as you spin Dolly's Wheel of Wealth, with each winning you different amounts of free cash.
Free Spins
The "9 to 5 Free Spins" gives you up to 15 free spins, with Wild symbols that the game claims are "extra sticky". This of course means that the Wild symbols that drop will stay in place on the reels longer to help you win more cash during the following spins.
Once you have used all of your free spins there is a feature that gives you the ability to select one of 5 different clocks, all of which have a different amount of extra free spins behind them. Selecting a clock for more bonus spins when already having enjoyed a lengthy bonus round and numerous free spins is just a great opportunity. Dolly certainly is generous!
Graphics
As touched on already, the graphics in Dolly Parton Slots are sharp, clean, and downright beautiful. For example, the background during the free spins mode looks like an HD cartoon with stars sparkling and dancing around the screen.
The backgrounds and game controls are wonderful proving that the game designers at Leander definitely "poured a cup of ambition" before they started working on this game.
Audio & Soundtrack
This game has one of the best soundtracks of any slot ever released, due to both the artist who's performing, and the fact that you are able to play numerous songs from her catalogue at the push of a button. However this game gets 10/10 for audio because you can play all of her songs in full.
Most slot games with licensed songs only play part of the song due to licensing rights, or the file sizes, or some other stupid reason. This isn't the case with Dolly's playlist – you can listen to every song from beginning to end.
You can totally control the music player like an iPod and display the track list, select individual songs, shuffle the entire playlist, or turn the music off entirely. (I have no idea why anyone would ever want to do that!).
You have tons of her best songs to choose from:
Jolene
Backwoods Barbie
Heartbreak Express
9 to 5
Applejack
Love is like a Butterfly
Coat of Many Colors
In regards to the sound effects in the regular game, the only thing to note is that the fireworks sound for each spin is very fun and light. The sounds are the "popping" and "crackling" that you would associate with fireworks, and they add a little bit of punch to the game.
Conclusion
Believe it or not, this game is actually for everyone. From the most dedicated fans, to someone who's never listened to her music, Dolly Parton Slots has so many free spins, bonus rounds, and fun action, that it will please even the pickiest of players.
This is definitely one of the best slot games to come out in years, and you can go read any of my other reviews to confirm that I don't use the word "best" that often. However, Dolly Parton deserves the title and the crown for now because no music-themed slot game comes close to it.
Bonus Video of Dolly Parton
Youtube took down one of the strangest videos of Dolly Parton on the internet, which was the first episode of her late 1980s television show. It started with her in a bubble bath addressing the viewers before moving on to chat with such guests as Dudley Moore, Hulk Hogan, and Pee Wee Herman.
So now we'll just have to enjoy this 1987 interview with David Letterman on the Late Night Show. Enjoy!