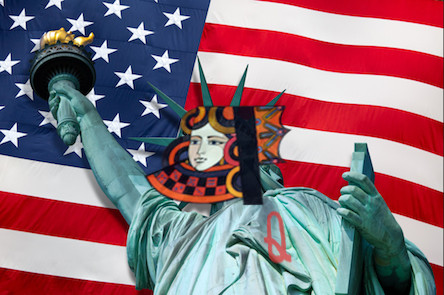 For over two decades Americans have been logging onto their computers to gamble at online casinos and enjoy a few hands of blackjack, some virtual slot machines, or place a couple of bets on their favorite sports teams. Then in 2006 a strange law was passed that caused many of the websites to close their doors and they were never heard from again, taking many players' bank balances with them in the process (more on that below).
Since then it's been a constant battle for those operators who remained in the U.S. market to prove to people that they are in fact trustworthy and won't run off with anyone's money. Well, if you know anything about this great country you know that it can be quite skeptical, so it took a long time to win back their trust…and rightfully so.
These days there are only a few honest USA online casinos to choose from and many others that you shouldn't even think of visiting: this is why it's always important to do research on them before joining. We've gone ahead and done all of the heavy lifting for you so you can simply pick from the best of the best and sign up at any website below with the confidence that you will get paid if you win.
Our rankings change all the time based on who gets new games first, who's offering a bigger welcome bonus, or even who has the better customer service. We also look at such important items as banking methods and who allows you to quickly and cheaply fund your account without hassle. There are numerous other factors too such as security, software, and where in the world they're licensed: in short, there's a tremendous amount of research that goes into each review.
Best USA Online Casinos
It's important to understand right from the very beginning that there are a lot of differences between USA online casinos and each one is going to have its strengths and weaknesses, just like anything else in the world. However, after many years of playing the Americans who write for The Queen of Online Slots have decided on a very small list of operations that are both 100% trustworthy and offer a great experience that people are sure to enjoy.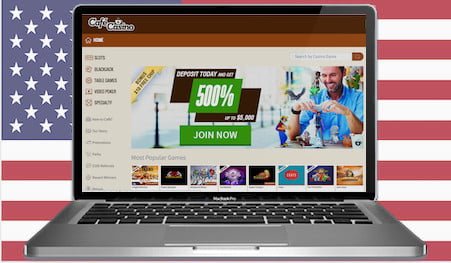 Due to the nature of this website we obviously focus on their slot games but we also report on the other products they have there too like sportsbooks, poker rooms, or racebooks that accept horse track betting. This is because many of our readers like to know if they'll be able to do those types of things if they sign up at a specific place.
All of this to say that when you're making a "Best of List" no two people will agree on the final rankings. That's why we focus on tangible facts that matter to people like banking options, payout speed, game selection, and level of customer service.
History of U.S. Internet Gambling
It's strange that the United States government constantly reminds their citizens of their freedom, but has historically tried to block them from gambling online and exercising their basic rights. Does that sound like something that would happen in "the land of the free"? Well, it actually makes sense that it would occur when you remember the immense amount of pressure from lobbyists that every politician in Washington constantly receives from various industries.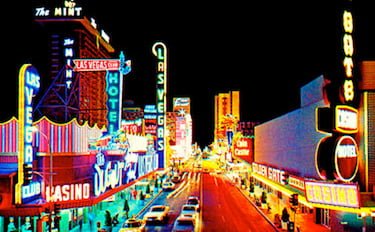 The lobbyists in this case were hired by the owners of brick and mortar establishments in Las Vegas and Atlantic City who wanted to make sure that Americans couldn't bet from the comfort of their own homes and must therefore book a flight, arrange a hotel, and take a few days off from work if they want to play slot machines or make sports wagers. In this day and age that's just absolutely ridiculous and this is nothing more than "protectionism" and companies trying to maintain a monopoly on the industry.
However, sometimes protecting a monopoly isn't the only motive for aggressive lobbying. There are also many religious groups in the U.S. who are on record saying that gambling is evil and that it's the will of the devil. Strangely, these same entities have no problem with raffle fundraisers, bingo for charity, and many other activities that are basically just another form of betting.
A lot of these organizations have representatives who meet with their elected state officials to remind them of how many votes they control through their church followers and what they need to do if they want to receive those votes. Quite often it involves being against any form of "sinful" activity so the puppet politicians usually cave in to their demands and agree to do their bidding.
What is the UIEGA?
The Unlawful Internet Gambling Enforcement Act of 2006 (UIEGA) brought the hammer down on most of the offshore operators who were accepting real money wagers from Americans. However, it wasn't in the way that most people think because betting online in the U.S. wasn't made illegal – the government knew that this could never be enforced and instead the laws were focused on financial institutions such as banks and processors.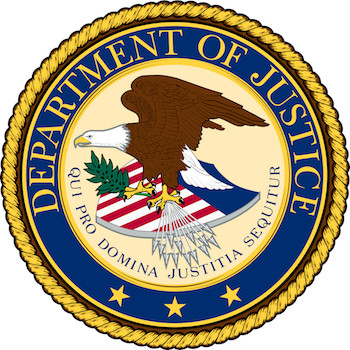 This of course meant that those living in the States could partake in internet gambling whenever they wanted – if they were successful in making the cash deposits that the entire activity depends on. Most of the standard banking methods disappeared overnight like ACH (Automated Clearing House for checks), deposit by virtual check, and funding an account had never been harder.
This opened the door for credit cards like VISA and MasterCard to save the day…unknowingly, of course. They were simply processing transactions for benign things like flower deliveries, bridal accessories, and powerful garden tools – at least, that's what the betting websites were now officially describing their services as. As the credit card companies didn't technically know what it was for, the transaction was actually legal.
So how in the heck did this happen? Well, the UIEGA was snuck into law by being tacked onto an unrelated maritime port security bill and was ultimately pushed through by Bill Frist and Jon Kyl. This didn't come as surprising to anyone observing the situation since these two were primarily known for being disgusting human beings as well as corrupt politicians: Frist has broke numerous campaign finance laws and began his medical career by performing illegal operations on stray cats, while Kyl directed his rage towards humanity by trying to deny medical benefits to 9/11 first responders. Stay classy, Jon.
2018 Supreme Court Ruling on Internet Gambling
The situation remained cloudy until May 14th, 2018 when the United States Supreme Court confirmed that the federal government had no legal right to ban online gambling and that it was truly up to each individual state to decide for themselves. This ultimate and final decision was based on the 10th Amendment of the Constitution which clearly states that federal laws can only cover items that are specifically named in the original document. Since there's obviously nothing in the Constitution about the topic, and certainly nothing about the internet, the decision on whether or not to allow it falls on each individual state.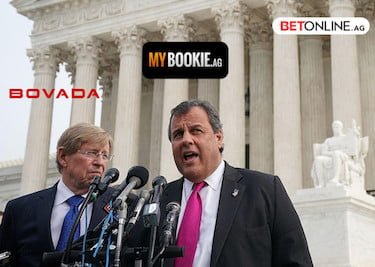 The patriot who made this all happen was Chris Christie as he was driven by the business interests of his home state of New Jersey. Most would agree that it really doesn't matter why he was motivated: it only matters that he won and that Americans are now free to do as they wish.
What makes the United States great is freedom – the freedom to do as you wish, say what you want, and have the unrestricted pursuit of happiness. Even if that happiness arrives in the form of gambling online from the comfort of your own home.
Online Gambling in the United States Today
Americans can rest easy when they sign up with an operator these days due in part to the SCOTUS ruling above and also the 2011 decision from the U.S. Department of Justice Office of Legal Counsel which stated that the UIGEA only applies to sports betting and not online slots or other casino games. Therefore, Americans in all states are free to spin on one-armed bandits until their heart's content…unless they live in one that's trying to inhibit their rights like Louisiana or Kentucky.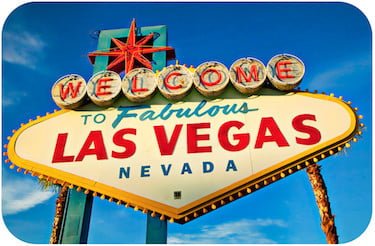 A few progressive states like Nevada and New Jersey have totally legalized the industry for their residents and issued licenses to both traditional brick and mortar operations like Caesars as well as virtual ones like 888 and William Hill. Player reviews have been mixed on these new joint ventures since they've been launched, with many people complaining that the bonuses are terrible and the game selection is weak. This is why the sites that have been catering to Americans for years are much better at what they do (for now).
Things will remain a bit confusing for the foreseeable future since the specific laws differ drastically from state to state. It's not surprising that Nevada and New Jersey are very liberal, but places like Kentucky and Washington have done everything in their power to block their citizens from logging on (although the aforementioned industry veterans will still gladly accept those who live there).
We will of course be keeping an eye on the situation and report any updates as soon they happen.
Are USA Online Casinos Regulated?
There are numerous independent governing bodies who regulate and test the fairness of USA online casinos, with most of them focusing on their software to ensure that the random number generators are truly random and that each game pays out at the odds that are advertised. This is obviously very important to Americans who want to play virtual slots because traditionally it has been very easy to tweak the Return to Player (RTP) and rip players off by giving them a smaller payout percentage.
Now thanks to governing bodies like the Kahnawake Gaming Commission, the Curacao Gaming Control Board, and the government of Antigua and Barbuda, residents of the U.S. can wager with confidence knowing that there is an independent 3rd party who keeps a watch over everything. They will immediately react and close a website down if they're found to be doing anything that they shouldn't be so it's totally safe.
Play Real Money Online Slots in USA
Most players living in the USA have been using VISA to deposit at online casinos since the 1990s, as well as MasterCard and American Express. However, since the UIEGA cracked down on these companies and ACH, transactions became much harder to complete and "failed deposits" became the norm at many websites. This opened the door for the best banking method in the world: cryptocurrency.
Whether you like to use Bitcoin, Bitcoin Cash, Ethereum, Litecoin, DASH, or any of the other major alt coins, you will find a place that will happily accept it, convert it to USD, and then allow you to play real money online slots with the balance and get paid if you win. Yes this means that you have to jump through the extra hoop of opening up a crypto trading account, but the effort to set it up is totally worth it considering you can then freely move money around the internet without Uncle Sam breathing down your neck.
As always, we only recommend operators who are guaranteed to pay you out real cash when you win and the above listings are regularly updated to reflect the current situation of the industry.