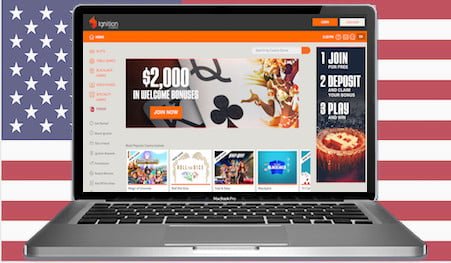 Special Offer:

100% up to $1,000

Your Bonus Code: QOOS

GET BONUS ➜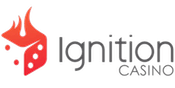 Start your engine and roar off into paradise with Ignition Casino, the only operator that will give you the feeling like you're racing down a gambling highway. The rush and excitement of winning here has never felt so good.
Generous Bonuses
Tons of Poker Tables
USA & Australia Welcome
---
---
Review of Ignition Casino
Now usually I don't do this but uh… I'd like to welcome you all here to this exclusive review of the Ignition Casino that's going to lay out all of their strengths and weaknesses so you know what you're getting with them before joining. This is one of the rare places that accepts players from both the United States and Australia, but no other country. This is clearly the best thing to happen to Aussie / Yank relations since Paul Hogan invaded North America with Crocodile Dundee in 1986. That's not a bonus!
So what will you ultimately find at this operator who likes pleasuring players in both the northern and southern hemispheres? Well, you'll find a full casino complete with hundreds of slot games, huge welcome bonuses, and a rocking virtual poker room that hosts thousands of games a day.
For those of you not familiar with the R. Kelly song "Ignition", you should probably go listen to it now so you can understand the ridiculous lyrics and format of this review. We like to have fun around here. Actually, maybe it's funnier if you've never heard the song: let's get started.
"Go head' on and break 'em off wit a lil' preview of the remix…"
Screenshots
If you asked around, not many would say that orange is their favorite color but I think we can agree that the design team over at Ignition did a very nice job of making their website look unique. So no, orange and grey wouldn't have been a lot of people's first choice but there are much uglier designs out there and it actually turned out to be kind of beautiful, in a weird sort of way.
Click the screenshots below to blow them up so you can have a good look.
Ignition Slots
There are more slots at Ignition than there are kangaroos in Australia. Well, not really because they have over 45 million roos down there so this is a bit of an exaggeration. This place does have heaps of slots though, with over 200 unique titles at last count and new releases being steadily added every month.
Instant classics like Food Fight and Dirty Martini stand out from the list, with exciting new releases like Street Ball Star and Fast & Sexy keeping things fresh and fast-paced. In addition to the genres that every player will expect to find there, Ignition also brings you games about mermaids, home repairs, koi fish, and mystical gnomes. If you can think of the topic, you can probably find a machine about it there.
"That's why I'm all up in you grill, tryna get you to a hotel…"
Jackpots
There are a bunch of jackpot slots at Ignition but you'll have to dig around to find them because they're not all listed in one dedicated area, which is the standard pretty much everywhere else. Instead you'll have to find the games with a little orange sticker over the bottom right corner of its screenshot, which will announce what the current prize amount is.
As you scroll you'll find familiar games with progressive jackpots like Ares: The Battle of Troy, Caesar's Empire, and Aztec's Treasure. They're also adding new titles all the time with Big Money Bigfoot and Bulletproof Babes being two of the funnier one's that will make you chuckle while you're taking a shot at a life-changing pay day.
Ignition Casino Bonuses
Both Americans and Australians love huge steaks so I assume that they also both love huge stakes, (sorry about that one). If you're into big bonuses the Ignition Casino has exactly what you need, serving up a $2,000 Welcome Package that will give you free cash to sample any of their many gambling products. First you'll feast on a 100% match up to $1,000 that can be used to play any of their great casino games, including every single one of their slot machines.
The extra cash comes with a respectable 25x rollover that will have to be met before you can withdraw any winnings, and they even allow you a full 6 months to meet all of the terms. This is a very generous deadline when you consider that some places only give you one week to clear rollover before the bonus funds are forfeited – just read a few of our other honest online casino reviews to find out who we're talking about.
The next portion of the Welcome Package comes in the form of a 100% match up to $1,000 to play in their virtual poker room. It's technically a "drip bonus" that is slowly released into your account drop by drop like Chinese water torture, slowly accumulating to reach the 100% that was originally promised to you. This poker bonus has very strict mathematical rules, so here's an example directly from their website:
Any bonus amount that falls between two tiers will be paid out according to the ratio of Points/dollars at that Tier. For example, if a player makes a deposit of $60 and earns 185 Poker Points, they will have completed Tier 3 and earned $50 of their welcome bonus. Tier 4 requires 215 additional Poker Points to earn an additional $50; therefore to earn the remaining $10 at that ratio you will need to earn 43 more Poker Points, as detailed below:

Tier 4: 215 Poker Points = $50
Remaining bonus/Tier bonus = $10/$50 = 0.20
0.20 x 215 Poker Points = 43 Poker Points required to unlock the remaining $10 bonus
So there you have it – crystal clear, right? Right!
There's a final dangling carrot that's much larger than the first two and it's the Ignition Bitcoin Welcome Bonus that gives you a 200% match up to $2,000 just for depositing with the cryptocurrency. It comes with the same 25x rollover and play-through requirements so it's definitely one of the better offers out there.
They then keep the good times rolling with their 25% Casino Match Reload Bonus for all subsequent deposits with Bitcoin. The free money can go as high as $1,000 and only comes with a tiny rollover of 10x meaning that you'll blast through the requirements in no time. The only catch is that Baccarat, Sic Bo, Roulette, Craps, and Single/Double Deck Blackjack will not contribute to the rollover, but all slots action will count, though.
Those who refuse to step into the 21st Century and get on the Cryptocurrency Train can still get some loot thanks to the standard Ignition Reload Bonus which gives you a 100% match up to $100 on any deposit made between Monday and Friday. Also, if you've made a deposit in the last 90 days they'll put a unique bonus code in your account that you can use to boost your bankroll during the week, with different amounts and terms being available.
"You must be a football coach the way you got me playin' the field…"
Promotions
Like most sister brands of the Bovada Casino, the weakest element of Ignition is definitely its lack of fun and exciting promotions to enjoy. Their promo page is actually just a "Bonus Page" that lists all of their various match offers and Bitcoin propaganda, which is fine, but some may yearn for more.
However, those who are planning to throw some chips around on the felt will be happy to know that there's a massive list of poker promotions that will keep you thoroughly entertained. They offer bonuses for Bad Beats and Royal Flushes, offer $2,500 in weekly freerolls, and host regular Jackpot Sit & Go Tournaments that can win you 1,000x your buy-in. These guys definitely focus on their poker product.
VIP Program & Comps
Everyone likes to be rewarded for their loyalty and Ignition Miles are going to be what fuels you to stay true to this operator. The comp points flow easily and automatically while you play your favorite casino games and they can be exchanged for cold hard cash whenever you're in the mood to change gears.
The Miles are also what drives you forward into new player Tiers, which of course come with increased rewards and better benefits. There are eight Tiers in all, ensuring that players can get in on the action no matter what lane they like to cruise in, although it definitely pays to rev up your action when you can.
In the first level of "Steel" you only get 6% Daily Cash Back on your casino losses but every time you advance to a new Tier you get an extra 1% added to the rebate. When you're finally atop the winners' podium in the Diamond Tier you'll be getting a massive 15% Daily Cash Back on all losses, which is certainly one of the best rebates on the internet today.
The Redemption Rate on Ignition Miles also gets better the higher you climb, (this is what they call their exchange rate), starting with 2,500 for $1 and then slowly dropping down Tier by Tier to 1,000 for $1, ensuring that loyal members of the program get maximum bang for their buck. It'll only take you 2,500,000 Ignition Miles to reach Diamond status, which is a simple drive to the moon and back…five times.
The most amazing thing about this VIP Program is that once you've reached a certain Tier you can never be busted back down to where you were before. This fact alone should attract high rollers from Nashville to Adelaide because there are tons of places out there who revoke your VIP status if you haven't met the requirements they've set for you. This is an extremely generous perk that active players should immediately appreciate.
Casino Software
Like all members of the humble Bovada family, the Ignition Casino is powered by both Betsoft and Realtime Gaming (RTG), who have both been servicing players in the United States for well over a decade. Now those Down Under can also get in on the action and see what all the fuss is about. Both companies are regularly tested by 3rd party fairness watchdogs and they're both fully licensed in their respective jurisdictions. Fair dinkum!
Ignition again favors the poker players out there by offering them something special in the form of their in-game casino suite, which is built right into their table software. You'll be able to play tons of slots and favorites like roulette and blackjack as you chase chips on the felt.
Mobile Casino
Regardless of whether you prefer to gamble on an iPad or a cell phone, you'll be happy to know that the Ignition Mobile Casino is 100% compatible with all portable devices. The software looks great on Samsungs, plays beautifully on iPhones, but sadly is not functional on BlackBerry handhelds, (stop laughing, they still have a small share of the market).
Many players love the mobile poker platform at Ignition because it guarantees you'll always be able to get in on a game no matter where you are, as long as you have a WiFi connection. Both the poker and the casino software is fluid and never freezes or crashes, and most people agree that it's one of the best mobile gambling apps out there.
Ignition Banking Options
You can easily deposit at Ignition with a VISA Gift Card as long as it's designated for "International and Online Purchases", since that is technically what the transaction will be. Gift Cards have long been a secret deposit method for USA casinos because their acceptance rate is much higher than normal, with very few transactions getting blocked.
Of course you can still opt to deposit with a credit card like MasterCard or VISA but you'll incur a processing fee of 5.9% for your troubles. Those thinking of funding their accounts with American Express should know that they'll be charged an insane 9.9% fee by Ignition, which is on top of any cash advance fees, conversion fees, or transaction fees your bank dings you for. The days of "charging it" on plastic are over – it's just too expensive for the recreational gambler.
So now you want to know how to safely deposit at a U.S. betting website without being charged lots of fees? The answer is simple and it's the best banking invention since the debit card: Bitcoin. You can use Bitcoin and other cryptocurrencies to pay for pretty much anything online, and it's gaining popularity all the time amongst consumers.
The transactions are extremely fast and the fees are almost nothing so it's really the only way to go these days. For example, there is a maximum weekly withdrawal limit of $3,000 with Check by Courier, while the weekly max with Bitcoin is $9,500. Cryptocurrencies are simply a far superior way to move funds due to their ease and speed.
However, it is strange that an operator who touts Bitcoin as loudly as Ignition doesn't have instant transactions, with their stated timeframe being 72 hours, which is the longest wait time you'll find for a cryptocurrency. They state that they currently need 48 hours to process withdrawals so hopefully they can reduce this in the very near future.
Customer Service
If you ever have an issue that requires contact with an Ignition representative, all of the standard options are available to you. Emails are a quick and clean way to get your questions answered, while other queries might necessitate initializing a live chat with them. There are clear icons for each in the top right corner of every page on their website so help is always just a click away.
Those who enjoy the personal touch of speaking to an actual person on a phone can call in from anywhere in either the U.S. or Oz. Whether you live in Perth, Darwin, Orlando, or San Francisco, you can call 1-855-370-0600 and speak to a real human being who actually cares about resolving your issue. Crazy, right?
"Mama rollin' that body got every man in here wishin'…"
Other Gambling Products
Obviously the Ignition Casino is going to have a ton of Las Vegas style table games in addition to their virtual slots parlor, and their software is packed to the brim with options. You'll find many different variations of blackjack and roulette as well as classics like Let 'Em Ride, Caribbean Hold 'Em, and Baccarat.
The only other gambling product available is poker, but boy do they have a lot of tournaments and cash games for Americans and Australians to choose from. Many recreational players enjoy the fact that they can opt to join their anonymous tables that don't reveal your username and block experienced players from using poker tracking software like Heads-Up Displays to gather info on you.
Also, as mentioned above, as soon as you download the Ignition Poker software you'll be able to play most of their casino games in the same window as your poker game. Now that's convenient.
Anyone who likes to gamble on sports will want to note that there isn't a sportsbook there so you'll have to bet on the NFL somewhere else. There isn't a racebook either so you'll need another betting account funded and ready for when you want to lose some money on the Kentucky Derby.
Conclusion
Everyone in the beautiful island continent of Australia already knows that their options for online casinos are limited, which is why it's such a nice surprise that Ignition goes above and beyond what's expected and provides a fantastic gaming experience to its players. They easily could have mailed it in and slapped a lacklustre product together knowing that the bar wasn't set that high, but they chose to do the exact opposite.
With hundreds of slots and video poker machines, the world's most popular table games, and a massive online poker room, the Ignition Casino is a top destination for anyone looking for a fun gambling experience. They're hands-down one of the best options out there today.
They will never revoke your VIP status due to inactivity and it cannot be stressed enough how big a deal this is. If you gamble online with any sort of frequency you'll definitely want to park your hotrod in their garage and take advantage of this amazing perk. Once your tank is full it'll be time to turn the key and put the gear-shifter in "Drive".
"It's the freakin' weekend baby I'm about to have me some fun…"
Bounce Bounce Bounce Bounce Bounce…

Game Selection:

8.5

Reputation:

8.5

Bonuses:

8.5

Customer Service:

7.5

Banking:

7.5