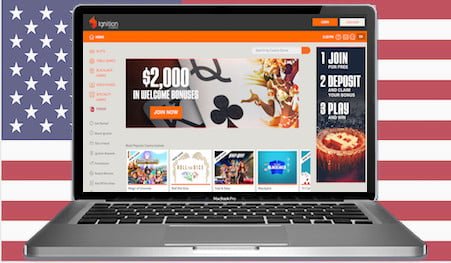 Special Offer:

100% up to $1,000

Your Bonus Code: QOOS

GET BONUS ➜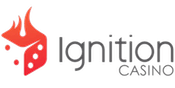 Start your engine and roar off into paradise with Ignition Casino, the only company that will give a feeling of racing down a gambling highway. The rush and thrill of winning has never felt better.
Generous Bonuses
Tons of Poker Tables
USA & Australia Accepted
---
---
Ignition Casino Review
Now usually I don't do this but uh…
Welcome to this exclusive Ignition Casino review laying bare their strengths and weaknesses, everything exposed to see before registering. This is a rare brand accepting residents from both the United States and Australia, but no other country, clearly the strongest advance in Aussie / Yank relations since Paul Hogan invaded North America in 1986's Crocodile Dundee. That's not a bonus!
This operator loves pleasuring players in both the northern and southern hemispheres, displaying a full suite of games complete with hundreds of slots, gigantic enticements, and a rocking digital poker room facilitating thousands of hands per day.
For anyone unfamiliar with R. Kelly's Ignition, listen now to understand its ridiculous lyrics, somehow relating well to this assessment. Actually, maybe it's funnier if you never heard the song.
Go head' on and break 'em off wit a lil' preview of the remix…
Screenshots
Most people wouldn't say orange is their favorite color, nevertheless the design team did an admirable job of producing unique graphics. Pairing it with gray is equally surprising, although uglier websites can easily be found.
Click screenshots below to blow up and inspect.
Ignition Slots
Similar to kangaroos hopping around Australia, Ignition slots are both exotic and plentiful. Boasting over 200 exceptional concoctions at last count, new releases steadily arrive monthly to pad the total.
Instant classics of Food Fight Slots and Dirty Martini Slots stand out, beside electrifying titles such as Street Ball Star Slots and Fast & Sexy Slots keeping things fresh and exhilarating. In addition to expected genres, they also bring creations celebrating mermaids, home repairs, koi fish, and mystical gnomes.
That's why I'm all up in you grill, tryna get you to a hotel…
Jackpots
Shockingly, Ignition jackpot machines aren't gathered in a dedicated area, demanding clients to dig to unearth them. A little orange sticker over the bottom right corner of its screenshot both identifies progressives and announces current prize amounts.
Intense scrolling ultimately reveals favorites of Ares: The Battle of Troy Slots, Caesar's Empire Slots and Aztec's Treasure Slots, mixed in with modern achievements of Big Money Bigfoot Slots and Bulletproof Babes Slots. These last two receive inflated marks for comedy, assured to generate chuckles while chasing windfalls.
Ignition Casino Bonuses
Both Americans and Australians love huge steaks on barbies, so it can be assumed hefty stakes are craved too. Thankfully, Ignition Casino bonuses satisfy voracious appetites by serving a $2,000 welcome package to sample their various products. First, feast on a 100% match to $1,000, usable on anything, including pokies.
Extra cash comes with a reasonable 25x rollover to meet prior to withdrawing winnings, and an ample 6 month deadline to finish the task. This is an exceptionally liberal time period considering some places only give seven days until funds are forfeited, many such destinations documented in the honest online casino reviews section to warn readers beforehand.
The next bundle is 100% to $1,000 to test their virtual poker room. It's a "drip bonus" that is slowly released onto balances one drop at a time like Chinese water torture, eventually accumulating to reach the 100% that was originally promised. It holds strict mathematical rules, so here's an explanation directly from their website:
Any amount that falls between two tiers is paid out according to the ratio of Points/dollars at that Tier. For example, if a player makes a purchase of $60 and earns 185 Poker Points, they will have completed Tier 3 and $50 of their welcome offer. Tier 4 requires 215 auxiliary Points for a further $50; therefore to earn $10 at that ratio you will need 43 more Points, as detailed below:

Tier 4: 215 Poker Points = $50
Remaining sum/Tier sum = $10/$50 = 0.20
0.20 x 215 Points = 43 Points required to unlock the last $10
So that's it – crystal clear, right? Right!
The final dangling carrot is much larger than alternatives, an Ignition Bitcoin Welcome Bonus extending 200% to $2,000 just for using cryptocurrency. Identical terms dictate a 25x rollover and requisites, creating an exceedingly lucrative overture players should rush to claim.
Endowments keep flowing with a 25% reload match on all subsequent BTC transfers, maxing out at $1,000, merely sporting a tiny burden of 10x, guaranteeing swift completion of requirements. The lone catch is Baccarat, Sic Bo, roulette, craps, and Single/Double Deck Blackjack don't count towards obligations, however, 100% of pokie action will.
Those refusing to enter the 21st Century to try crypto may still receive incentives via a typical reload offer issuing 100% to $100 if re-upping between Monday and Friday. Moreover, if a deposit was made in the last 90 days, a unique code is posted in accounts to boost bankrolls during the week, holding varying sums and terms.
You must be a football coach the way you got me playin' the field…
Promotions
Mirroring most brands, the weakest element here is undeniably its lack of fun and stimulating promotions. Their event page is actually just a "Rewards Page" cataloging assorted match offers and Bitcoin propaganda, which is fine, though some may yearn for more.
Alternatively, anybody lusting for head-to-head combat on the felt rejoices in an enormous list of poker contests providing thorough entertainment. Compensation for Bad Beats and Royal Flushes is extended, $2,500 in weekly freerolls are hosted, and regular Jackpot Sit & Go Tournaments could return 1,000x buy-ins.
VIP Program & Comps
Everyone yearns to be recompensed for loyalty and Ignition Miles are what fuels staying true to this operation. Comp points flow effortlessly and automatically whilst playing chosen diversions, exchangeable for cold hard cash whenever in the mood to change gears.
Miles are also what drive members into advanced tiers, of course coming with increased rewards and better benefits. Eight distinct tiers guarantee members find entertainment no matter what lane they cruise in, nonetheless, it certainly pays to rev up risk totals whenever possible.
The initial level of Steel only returns 6% daily cashback on casino losses but every subsequent Tier achieved adds an extra 1%. Once finally atop the winners' podium in Diamond Tier a gargantuan 15% is discharged, one of the loftiest rebates encountered today.
Redemption Rates (or "exchange rates") on Ignition Miles further improve in elevated levels, starting with 2,500 per $1 and methodically dropping each tier to 1,000 for $1, ensuring loyal participants obtain maximal bang for buck. It merely requires 2,500,000 miles to attain Diamond classification, which is a simple voyage to the moon and back…five times.
An astounding aspect of this VIP Program is that after reaching a tier, seniority is never lost, therefore it's impossible to be busted back down to lower levels. This fact alone ought lure high rollers from Nashville to Adelaide since tons of places revoke VIP status if not meeting deadlines. This is an extremely generous privilege that active patrons must wholeheartedly appreciate.
Casino Software
Software is powered by both Betsoft and Realtime Gaming (RTG), who've serviced United States customers for almost two decades and now consumers "Down Under" can get in on the action. These companies are regularly tested by 3rd party fairness watchdogs and fully licensed in their respective jurisdictions.
Again favoring poker players, a special in-game casino suite is presented,  built directly into the table software. Numerous one-armed bandits are constantly available alongside standards like roulette and blackjack, ensuring every moment is still exciting if not in a hand.
Mobile Casino
Regardless of preference between tablets or smartphones, Ignition Mobile Casino is 100% compatible with all portable devices. Software displays perfectly on Samsungs and iPhones, equally as stunning as when viewing on laptops.
Countless individuals adore their poker platform as it secures a game anywhere, as long WiFi is present. Both are fluid and never freeze nor crash, most users agreeing it's one of the best apps on the market.
Ignition Banking Options
Easily deposit at Ignition Casino with VISA Gift Cards, provided International and Online Purchases is visibly stated on packaging, because technically that's the transaction category. Historically, gift cards have been a secret financial tool for iGaming destinations because acceptance rates are considerably higher than normal, encountering few blocked purchases.
Naturally, customary credit cards of MasterCard and VISA are taken, albeit incurring a 5.9% processing fee. Folks contemplating American Express should know a colossal 9.9% tariff is applied, on top of any supplemental charges incurred for cash advances, conversion rates, or general bank transaction costs. The days of charging it on plastic are unquestionably gone seeing that it's too expensive for casual visitors.
An obvious answer is to use Bitcoin, presently an immensely popular banking method around the world. Transfers are lightning fast incurring negligible fees, making it an intelligent way to move funds. Maximum weekly withdrawal limits are higher too, $3,000 via Check by Courier, versus crypto at $9,500.
However, it's strange that an organization touting alt coins as loudly as they do state timeframes are 72 hours, which is quite lengthy compared to competitors. Currently, 48 hours to process withdrawals are also needed, so hopefully both of these are drastically reduced in the very near future.
Customer Service
If ever desiring contact with a representative, all usual options are accessible. Emails are a quick and clean method to get questions answered, while certain queries might necessitate initializing live chats. Specific icons for each are located in the top right corner of pages, help always a click away.
Clientele seeking a personal touch can call in whether living in Perth, Darwin, Orlando, or San Francisco. Dial 1-855-370-0600 and speak to a real human being who truly cares about resolving issues.
Mama rollin' that body got every man in here wishin'…
Other iGaming Products
Obviously Ignition has loads of Las Vegas style attractions in addition to a virtual pokie parlor, software packed brim with a myriad of choices. Different variations of blackjack and roulette are discovered among classics like Let 'Em Ride, Caribbean Hold 'Em, and baccarat.
Besides the above, poker is the sole attraction, although stacks of tournaments and cash games are organized for Americans and Australians to choose from. Many recreational visitors enjoy joining tables anonymously with usernames hidden, helping to block experienced players that use poker tracking applications like Heads-Up Displays to gather private decision making information.
Conclusion
Everyone in the beautiful island continent of Australia already knows options for online casinos are limited, which is why Ignition's arrival was a nice surprise. A lackluster production could have been slapped together knowing the bar wasn't set high, yet they chose to do the exact opposite and unleash a powerhouse website.
With copious slots and video poker terminals, everybody's preferred tables, and a massive poker room, this place is absolutely a premier destination. Each item is 100% portable without quality loss.
Furthermore, VIP status is never revoked due to inactivity and it cannot be stressed enough how valuable this perk is. No matter how much is risked or how often a flutter is indulged, definitely park your hotrod in their garage and take advantage of this amazing opportunity.
Once your tank is full it'll be time to turn the key and put the gear-shifter in "Drive".
It's the freakin' weekend baby I'm about to have me some fun…Bounce Bounce Bounce Bounce Bounce…

Game Selection:

8.5

Reputation:

8.5

Bonuses:

8.5

Customer Service:

7.5

Banking:

7.5