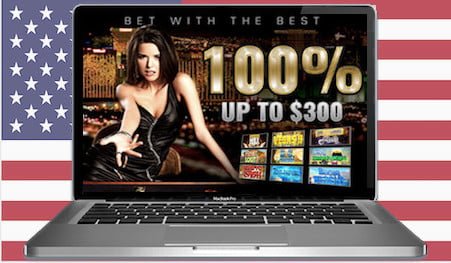 Special Offer:

150% up to $750

Your Bonus Code: QOOS

GET BONUS ➜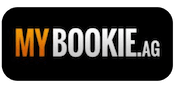 Bursting into the U.S. market, the MyBookie Casino is blowing away players with huge bonuses, great customer service, and a willingness to please. It's time you found out why they're one of the best in the business today.
All USA Players Accepted
Great Game Selection
Tons of Promotions
---
---
Review of MyBookie Casino
Many people in the United States have been hearing a lot about the MyBookie Casino on the radio recently and some of our readers have been visiting their website to see what all the fuss was about. The results are in and it sounds like they're a smashing success.
MyBookie, (which obviously sounds more like a sweaty Italian guy taking bets in a backroom in New Jersey than a lavish online casino that pampers its customers), is one of the best gambling websites out there today. It appears as if sometimes names can be deceiving. The site looks very sharp and they have all of the bells and whistles that players will be looking for, like a mobile product and a live dealer casino, in addition to a traditional racebook where you can play the ponies.
With all of their aggressive advertising geared towards Millennial bettors, you'd better believe that they have a full sportsbook that offers everything from wagering on the NFL to eSports. After studying their long list of betting options it's easy to see why M.B. is going to be the leader in this industry in the very near future, (if they're not already now).
This exclusive and candid review of the MyBookie Casino will take a deep dive into their operation to uncover every last detail you'll want to know before signing up for an account with them. However, I'll spoil the surprise for you now and cut to the chase: they're one of the best in the business, so if you want to save yourself 10 minutes, don't read this review and just go join them now. They're honestly phenomenal.
For everyone else who wants to know the nitty gritty, keep reading to find out what our research has revealed.
Screenshots
You will immediately notice that this website has a clean interface that allows you to easily navigate through their many games. It's clear that they've spent a lot of time on the design and layout, and have worked on every last detail on the pages. The slots on offer are laid out simply, with each getting a large image that you can click on for further information. It's impossible not to find what you're looking for in seconds.
Click on the screenshots below to take a good look at their snazzy website.
MyBookie Slots
With over 100 different slot titles on offer, MyBookie has one of the largest amount of games available to U.S. players today. All of the usual themes are covered like Cleopatra, Leprechauns, and Aztec treasures, however, they have many unique machines such as Fruit Loot Reboot, Big Top Circus, and Rook's Revenge, which come with ridiculous storylines and whacky reel features. Also, they are constantly releasing new slots every few weeks, ensuring that their long list of titles remains the biggest around.
All of their games are instant play and you can load them right up in your browser, but at this time there isn't a MyBookie Download Casino that you can install directly onto your computer. This isn't a big deal though because their software was designed to be fully mobile compatible and function perfectly on screens of any size.
Many of you reading this review will probably be big fans of 3D Slots and M.B. has you covered with over 50 different titles like Kawaii Kitty, Sin City Nights, and The Slotfather. They even have sillier ones like Fa Fa Twins and The Tipsy Tourist to ensure that every player will find something to suit their tastes, (no matter how crazy).
Every game they offer has both a real money and a free play option that allows you to sample them before investing your bankroll. Classy!
Jackpots
If you live in the United States or Australia and you're looking for some big slots jackpots to chase, the MyBookie Casino has what you crave. Titles such as It Came From Venus!, A Night in Paris, Jackpot Jamba, and Enchanted usually offer a minimum prize of $25,000 but that amount easily balloons to 6 figures as people play them and contribute to the prizes.
The two biggest jackpots that you'll find however, are The Glam Life which can have a pay day of over $2,000,000 and Mega Glam Life which is usually over $400,000 every time it goes off. This is because these two games are network jackpots which are added to by people all over the world regardless of the online casino that they're playing in. Giddy up!
MyBookie Casino Bonuses
Let's get this out of the way right now: you will not be signing up with MyBookie to cash in on huge bonus offers that will significantly pad your bankroll. Instead, you will be given a no-nonsense 150% Sign Up Bonus on your first real money deposit up to a maximum of $750. Now some of you might be thinking, "This bonus is tiny!" and you're not entirely wrong. However, you have to consider that it's not exactly a "player's choice" when wagering online from the USA or Australia these days. Plus they more than make up for it by providing a safe environment in which to gamble and guarantee prompt payouts whenever you request them.
Everything has a price in life and the MyBookie Casino Bonus extracts its due with a hefty 50x rollover on the deposit plus bonus amount. Yikes! This is definitely one of the highest rollovers you'll find out there but if you're one of the unlucky Americans who lives in a backwards state like New York or Washington, you only have a few operators to choose from these days. The wagering requirements aren't too crazy though and normal players should clear them within a reasonable amount of time and be able to withdraw any bonus-related winnings.
The other thing to watch out for with this welcome offer is that it has a firm expiry date and all rollover must be completed within 30 days of being issued. It's recommended that you set a reminder in your calendar because everyone can get busy from time to time and the last thing you want is to clear 95% of the requirements and then forget to finish.
They also offer a sportsbook welcome bonus of 50% up to $1,000 that has a 10x rollover for any of you who like to bet on sports, as well as a $20 Free Bet that has a 5x rollover on any associated winnings.
Promotions
Since MyBookie used to primarily be a sportsbook, for many years most of their promotions were based on sports wagers, which is totally understandable. However, in the summer of 2018 their casino promotions exploded with six fun specials that will have players smiling every day of the week. Here's what you can get in on:
Rebate Special Mondays: 10% rebate up to $100 on all casino play
Ladies Night Tuesdays: 400% Reload up to $1,500 for ladies only
Slot of the Week Wednesdays: 50 free spins with a max cash out of $300 on a deposit of $45 or more
Thursday Raffles: Every $50 wagered earns a ticket to win a piece of the $2,000 prize pool
Pick 'Em Bonus Friday: You can choose either 25 free spins for every $50 deposited, or a 150% reload bonus up to $1,000
Casino Weekend Reloads: A reload bonus of 250% up to $2,000 on all deposits of $45 or more
All of these offers come with their standard 50x rollover that will be cleared quickly if you only play slots, but it will take a bit more time if you only stick to the table games. Regardless, these are some of the best offers available to American and Australian players today so you should cash in on them while you can.
Before the above were announced, MyBookie only had two main promotions which are both still available today. The first is the Friday Kings of Spades Contest which can boost your bankroll to start your weekend off right. If you're wagering $25 or more and receive 2 Kings of Spades in the first hand and you are beat by a dealer blackjack you'll get $1,000 for your troubles.
This promo is a little clunky because you have to email into Customer Service after you hit it and then wait for them to verify that it actually happened. On top of that, you can only win it once, even if you get those spades every Friday night, but the chances of that happening are obviously very low. The other things to know are that you can't win on a split, and if you do trigger the prize there will (of course) be a 50x rollover on the winnings.
Lastly we have their Triple Diamonds 21 offer that will give you an extra $500 if you hit a 21 while playing blackjack that's comprised of 3 diamond 7s. Again, you have to contact their CS Team to inform them since the bonus isn't auto-issued. The prize is only available on wagers of $10 or more and there's a modest 3x rollover on the winnings.
VIP Program & Comps
The MyBookie Casino offers an 8% rebate on any blackjack losses that were incurred on the 21st day of each month, however, it's only valid on the electronic versions and not the live dealer blackjack. The rebates have a small 3x rollover before they can be withdrawn, which is quite reasonable.
Racebook players will be happy to hear that there's an automatic 8% rebate on all horse racing wagers made on qualifying tracks. New signups will also be comped a free $20 sports bet as we mentioned earlier.
There currently isn't a MyBookie Casino VIP program to speak of, but we have it on good authority that they're working to launch one of the best programs in the business soon. Stay tuned!
Casino Software
Because MyBookie accepts players from across the United States and Australia they are unable to offer most of the usual casino software that those living in freer countries like Germany and Italy are able to enjoy without restriction. Therefore, you can look forward to only playing titles from Betsoft Gaming, who have been known to U.S. players for years since they supply games in all jurisdictions and are the "go-to" choice for most operators there.
Now this doesn't mean that you aren't going to like what you find, it just means that you won't see any branded games like Motörhead Slots or Jurassic World Slots in their list. This definitely isn't a deal-breaker, especially when you remember that branded slots are impossible to find in any betting website that accepts Americans. We'll just have to take what we've been given and hope that things change in the future.
Mobile Casino
If you like to play on the go you'll be ecstatic with the MyBookie Mobile Casino since it's one of the most technologically-advanced products out there today. All of their slots can be accessed on tablet computers and smart phones, and even less-popular devices like iPods: whatever you have, you can use it with them.
Unlike other operators, the quality of their games isn't reduced on smaller screens thanks to their cutting-edge software development and quality assurance procedures. It's always smooth and reliable, and you can even deposit using your iPhone – how convenient!
What is MyBookie.net?
We've been getting emails asking us what MyBookie.net is, so we'll go ahead and solve this mystery for you right now. This website is the fun money version of their casino and sportsbook, and should not be confused with MyBookie.ag, which offers all of the games for real money. So if you live in the U.S. and want to play for free, visit www.mybookie.net and fill your boots.
Their free casino games don't even require that you register for an account first so you can go buck-wild as soon as the webpage has loaded. However, we do recommend that you simply sign up at MyBookie.ag at the link below because you will have access to all of the same freebies that you'll find on the .net site, plus many more that aren't available there.
And don't even worry about www.mybookie.com because there's nothing there and it simply redirects to the .ag version of the website. Mystery solved!
MyBookie Banking Options
There are a decent amount of banking options at MyBookie, especially considering that they accept players from all over the States, as well as most countries around the world. Their fees are modest and each one is quick and simple to use. Here is a list of their current deposit methods:
VISA
MasterCard
Automated Clearing House (ACH)
Bank Wire
Bitcoin
There are two different "Person to Person" options and one that they refer to as a "Phone Transfer", which is only available to established players. This will be a simple financial transfer via either Western Union or MoneyGram that will take a little while to complete and clear, however, depending on your player rating the funds can be immediately available to you even though the exchange is not technically complete.
Many tech savvy players will enjoy the speed and anonymity of using Bitcoin to gamble online, however, it can be intimidating for those who aren't used to it. Older players may want to stick with the traditional methods of credit cards or bank wires since there's something to be said for familiarity, but you only need to use cryptocurrency once to fall in love with how easy it is.
As is the case with pretty much every casino on the Internet, MyBookie has a lot more deposit methods than it does withdrawal methods. In fact, the only two options for players to receive funds are either check by mail, or that crazy new "super currency", Bitcoin. A check can take up to 30 business days to be received within the continental United States while the cryptocurrency is basically instant. Not a hard choice, is it?
Customer Service
Now we get to the category where the MyBookie Casino really separates itself from the competition – their award-winning customer service who takes care of players from Bangor to Bondi Beach. Every agent provides clients with "white glove" service and the department is led by respected industry veteran Jake Slayter, who's well-known for running a top-notch operation.
Every person you get on the telephone will be polite, knowledgeable, speak perfect English, and will bend over backwards to make you happy. The only thing they won't put up with is someone asking for unreasonable bonuses, so don't waste your time trying to get free cash out of them. Simply enjoy the fact that you're speaking to a living, breathing human who is going to make your gaming experience pleasurable, which is the only goal of a CS team, after all.
After signing up for an account with them you can always reach them at 1-844-866-BETS(2387) to chew the fat, or you can simply email them and wait for a response back, which usually takes less than 30 minutes to receive. Of course you can initiate a live chat 24/7 to ask any questions, as well.
Their stellar customer service seems to be a trickle-down effect coming from the upper management there. Based on the press package that we received about them, all of their executives are very well-tanned, have winning smiles, and look like they spend a lot of time at the gym. However, it takes more than great looks to run a successful business and based on the credentials that were listed, they are all experts. It's comforting to know that you're placing your bankroll in good hands…especially ones that have been perfectly manicured.
Other Gambling Products
If you want to take a break from their virtual slots parlor and check out their table action, MyBookie has all of your favorite casino games available. The ever-popular blackjack comes in many different versions with traditional American and Multi-Hand variants, as well as European, Single Deck, and 21 Burn.
In addition, you will find Baccarat, Roulette, Pai Gow, Craps, Pontoon, Caribbean Stud Poker, and every other table game that's in brick and mortar casinos across America. And yes, they also have digital Keno and Scratch Cards for those of you are into that sort of thing.
As mentioned above, MyBookie has become popular amongst sports bettors due to their juicy props and long list of international sports on offer. You can wager on everything from NCAA college football and basketball to golf, tennis, and the MMA. They of course take wagers on the "Big 4" American leagues of MLB, NHL, NBA, and NFL too.
In addition, there is a massive Racebook where you can bet on horse races from across the U.S. and even the most popular tracks in Canada, the United Kingdom, South Africa, and Australia. There's literally live races to gamble on 24 hours a day, which will keep you hippophile insomniacs busy no matter what hours you're keeping.
Conclusion
If you live anywhere in the USA, or in a country that has lots of red tape when it comes to online gambling like Australia or France, you'll definitely want to open up an account at the MyBookie Casino and enjoy the ease at which you can play. There are no hoops to jump through and they make the entire process extremely easy.
Those hunting for massive bonuses will be somewhat disappointed although there are definitely enough daily promotions to keep the fun flowing. And to be fair, the MyBookie bonus is pretty much on par with every one else, it's just that their rollover is a little higher than their competition, but this is something that you can easily look past when you consider all of their strengths.
With tons of deposit options, a long list of slots, and professional agents answering their Customer Service phone line, you'll definitely want to have an account with them. Not to mention, their massive sportsbook with consistently weak lines will have sports bettors drooling all over their keyboards.
It's really not a matter of "if" you'll sign up for an account at MyBookie, it's "when" will you join them. They're the fastest-growing operation in America today and they show no signs of slowing down. Check them out today and see why they're quickly becoming a trusted household name in the industry.

Game Selection:

8.5

Reputation:

8.5

Bonuses:

9

Customer Service:

9

Banking:

8.5