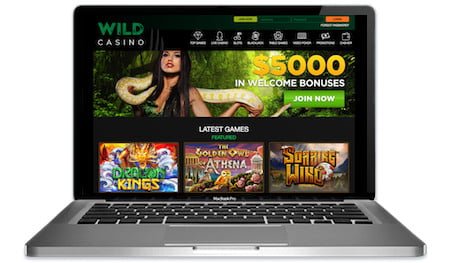 Special Offer:

$5,000 Welcome Package

Your Bonus Code: QOOS

GET BONUS ➜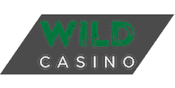 It's time to channel your inner beast and roar like a lion as you leap into the Wild Casino to assert your dominance over their jungle of gambling games. Just watch out for predators lying in wait who are eyeing up your bankroll…
USA Players Welcome
Huge Bonuses
Solid Game Selection
---
---
No you don't have malaria: this operation is one of the best online casinos that you'll find out there today for Americans, Canadians, and those living in Australia. This is because Wild accepts players from pretty much every country in the world without restriction and they pride themselves on welcoming all types of nationalities through their virtual doors with welcome arms.
Don't let their crazy, dark jungle theme fool you: these guys are a kind-hearted folk who love to give away free cash via their many promotions and special offers. Their marketing team is one of the most generous you'll find in the industry today so if you like lots of freebies, this will be the place where you'll want to pitch your tent.
Review of Wild Casino
There's a lot going on in this electronic animal kingdom so there are many factors to digest before deciding whether or not to register a new account with them. Sure they've laid out lots of appealing rewards, but will the terms and conditions be too much to swallow?
In addition to their generous offers they even brag that they have "the world's finest customer service" which is something that should not be said lightly. We dug deep to find out the real deal and our findings are reported below, (spoiler alert: they can't say this without a telephone number for us to call).
This exclusive and candid review of the Wild Casino will peer deep into their moist foliage and part their vines to examine what's really going on out there in the depths of the wild. Are they really the king of the jungle or will they silently strangle you like a hungry snake in the night? We tell all.
And yes, it's obvious that Axl Rose of Guns N' Roses said it best back in the '80s…
You know where you are? You're in the jungle, baby!
Screenshots
With a name like "Wild" you already knew that there was going to be some green in their color scheme somewhere. They've chosen to use the natural color sparingly and opting for a primary base of jet black, to offset the jungle imagery throughout the website. Click the images below to enlarge them for inspecting.
Wild Casino Slots
There are loads of 5 reel slots at Wild, with all of the biggest games in North America available like Naughty or Nice, Rook's Revenge, and The Glam Life. You obviously won't find any branded titles as they aren't available to U.S. players, but there are tons of machines that fetishize Egypt, Leprechauns, ancient treasure, and gangsterism. It's all there.
Every one of them is available as an Instant Play option and there's absolutely no need to download anything to start enjoying them. Simply, go to the title you want, open it up, and you'll be ready to go as long as you've already made a real money deposit and have funds in your balance.
Unfortunately, they do not offer free online slots that you can play without opening an account first. Therefore, if you want to try out their suite of machines you will absolutely have to register with them beforehand.
You can have everything you want but you better not take it from me.
Jackpots
Now we arrive at the category that will bring a tear to the eyes of some. This is because there currently aren't any jackpot slots at Wild and you won't find big prizes of any kind attached to their machines. A representative has confirmed that it's something that they're looking at bringing on in the near future, however, since they're a newer operation they wanted to make sure that everything else was up to snuff first.
It's recommended to open up an account with them now and then wait for the email notification announcing that they've launched some jackpot titles. Patience is a virtue, after all.
And when you're high you never ever wanna come down…so down…
Wild Casino Bonuses
So what's the main reason why most people reading this review are going to want to join Wild and make them one of their top destinations for electronic entertainment? Easy: it's the size of their big welcome bonus and let's be clear right from the beginning that this is a "boa constrictor-sized" bad boy, that will have you choking on free money from the word "go". Perhaps that's why their main model on the website is never seen without the large, pale snake wrapped around her scantily clad body?
Anyhow, their standard welcome package is a 100% match bonus up to a whopping $5,000 that you can use to try out all of their various wares. First and foremost, they reward lovers of one-armed bandits with a 100% Slot Bonus up to $1,000 that you can redeem 3 times for a total of $3,000. Then you can grab a 100% Table Games Bonus up to $1,000 to use on blackjack, roulette, etc., which is followed up by a 100% Video Poker Bonus to use on their virtual terminals.
Think of this is a buffet-style offer that will allow you to sample everything on the table – just throw away what you don't want to finish. It's ok…no one's looking.
If you got the money, honey we got your disease.
Promotions
The marketing team at Wild are more imaginative with their promos than a howler monkey is when he's coming up with new ways to attract a partner. There's always something fun to get into there no matter what tickles your fancy.
First off, there's the "Table Runner" that can earn you $500 if you end up among the Top 50 players who have wagered the most during the month, which includes your action on the live dealer tables. If you assert your dominance over the other beasts in the jungle they'll break you off a piece of the $25,000 prize pool that you can then use on select games. The only fine print to worry about is any winnings will come with a 25x rollover and any unused funds will expire after 14 days.
Then we have "Free Spin Thursdays", which dishes out freebies if you play Reels of Wealth, Tiger's Claw, or Sugar Pop 2 between 12:01am and 11:59pm EST each week. Every time that you wager $3 a spin 10 times during that period you'll get 1 free spin on Ogre Empire, up to a maximum of 100. The great news is that any money won from the gratis games won't come with any terms or conditions and it's yours to keep.
From there they have numerous leaderboard-style promos that reward you based on your finishing positions every month, in things like rake races and wagers made on live dealer tables. They're constantly giving away tons of cash and prizes so check their website now to see what's currently on offer.
We are the people that can find whatever you may need.
VIP Program & Comps
Here's where many of the high rollers are probably going to march straight out of the jungle and head for the big city. That's because there currently isn't a proper VIP Program at WildCasino.ag and there isn't a true comp system either. These omissions ensure that players will never be rewarded for their loyalty, except for the reload bonus they'll get, (although they will give them to you for life).
However, to be fair, their "Hot Streak" promo is basically a bizarre reward system that gives you cash-back based on your amount of play throughout the month, so we're going to cut them a little bit of slack. If your total wagers equal at least $1,000 a day for 5 to 9 days they'll give you an extra $25 chip. Then if you continue your streak you can earn up to $1,000 in cash that will come with a small 5x rollover on it before you can withdraw it from your account.

In addition, you can also qualify for their "Slots Stampede" if you wager $500 or more on their one-armed bandits between Monday and Wednesday, for which they will award you with 10 free spins during the weekend. It's not much, but it's better than nothing.
We here at Queen Of Online Slots are firmly on record that reward points are something that every website should have so we can't let Wild off the hook on this one. Get it together, guys!
You can taste the bright lights, but you won't get there for free.
Casino Software
Besides the lack of jackpots and rewards, the only other criticism one could even think of levying at Wild is that they need to partner up with more software providers in order to beef up their roster of titles. Currently they are only aligned with Realtime Gaming so their list is quite light and might not be enough to satisfy those with a big appetite for action (or destruction). It can be assumed that this will be improved on in the very near future, though.
Watch it bring you to your n-n-n-n-n-n-n-n knees, knees.
Mobile Casino
When you're out slashing your way through the dense jungle you always need to ensure that you have contact with the outside world. Therefore, it should come as no surprise that there's a full Wild Mobile Casino that you can access on devices of all shapes and sizes. If you're in range of data, you can gamble with them on your phone or tablet computer, as the case may be.
All technology is supported with everything looking great whether you're on Android or iOS and there's absolutely no software to download and install. Simply navigate to their website from your device and everything will automatically load up beautifully.
Wild Banking Options
This place is all about the cryptocurrency but they still accept a wide array of banking options that the traditional gambler will already be quite familiar with. Old school options like VISA and MasterCard are on the table, as are money transfers through the likes of Western Union or MoneyGram, otherwise known as "the worst way to move funds in a modern society".
However, if you want to use plastic you'd better be ready for some headaches because just like every other betting website out there, Wild is going to be asking for some documentation. They'll need to see a valid photo ID, scans of the card used, and if your address has changed since you signed up with them, they're also going to want a bank statement showing the new address. Yes, that's an awful lot of hoops to jump through when you could have just used Bitcoin or another cryptocurrency.
That all said, here's the single best argument on why you should use crypto: all credit card deposits are charged an extra 7.5% of the transaction amount to cover fees. This is a massive charge but a necessary one since VISA and MasterCard deposits are so expensive to process. Stick with the likes of DASH and Ethereum to keep your fees super low…and to keep the whole thing private. If you don't use either of those you can opt for Bitcoin, Bitcoin Cash, or Litecoin to get the job done.
If you want it you're gonna bleed but it's the price to pay.
Customer Service
Things are always crazy in the jungle and as such, Wild doesn't have a telephone number that you can call to reach them. That's ok though because you can simply email them at [email protected] and wait for them to get back to you, which should normally take no longer than 30 minutes.
Some might be offended that they currently don't have a live chat option but this is surely something that will be added soon, since it's a standard feature almost everywhere else.
Uh, I, I want to hear you scream.
Other Gambling Products
This place focuses on the traditional fare and as such you won't find a sportsbook to bet on NFL or NBA, nor will you come across a racebook for horse wagering. It would have been nice if they would have added a poker room for head-to-head action but it doesn't look like that's on their list of priorities for now.
However, there is a fantastic Live Dealer Casino that you can enjoy any time of the day or night, with cards being dealt by real life humans. Don't worry if you can't find a seat because you can "back bet" at most tables which means that you're able to gamble on the results of a specific player's hand. Sure, you don't have any say in the decisions that they make but at least you can get some live action whenever you want it.
Just make sure that you always use the Queen's English because that's the only language they'll permit in the live chat areas. If you don't follow this rule they'll rip away your privileges and might even close your account.
You learn to live like an animal in the jungle where we play.
Conclusion
The options available to U.S. and Australian players are slim these days but there are still some trustworthy online casinos out there to choose from and Wild is certainly one of them. It's no secret that they won't blow you away with their game selection or jackpot prizes, but this will be of little concern to most people – they just want to go somewhere honest that will pay them when they win.
It's also nice that your bankroll won't get sliced and diced with fees, (unless you deposit with credit cards), and that there is a nice de facto reward system via their Hot Streak promo. When you tally it all up, there's a lot to enjoy in this jungle…
It's gonna bring you down, HUH.

Game Selection:

7.5

Reputation:

8

Bonuses:

9

Customer Service:

6

Banking:

9