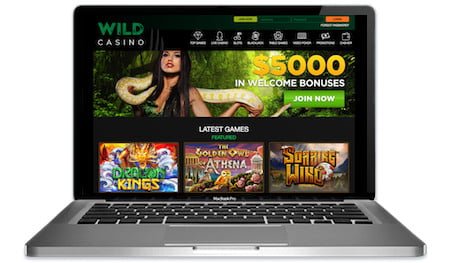 Special Offer:

$5,000 Welcome Package

Your Bonus Code: QOOS

GET BONUS ➜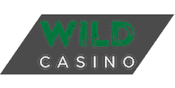 It's time to channel inner beasts and roar like lions while leaping into Wild Casino, asserting dominance over ferocious gambling games. Just watch out for predators lying in wait who are eyeing up bankrolls…
USA Players Welcome
Huge Bonuses
Solid Game Selection
---
---
No, it's not malaria, this operation is a top destination for Americans, Canadians, and Australians. This is because almost every country in the world is accepted without restriction, welcoming all with open arms.
Don't let a crazy, dark jungle theme fool you, they're kind hearted and love giving away free cash via many promotions and special offers. Their marketing team is tremendously charitable, so if seeking oodles of gifts, pitch a tent here.
Wild Casino Review
This electronic animal safari has a lot going on, necessitating numerous factors to digest before deciding whether or not to register. Sure piles of appealing rewards are exhibited, but will terms and conditions be too much to swallow?b
In addition to generous offers, they boldly declare to bestow the world's finest customer service, which is nothing to say lightly. Digging deep revealed what's truly at hand, meticulous findings reported below, but spoiler alert, this cannot be asserted without providing a telephone number to clients.
This extraordinary and candid Wild Casino review peers deep into their moist foliage past the vines to examine the true depths of their exotic kingdom. Are they really the king of the jungle or do they silently devour guests like a hungry predator in the night? This investigation reveals all.
Obviously, Axl Rose of Guns N' Roses said it best back in 1987…
You know where you are? You're in the jungle, baby!
Screenshots
Based on their moniker, green flourishing throughout the site's pages was guaranteed. The natural color is used sparingly, opting for a primary base of jet black to offset foreboding tropical imagery throughout.
Wild Casino Slots
Heaps of five reel creations are listed at Wild, with colossal North American titles readily obtainable like Naughty or Nice Slots, Rook's Revenge Slots, and The Glam Life Slots. Countless branded games are missing as U.S. residents are habitually blocked, although tons of concoctions fetishizing Egypt, Leprechauns, ancient treasure, and gangsterism fill the void.
All are enjoyable as Instant Play so there's absolutely no need to download anything. Navigate straight to a desired machine, click, and it's ready to go, as long as balances were funded previously.
Unfortunately, free play isn't provided unless opening an account prior, testing only permitted by those fully registered. This merely requires creating a profile beforehand to experiment, which is standard industry practice.
You can have everything you want but you better not take it from me.
Jackpots
This category may discourage some readers because currently, no Wild jackpot pokies are available, a barren games list completely void of any large prizes, displayed for all to see. However, representatives confirmed hopes of launching these soon, being a newer operation required other products were trialed first.
Consequently, it's probably wise to just register and wait for email confirmation stating jackpot titles have indeed arrived. Or simply return regularly to inspect how development progresses.
And when you're high you never ever wanna come down…so down…
Wild Casino Bonuses
A majority of readers are going to join Wild for one simple reason: perks. Their big welcome bonus is most assuredly "boa constrictor-size", guaranteeing members choke on complimentary money upon consummating the relationship. Perhaps this is why the female model on their website is never seen without a gargantuan, pale snake wrapped around her scantily clad body.
A typical welcome incentive of 100% is extended, yet maximum gains are a whopping $5,000, facilitating sampling multiple items over long periods. First and foremost, lovers of one-armed bandits receive a 100% Slot Bonus to $1,000 redeemable three times for $3,000 total. Subsequently, a 100% table enticement capped at $1,000 is delivered for blackjack, roulette, etc., followed by a 100% Video Poker gift to spend on various virtual terminals.
Think of this as a buffet-style offer allowing everything on the table to be sampled. Just throw away anything unappealing and munch down on the rest.
If you got the money, honey we got your disease.
Promotions
The Wild marketing team is more imaginative than a howler monkey in heat trying to attract a new partner when it comes to promotional ideas. There's inevitably something fun to get into, regardless of fancy requiring tickling.
Firstly, a Table Runner can generate $500 for finishing among the Top 50 players wagering the most during the month, including action on live dealer tables. Upon asserting dominance over rival beasts, a piece of the $25,000 prize pool is doled out, usable on select attractions. Fine print of note is winnings arrive with a 25x rollover attached and any unused funds expire after 14 days.
Then, Free Spin Thursdays dishes out weekly treats when yanking on Reels of Wealth Slots, Tiger's Claw Slots, or Sugar Pop 2 Slots between 12:01am and 11:59pm ET . Risk $3 per twirl 10 times to snag one tug on Ogre Empire Slots, up to a maximum of 100. Thankfully, any profits from these gratis credits won't hold obligations, put directly on balances bereft of restrictions.
Additionally, lots of leaderboard promos issue monthly benefits based on final positions in rake races, plus live dealer stake totals. Loot and treasures are consistently given away, so check soon to see what's presently advertised.
We are the people that can find whatever you may need.
VIP Program & Comps
This section might urge high rollers to march straight out of the bush and head for home because sadly, a proper Wild Casino VIP Program doesn't exist, nor a true comp system. These omissions confirm clientele will never be recompensed for allegiance, except for the lifetime reload bonus.
Actually, to be fair, "Hot Streak" is basically a bizarre reward scheme releasing cashback based on monthly handle, so cut them a little bit of slack. Total wagers must equal at least $1,000 per day for 5 to 9 days in order to collect an extra $25 chip. Then if streaks continue, up to $1,000 is earned, holding a minuscule 5x rollover before it can be withdrawn.

Furthermore, "Slots Stampede" necessitates risking $500 on one-armed bandits between Monday and Wednesday, resulting in 10 free spins during the weekend. It's not much, but certainly better than nothing.
We at Queen Of Online Slots are firmly on record that loyalty points should be issued by every iGaming website, hence they can't be excused for this.
You can taste the bright lights, but you won't get there for free.
iGaming Software
Besides a lack of windfalls, the lone criticism one could levy towards Wild is that several software providers ought to be brought on to beef up their roster of brands. Presently, Realtime Gaming is an exclusive partner so attractions are sparse and perhaps won't satiate folks with immense appetites for action (or destruction). Nevertheless, this shortcoming will presumably be addressed in the very near future.
Watch it bring you to your n-n-n-n-n-n-n-n knees, knees.
Mobile Casino
When slashing through a dense jungle, always possess a means of contacting the outside world. Therefore, it should come as no surprise the Wild Mobile Casino thrives on devices of all shapes and sizes. If in range of data, ferocious entertainment is accessible on phones, tablets, or laptops, revealing a full array of sweaty excitement in mere seconds.f
All technologies are supported and look marvelous whether Android or iOS, zero downloads complicating matters. Simply navigate to their URL a from preferred device and everything automatically loads beautifully.
Wild Banking Options
This place strongly encourages cryptocurrency while still accepting a wide variety of familiar banking options. Old school choices of VISA and MasterCard are taken, in addition to financial transfer services of Western Union or MoneyGram. Experts now agree the aforementioned are horrible ways to move funds, generally slow and cumbersome while leaving detailed paper trails.
Moreover, anybody planning to use plastic better be ready for headaches considering Wild demands certain documentation, identical to competitors. A valid photo ID, scans of cards used, and if addresses have changed since registering, a bank statement confirming the new domicile is required. Yes, that's an awful lot of hoops to jump through compared to Bitcoin and other cryptos.
That said, the single best argument for using crypto is credit card deposits incur an extra 7.5% of transaction amount to cover fees. This is a massive, yet necessary charge as VISA and MasterCard purchases are extremely expensive to process. Stick with DASH, Bitcoin Cash, Litecoin or Ethereum to keep costs super low and guarantee privacy.
If you want it you're gonna bleed but it's the price to pay.
Customer Service
Jungles are notoriously untamed and disorienting, accordingly, a telephone number to reach them isn't provided. That's ok though, emails at [email protected] are quickly answered, normally taking no longer than 30 minutes.
Some could be offended that live chat isn't available, notwithstanding, this surely will be promptly added, a common feature almost everywhere else.
Uh, I, I want to hear you scream.
Other Products
This place focuses on traditional fare and as such, a sportsbook wasn't included, nor a racebook for horse wagering. It would have been nice if a poker room was built, but it doesn't look like a priority for now.
However, a fantastic Live Dealer Casino purrs 24/7, hands dealt by actual humans. If seats aren't open, many tables allow back betting to stake specific players' hands. Sure, decisions can't be controlled, although at least human interaction is possible whenever craved.
Also, ensure to unfailingly use the Queen's English, the sole language sanctioned for chat areas. Anyone ignoring this rule may be stripped of privileges and might even face accounts unceremoniously closed.
You learn to live like an animal in the jungle where we play.
Conclusion
Options for U.S. and Australian citizens are slim these days, but some trustworthy operators still shine, Wild clearly being one. It's no secret patrons won't be blown away by game selection or jackpot prizes, but this will be of little concern to those only searching for somewhere honest who speedily pays earnings.
Gratefully, bankrolls aren't decimated by fees, unless using plastic, alongside an adequate de facto endowment system via Hot Streak. When all is tallied, copious diversions abound in this sexy, futuristic wilderness.
It's gonna bring you down, HUH.

Game Selection:

7.5

Reputation:

8.5

Bonuses:

9

Customer Service:

7.5

Banking:

9