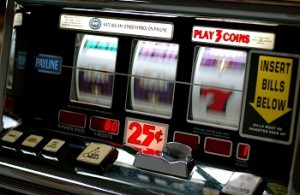 Lost in all of the publicity and fanfare surrounding big name titles, original slot games usually don't get the exposure that they deserve. Just because a game isn't based on a popular comic book character or a blockbuster movie, doesn't mean that it's not fun or exciting. That's why we always try to review a wide selection of slots games on this website – sometimes you're just in the mood for something different.
A true "original" slot game is one that has a unique storyline or has been around way before online casinos came into existence in the mid 1990s. Lucky 7s is a great example of a classic slot game, as it has all of the elements to fit the criteria: it's old as dirt, has traditional symbols, reels, and paylines, and is not based on a superhero battling a villain. Some other examples of an original would be Swinging Bells, Sevens & Stripes, and Cleopatra's Gold.
The Next Generation of Original Slots Games
Since around 2011 we have seen what I refer to as a "New Generation of Original Slots Games" released by software companies looking to make a name for themselves. These would be classified as "new slot games that are not based on any sort of branded content". This is an important category for those who don't want anything to do with big budget Hollywood movie slots, or slots based on classic television shows that they never even watched in the first place. No unknown characters, no explosions, no video clips, and no nonsense.
This next generation of games includes titles that most players have never heard of such as A Night Out or Desert Treasure: fun games that were built from scratch and have original stories. Uniqueness will always be welcomed by a certain portion of the community of online players so I hope that software companies continue releasing independent titles for people like us.
Luckily we have seen a new software trend since 2014, and this is the rise of the "celebrity-themed" game which is based on popular people, both living and dead, who happen to be famous for one reason or another. Some of these have turned out to be extremely fun games, with John Wayne Slots, Marilyn Monroe Slots, and James Dean Slots leading the way. All three of these titles focus on icons who made their mark on America and the world beyond, and their games really are larger than life. It's easy to get lost in the imagery and music and be transported back to another era where things were both simpler and more complex, depending on your point of view.
There has also been a big push for new releases based on figures from pop culture like wrestlers and exotic dancers, in addition to traditional subjects like fishing and bowling. Not to mention all of the animal-based games, vampire games, and zombie games – there really doesn't seem to be a subject out there that hasn't been covered already.
As always, we here at Queen of Online Slots strive to bring you titles from every possible genre, so always be sure to check back often for new reviews and features. Save your time and money, and let us do the heavy lifting for you. Happy spinning!