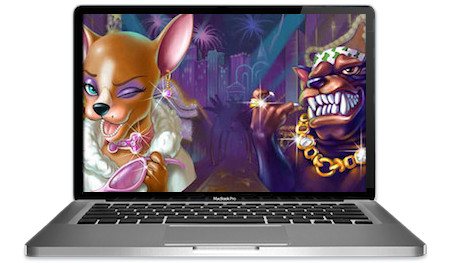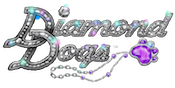 It's time to party like a rich canine out on the town with this old school slot machine from NetEnt. Polish up your jewelry, grab your gaudiest faux mink jacket, and get yourself ready to club hop through this bedazzled alternate dog universe.
Generous Bonuses
Dogs with Great Outfits
Funny Characters
---
---
Review of Diamond Dogs Slots
This ain't rock 'n' roll, this is genocide! Finally we have been blessed with an online slot machine based on one of David Bowie's most exciting albums of the 1970s, and diehard fans like me couldn't be happier. Wait…what? This slot has nothing to do with Bowie's album "Diamond Dogs"?!? Nooooo!! Who can I sue for false advertising and emotional distress?
Ok, maybe I didn't expect this slot to be based on a classic Bowie album, but the first time you see its name in a list of games your heart does skip a beat. Casino software companies have sometimes been known to make slots out of the most ridiculous premises imaginable and a game based on David Bowie actually makes a heck of a lot of sense. If not multiple games based on all of his best albums.
Instead of giving us a game based on excellent experimental music, Diamond Dogs offers a lighthearted romp on the red carpet with A-List canine celebrities who have shown up looking their best to dazzle the paparazzi. I personally think that the game's designers used such humans as Jennifer Lopez, Paris Hilton, and Elvis Presley as inspiration for these characters, but I'll let you draw your own conclusions.
Anyway, I can't believe that I'm going into a review about a cute game with superstar dogs feeling disappointed and sad right off the bat. Let me go listen to a Bowie song and shake these feelings off…"Young Americans" should do it…
Ahhh – ok, I'm ready. Let's go!
Screenshots
As you can see by clicking on the screenshots below, this game is really starting to look old. I'm sure my loyal readers were waiting for a "long in the tooth" joke, but that's too easy with this slot. Seriously though, if you don't like the look of these images from the game, you should probably stop reading this review right now and sniff around for something that's a little fresher.
Storyline
So this is quite the interesting storyline if I'm understanding it correctly, because we're going to have to make a few assumptions as to what the game's creators were going for. Basically NetEnt has transported us to a parallel universe where dogs not only share the human desire for the nicer things in life, but they also have the need for constant attention and affirmation – just like real life celebrities. Not to mention that they always have to look their best in public.
You can approach this game from two different vantage points: either you're one of the celebrity dogs rolling around in a glamorous world, or you're a human who's simply getting a glimpse into the dog-dominated universe. It really just comes down to your personal preference. Either way, you will see spoiled dogs who love their fashion designers more than their masters.
Unique Symbols
As you can imagine, all of the unique symbols in this game are based on dogs dressed as rich celebrities and the beautiful things that they demand in life. Steak and champagne are on the menu, as is a gift-wrapped bone. All of the playing card symbols from the 10 to the Ace are printed on gold dog tags that are encrusted with diamonds and pearls. Who said a dog's life isn't glamorous?
10
J (Jack)
Q (Queen)
K (King)
A (Ace)
Steak Dinner with Champagne
VIP Fire Hydrant
Bone with a Bow
Vacation Dog House with Palm Tree
Sexy Detective Dog with Camera (Bonus)
Female Chihuahua with Mink Coat (Scatter)
Top Dog with Jewelry (Wild)
You'll want to be on the constant lookout for the Top Dog Wild symbol because he is by far the best in the game, and if you hit 5 of a Kind you'll win a whopping 10,000 coins. There is then a massive drop off in payouts with the Vacation Dog House coming in at 600 coins, and the VIP Fire Hydrant only paying 240 coins for five across the reels.
Jackpots
You can dig around in this game all day and you won't find a Diamond Dogs Slots jackpot, so stop now because you're just chasing your tail. (Sorry, I couldn't help it.)
Bonus Rounds
You're going to be more camera-hungry than Lindsey Lohan after a night on the town because 3 or more of the creepy paparazzi symbol in a spin will trigger the bonus game. It's not the most intricate feature you'll find in a dog-themed slot but it definitely helps to give your bankroll a little boost.
You have a big paparazzi camera that you can aim at 12 different dogs, all of whom are dressed extremely fashionably and run the range from "disco" to "punk rock" in appearance. As you click on the photos they will reveal coin prize amounts, but make sure that you don't step in "it" because a dirty paw print will end your bonus round and send you back to the regular game with all of your winnings.
I think you'll find that the bonus feature is easily triggered in this game, and you'll probably find yourself on the red carpet more often than you'll be receiving free spins.
Free Spins
The girls are definitely having more fun out on the town than the guys and they're bringing some free spins with them to go with their bling. Regardless of how many Scatter symbols drop on the reels you'll always get a fixed 10 free games, however the more Scatters you get the larger your win will be, so you definitely have a great opportunity to cash in when it's triggered:
3 Scatters: 4 coins & 10 Free Games
4 Scatters: 25 coins & 10 Free Games
5 Scatter: 100 coins & 10 Free Games
All of your payline wins during Free Spins Mode will get a 3x multiplier applied to them so your balance can get pumped up big time. Might as well order another bottle!
Sadly, due to this game's age there are no special reels or backgrounds while you freeroll.
Graphics
The graphics in Diamond Dogs Slots are quite basic with very little symbol animations except for when the dog that looks like Paris Hilton removes her sunglasses and gives you a coy wink as she's used in a payline win. Also, the Top Dog Wild does a shimmy and a shake as he works his body in a convulsing dance move whenever he land on the reels. The bonus round has a few moving pieces as polaroid photos of the dogs you select float onto the screen, but that's about it.
The background, outline, and payline indicators in this game are actually pretty nice because they're colorful and shiny, and they add a glamorous effect to the game. Also, the bonus area with the red carpet was designed quite well and it looks pretty snazzy.
Audio & Soundtrack
There is a new school funk track that plays throughout this game which is basically a loop of a "Bootsy Collinsesque" guitar with echo and flutter, accompanied by some synthesizers. Unfortunately, it's on a 10 second loop so we never get to hear the track unfold. Similarly, in the bonus round there is a funky synth-heavy jam that constantly loops and doesn't go anywhere. What we do hear is great so it's definitely a shame that the song doesn't play for longer.
There is a very loud synthesizer blast that accompanies every Scatter symbol that falls on the reels, with the key changing for each one that drops. I find it pretty unnecessary but it's actually not that annoying. Also, the female dog on the Scatter lets out a squeal at the end of every spin she's involved in. Other audios include a snorting sound when the Top Dog Wild drops, and a camera shutter going off when the slimy Bonus dog falls on the board.
Payline wins are accentuated with a nice synth riff and hip hop beat that changes depending on what symbols are involved in the win, and they break up the whirling sounds of the reels nicely. The main break sounds like it was lifted from P!nk's smash hit, "Coming Up"…so you'd better get the party started…
Conclusion
Once you get over the disappointment of this slot not being an homage to David Bowie it's definitely possible to have a bit of fun. It is a cool storyline for players who love dogs but also like watching TMZ, Jersey Shore, or any other TV program based on celebrities and their comings and goings.
This game is going to be way too old for those who are looking for the latest and greatest online slots, but for those of you who are like me and enjoy mixing it up from time to time, you'll want to give it a few bucks from your bankroll.
You don't have to be friends with high-profile dogs like Spuds MacKenzie to like this game but it would sure help, so if you're not into classic looking slots that are low on special features, you'll surely find Diamond Dogs a little ruff.
Bonus Video of Diamond Dogs
Well I think you all know what this bonus video is going to be based on. Yup – the legend himself singing "Diamond Dogs" live in concert in 1975. Watch till the end if you want to watch a cool interview snippet and some bonus backstage material. Here is The King of All Music, David Bowie – enjoy!