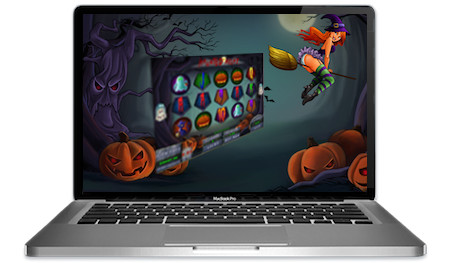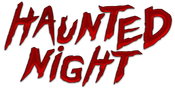 Where will you run to when the night falls upon you? In the graveyard with the restless ghosts? In the gallows with the glowing skeletons? Sadly, there's nowhere to hide in Haunted Night Slots, so you'll just have to hold on tight and confront your worst fears…while you stuff your loot bag.
Gravestone Pick Feature
Great Graphics
Spooky Soundtrack
---
---
Review of Haunted Night Slots
It's no secret in my household that I'm a big fan of Halloween, so you know that I'm going to find some things to like about this creepy slot game from Genesis Gaming whether it deserves it or not. The good news is that they went all-out on the graphics so even the lack of a proper storyline won't deter the majority of players like me who are just looking to sit back and have a frighteningly good time.
One thing I feel that I should mention for my more sensitive readers is that Haunted Night Slots does have partial nudity on one of its symbols, so if you're uncomfortable with images of that nature, you will probably want to take a pass on this game. Please just go to the menu bar at the top of this page and select one of my other reviews to find a Halloween-themed slot that's not as risqué. For the rest of you, let's continue…
Screenshots
I feel that the screenshots below show exactly what's on offer in Haunted Night Slots since there's not too many bells and whistles cluttering up the game. The symbols and overall graphics are good, with the small little animations that you don't notice at first doing a great job of setting the scary scene.
Storyline
You would have never guessed this by the title, but you are in for a "haunted night" filled with ghosts, evil pumpkins, and the sexiest witch you've ever seen in your life. As you spin the game's reels hoping to win cash prizes, the Grim Reaper slowly lurks in the background waiting to pounce. Is he coming for you?! Perhaps, but hopefully you will have an opportunity to stroll through the graveyard first to collect the cash prizes that are buried deep in the ground.
Unique Symbols
I'm sorry to report that the crew over at Genesis Gaming couldn't think of too many unique symbols for this game, and therefore had to rely on the always tiresome 9, 10, Jack, Queen, King and Ace. When you consider that this was an original game that didn't have to worry about licensing popular movie characters or the likenesses of famous actors, it's even more of a head-scratching decision.
They could have included any scary images, and players would have been just fine with it. They forgot about bats, spiders, and vampires, just to name a few. Heck, what about a chocolate bar or some candies?
The one symbol that they did remember to include was a half-naked witch riding a broomstick. Is she really half-naked? Yes, she is. She's riding her broomstick so fast that her skirt has flown up over her rear end, and her panties and stockings are exposed. Yowsa!
9
10
J (Jack)
Q (Queen)
K (King)
A (Ace)
Evil Jack O' Lantern
Goofy Ghost
Black Cat
Sexy Witch on Broomstick
Caldron (Wild)
Tombstone (Bonus)
Haunted Night Logo (Scatter)
We all know that sex sells and as such, the Sexy Witch is the highest paying symbol in the game with 1,000 coins for five across the reels. Not to be outdone by her antics, the Black Cat and Jack O' Lantern also pay out 1,000 coins for 5 of a Kind. The Ghost then floats in to put 500 coins in your treat bag for 5 in a spin.
And in a bizarre twist, this game's Wilds only appear on reels 2, 3, and 4 – not that is scary!
Jackpots
I hope that this doesn't scare you off, but there isn't a Haunted Night Slots jackpot of any kind. Yes, my puns are terrible – you haven't figured that out yet?
Bonus Rounds
Thankfully the game's creators decided to put a bonus round in Haunted Night, which is a simple pick em' game that they call the "Gravestone Pick Feature". You will be taken into a spooky graveyard where you will choose from 15 tombstones that are each hiding cash prizes. When you click on a gravestone a ghost will fly out of it and it will reveal the bonus coin amount that was underneath it, with all of the amounts being multiples of your original bet.
You will continue to pick gravestones and stack up cash prizes until you hit the one that reveals "Collect", which will send up a waving skeleton arm through the ground to end the bonus round and pay you out your winnings.
The Graveyard Pick Feature is accessed by hitting three Tombstone Bonus symbols, (or "Scatter 2" as the game refers to them), on reels, 3, 4 and 5. Also, you can trigger the bonus round while in free games mode which is always a nice little treat.
Free Spins
You will need to capture a Haunted Night Logo symbol, (referred to as "Scatter 1" in the game), on each of the first 3 reels if you want to enter the "Haunted Free Spin Feature". One of the strengths of Haunted Night Slots is that you can choose your own destiny in the free games mode via the three different options that are available:
5 free spins with a 10x multiplier
10 free spins with a 5x multiplier
15 free spins with a 3x multiplier
As an added bonus, if you are lucky enough to re-trigger free spins while free-rolling you will be given the same amount of spins that you had originally chosen, with the same multiplier.
Graphics
The graphics for Haunted Night are pretty darn good considering that its an older, seasonal-themed slot game. All of the symbols, effects, and backgrounds are of true HD quality. The animations of the Ghost symbols dancing when they're used in a payline win cracks me up every time because they resemble someone at a Halloween party who's dancing after having too much to drink, (you'll see exactly what I mean). The Caldron Wild symbol also bubbles and explodes in a very exciting way when part of a winning combination.
In addition, the way that the skeletons dangle in the gallows as they wait for you to select your number of free spins and multiplier in the bonus round is great. The Grim Reaper slowly lurks in the background as per usual as they twitch and contort. And as mentioned above, the bugs crawling all over the game's logo and control buttons is a nice effect, (once you know that they're not real bugs crawling on your screen).
Also, you might notice little bugs running across the bottom of the game's control panel and logo…do not freak out – this is completely normal and is just a part of the graphics. However, the first time I saw a bug running on my monitor I screamed and slapped at the computer screen. The game's designers certainly have a sense of humor and some skills because they did a fantastic job and the creepy crawlies look life-like!
Lastly, every player who's waiting to see the Sexy Witch fly through the night sky on her broomstick will be rewarded with that visual once they are cashing in on a big payline win.
Audio & Soundtrack
This game might have one of the creepiest soundtracks I've ever heard in a Halloween-themed slot. It sounds like a possessed choir of schoolgirls singing music in a Satanic church. Whatever it is, it's quite the haunting song, (no pun intended, for once).
The other game sound effects are just fine and add to the game nicely. Whether it's the thunder crashing in the bonus round, or the Calderon Wild symbol bubbling, none of the audios interfere with your enjoyment of the game, which as we all know can easily happen in an online slot.
Conclusion
It took a while for this game to grow on me and it was originally at the bottom of my list of favorite Halloween slots. However, after some time and bankroll investment I began to enjoy the game for what it is – a simple, spooky slot that will be fun to play for a few hours every October. And what else could you ask for from a seasonal-themed game?
Haunted Night liberally hands out free spins, and getting into the Graveyard bonus round is fairly easy to do. It also has a decent payout percentage and great graphics, so anyone looking for a fright-filled night of gambling will definitely want to give this slot a try.
Now lets go find some jeans for that witch!
Bonus Video of Haunted Night
I realize that playing Haunted Night Slots might not be terrifying enough to give some of you a true scare, so here's a video of The 10 Creepiest Poltergeists Ever Caught on Tape. I honestly found this quite disturbing. Watch if you have the stomach, but be warned: these videos cannot be unseen! Muhahahah!!