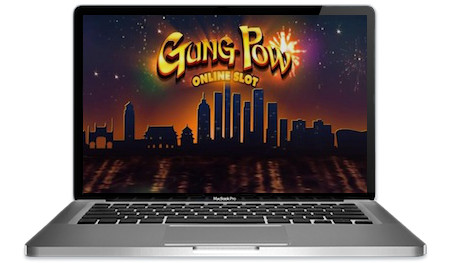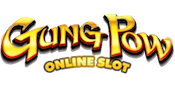 If you're looking for a way to electronically celebrate the Chinese New Year, Gung Pow Slots is the virtual festival that you've been waiting for. Now you can party like you're swaggering through the streets of Hong Kong with all of the sights and sounds of the world's biggest "Spring Festival".
Excellent Colors
Simple to Play
Double Up Feature
---
---
Review of Gung Pow Slots
Whether you say "Happy Chinese New Year", "Gung Hay Fat Choy", or "恭禧發財", Gung Pow Slots responds courteously by giving you 243 different ways to win. Which is around 213 more than most traditional online slot games. They achieve this massive amount of paylines by using "Way Wins" which are won left to right when symbols are joined together to form a winning combination in any direction.
The Chinese name for this game is "Lucky Firecracker Online Slot", which I kind of like better than "Gung Pow", which reminds me of chicken for obvious reasons. Now I've never been to China but I've always wanted to go, so this review will be tinged with just a sprinkling of bias. There's just something about those beautiful red lanterns…
Screenshots
For those unfamiliar with Chinese culture, these screenshots from the game show the kind of symbols that are traditionally used. You will notice that red is a predominant color – this is because the Chinese believe that red is the luckiest color of them all, and it is always associated with money. For example, if you were to receive a monetary gift from a friend or family member it would always be given to you in a red envelope, and it would be handed to you using two hands as a sign of respect.
Anyway, as you can see, the designs and colors are very nicely done in this game, and they are quite pleasing to the eye. Click on a screenshot below to enlarge it.
Storyline
For anyone who has ever been to a Chinese New Year festival either at home or abroad, you will know that there are two things that remain constant – the noise and the colors. Firstly, the noises are provided by loud firecrackers and explosives, (which were originally a Chinese invention), and secondly, the colors are supplied in the form of lanterns and fireworks, which were also made popular by the Chinese.
Chinese New Year is taken very seriously by those who celebrate it because it is a way to pay respect to dead ancestors, as well as an opportunity to clean out your physical and spiritual house. The color red is used extensively throughout the festival as it symbolizes good fortune and happiness. This is due to the fact that red was proven to scare away the mythical creature of Nian who would enter Chinese villages once a year to eat their children. One time a friendly spirit appeared before his yearly visit and frightened Nian off with firecrackers, red lanterns, and red clothes. Since it worked once, the villagers kept up the tradition and never lost another child to Nian again.
Unique Symbols
As you would probably guess, all of the symbols in Gung Pow Slots are Chinese-themed and come directly from Chinese culture and how they celebrate their New Year. Everything looks sharp and is vibrant in color, which really helps to relay the spirit of the holiday.
Unfortunately Microgaming chose to use my most hated symbol of a "9" in this game instead of more imaginative symbols such as a dragon, a red envelope, or a young Chinese villager running from Nian. Any of these would have been better than 9, but we'll just have to take what we've been given.
9
10
J (Jack)
Q (Queen)
K (King)
A (Ace)
Chinese Firecrackers
Chinese Sparklers
Chinese Noise Makers
Chinese Fireworks
Chinese Lanterns
Gung Pow Logo (Wild)
Lucky Chinese Coin (Scatter)
The Fireworks symbol is the one you'll want to chase since it pumps out 12,000 coins for 5 of a Kind. The next best is the Noise Makers symbol with 8,000, and then the Lanterns give you 6,000 coins for 5 across the reels. Please note that in a terrible twist of fate, the Gung Pow Wild symbol is shifty and only appears on reels 2 and 4.
Jackpots
Like virtually all other 243 payline slot machines, Gung Pow does not have a jackpot of any kind. So those of you who are looking to chase a huge cash prize will want to move on to something else.
Bonus Rounds
Unfortunately, there isn't a traditional bonus round in Gung Pow, but it does have a nice Double Up Feature where you can wager your previous spin's winnings on the flip of a card. It's up to you to choose red or black and either double your winnings or give them back to the machine. To access the Double Up Mode simply click the "Gamble" button before re-spinning which is located above "Spin". When you want to grab your winnings just click "Collect" to cash out and return to the regular game.
Free Spins
Three or more Scatter symbols anywhere on the reels triggers the Free Spins Mode which will give you a flat 15 free games each time. A nice feature of Gung Pow is that all wins in free games are given a 3x multiplier, so this is your best chance to stack up some bonus cash. In addition, you can re-trigger more free spins if you hit 3 Scatters again while free-rolling.
The other cool thing about the free games in Gung Pow is that you have the opportunity to win a whopping 90,000 coins thanks to its high maximum payout. This is obviously going to be very hard to hit, and most players won't ever see a payout like this in their lifetimes, but where there is light there is hope.
Graphics
There are very few animations in this game and it is a straightforward slot that doesn't have many bells or whistles. So for those of you who don't like games with too many moving pieces, Gung Pow Slots will probably appeal to you.
There are some nice subtle graphics with the Firecrackers, Sparklers, and Lantern symbols when they light up in a winning payline combination. Also, the Scatter Coins spin and swell, while the Wilds bloat and shine when triggered.
Audio & Soundtrack
As soon as you load up Gung Pow Slots you are transported to a busy gaming floor in Las Vegas thanks to the constant muffled buzz of people talking and slot machines paying out. I swear that if you listen carefully enough you can hear a drunken salesman from Jacksonville hitting on a cocktail waitress. In all seriousness, I found this audio to be a strange choice since I would think that the biggest pet peeve of those gambling in Vegas would be the constant noise while playing.
There are of course some Asian-style audios to denote big wins in the style of a traditional 7 stringed zither or "Guqin". All of the other game audios are pretty much what you would expect with nothing standing out.
Conclusion
Many slots players aren't big fans of 243 payline machines and I would have to count myself among this group. There's just too much going on every spin and it gets hard to keep track of – you win and win but never really seem to be adding to your balance. In addition, because there are so many ways to win in the regular game, these slot machines never have bonus rounds or fun game features.
That said, I do enjoy playing Gung Pow for short periods of time when I want to kick back and play a game that doesn't require too much thinking. The colors and images are sharp and the Double Up Feature always sucks me in for a few big gambles, so there's definitely excitement to be had.
For the most part I think that this game will mostly appeal to those who love Chinese New Year and the other players who simply like playing 243 payline games. Everyone else will probably want to skip this game in favor of something with a little more action.
But for those who want a little flavor of China,  I say…
祝你好運與你的賭博!!
Bonus Video of Gung Pow
Here's an interesting video about what actually goes on in China during their New Year's celebrations. They certainly put a lot of effort into it all…I would love to go see it one day. Enjoy!