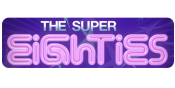 Break out the hairspray and neon spandex because it's time to go back to the gaudiest decade in history. Now you can relive all of your worst fashion mistakes and spin to win with The Super Eighties Slots from NetEnt.
Synthesizer Soundtrack
Neon Colors
Triggers Bad Memories
---
---
Review of The Super Eighties Slots
I don't think that I'm the only one who would love to go back to the 1980s and walk around for a day, even if it was just to ask Younger Me why the heck I thought hair-sprayed bangs and neon spandex were so darn cool. Oh well, it was the Eighties and we all got away with fashion murder – at least the music was fantastic.
There will never be another decade as ridiculous as the '80s so it stands to reason that casino software companies could come up with tons of different games about it. Sadly, this one isn't the greatest representation of the era and it probably has a maximum playing time of about 15 minutes or so before you get bored. That said, I still like to give it a few spins every once in a while for nostalgic reasons since it always puts a smile on my face.
This expert review of The Super Eighties Slots will break down exactly why it deserves a few of your quarters but why you'll want to save most of them for Pac Man.
Screenshots
As you would expect, this machine is glowing with bright neon colors and iconic images of the era, and just looking at those pink high heels makes my feet hurt. Click on the images below to enlarge them and take a good look at just how far we've come.
Storyline
You had to be alive during the 1980s to believe them: The Berlin Wall falling, a bad B actor becoming the leader of the Free World, and Alf being certified as a "hit" television show. Not to mention that Canada, Australia, and New Zealand all finally divorced themselves from the Queen of England, proving once and for all that open relationships just don't work.
Conservatism was all the rage with Ronald Reagan, Margaret Thatcher, and Brian Mulroney all getting elected to huge majorities in the leading countries of the West. This was of course balanced out by a relaxed attitude towards hair crimping, headbands, and the music of Culture Club.
It wasn't just a decade dominated by Phil Donahue and Duran Duran – it was actually the pinnacle of American Greed and over-indulgence, and it all came together to form the greatest artistic era of all time. The technological advances were amazing too, with home computers and cellular phones starting to become more popular as the years went on.
This release from NetEnt sadly doesn't dive into world politics or bad television series, but at least it gives us some imagery of the cooler gadgets of the decade. It has zero storyline whatsoever, but sometimes a picture is worth a thousand words.
Unique Symbols
Most people's biggest question regarding the unique symbols in this machine will be: why is there a FLIP cell phone? Didn't Zack Morris have a brick phone in Saved By the Bell in the early 1990s? Ok – we just searched online and flip phones didn't come out until 1996! It was the Motorola StarTAC, although in fairness, the concept was first introduced in 1989. But still – isn't this a glaring error? Enough to recall the game and re-launch it with a new symbol? It's shocking really.
In all seriousness, NetEnt could have definitely chosen some more iconic images from the '80s like New Coke or a Rubik's Cube, but let's just give them a pass for now and move on.
J (Jack)
Q (Queen)
K (King)
A (Ace)
Skateboard
Pink High Heels
Atari Joystick
Sony Walkman
Flip Phone
Red Lamborghini
80s Wild (Wild)
Punky Female (Scatter)
The '80s was all about going wild so it only makes sense that the Wild is the highest-paying with 1,000 coins for 5 of a Kind. The Red Lamborghini then zooms in with 400 coins for five across the board. This is followed by the Flip Phone, Walkman, and Joystick awarding 400, 250, and 250 coins respectively for 5 in a result.
Jackpots
Some claimed that they got their money for nothing and their chicks for free in the 1980s, however, in most people's experience nothing came that easily during the decade and NetEnt decided to stay true to their memories of the era by not including a jackpot in The Super Eighties. If you want a big pile of cash you'll just have to work your way up the corporate ladder like everyone else had to do.
Don't forget your shoulder pads, ladies.
Bonus Rounds
Competition was never greater than in the 1980s and companies used to shell out millions of dollars in bonuses to retain their best employees to keep them from walking away. Sadly, this was many years ago and for the most part they're now a thing of the distant past. NetEnt respects this change in fiscal attitudes by not giving us any type of a bonus round. Thanks, guys.
The only thing radical here is when you hit Wilds across every reel you'll get a Stacked Wild for your efforts. Also, the extra 4th row of symbols pads the Return to Player (RTP) percentage to make it 96.5%, which can definitely be considered higher than normal.
Free Spins
The record-high corporate profits in America during the '80s wasn't only due to Ronald Reagan slashing taxes and regulations, it was also helped by the fact that companies were very cautious with their promotions and give aways. This gambling game reflects this valuable lesson by only dishing out a flaccid five free spins every time you hit 3 Scatters.
To distract you from the small number they give you, NetEnt tacks on a 2x multiplier to all of your wins during the feature, which is certainly better than a Gremlin in your pants.
Oh – you're able to re-trigger 5 more gratis games if you hit another 3 Scatters while freerolling. Totally bodacious, dudes. 
Graphics
Let's go out on a limb here and assume that if you're the type of person that's reading a review about a 1980s-themed slot, you're also going to be the kind of person who likes bright pink crazy hair and imagery that conjures up memories of a wasted youth, (or were we the only ones who basically spent the entire decade cooking, cleaning, and watching Chuck Woolery?).
Anyway, Super Eighties gives players what they're likely looking for with a neon design, outlandish colors, and an "attractive" host for the free spins mode. These are the only graphics of note here since there isn't a bonus round or any animations on the reels.
The user controls are the classic NetEnt style that you'll find on most older titles that they've released, with nothing overly good or bad standing out.
Audio & Soundtrack
The 1980s was all about the great music that seemed to come from every corner of the world and NetEnt tried to pay homage to this with an upbeat song that sounds like it was made on an original Casio synthesizer. Sadly, the main soundtrack skips a beat when it loops, which totally takes away from the neon dream that it casts on you as you go.
The Super Eighties has a few problems but the biggest one has to be the audios in the regular mode. The reels stopping every time is reminiscent of Norm angrily slamming the stall door in the bathroom of Cheers and when a Scatter falls on the board it sounds like you just stepped on a Snork.
The win sounds blast over the main soundtrack in a very obnoxious way and they completely interfere with the flow of the action. So much so that playing this machine with audios on is worse than listening to Air Supply cover the songs of Twisted Sister. (That never happened, right?)
The soundtrack takes a more serious tone during free spins mode and slows down slightly to give you a "Miami Vice feel", but with only 5 gratis games in your pocket you don't have much time to enjoy the vibe. It was a decent effort but NetEnt could have definitely done a little better with this tune.
Anyway, instead of the machine celebrating the great music and electronic instruments of the '80s, it butchers the sound effects and serves them up in a steaming plate of garbage that not even a C.H.U.D. would eat.
Conclusion
Sometimes it's nice to enjoy an older one-armed bandit that focuses on a ridiculous time in history and The Super Eighties will give you exactly that, if that's what you're looking for…but only for a short time. This title falls into what we like to call the "Palate Cleanser" category of releases that are good to play when you want to take a break from all of the crazy action that new slot games seem to be offering these days. A few minutes with it will have you saying, Calgon…take me away.
Super '80s is definitely a 2 Star effort but it can be a 5 if you only go there when you're in the right frame of mind, so if you want to go back to the future for a few minutes, give it a try. It won't bite.
However, with no bonus round, no jackpot, and no reel features, most of you will probably say that it's "grody to the max" and that there's nothing really bitchin' about it.
I guess it is pretty bogus, dude – go ahead and gag me with a spoon.
Random Video of The Eighties
My goodness! There's just way too much to choose from when it comes to an extra video of the most ridiculous decade in recorded history. Let's try this one and see how it feels…