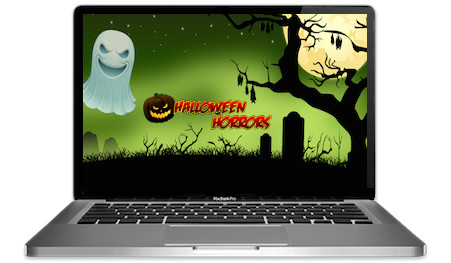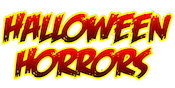 What's that next to the pumpkin patch? Oh no – it's a graveyard! And now we have ghouls, skulls and evil jack o' lanterns chasing us through the night. Not to mention that the sky is filled with bats and the occasional witch on a broomstick. This really feels like a…Halloween Horror!!!
Scary Symbols
Good Graphics
Tells Terrible Jokes
---
---
Review of Halloween Horrors Slots
I know that I love Halloween more than the average person and I'm totally used to people making fun of me for it. There's just something about all of the costumes, the creepiness, and of course, all the candy.
It was shocking to learn a few years ago that they don't really have "trick or treating" in Europe – what a shame for those kids! Every parent in North America remembers all of their children's costumes for those magical 10 years when they loved going house to house begging strangers for candy.
So yes, I have very strong sentimental feelings for Halloween, which is why this expert review of Halloween Horrors Slots never gets too negative, (and why none of our other reviews of Halloween-themed slots don't either). I put the fun level of this game at a 7 out of 10 but for those who don't feel as strongly about Halloween as I do, you will probably think it's more around a 5 out of 10 – you've been warned!
Screenshots
The screenshots below show exactly what type of cartoon horror you're in for with this machine. It's not overly scary or anything, however, the ghoul is quite disgusting because his face is disturbing. In any event, it's clear that everything was well-designed and that they put some effort into the images and effects: they strike the perfect balance between "creepy" and "cute".
Storyline
The storyline for this release is thin at best: it's based on a spooky walk through a graveyard at night, which is conveniently located next to a haunted pumpkin patch. Unfortunately for you there are nothing but evil Jack O' Lanterns scattered through the fields next to the old tombstones. This of course means that you are in for one heck of a frightening evening!
You must then battle your way through other horrific obstacles such as bats, cats, and skulls while searching for cash prizes. It's basically one long spooky night that never ends – meh.
Unique Symbols
The unique symbols in Halloween Horrors are exactly what you would imagine from a machine with that name. All of them are frightening cartoon images or traditional objects of the spooky holiday. Here's what's included:
J (Jack)
Q (Queen)
K (King)
A (Ace)
Haunted Tree
Ghoul
Black Cat
Bat
Ghost
Witch's Hat
Headstone (Free Spins)
Jack O' Lantern (Wild)
Skull (Scatter)
The highest-paying is the Skull Scatter which dishes out 400 coins for five of a kind. Next is the Headstone which only appears during free spins mode but five in a row will give you 200 coins.
Jackpots
As is customary with most seasonal releases, there are no jackpots available in Halloween Horrors. The only thing that could be considered a "jackpot" in the game is…when the reels are not being spun the control panel will recite terrible Halloween-themed jokes!
For example, gems such as "Don't get kicked in the ghouls" and "Witch lines to play?" will be flashed in the message area. There's really nothing like Halloween-themed gambling humor to get people into the true spirit of the holiday…right?
Bonus Rounds
The most frightening thing about this machine is that it doesn't have a bonus round. It's a downright shame because a special feature could have really elevated the overall fun level.
The simple truth is that most players will probably find that there's just not enough action to keep them interested for long stretches of time.
Free Spins
You will want to be a headhunter in this foggy graveyard and get as many Skull Scatters as you can because these are what bring you into the free spins mode. Three Skulls give you a paltry 5 spins but four give you 10, and five will snag you 15.
All of the wins during the feature are doubled before being added onto your balance, which is certainly a nice gesture. However, when you compare this to other titles that give players the opportunity for a 10x multiplier or higher during freerolls, it does seem kind of low.
During the frantic action the Headstone symbol is added to the reels as an extra bonus target for you to hit. The payouts on these are quite decent, with 2 of them paying 7x your wager, 3 giving you 30x, 4 awarding 100x, and 5 dishing out a whopping 200x your bet.
We here at The Queen of Online Slots are always hesitant to say that a game pays out more than another, however, this machine truly feels like the free spins are constantly coming. The reasonable explanation for this is that there isn't a jackpot or bonus round, so giving out a few extra spins isn't going to break the bank. Technically, it's confirmed to give a 96.2% return to player (RTP) so it is paying out at around the same amount as the other out there, it's just that it's happening via freerolls.
Graphics
The background graphics in Halloween Horrors are pretty darn good for a seasonal-themed release. There are bats that occasionally fly through the night sky and over the moonlight, as well as nasty witches flying on broomsticks behind the reels.
The animations for the winning paylines are great, with items such as the Haunted Tree becoming an "angry/possessed/psychotic tree" due to its evil, red eyes that flare. The Ghosts and Pumpkins also become more aggressive as they zoom out of their squares when activated.
Audio & Soundtrack
Unfortunately there is an annoying "blarmp blarmp!" played on an organ after certain wins that will continue repeating until you spin again. So if you have to get up for some reason the "blarmp blarmp!" will echo throughout your house until you push the button again. It also blarmps as it counts up the multiple paylines each time and you'd better believe that it will have you reaching for the mute button in no time. It is hands-down one of the worst sound effects you'll ever hear in a gambling game.
Other than that, there are numerous creeks, bangs, clangs, and evil laughs in the background track which all add nicely to the creepy cartoon feel of the machine. If the annoying blarmps weren't included it would have gotten a much stronger grade for its audios.
Conclusion
This was a hard one to review. There are certainly better Halloween-themed online slot games out there but there are a heck of a lot more that are worse. Halloween Horrors falls right above the average as a fun release that will entertain most players who are looking for a little bit of spooky action, (although specific entertainment levels will definitely vary).
That said, you should give it a few dollars of your bankroll to see if you are one of the people who will find it cute. However, don't make a grave mistake by wagering too much – a few spins is all you will need to know where you stand.
Random Video of Halloween Horrors
I think we can all agree that the worst Halloween horrors are either eating too much candy as a child, or being the parent of a child who has eaten too much candy. So in the spirit of that, here is Jimmy Kimmel's hilarious video documenting parents who pretend to eat their kid's candy. This is oh so cruel, but oh so funny…