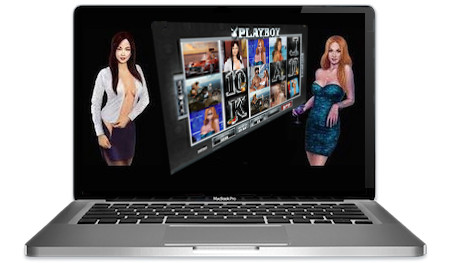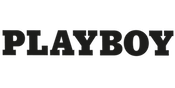 Most of us will never make it into the Playboy Mansion so this might just be the next best thing. Exotic imagery and beautiful centerfolds dominate this luxurious slot game that celebrates the finer things in life.
4 Unique Free Spin Modes
Sexy Playmates
243 Paylines
---
---
Review of Playboy Slots
Like most red-blooded American men I've been obsessed with Hugh Hefner and Playboy since I was a young teen. Sure it was mostly driven by the photos in those magazines, but that type of thing could be found in numerous other publications too, so it was more about their brand of glamorous living and how one should properly enjoy the good life. There was just something about Playboy that always elevated it above its competitors.
Most would argue that Playboy's success was due to its enigmatic founder, Hugh Hefner, who gave the company a handsome face and a dashing personality, and in the process also became the person that every man in America wanted to be. "Hef" threw the best parties, had the best looking girlfriends, and seemed to have more fun than every other person in the world, (although dating 7 girls at once must be very hard work).
Sure I've always admired Hef and his antics, however, as you get older you realize that there's more to life than living in a huge mansion surrounded by gorgeous women and servants. Ok, maybe there's not, but this review still won't be tainted by any fond memories because the game sadly doesn't have anything to do with Hef at all. This is basically a global photo shoot featuring four models and their exotic locations. And that's too damn bad because a game about Hef would have been a helluva lot more fun, in my opinion.
Screenshots
As you would expect, this game looks very good, but am I the only one who thinks that it looks like it was released way before 2013? Somehow it has a retro vibe going on with it, which is probably due to the Sega Genesis style of animation that they chose for the images. Click on the screenshots below if you want a close up of exactly what you'll get with this game.
Storyline
Since 1953, Playboy magazine has been pushing the envelope and stimulating the American public's thirst for interesting interviews and beautiful women, not necessarily in that order. Created by publishing pioneer Hugh Hefner, Playboy worked its way up to a peak circulation of 7 million readers in the early 1970s, and featured photo spreads of some of the most beautiful women in the world over the next 40 years.
Young ladies from all walks of life have been featured in the pages of Playboy, with the most notable being Marilyn Monroe, Kim Basinger, Drew Barrymore, Jayne Mansfield, Belinda Carlisle, Madonna, Farrah Fawcett, Shannen Doherty, and the stunning Suzanne Somers. It's crazy when you realize that this list is only a tiny sample of the Playmates who have undressed for Hef's magazine over the years – celebrities have always longed to pose in it, and readers have always responded by buying the magazine in droves.
This slot from Microgaming ignores Hef and the Playboy Mansion, as well as the illustrious history of the publication, and instead focuses on beautiful women and glamorous imagery that one would associate with the "Playboy Lifestyle". After playing it for a while you will see that there's not much of a plot to this game and the weak storyline is one of the biggest issues with this slot.
Unique Symbols
I don't know what I would have responded with if you would have asked me which symbols I thought should be included in a Playboy Slots game. The two obvious ones that come to mind are the Playboy Mansion, and of course Hugh Hefner in a bathrobe smoking a pipe. Strangely, neither one of those are in the game, and I have no idea how this could have happened.
Instead of giving us Hef, the designers opted to use glamorous symbols of beautiful young men and women having fun in exotic locations around the world. It's not what I would have personally chosen, but the symbols do seem to come together to present a general theme of constantly chasing beautiful women…and their free games features.
10 with Scotch and Cigar
J with Platinum Rolex (Jack)
Q with Matchbook and Phone Number (Queen)
K with Cards and Casino Chips (King)
A with Playboy Branded Zippo (Ace)
Couple on Motorbike at Beach
Girl Standing in Red Convertible
Man and Woman Sunbathing
Kimi
Sofia
Ashley
Jillian
Playboy Bunny (Wild)
Playboy Magazine Covers (Scatter)
Hopefully your virtual newsstand is full of Playboy Magazine Scatter symbols because that is the highest-paying in the game, giving you 200 coins for 5 of a Kind. Next we have the Playboy Bunny Wild hopping in with 33.33 coins for five across the reels. The beautiful ladies are next with Jillian, Ashley, Sofia, and Kimi paying 16.66, 15, 13.33, and 11.66 coins respectively for 5 in a spin. These numbers aren't a mistake: crazy payouts are totally normal for games that have tons of ways to win like this one.
Actually, you should note that since Playboy Slots is a 243 payline game you must play all 243 each time, and in order to cover all of these ways to win there is a 30x multiplier each spin on the number of coins that you decide wager. For example, if you choose to wager 10 coins every hand you're actually wagering 300: 10 x 30 = 300, so always make sure that you're wagering the exact amount that you intend to before pressing the Spin button.
Jackpots
You should just be happy that Hef let you into the club – stop looking around for a Playboy Slots Jackpot because you're not going to find one. I guess he didn't want players getting overstimulated by big cash prizes. To be honest, I've never seen a 243 payline game offer a jackpot of any kind, so it's par for the course and you shouldn't take any offense.
Bonus Rounds
Sadly, there aren't any proper bonus rounds in this game and Playboy Slots instead relies on different free spin modes to keep players occupied. This is a low down dirty shame because I think that most people would have liked to visit the Playboy Mansion and attended one of Hef's exclusive parties, even if it was only a virtual one.
The game does have a few small features like the "Paytable Achievements" which levels you up after you've won every possible payout combination involving a particular symbol. Also, after entering the free games mode 20 times your paytable will become platinum in color and will trigger a tracking feature that will display your largest five wins, as well as the various symbol combinations that you've hit throughout the regular game. All of your data will be saved for life and you can access it anytime.
In addition to the above, there is a nice little reel feature that sees the Playboy Wild symbol double the prize amount of any payline win that it's involved in. Classy!
Free Spins
Three or more Playboy Magazine Scatter symbols across the reels will trigger the "Playboy Club" bonus game where you will be able to go on a date with 1 of the 4 beautiful ladies who will be waiting for you. Similar to the Paytable Achievements feature, you have to "level up" with the free games and each of the rounds has to be unlocked one at a time.
First up we have the Kimi free games which will give you 10 free spins with a 5x multiplier on all prizes, and she also holds the distinction of being the only free spins feature that you can retrigger while freerolling. Next, Sofia saunters in with 15 free games and a "Running Wilds" feature which sees the Wild symbol generating a column of Wilds that will add 1 Wild to the reel with each free spin. Sofia is only accessible after your 5th visit to the Playboy Club.
Once you've joined the ladies in the club for a 10th time you will be able to select Ashley, who will seduce you with 20 free spins and a lucrative "Rolling Reels" feature. This has the symbols in winning paylines removed once the cash is added to your balance, and the symbols on top of the winning payline then fall down to replace them and hopefully create another win, with the processing repeating itself until you hit a losing combination. The nice twist on this round is that you get an increasing multiplier with each collapsing win, up to a maximum of 5x. Now that's my type of party.
Finally, once you've made your way through the virtual velvet ropes of the Playboy Club for a 15th time you can visit with Jillian, who's waiting for you with 25 free spins and a "Wild Night" feature that will come at random. This will make 1 to 5 reels totally Wild, which can obviously be a huge boost to your bankroll depending on how many reels change during the feature.
The Playboy free spins are definitely a lot of fun to play, however they obviously don't make up for the absence of a proper bonus round.
Graphics
I'm not exactly sure how to rate the graphics in this slot: they look fantastic for a video game but they're not really as lifelike as I'd expect. It's very easy to tell that they were digitally created. Wouldn't most people looking to play a Playboy game want real images from the magazine's models? Also, these Playmates could be real but I know that I've never heard of them before – where's the star power? I feel that Microgaming left a lot on the table here.
Each option in the free spin modes comes with its own background imagery, and the girl you choose to share your feature with will take you to a unique place. You'll visit the beach, the disco, and even a messy apartment. The changes in scenery keep things fresh and interesting and they're a welcome break from the regular game.
Lastly, it goes without saying, but the images of the different girls that are available in the Playboy Club are very risqué – Ashley's photo certainly doesn't leave much to the imagination. So if you are sensitive to partial nudity you will want to avoid Playboy Slots in favor of something else. (And if you are sensitive to partial nudity, how did you make it this far into the review?!)
Audio & Soundtrack
The song in the main game sounds like a mischievous track that would play in the background of an episode of an old '90s Fox nighttime drama like Pacific Palisades. It is driven by a slow guitar riff and whimsical maracas, while a sexy piano and smooth synthesizer battle for supreme control of the track. It's actually a pretty good jam and I always play this game with the volume way up.
Kimi's free games has a 1980s style synthesizer-dominated song with whimsical bridges and sexy bleeps and blorps that will have your hips swinging. Sofia's feature has an uptempo, calypso-infused, toe-tapper that is accentuated with electronic trumpets, synth blasts, and a throbbing bongo beat, which all come together to make it the best song in the game.
Then once invited into Ashley's chic condo you'll be greeted with an intense metal-inspired, guitar-heavy anthem. It kind of sounds like the Scorpions mixed with early '90s David Bowie – it's not the greatest song on the soundtrack but it will definitely have your head bobbing as you freeroll. Finally, Jillian's feature gives you a high-energy dance banger that will take you back to your early 20s and the vapid discotheques that you used to frequent looking for short-term romance from obnoxious strangers. Think Daft Punk with a twist of the Chemical Brothers and you'll know what to expect here.
All of these songs do a great job of transporting you to different places, from New York City rock clubs to the sunny beaches of Ibiza. To be honest, I think that Playboy Slots might be one of the best games I've ever played from a musical standpoint, and the soundtrack really keeps you in a good mood even if you're on a losing run.
Unfortunately, the win audios are too aggressive with a loud guitar cranking out over the peaceful ambient music for certain payline payoffs. They just didn't do a good job of mixing the sound effects and soundtrack, especially when the Playboy Bunny Wild is used in a payline win and a flatulent synthesizer triumphantly blasts out a clunky jingle. It's all very distracting and unnecessary in my opinion and it takes away from the amazing soundtrack that plays throughout. Next time leave the obnoxious win audios for the gaming floors of Las Vegas, please.
Conclusion
If you've always dreamed of spending some time in the shoes of Hugh Hefner, Playboy Slots gives you a good idea of the things that surround him at every waking moment of the day. Unfortunately, there's no storyline in the game at all and it relies solely on luxurious images of the finer things in life, which almost comes off as a taunt to the very people who are playing it. Sure there are some virtual Playmates featured, but in this day and age I think that players will be looking for something with a bit more substance.
Although this game could definitely be referred to as "sexy", it will probably leave you wanting more after a while – it's all beauty and no brains. However, for those of you who are big fans of the Playboy brand and will play for hours no matter what, at least you'll have lots to look at as you're spinning. Not to mention that the amazing soundtrack will keep more than a few of you dancing in the Playboy Club till closing time. Bonus Bandits will feel shunned by the lack of a real bonus feature, but might find themselves kept busy with the game's 243 different ways to win.
I'm kind of torn on this one. It's definitely fun to play this game for a little while, but I always end up feeling like it could have been better. Either way, you'll want to indulge yourself for at least a few spins so you can see the glamorous life that Hef spent decades promoting.
Playboy the magazine has always been interesting, but Playboy the slot game sadly fails to live up to its legacy.
Bonus Video of Playboy
Well this certainly was a hard one to figure out so let's just go with something safe. Here's "Playboy's Roller Disco & Pajama Party" from 1979 hosted by Richard Dawson, featuring tons of celebrity cameos. Don't worry, the most offensive thing in this video is the haircut on Chuck Mangione's guitar player. This is definitely 1970s decadence at it's best…(or worst)…