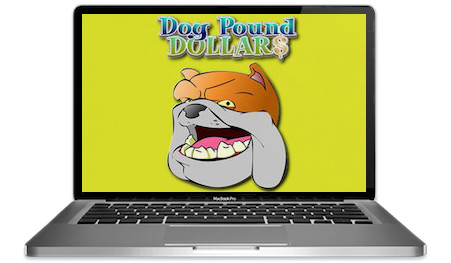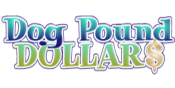 Anyone who's had a beloved dog run away knows how painful it is when you discover that they're missing and start to worry that they're at the pound. Now you can finally relive that childhood pain and sorrow all over again.
Terrible Graphics
Annoying Sound Effects
No Bonus Features
---
---
Review of Dog Pound Dollars Slots
Since I was a small child my family has always had dogs in the house and often there were at least two or three running around in the back yard. Sure they're supposed to be "man's best friend" but girls like me wanted a furry friend to play catch with too. So over the last 50 or so years I've probably had almost every breed of dog there is, including a stubborn Basset Hound, so that in itself should tell you how much I love canines. (Or at least how patient I can be.)
Obviously I've always enjoyed games involving dogs so I decided to dig deep in a few of the best online casinos and only play canine-inspired titles for an entire week in order to write some reviews specifically on them. This brought me to Dog Pound Dollars, which I originally had high hopes for when I saw it in the list but as soon as it was open I knew it was going to be terrible. The good news is that since I already wasted my money on it, you get to benefit from my experience.
The only bias I was bringing into this review was my strong love of dogs and not even that could make me give this stinker a break. It's just awful from beginning to end so read on if you want to know what you'll be missing if you heed my advice.
Screenshots
This machine is getting very long in the tooth and it's definitely beginning to show its age. That said, the graphics are still kind of cute because they're depicting various types of mischievous pooches. However, most people will be put off by the design since it basically looks like it should be in an online slots museum.
Storyline
I sometimes think that fences were invented for dogs – why else would you have a two foot high picket fence around your front yard? What could it possibly be keeping in or out besides a dog that was too lazy to jump over it? In fact, the white picket fence was probably thought of by someone who realized that spending $100 on a fence was cheaper than constantly paying to bail their dog out of the pound every week.
This is where Dog Pound Dollars comes in: to rehash the terrible situation of your dog running away and the desperate emotions that follow as you hope that he's only been locked up in the pound and hasn't run away from home for good. If you've never experienced your dog being missing you might find this game cute but for those of us who have been through the trauma, it just brings back painful memories.
Rival Gaming have accidentally created a machine detailing the terrible feelings that one goes through when losing a beloved pet, with this boring release about dogs running away from dog catchers. Don't worry though, there is zero semblance of a storyline here so you shouldn't have any traumatic flashbacks – it's only whirling reels with weird dog symbols on them.
Unique Symbols
The unique symbols are pretty much what you would expect and they're all dog-related in some way. Each of them looks pretty bad by today's standards with ugly designs and ridiculous colors. Most of the symbols don't even make sense when you remember that this is called "Dog Pound Dollars" – why is the Dachshund falling out of a bed?
Anyway, here's what you will find if you were ever silly enough to play it:
Tennis Balls
Can of Dog Food
Dog Catcher
Bones
Dalmatian by a Fire Hydrant
Doberman with Police Badge
Wrinkle Dog by a Table
St. Bernard with Whiskey Barrel
Dachshund in a Bed
Surly Bulldog (Wild)
Sad Yorkie (Scatter)
Poodle with a Crown (Jackpot)
The Surly Bulldog with the studded collar is as profitable as he is mean, with 5 of a Kind dishing out 10,000 coins. The payouts then plummet with the Princess Poodle being the next highest-paying with 750 coins for five across the reels. Moving on we have the Sad Yorkie Scatter timidly dolling out 500 coins for five in a row, and in a surprising twist the anti-hero of the whole scene, the Dog Catcher, only hands out 100 coins for the same.
Jackpots
There is no jackpot available in Dog Pound Dollars and that shouldn't come as a surprise to anyone. When you're dealing with a game that looks like it was released in the 1980s you're probably not going to find that many bells or whistles. You simply can't teach an old dog new tricks.
Bonus Rounds
Unfortunately, it looks like all of the bonus rounds have been gathered up and locked in the dog pound without a chance of parole. This machine is just too old and decrepit to offer a special feature so you're really barking up the wrong tree with this one.
Actually, there is the smallest of items, with the Bulldog Wild giving you a 2x multiplier on any winning payline that he squats in. Consider yourself lucky.
Free Spins
The free spins mode in Dog Pound Dollars is triggered when you hit 3, 4, or 5 Scatters and you will be given a flat 15 each time. They throw you a small bone with a 3x multiplier on your winnings each time but obviously there aren't any new reels, imagery, or backgrounds while you freeroll.
Graphics
Surprisingly, this machine actually has a little intro video that plays each time you load it up that sets the stage for what's about to happen, which is of course dogs running from dog catchers. It's not that bad considering its age and it's actually kind of fun, so that probably makes it the best graphic to be found.
Other visual effects include items like the Top Dog becoming animated when involved in a payline win and grimacing and baring his teeth at you as he shakes his head angrily. Also, there is a border of extremely fast disco lights that circle around the symbols in any winning combinations and they are both unexpected and unexplainable.
Everything else just looks very dated and cheap.
Audio & Soundtrack
The intro song that blasts during the loading video is a frantic drum beat that will have you thinking that you're the dog running down the alley to escape a big net. There are no other instruments used in it so it's basic at best.
The constant sound of dogs barking in the background gets annoying quickly so it's advised that you immediately go into "Options" and mute those particular sounds. However, if you do that you'll miss the stimulating audio of "ruff" whenever the special Scatter dog lands on the board.
The audio of a small win is a rim shot on a drum kit reminiscent of the kind that would follow a Henny Youngman one-liner. (Take my wife, please!) Many will be embarrassed to admit that they actually enjoy it: the rim shot along with the flat bass note that follows the cymbals is the only thing that puts a smile on your face throughout the depressing action.
Conclusion
I'm not sure how I missed Dog Pound Dollars when it first came out but I'm certainly glad that I did. It's only going to appeal to dog lovers who like playing simple, ugly, old school slots – if such a person even exists. If you love dogs there are tons of better options out there these days so please don't waste a second of your time on this because you'll just be bitterly disappointed with what you find.
In a cruel twist of irony, the pain of playing this machine is prolonged by the lack of a Stop button so you're forced to sit there and watch the ugly reels spin and spin until they feel like stopping. It's absolute torture.
Save your money secure in the knowledge that this old game should be buried in the backyard like the rotten bone it is and never dug up again. It's simply a steaming pile of you-know-what. If you're even thinking about spending a penny on it after reading this review, please fly yourself to Florida so I can swat you in the behind with a rolled up newspaper.
Bad dog!
Random Video of Dog Pound
I had no idea what video to end this review with so I asked my son, Harry and he said that he'd add one for me from that Snoop Doggy Dog guy. He said that it makes sense because it features "The Dogg Pound" – whoever they are. Anyway, I hope you enjoy it because I won't have listened to it first.