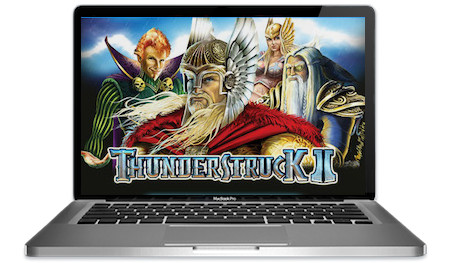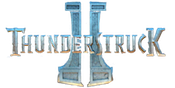 The gods and goddesses of Norse mythology are back to bring down the hammer on all who oppose them and hand out cash prizes to their trusted allies. Now you can join the God of Thunder and his friends in their quest to protect humankind in Thunderstruck 2 Slots from Microgaming.
243 Paylines
Four Unique Bonus Features
Detailed Game Design
---
---
Review of Thunderstruck 2 Slots
Although I've never studied Norse mythology I've always enjoyed the stories of Thor and his legendary Mjölnir – the hammer that can smash the world to bits with a single blow. Strangely, this game has gotten me a little interested in learning more about the history and stories of these gods, and what exactly happened all those years ago.
In any event, this review of Thunderstruck 2 Slots will concentrate on what the game will be like for normal people like me who don't know much about Norse history. You obviously don't have to have a university degree to enjoy what the game has to offer, however I think that in the end, this slot might only be enjoyable for long stretches of time if you are someone who's really into Viking gods. Lets find out why…
Screenshots
The screenshots below from Thunderstruck II show you just how careful the game's creators were when they designed each symbol. My favorite image in the game is the Bifrost – the beautiful rainbow bridge that joins Asgard with Midgard…and links the World of Gods with the world of humanity.
Storyline
Norse mythology states that Thor was the God of Thunder who was tasked with protecting mankind, so no wonder he's the one that most people on Earth know and love. There are tons of characters from these stories and Thunderstruck 2 even includes a few of the lesser-known ones such as Odin, Loki, and Valkyrie.
Odin is primarily known for his sorcery, healing powers, and long beard, and is basically thought of as one of the first true wizards in history. Oh – ancient myths also have him placing bets with his wife Frigg on the results of battles and expeditions…it sounds like Odin might have actually been the God of Gambling!
I was surprised to learn that the Valkyrie is not one specific person, but rather there are a number of "Valkyries" who preside over battles to determine who lives and who dies, (so it's probably best to stay on her good side). The Valkyries then transport the dead to Valhalla, which is the "Hall of the Afterlife", where Odin presides over their metamorphosis to "einherjar" – warriors who fought and died in battle.
Finally, Loki has a weird and disputed history in Norse mythology, with most experts deciding that he was the "God of Mischief". Some stories have him helping the gods, while others have him working against them. Since Loki is known to be a shape-shifter and many tales have him being captured and held prisoner by the gods, it's probably safe to assume that he wasn't exactly on the side of humanity.
Unique Symbols
I'd usually complain about the fact that Microgaming chose to use a "9" as a symbol, but the rest of the symbols are so well done that I'll give them a bit of a break. Also, the game has 14 symbols instead of the usual 13, so using a 9 isn't really taking away from something else that could have been used.
All things considered, I feel that the unique symbols are wide-ranging and provide a balanced set of game reels, although I'm sure they could have come up with a little something extra to catch our attention.
9
10
J (Jack)
Q (Queen)
K (King)
A (Ace)
Valkyrie
Loki
Odin
Thor
Longship
Bifrost (Rainbow Bridge)
Thunderstruck 2 Logo (Wild)
Mjölnir (Thor's Hammer – Scatter Symbol)
As with all 243 payline slot machines, the payouts during the regular game in Thunderstruck II are quite low, which is totally understandable given the many ways to win. So the highest paying symbol in the game is the Wild which dishes out 1,000 coins for 5 in a row, and next we have Thor, Odin, Loki, and Valkyrie which pay 500, 450, 400, and 350 coins respectively for 5 of a Kind.
Jackpots
I don't think that I've ever seen a 243 payline slot game offering a jackpot prize, and Thunderstruck 2 is no different. There aren't any progressive jackpots or in-game ones of any kind.
However if you're looking for a big pay day, I've seen some online casinos claiming that players can win up to $121,500 on one spin, and the game itself says that you can win up to 2.4 millions coins. I would think that this could only happen if you were betting the maximum amount and then every symbol on the reels was a Wild. And please don't ask me to calculate the odds of that happening, because I don't have a PhD in math!
Feel free to contact me and explain how all of these odds would work if you understand the math behind this.
Bonus Rounds
Bonus Bandits will be sad to learn that Thunderstruck 2 doesn't have any unique bonus rounds. This shouldn't be too surprising though since it is a 243 payline game and these usually don't have any bonus areas whatsoever.
Although there is a crazy "Wildstorm Feature" that arrives at random during the regular game that can transform up to 5 reels into Wild symbols, thus giving you a "storm of Wilds"…get it? This is rare to hit but when it does it starts off dramatically with intense music and thunder booming, but it's all over in a flash leaving you dazed with a fatter bankroll.
Free Spins
There are four Free Spin Modes in Thunderstruck II that you access in "The Great Hall of Spins". Every time you enter the Great Hall you get closer to being able to choose from all of the different bonus rounds, with each having unique amounts of free spins, multipliers, and features.
The Valkyrie Bonus Round is accessible from the 1st time you enter.
The Loki Bonus Round is accessible after the 5th time.
The Odin Bonus Round is accessible after the 10th time.
The Thor Bonus Round is accessible after the 15th time.
So first there's the Valkyrie Free Spins which gives you 10 games with a 5x multiplier. This is a pretty straight forward bonus area but you can re-trigger free spins in this feature so there's tons of cash to be made if you get on a roll.
Next there's the Loki "Wild Magic" Feature which dishes out 15 free spins and Magic Wild symbols which will randomly transform other symbols around them into Wilds as well. If you get a Mjölnir symbol during this bonus round it will give you even more free spins: 2 Mjölnirs gives you 1 free spin, 3 gives you 2, 4 gives you 3, and 5 gives you 4. Which is actually quite confusing, isn't it? Why didn't they just match the free spins with the amount of Mjölnirs in a spin? Oh well, beggars can't be choosers.
From there we have the Odin bonus which consists of 20 free spins and the "Wild Raven Feature", where ravens will randomly transform symbols into multipliers of 2x or 3x. If you are extremely lucky you will have both of the ravens land on the same symbol and change it into a 6x multiplier.
Finally, once you've made it to that golden 15th time in the Great Hall of Spins you'll have access to the Thor bonus. This gives you a whopping 25 free spins that accompany his "Rolling Reels Feature" where you can hit multipliers between 2x and 5x if you start to hit consecutive winning spins.
There is no bouncer at the doors to the Great Hall of Spins – they will be opened if you hit 3, 4, or 5 Mjölnir symbols anywhere on the reels during a spin.
Graphics
The graphics in Thunderstruck 2 are pretty darn good, with all 4 of the main characters having special animations throughout the game. In addition, the game's logo gets smashed, hit by lightning, and even does a little dance during the Valkyrie bonus mode.
The game backgrounds are unique for each free spins feature so they do a great job of transporting you to the different magical places across the land. The Odin Wild Raven Feature is my personal favorite of the group because the backdrop is a beautiful purple nighttime sky.
In general, the details of the symbols of the four main characters look like they took a long time to design and create, so I have to take my hat off to the graphics people at Microgaming.
Audio & Soundtrack
There is lots of diversity throughout the game's soundtrack and it's surprising that they put that much effort into it. The song that plays during the Loki Wild Magic bonus round is quite whimsical and mischievous, and is definitely of movie soundtrack quality, while the song that plays during the Wildstorm feature is quite loud and aggressive. Like the unique backgrounds, the music helps to transport you into the different areas of their universe.
The main song in Thunderstruck 2 is quite soft and comforting, and very similar to the music that you would imagine playing during a fantasy movie as the heroes gallop on horses across the countryside. The song is accentuated with soft lightning crashes and rumbling thunder, which set the perfect mood for a game of this genre. Although the sounds of thunder and lightening intensify whenever the game's logo gets smashed or a Mjölnir gets electrified.
Payline wins that involve game characters like Loki and Valkyrie each come with a different sound effect, with some being decent, and some unfortunately being offensive to the ear. Another annoying part of the soundtrack is when you get a big cash win, tons of gold coins spit out onto the screen and the audios for each coin exploding is quite intense, (although obviously financially rewarding). It will probably remind you of a loud slot machine paying off on the floor of a brick and mortar Las Vegas casino.
Conclusion
Although most of the graphics in this game are still quite cool, I think that some parts might be starting to look a little dated. Therefore, those players who are only interested in the latest and greatest online slot machines might want to take a pass on Thunderstruck II in favor of something newer.
The lack of a proper bonus round is going to offend many who aren't that interested in playing a 243 payline slot machine in the first place, and those who like variance in their gameplay may soon get bored. That said, the game images and symbols will entertain most players for at least a little while.
However, if you're into fantasy, Norse mythology, and/or big hammers that you can't pronounce the name of, you'll definitely want to give Thunderstruck 2 a try. Just don't get too lost in those 243 paylines and get your bankroll smashed by a stray Mjölnir.
Bonus Video of Thunderstruck 2 Slots
There's only one video that can be presented at the end of a review for a slots game called "Thunderstruck". You guessed it – AC/DC's classic anthem from the early 1990s…THUNDER!!!