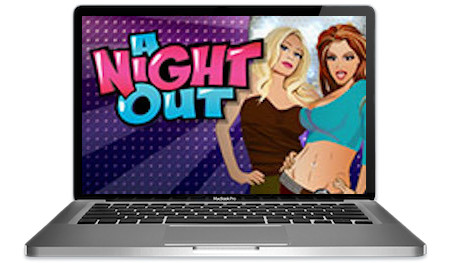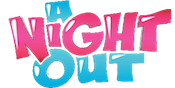 You'd better be ready to party because all of the girls from the office are here in A Night Out Slots, and they're not going home until you've done some shots and spun the reels. Just make sure that you enjoy in moderation!
Beautiful Colors and Images
Nonintrusive Sound Effects
Fun for Everyone
---
---
Review of A Night Out Slots
Sometimes you just need to go out and cut loose and finally there's a slot game that celebrates the art of getting jiggy. When you want to enjoy all of the fun and confusion that you experience at a discotheque in the comfort of your own home, this title is what you should load up.
It's hard to figure out if this game was originally targeted towards men or women. There are numerous good looking women symbols, but only one male symbol. And yes, he's cute…but he's the bartender so how do we know that he's not just flirting with us to get better tips?
Also, there is a symbol of a woman alone on the dance floor in a suggestive pose, so I'm not sure if the creators of the game were hoping that women and men would both be attracted to her? However, based on the game's tagline of "Ask one of these lovely ladies for a dance to get your free spins", I think we can safely assume that Playtech was primarily targeting the male demographic with this one. Most would probably argue that the game's symbols and design resonate with women as well.
My exclusive review of A Night Out Slots will break down all of the bonus features, symbols, and story lines so you can decide for yourself if you want to enter this whirling, pastel-smeared discotheque. This game will only be for those of you who truly like to "get down".
Screenshots
Since the vast majority of symbols in this game are alcoholic beverages of some kind, you'd better be in the mood to party if you plan on playing this slot. Also, you'll want to bust out some of your best dance moves since one of the symbols is an inebriated bar patron and she wants you to be her dance partner. As you can see from the screenshots below, the party is in full swing and the drinks are heavily flowing.
Storyline
Most people wait until Friday to go for a night out, but who among us hasn't been sucked into a Thursday night out with friends or coworkers? There is also the dreaded "Monday Night Mistake, Look Like Hell at Work on Tuesday" night out that probably more than a few of us have been unfortunate enough to experience. Well, all of those mistakes have finally been captured in a fun slot game.
There are not one, not two, but three beautiful heroines in this electronic fairytale of disco debauchery. Cindy, Kat, and Roxy are the devils on your shoulder telling you to meet them out for a night on the town. It doesn't matter if you're male or female, they want you to join them at the club for a night of fun and excitement. There are three other young ladies hanging out by the bar in the bonus area, but unfortunately we never get to learn their names.
This game is pretty much identical to every night that you've ever spent out on the town – the drinks come fast and furious and there's a good chance that you're going to make a spectacle of yourself on the dance floor. The story reaches its climax in the bonus round where you choose a woman to buy a drink for, however in a wonderful twist of fate, this actually results in you ending up with more money than you started out with due to the bonus multipliers and free spins.
Unique Symbols
Anyone who doesn't want to be tempted by alcohol should skip this game entirely. The fruity drinks on the symbols of this slot look ridiculously delicious and it's very hard not to think about drinking lots of them. Except maybe the pear one – it looks kind of bland and flavorless.
There are tons of symbols based on tasty cocktails, with the base fruits being pears, kiwis, strawberries, pineapples and oranges. However, strangely enough the Wild Symbol is a frothy mug of draft beer with the text "Wild Beer" repeating in a border around the symbol. How many women drink beer, and more specifically, how many women do you know drink draft beer?
Maybe this slot is for men after all, but if that's the case, why are all of the other symbols extravagant cocktails? To remind men of all the drinks they're going to have to buy Roxy and her crew to get the party started? Anyway, I think the symbol choices are a bit strange.
Strawberry Cocktail
Orange Cocktail
Pear Cocktail
Kiwi Cocktail
Pineapple Cocktail
Sexy Blonde (Roxy)
Sexy Brunette (Cindy)
Sexy Redhead (Kat)
Frosty Draft Beer (Wild)
Sexy Male Bartender (Bonus)
Lady on a Dance Floor (Scatter)
You'll want to see the beer taps flowing since 5 Wild Draft symbols on a single spin will give you a massive 10,000 coins. This game perpetuates the stereotype of blondes having more fun with the Roxy symbol paying 1,000 coins for 5 of a Kind, followed by Kat and Cindy with 500 and 400 coins respectively for the same.
Jackpots
The progressive jackpot for A Night Out Slots is the "Dollar Ball Jackpot" that is available on many games created by Playtech. It is played by manually selecting five numbers between 1 and 49, or you can hit a button to choose them at random. Then every time you spin the reels there is a "power ball" style lottery draw that displays five numbers. You win different cash amounts depending on how many numbers you match, and if you hit all five numbers you win the entire progressive jackpot. Not too shabby.
The numbers you choose to play will stay the same each spin unless you change them, and the bet amount will be automatically deducted with each spin. I believe that the average jackpot is usually around $65,000 and is won every month or so.
Bonus Rounds
Unfortunately for everyone who paid cover charge to get in the club, there isn't a proper bonus round in A Night Out Slots. This is a shame since they had so many fun options that they could have chosen from for a bonus feature, like trying to hail a taxi at 3 in the morning, searching for late night cheeseburgers, or trying to find a hangover cure. The possibilities were literally endless.
Free Spins
The charming Bartender symbol represents you getting very lucky since he activates the Free Spins Mode when he shows up on reels #1 and #5, and then whisks you off to the VIP Lounge. After entering the back area you will find your private bartender who is already mixing you a drink, and you have to choose from one of the lovely ladies who are hanging out in front of his bar. Once you have made your selection you will see the number of free spins you received.
Now that you've made it past the bouncer and into the bonus area you must then choose a drink to buy for the lady you selected, and this will reveal your bonus multiplier, with 20 free spins and a 10x multiplier being the maximum award you can receive. The game also allows free spins to be re-triggered in the Free Spin Mode, so you can actually win free spins while you freeroll.
Graphics
The graphics in A Night Out Slots are really sharp and it's clear that the game's designers spent a lot of time on the imagery and colors. Both the women and men that are featured in the game are extremely sexy and well dressed, with no detail spared on their outfits. Everyone looks so good in fact, that you find yourself getting sucked into their imaginary world where every night is a Saturday night. But I have to work in the morning!
Audio & Soundtrack
The audios for the game are not overbearing, with just a simple spinning sound and clunk once the reels are stopped. However, there is an excited female moan followed by a kissing sound after every big win. It's slightly erotic, but it doesn't distract you too much from the game.
You can play this game with either music on or off, and the soundtrack is a sultry synth riff that constantly loops. Think "10pm at a Mexican beach resort" and you will know the exact music that I'm talking about.
Conclusion
A Night Out Slots definitely falls into my category of "guilty pleasure games" that I enjoy playing for all the wrong reasons. It relies heavily on sexiness and design, with all of the beautiful women and the hunky bartender being the main features of the game. Oh, except for the numerous alcoholic beverage symbols that will have you pouring a drink 20 minutes into the game, (which is why I will only play it after 5pm).
Although this is far from the most exciting slot machine available online and there aren't a ton of bonus features, A Night Out should still keep most of you entertained…until its time to lock up for the night, of course. The free spins mode is fun and the soundtrack will keep your head bobbing, so there's certainly enough here to get dressed up for – just remember to enjoy responsibly.
Bonus Video of A Night Out
When I think about going out to a nightclub there is only one song and one movie that comes to mind. Shortly after my divorce in the '90s I saw the movie "A Night at the Roxbury" and immediately fell in love with the Haddaway song, "What is Love". It was my anthem for freedom! Anyway, if this song doesn't get you on your feet dancing, I'm not sure what will…