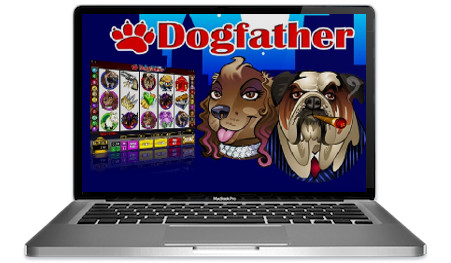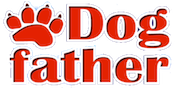 When it comes to canine crime, there's only one boss out there on the streets, and that's The Dogfather. You better respect his turf and his fire hydrants, or he'll be itching for payback.
Violent Gangster Dogs
Vibrant Colors
Very Silly
---
---
Review of Dogfather Slots
Since as far back as I can remember I've always loved dogs, and our family definitely had some of the craziest and most lovable hounds ever born. Some destroyed everything, some wanted nothing more than to be cuddled, and some were halfway in between. Most were my best friends who'd console me after my evil brothers tormented me and made me cry – we'd go to the park and run around and play catch and then everything would be alright.
So as you can imagine, I will always have a soft spot for slots games that are based on dogs or animals in general. They're usually all lighthearted and will be funny in some way – even if the comedy is unintentional. Now there's definitely a few things to laugh at in the Dogfather, but some of the imagery is quite startling at first, like the brass knuckles with massive spikes coming out of them! I guess these gangster dogs don't play around.
Since most of the violent imagery is designed as a colorful cartoon the shock wares off quickly but I still think that Microgaming made some strange choices in this one. Anyway, let's see if this old dog has any tricks left in it…
Screenshots
Click on the screenshots below to enlarge the images but make sure that you're prepared for the bright colors that are going to explode onto your computer screen. I think the game's creators tried to use all of their favorite colors on the symbols, as well as every possible combination imaginable. If you look at the user controls you'll see that this slot is starting to look a little dated, but that's obviously going to be part of its charm at this point.
Storyline
Casino software companies are well aware that us dog lovers sometimes gamble with our hearts, and it seems like they try to release as many canine-based games as possible. Therefore, it's no surprise that the crew over at Microgaming put their heads together and decided to put a twist on The Godfather with "The Dogfather". It's actually a clever play on words and it resulted in a decent game for dog-loving slots players who are looking for a taste of the bizarre.
This game falls into what I like to call the "alternate universe category", which I reserve for when animals, aliens, or food items take on human forms and characteristics. So imagine if you will, a place where dogs act like human gangsters from the south side of Chicago in the 1920s, and are ready to dole out violence at every turn. These criminal doggies have handguns and other brutal weapons to intimidate the poor poodles that they've lent bones to, and to battle rival gangster hounds for control of the canine bootlegging market, (which I would assume is mostly toilet water).
This slot from Microgaming tells the violent and glamorous story through its symbols and imagery, but sadly we are left to make up most of the plot in our imaginations – so you'd better have a good one if you only like playing games with decent storylines.
Unique Symbols
The unique symbols in this game are actually a little more on the violent side than what I would have expected going in. I mean, hand guns, bullets, and brass knuckles? I think most of us could agree that those are a little too aggressive for a slot based on cartoon gangster dogs. However, Microgaming didn't resort to using playing card symbols like a Jack or a King so all of the symbols are totally unique, and they certainly do a good job of setting a "gangster tone".
Brass Knuckles with Spikes
Cigar, Cigar Cutter, and Wallet
Hand Gun and Bullets
Stuffed Rabbit with Cash
Sexy Poodle
Flea Soap and Rubber Gloves
Doberman Pincers
Pitbull in Vest
Pug in Suit
Itchy da Flea (Scatter)
Fire Hydrant (Bonus)
The Dogfather (Wild)
You just knew that the boss of the joint was going to be the best in the game, and the Dogfather delivers with 13,000 coins for 5 of a Kind. All dogs need a break sometime, so it's natural that the Fire Hydrant Bonus symbol is the second highest-paying in the game with 5,300 coins for five across the reels. The payouts then drop drastically with the Sexy Poodle pouring 900 coins into your dinner dish for 5 in one spin.
Jackpots
Someone must have put the Dogfather to bed without a bath because he's not offering any jackpots whatsoever in this game. You'd have thought that Microgaming would have thrown us a bone. (Sorry.)
Bonus Rounds
This game has one of the best names I've ever heard of for a bonus round, the "Mark Your Territory Bonus Game", featuring what else but a horde of fire hydrants. Hitting 3 or more Hydrant symbols takes you into the bonus game where you can win a maximum of 5,300 coins.
The bonus round for Dogfather Slots is basically just a pick em' game where you choose whatever symbols you want and then the prizes that are hiding behind them are revealed. You are presented with 13 different hydrants and depending on the number of Hydrant symbols that triggered the bonus round you will have either 3, 4, or 5 chances to win prizes. The number that is revealed each time is your total bonus win for that symbol.
Thankfully all of the prizes that were hidden underneath the hydrants are revealed once you've made your selections so you can either smile at making the right decisions or kick yourself for making the wrong ones.
The bonus round can be activated during Free Spins Mode so make sure you stay on your toes.
Free Spins
Normally we do everything in our power to make sure that our pets don't bring fleas into the house, but in Dogfather Slots you'll want to see those pests as often as possible since 3, 4, or 5 of them triggers the Free Spins Mode. Unfortunately, you only win a flat 13 free games each time no matter how many Scatters trigger the feature, which will surely annoy some of you Bonus Bandits out there, (and rightfully so).
The good news is that all of your wins are tripled during the free games and they can be re-triggered while you freeroll. The game also allows you to stack up Scatter wins in addition to any payline wins during the feature.
Graphics
Even though this game is getting up there in dog years, the images, reels, and user controls are all still kind of cool. Also, this game has tons of different colors, all of which are so bright you might feel like playing with sunglasses on – it really is an explosion of every color under the sun.
The game's designers did a good job of adding fun little things to the game board like dog tags for controls, a bone as a Stop button, and a fire hydrant to display your current balance. The main background is a cartoon street but unfortunately we never get to see too much of it.
Audio & Soundtrack
The main soundtrack for the bonus round is a sassy bass and piano tune that is reminiscent of old gangster films – just picture a fat mob boss with a cigar waddling down the street saying hello to everyone. The problem with the song however is that it is only 4 bars, and then it repeats and repeats and repeats. This obviously gets boring fairly quickly.
The swinging 1920s song that belts out of your speakers during Free Spins Mode is pretty darn catchy and it will immediately remind you of an old time dance club during prohibition. It definitely gets you pumped up during the free games and you should find your toes tapping along to the beat.
The other game sounds consist of the classic Microgaming whirling as the reels spin, and a cartoon style "boing" when the Flea Scatter symbol lands on the board.
Conclusion
Dogfather Slots still has a little bit of life left in it and dog lovers should crack a smile while spinning – just don't expect to be entertained for a very long time. There's not a deep storyline and the imagery of gangster dogs doing their thing isn't really enough to keep you engaged.
Also, if you're looking for a game with a "Stop" button you're barking up the wrong tree – the Dogfather rolls to the beat of his own drum and he doesn't want to be told when to sit. I think this fact alone will discourage the majority of players from even trying it – who has the patience these days to sit and watch the reels spinning?
That all said, even though most of you won't want to bother chasing the Pink Rabbits stuffed with cash, the diehard dog lovers will probably still want to take this game out for a walk – even if it's only once around the block.
Bonus Video of The Dogfather
Well, I was stuck again on a video to end a dog-themed slot review with so let's just go with Snoop Doggy Dog since he has a song called "Doggfather". The video is actually quite cute because it's done in the style of a 1920s jazz club. Enjoy!