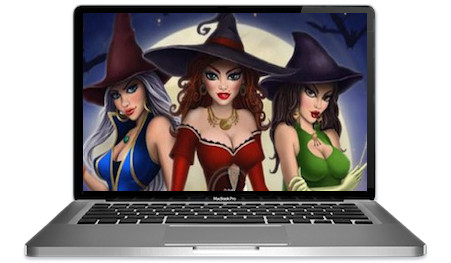 If you're not a big fan of the frights of Halloween but you love the sexy costumes, Playtech has released a slot just for you. With three scantily clad witches in dresses that would have Samantha from "Betwitched" blushing, this game will have some of you up and playing all night.
Sexiest Witches of All Time
Fun Free Games Mode
Great Graphics
---
---
Review of Halloween Fortune Slots
This was one of the easier reviews that I've written due to the fact that Halloween Fortune Slots doesn't have a lot of intricate bonus rounds or reel features. Which isn't surprising as most game developers won't put too many resources into building a game that will only attract players during a specific time of the year.
That said, this is definitely one of the better Halloween-themed slot games available online, so for those who like to get in the mood for All Hallows' Eve while they gamble, this game will give you the treats you're looking for.
Screenshots
The major strength of this Playtech title is the graphics and animations. The screenshots below will give you a little taste of the candy that they're giving out to trick-or-treaters this year – looking good!
Storyline
The storyline for Halloween Fortune Slots is very straightforward. Three beautiful witches have flown in on their broomsticks to offer you tricks and treats in the form of fun and prizes. In the bonus area you will meet them up close and personal to help them make their witch's brew. Once you've selected the witch you would like to cook with and the potion you would like her to use, that's where the interaction ends and that chapter of the story is over.
Once back in the main game, the only other storyline you will find is that of "general Halloween", with traditional symbols of the holiday and spooky audios. Personally, I think that they could have come up with a slightly more intricate plot for this game, which certainly would have kept many people interested for longer, (including me).
Unique Symbols
The unique symbols in Halloween Fortune are quite well done, and it's obvious that Playtech put a lot of time and effort into their creation. They avoid the usual 10 to Ace symbols in favor of giving players exactly what they're looking for – Halloween-themed imagery. All of the symbols set the tone for the game nicely, except the amulet, which really doesn't make any sense in this game.
Amulet
Bottle of Potion
Skull with Candle
Raven
Black Cat
Witch in Green Dress
Witch in Red Dress
Witch in Blue Dress
Caldron (Bonus)
Halloween Fortune Logo (Scatter)
Jack O' Lantern (Wild)
The highest paying symbol in the game is the Jack O' Lantern Wild which pays 10,000 coins for five in a row. Next we have the Witches in the blue, red, and green dresses paying 1,000, 500, and 400 coins respectively. After that, the Black Cat will give you 300 coins for five of a kind, the Raven gives you 250, the Skull awards you 200, and the Potion dishes out a paltry 150.
Jackpots
There are no jackpots in Halloween Fortune Slots. This is a shame because the game could definitely use a little pumpkin spice in the payout department.
Bonus Rounds
There are no true bonus rounds in Halloween Fortune, unless you want to count the area where you select your number of free spins and multiplier for the free spins. This is obviously a huge omission for a modern day slot game, and one that is going to ultimately impact the amount of fun you have playing it. Not to mention your interest levels in regards to playing it for long stretches of time.
The one saving grace is that there is a gamble feature that allows you to wager your winnings for each spin. You simply hit the "gamble" button on the controls and you will be taken to the double up area. You can only guess red or black for a 2 to 1 payoff, as this game does not offer gambling on the actual suit of the card to be drawn. If you want to take your double-up winnings at any time, just hit "collect" and you will cash out and be returned to the regular game.
Free Spins
A bonus Caldron symbol on each of reels 1 and 5 takes you into the Witches' Brew Bonus round, and your choices there will determine just how much free money you're going to rake in during your free-rolling.
First you choose a Witch to reveal the number of free games you're going to receive. Obviously your choices are limited to the witch in the green mini skirt and stalkings, the one in the red open-front skirt with stalkings, or the witch in the conservative blue dress with leather gloves. It should be noted that all three witches are quite bosomy and revealing a lot of flesh, so for those of you who are sensitive to these types of images, this slot game probably isn't for you.
Once you choose your witch the number of free games that you've won will be revealed as she floats to the forefront of your screen. The amount of free games that the other witches were hiding will also be revealed to you.
You then pick a potion to determine the multiplier that will be activated for your free spins, with the choices being orange, yellow, pink, green, blue, or purple potion. Once selected, the witch waves her magic wand and the potion magically pours into the caldron to reveal your multiplier. Just like the preceding selection process, all of the potions that you didn't choose will reveal the multiplier amounts that they contained.
In the Free Games bonus round you can only win a maximum of 20 free spins, with a maximum multiplier of 10x. If you're thinking that this sounds like a low max freeroll prize, I would have to agree with you – especially since this game doesn't have a jackpot.
I have to mention that this is the only slot game where I can remember going into Free Games Mode and walking out with nothing. One time I got three free spins from the witch I selected, a 5x multiplier from the potion I selected, then hit goose eggs on all three spins! These types of things do happen in online slots, so I'm not complaining…but they are rare.
Graphics
Regardless of Halloween Fortune's other shortcomings, the regular game graphics are quite well done, with all of the symbols having cool little animations when activated in a payline. A lot of the animated symbols actually look like they're in 3D due to their details and movements.
Whether it's the twirling Wild pumpkins, the bottles of potions swishing around, bats flying out of the trees in the background of the Scatter symbol, or witches taking a ride on their broomsticks, this game has enough moving parts to keep you entertained for a little while.
Audio & Soundtrack
Sadly Playtech made a terrible mistake with the soundtrack for Halloween Fortune Slots. The theme song begins and stops with each spin of the reels, rather than just playing a constant song throughout. This of course means that if you want to play quickly and use the "stop" button each spin, the ensuing audios are unbearable.
As the game counts up the payline wins you get a "frunk" for each winning line, which gets very annoying after a short period of time. So much so that I usually turn the sound effects off, and if not, I get a migraine headache 10 minutes after beginning to play.
The thunder that rumbles in the background of the game is certainly ominous, and does a great job of setting the tone for a scary slot. There is a crazy audio that pumps out of this game if you are one symbol away from a big win, and I honestly have no idea how to describe it. Crazy, scary, sorcery?
Conclusion
This game is definitely more "sexy" than "scary" but I'm sure that this will appeal to a certain segment of slot players, me included. It's not always about scaring yourself silly every October, and I usually like to keep things on the light side when it comes to frightening myself.
This game deserves a few spins around Halloween, but I just can't imagine playing it any other time during the year. Even though it has an extremely high payout percentage of 97.2%, this large return to player amount probably won't lure that many of you back once your Jack O' Lantern has turned to mush.
Bonus Video of Halloween Fortune
Since it is the witches who are the stars of this slot game, lets take a moment to look at the Top 10 Movie Witches of all time. I knew most of these witches, but there were a few that I had never heard of. And I'm still not sure how I feel about them classifying Mary Poppins as a "witch"!?! Take a look…