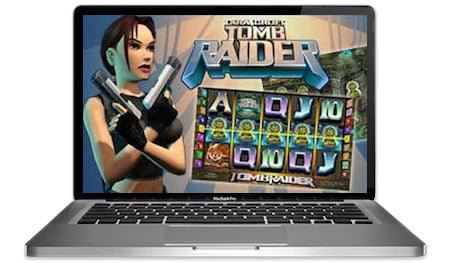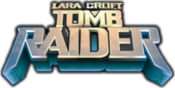 The video game heroine that had millions of boys glued to their Playstations is here to star in Tomb Raider Slots and it'll take you straight back to the 1990s. Just watch out for tigers while you're chasing those cash prizes.
Classic Game
Very Colorful
Still Fun to Play
---
---
Review of Lara Croft Tomb Raider Slots
Since the late 1990s video game fans have been in love with the Tomb Raider, Lara Croft. Sure the boys enjoyed the game for different reasons than the girls but it was quite rare for a title to appeal equally to both sexes. It quickly became the #1 selling video game with more than 7,000,000 copies purchased by fans around the globe, and some of it's sequels were even more popular than that.
Being an archaeologist can be a very exciting, yet dangerous job – just ask Indiana Jones what his average day is like. So when Eidos Interactive decided to create a video game focusing on the profession it was shocking that they chose a female to play the lead…it was one of the biggest leaps for gender equality in vids since Ms. Pac-Man was released! You can just imagine how happy I was when I walked down into the basement one day and saw the kids playing it. It really was a ground-breaking game.
Obviously I was excited when I first saw that Microgaming was planning to release a tribute to Lara Croft, and they did not disappoint, (based on 2004 standards, of course!). So here's your exclusive review for Tomb Raider Slots which will of course be incredibly biased due to my appreciation for the strong female star – but if you're reading this, don't you feel the same way?
Screenshots
Everything looks pretty darn good considering that this is an older release, with the playing card symbols being sharp, and the reels separated by lines of beautiful colors. The other symbols are fairly detailed too but the player controls are definitely dated – at least it has an Auto Play button, though!
The screenshots below will expand when touched to give you a close up view of what's going on.
Storyline
If you want to gather up ancient artefacts from dangerous and mysterious places, the only person you'll want to call is British archaeologist Lara Croft. This is exactly what the evil Jacqueline Natla did when she was attempting to reunite the 3 pieces of the mystical Scion that were scattered around the world. Of course, Natla had always planned to dispose of Lara after she completed the task because after all, she is the power-hungry ruler of Atlantis.
The story has many twists and turns as Lara discovers that friends are really enemies, and nothing is as it seems. There is a constant connection between her and the mystical Scion, with the ancient device giving her messages to help her along her journey. The tale comes to a climax in Atlantis as Lara tries to defeat Natla once and for all and crush her army of grotesque mutants.
Unfortunately, there are zero references to the original storyline from the video game anywhere in the slot and it's simply a bunch of "adventurous" images that aren't really tied together in any way. If they would have been able to include more direct references to the late 90s classic, this machine would have been much better and an instant fan favorite. What a shame.
Unique Symbols
The symbols are all quite basic and the designers really didn't step out of their comfort zone when creating them. All of the expected imagery was included but it's a little surprising that Lara Croft herself only got two symbols. Well, it's surprising until you realize that they stuffed the reels with 5 playing card symbols and a crouching tiger.
Diehard fans of the original video game will be outraged that Larson Conway and Pierre Dupont were not included, and it's pretty insane that Jacqueline Natla didn't get a symbol. Oh, and there's not a mutant to be found anywhere!
10
J (Jack)
Q (Queen)
K (King)
A (Ace)
Crouching Tiger
Crouching Lara Croft
Atlantean Scion
Tomb Raider Logo (Wild)
Lara Croft (Scatter)
Mystical Idol (Bonus)
The highest-paying symbol is the Mystical Idol (Tumi?) which can award up to 2,500 coins depending on your wager amount if you hit 5 on a payline. The Wild Tomb Raider Logo is pretty meaty too thanks to the 7,500 coins it will pump out for five of a Kind. These are then followed by the Scion and Crouching Lara who each give 500 coins for 5 in a single spin.
Remember that you cannot choose 1 cent per line as the smallest wager is 5 cents a line, and therefore if you want to play all 15 lines you will be betting $0.75 a spin. Just something to keep in mind for those of you who are bankroll-conscience.
Jackpots
Unfortunately, there's no buried treasure to be found in these ancient caves because Microgaming didn't include a Tomb Raider Slots Jackpot for us to dig up. This isn't that surprising due to the game's age but it's still a little disappointing considering that the whole premise of the Lara Croft franchise is hunting for fun objects.
Bonus Rounds
The Tomb Raider bonus round is a classic Pick Em' style game that allows you to select idols hiding cash prizes every time it gets triggered. If you hit 3 Bonus symbols in the triggering spin you'll be able to pick 3 idols during the feature, 4 Bonus symbols gets you 4 picks, and 5 will give you the opportunity to stack up cash prizes from 5 idols, which is the best bonus you can hit.
Prepare to be a little frustrated with the feature since it doesn't reveal all of the prizes behind the idols once you're done selecting. As you probably already know by now, I'm one of those players who likes to see what they could have had. What can I say? I'm a glutton for punishment.
Free Spins
If you want to freeroll just wait for your girl Lara to swing onto the screen because 3 of her anywhere on the reels will trigger 10 free spins to help stack up some cash. Unfortunately you don't get rewarded with more spins if you hit 4 or 5 of her at the same time, but 5 Lara symbols will give you an extra 400x your line wager so it's not all bad.
The reels will automatically spin and you'll get an extra balance bump every time the Scatter reappears. The good news continues because you can retrigger the free games mode while freerolling which will of course allow you to hunt for more gratis treasure – just sit back and let the machine pump out the wins until it cools off. There's nothing overly special about this feature but it's arrival is always welcome.
Graphics
Some fans will be disappointed to see that Micrograming couldn't figure out a way to make the graphics in this release a "third person perspective" like the original video game. It's weird not to constantly be behind Lara as she dashes from room to room battling mutants, but you do get used to it after a while.
Anyone sensitive to visual stimuli better get ready because when you hit the Lara Craft Scatter symbol on the board you're going to get a blast in your face like a disco strobe light, with crazy intensity and images flashing before your eyes. It's definitely one of the most extreme visuals I've ever seen in a machine. I strongly recommend that you don't stare into it and rush to click the blue "Start Free Spins" button as soon as possible.
Other than that, there aren't any fantastic special effects or dazzling graphics that will blow you away. Just a well-built machine that looks good while you play.
Audio & Soundtrack
Now we get to the section that will probably surprise most of you – the sounds of the game. If you were expecting them to be flat, boring, or terrible, you are absolutely wrong. They're all amazing. The creepy wind blowing in the distance sets a foreboding mood and the soundtrack is that wonderful song called "silence" – they allowed the game audios to be the star of the show.
And speaking of those audios, they're some of the best I've ever heard because they're just like a real slot machine! The reels spinning sounds like anything you'd play on a Las Vegas casino floor and when they stop they make the same "clunk" you'd expect from an actual one-armed bandit. I'm not sure how we ever got away from these types of sound effects in newer releases but we really need to get back to basics as soon as possible, in my opinion.
There are a few other nice touches like the water dripping in the mystical pools of the bonus area, which makes your pulse pound as you try to decide which idols are hiding the biggest cash prizes. And when you're in that feature you should also scroll your mouse over the idols quickly to enjoy the bongo rhythms that each one produces as your pointer touches it – you are in full control of the beat and it never gets old messing around with them.
Conclusion
Yes this game was released quite a few years ago but it can still be fun when you're in the right mood for adventure. It's a straight-forward title that won't blow you away with it's effects but should still keep you entertained for short periods of time.
Whether you've enjoyed the video games or the movies you'll definitely want to try Lara Croft Tomb Raider Slots at least once so you can relive the glory of one of the toughest heroines of all time. Sure the graphics are dated and the user controls are archaic, but that's part of this machine's charm. And with only 15 paylines it feels a lot less-complicated than most of the new releases that are getting pumped out today.
It has a unique bonus area with a cool little Pick Em' game, as well as a proper Free Spins Mode that allows you to retrigger free games and keep the action going. There's just a lot to like with this simple, yet solid game.
So if you're feeling adventurous go throw a few bucks in Tomb Raider Slots and blast back to the wonderful 1990s with this classic machine. Huah!
Bonus Video of Tomb Raider
In case this review has inspired you to break out your old Playstation and insert the first Tomb Raider from 1996, here's a full walkthrough of how to beat the game. Spoiler alert: every secret is unveiled and collected! Thankfully there's zero commentary in the video and it's all about Lara…oh, and the video is only 6 hours and 12 minutes long. Get comfortable!