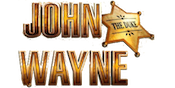 Howdy, Pilgrim. Looking for a slot game that'll take you back to the golden days of cinema? Well look no further ya varmint because The Duke is back with a Western-styled slot game that'll knock your boots off.
Fun Bonus Area
Great Soundtrack
Cool Design
---
---
Review of John Wayne Slots
John Wayne was one of the biggest stars of "Old Hollywood", with his films grossing millions of dollars over a wildly successful 25 year run, as he starred in some of the biggest movies of the day. "The Duke" is responsible for many popular sayings to come out of that era such as, A man's got to do what a man's got to do, and Life is tough, but it's tougher if you're stupid. (I couldn't agree more with that last one.)
His two main genres of films were westerns and war, and as a result he got a reputation for being one tough son of a gun. Wayne was so pro-American and anti-communist that Soviet leader Joseph Stalin actually considered having him assassinated. And if you have any doubts about his toughness, it's believed that Wayne smoked 6 packs of cigarettes a day…and how that's even possible is beyond me.
It's pretty darn hard to be over 40 years old and not have an opinion on John Wayne, and I've found that most people love him although he does have his critics. Personally, I choose to remember him for his solid acting and all of the classic films he starred in – no one could bust bandits like The Duke.
Screenshots
The screenshots below just have a dusty ol' feel to them, don't they? With long horns, sharp spurs, and gold badges, this game takes you right back to the Wild West. The game design is very nice and the user controls blend in perfectly with the background.
Storyline
Born Marion Robert Morrison in 1907 in the tiny town of Winterset, Iowa, no one could have known that this son of a pharmacist would end up being one of the most popular actors to ever star in a western movie. He acquired his beloved nickname of "Duke" as a child thanks to his Airedale Terrier that never left his side when the family moved to California.
After breaking his collarbone in a bodysurfing incident, Wayne lost his scholarship for playing on the University of Southern California football team and had to drop out of school. Film director John Ford then hired him as a movie extra to payback the football coach for all of the free game tickets he had given him and actor Tom Mix over the years.
The Duke had many small movie roles over the next while and was finally discovered by Raoul Walsh while laboring in the Fox Film lot, and was given the lead role in the 1930 film "The Big Trail". Walsh then collaborated with the head of Fox Studios and came up with the actor's new stage name – "John Wayne" had arrived.
Wayne went on to star in many big Hollywood films of the day, usually as a tough law and order cowboy in the western frontiers, or a brave, no-nonsense serviceman fighting in World War II. He finally ended up winning the Oscar award for Best Actor in 1970 for "True Grit", which cast him as a U.S. Marshal chasing outlaws across the plains of Arkansas.
Playtech has now tried to capture the spirit of the "old-fashioned, honest-to-goodness flag-waving patriot" with this fun slot game, and they did a mighty fine job indeed. They made the excellent choice to focus the story on his westerns instead of his wars, and fans are going to be very happy with the result.
Unique Symbols
There certainly is no denying that the theme of this game is "Wild Wild West", and the unique symbols do a good job of reinforcing that. All of the best elements of the traditional cowboy outfit are here, and the badge that says "The Duke" is the ultimate sign of respect.
Of course the game has tons of images of John Wayne himself, which appear to be still shots from his various western films. Here is the full list of symbols:
10
J (Jack)
Q (Queen)
K (King)
A (Ace)
Tan Cowboy Hat
Cowboy Boot with Spurs
Red Bandana
John Wayne with Brown Hat
John Wayne with White Hat
John Wayne with Black Hat
John Wayne Walking with Dog (Wild)
Cattle Skull (Bonus)
The Duke Sheriff Badge (Feature)
Well obviously John Wayne is going to be the symbol that pays out the most, and it's his Wild with the dog that takes that honor, paying 5,000 coins for 5 of a Kind. This is followed by the symbols of Wayne in a black hat, white hat, and brown hat paying 1,000, 500, and 300 coins respectively for five across the reels.
Jackpots
The Duke never trusted a man that didn't drink, and Playtech has never included a jackpot in a game when it didn't have to. So you can stop trying to track down a John Wayne Slots Jackpot now and keep on riding right out of town.
Bonus Rounds
Sadly, there isn't a proper unique bonus round in this slot, and the only bonus area in the game just sets up what's going to happen in the Free Spins Mode. I tell you everything you need to know about free games in the section below.
However, you do get a little shot in the arm with The Duke's Badge Feature, which is a quick Pick Em' game if you get 3 or more Badge symbols anywhere on the reels. You'll want to see as many badges as possible because the more you get, the higher your prize will be.
3 Badges: 4x to 8x multiplier on your wager.
4 Badges: 20x to 30x multiplier on your wager.
5 Badges: 80x to 120x multiplier on your wager.
In all my time playing this game I've never hit 5 Badges, and if I did I'm pretty sure that I'd fall out of my saddle.
Free Spins
How much fun you have with your free spins is going to be determined by what you hit in John Wayne's Ranch Bonus, which is accessed if you get Bonus symbols anywhere on reels #1, #3, and #5 in the same spin.
Normally I don't like bonus rounds that require you to use your keyboard or mouse to move things around, however John Wayne Slots is definitely the exception to this rule. It's actually quite exciting because the Ranch Bonus has rows of old tin cans lined up on fences that you get to shoot with your pistol.
You simply use your mouse to move your pointer over the can that you want to shoot, and then the can gets blown away and the prize behind it is revealed. I don't mind this level of physical interaction because there isn't a timer, and you're not being attacked by anything so you can shoot the gun at your own pace.
You only get a base prize of 3 free spins with a 1x multiplier so it's up to you to build on that with the 6 bullets in your gun. Behind the cans are tons of different prizes such as extra Wild and Scatter symbols, extra free spins, higher multipliers, and extra bullets to shoot at more cans. After you've shot your last can your free games will begin and the reels will spin automatically throughout the feature.
Graphics
The graphics are darn good in John Wayne Slots, with every little detail coming together to transport you back to the time of saloons and caravans. One of my favorite visual effects is when you enter the Free Spins Mode you are taken from the dusty daylight to a dark western sky. It's absolutely beautiful and it will have you thinking about sipping an iced-tea on the porch and listening to some crickets.
There is a lot of clicking and pointing in this game with your mouse, whether it's picking a badge in the reel feature or shooting the cans on your way to the free games. So if you like to kick back and relax and not be too involved with your slots, this might be too much action for you – although I think that most players will find these things quite fun.
At first I thought that there wasn't enough animations on the symbols of John Wayne, but after staring at them for a while I realized that they have just the right amount of flare. It looks like a golden ray of sunshine is pouring over them whenever they're involved in a payline win. Also, the Wilds have a nice dust storm blow through them when used in a win, and it's a nice, subtle effect. I doubt that they could have secured any clips from Wayne's actual movies, so they had to work with what they had.
Overall, even though this game's about old dusty classics, the graphics are sharp and clear, and all of the animations look great. It's a modern slot with a vintage feel.
Audio & Soundtrack
This game has a fantastic soundtrack that will take you back to the old west, and there's a calm guitar and symphonic strings that will relax you quicker than a 20oz glass of Chardonnay. Also, during the Free Spins Mode there is a crazy fiddle and banjo back and forth that will have you rocking around in your seat. Finally, the song that plays while you're shooting cans is a song that will make you feel like you're home, home on the range.
The game audios are mostly fine but there are some weird bangs and crashes that sound like pots and pans being smashed together. They're not so much annoying as they are confusing.
All of the other game audios like wins being added to your bankroll are soft and pleasant, with nothing standing out one way or the other.
Conclusion
Sometimes movie-themed slot games at online casinos can be downright weak and dastardly, and to quote The Duke himself, Out here due process is a bullet. I think that about sums up how I like to review games, because I lack mercy for any slot that's inadequate. Fortunately for Wayne, there's enough in his game to make it fun and I think that most of you will want to give it a try.
With a fun bonus area where you get to fire off your six shooter, a rockin' Country & Western soundtrack, and a graphic design that's right out of "Rio Bravo", any fan of The Duke and his films will be highly entertained with this online slot machine. Even players who have no idea who John Wayne is will find themselves amused for at least a little while because it definitely has a unique flavor.
The only major weakness in this slot is that there's not a proper bonus round where you can win extra prizes or play a special game, and if Playtech would have included that, John Wayne Slots could have been a 10 out of 10. However, this is a small criticism when you consider all of the excitement that's in the rest of the game.
So I think it's time to mount up, hit the ol' dusty trail, and go for a ride with The Duke. Giddy up!
Bonus Video of John Wayne
Here is a strange documentary about John Wayne that I found on Youtube. It's only 45 minutes long and it seems to focus a lot on his negatives, but I found it interesting nevertheless. So for those of you who want to dig deeper into the legend, here's "John Wayne: The Unquiet American".