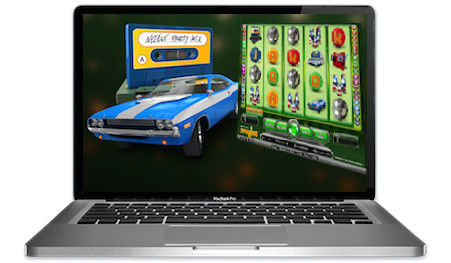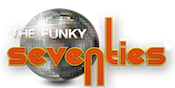 The Funky Seventies Slots
Get ready to boogie to the disco beat while you chase cash in The Funky Seventies Slots, but it'll only take 5 minutes to see everything that the game has on offer. Don't get too comfortable out there on the dance floor.
Strange Symbols
Ugly Design
No Special Features
---
---
Review of The Funky Seventies Slots
Anyone old enough to remember will tell you that the 1970s was a strange decade indeed. The "Flower Power" of the 1960s was dead and gone and it was time to move on to more hedonistic pleasures such as leisure suits and discotheques. I'd be lying if I said that I didn't have a soft spot for these days because they were definitely a helluva lot of fun!
It's reasonable to assume that a casino software company is going to come along one day and release something great based on the cheesiest decade of all time, but unfortunately NetEnt wasn't the one to do it and The Funky Seventies Slots is far from good. It's kind of strange how bad this title is considering that they did a decent job with their sister game The Super Eighties Slots and even though it's really old now it's still fun to play from time to time.
Anyway, even though The Funky '70s is fun for a few minutes, ultimately the bad soundtrack, historically inaccurate symbols, and lack of any bonus features whatsoever will have players running for the exit of this dead disco.
Screenshots
Here are some of the more exciting images from the machine and you'll probably notice that there's not much of a difference between them. This is because it's basically one long spin-fest and it's exactly as exciting as it sounds. Yawn.
Storyline
With crisis at the gas pumps, panic at the disco, and the premier of the Star Wars franchise, "The 'Me' Decade" certainly had it all. Social upheaval from the decade before continued with minority groups in the United States continuing their quest for civil rights, while President Richard Nixon was resigning in disgrace.
Wars across the globe flared as the spread of communism threatened the freedom of the first world and the industrial dominance of the West began to falter, getting beaten by Japan and their popular products like the Sony Walkman and Atari.
This release from NetEnt doesn't dive into the geopolitical strife or complicated industrial economies of the 1970s and instead focuses on images which they believe to be iconic to the decade. So ya – zero story, zero memories.
Unique Symbols
The unique symbols in this machine are pretty disappointing to say the least. Of course there's the obligatory disco ball and platform boots but after that things get a little confusing.
First of all, it was 8-Track tapes that were popular in the 1970s not cassettes, so why were they included? Secondly, nobody had a home computer in those days and people only started to know what a "Commodore 64" was in the early '80s.
See-O-Matics were somewhat popular in the '70s but not so much so that they deserved their own image. It basically feels like the person who chose the symbols wasn't alive during the decade and just quickly searched online and grabbed random objects to include.
Anyway, let's not be too hard on a release that's celebrating the worst decade in history, (or best, depending on your point of view). Here's everything that you can look forward to getting down to…
J (Jack)
Q (Queen)
K (King)
A (Ace)
Party Mix Cassette
Stars and Stripes Platform Boots
See-O-Matic Viewfinder
Disco Ball
Boxy Home Computer
Blue Dodge Challenger
70s Wild (Wild)
Disco Diva (Scatter)
If you were alive in the 1970s then you know that it was all about "getting wild", so it's no shock that the best-paying is the '70s Wild which awards 1,000 coins for 5 of a Kind. The Blue Dodge Challenger then screeches in with 400 coins for five in a spin, with the Home Computer, Disco Ball, and See-O-Matic dishing out 400, 250, and 250 coins respectively for 5 on a payline.
Jackpots
The 1970s were all about "me" and the greed of individuals within their greater society. Therefore, it doesn't make sense that a game based on this decade would willfully hand out a big cash prize. The seventies may have been funky but they're not going to be profitable this time around.
Bonus Rounds
Most of you are going to be very disappointed to learn that there isn't a bonus round in this retro-romp and just imagine the possibilities NetEnt had at their disposal! They could have had a Pick Em' style area with leisure suits that revealed cash amounts, or even a prize wheel that resembled a mechanical gas pump that spun and stopped to give you extra money on your balance. Sadly, they chose to give us nothing and we'll just have to live with it.
There's a small extra nugget that occurs when multiple Wilds fall across every reel as they will combine to form a Stacked Wild. It's far from the best special feature ever offered in an online slot but it's better than nothing.
It should be noted that your bankroll can receive a tiny boost by the reels themselves because there is an extra 4th row of symbols that helps dish out the generous Return to Player (RTP) percentage of 96.5%. Burn baby burn!
Free Spins
If you're looking for a big bag of disco biscuits you've come to the wrong club because The Funky Seventies only hands out a meagre five free spins if you hit 3 or more Scatters on the board. This is a darn shame because without a bonus round there's not much else to look forward to.
The only bump in this retro bathroom is that you'll get a 2x multiplier on all of your wins during the freeroll. This definitely isn't the glamorous life.
Graphics
For a decade that's known for its amazing fashion and colors, this title does a terrible job of capturing the era and giving us the visual extravaganza that most of you will be expecting. The main design is dominated by a sickly shade of green that will have you thinking about that time you sashayed across the dance floor to rid yourself of your happy hour cocktails, (talk about Boogie Fever!). Although it could be said that the color scheme is less offensive than most of the music that was played during these years.
There really aren't any graphics to rate in Funky Seventies since there aren't any bonus rounds, jackpot areas, or unique special features. So let's just do what every teacher in the '70s did and give them a passing grade so we never have to look at them again.
Audio & Soundtrack
Whoever created the soundtrack in the regular mode certainly gave it a decent effort with wah wah guitars, a funky bass line, and disco soul claps throughout. There's even a competent horn section that blasts in from time to time to accentuate the decadence of the decade.
The beat slows down in free spins mode to give you a bit of a break from the high-energy tempo, but with only five gratis games in your purse how much of a break can you really get? The jam is more "Bee Gees" than "Barry White", in case you were wondering.
Finally, the sound effects in Funky '70s are more annoying than a dude with an open shirt and a cheesy moustache trying to pick you up at a bar, but at least he'd have the decency to buy you a drink first. The noises in this machine are clunky and invasive without a payoff so make sure you know where that mute button is.
Conclusion
If you're tired of exciting releases with action-packed bonus rounds, The Funky Seventies is definitely for you. There is absolutely no danger of getting over-stimulated or encountering an intricate free spins mode or reel feature, basically making it the "rice pudding" of online casino slot games that are fit to play immediately after major surgery. There's zero chance of an elevated heartbeat.
However, by definition it must fall into our category of "Palate Cleansing" titles that are always good to throw a few dollars in when you just want to relax and not think too hard about what you're betting on. Of course, the novelty is going to disappear quicker than a medallion in a tuft of unkept chest hair. Where did it go!?!
So if you find yourself playing this machine for longer than 30 minutes you might not be thinking straight – go get checked for Disco Fever!
Random Video of The Funky Seventies
Well let's keep the party rolling with a "very heavy bass beat" and check out Dan Rather's shocking investigation into the disco culture on an old episode of 60 Minutes. Enjoy!