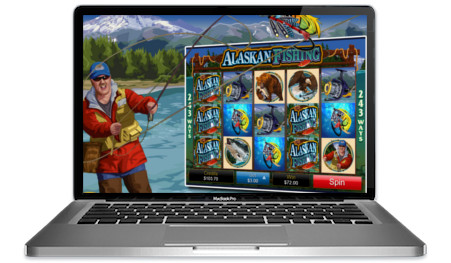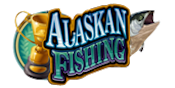 Your life is way too hectic and you need a little escape so it's time to take a trip to some beautiful northern lakes in Alaskan Fishing Slots and unwind as you snag cash prizes and if you're very lucky you will reel in some big ones.
Peaceful Setting
Tons of Free Spins
Relaxing Bonus Round
---
---
Review of Alaskan Fishing Slots
Before we get into this review of Alaskan Fishing Slots I have to admit to you that I am quite addicted to all of the Alaskan shows that have been released on National Geographic and Discovery Channel. Whether it's "Alaska: The Final Frontier" or "Alaskan Bush People" or "Life Below Zero", I watch them all. I just can't get enough of seeing people battling the harsh elements and subsisting off of the land. Of course, I also fantasize about moving out there myself one day and becoming one with nature.
Therefore, when I saw this title in a list of games I was immediately drawn to it. Who doesn't want to kick back and throw a line in the water from time to time? In today's busy world it's nice to take a break and unwind, and enjoy the simpler things in life.
So this wonderful review of Alaskan Fishing Slots will tell you why it deserves a bit of your attention…and your bankroll.
Screenshots
As you will see when you click on the screenshots below, this machine is slightly showing it's age, (and who of us isn't? Womp!), however, the symbols are still peaceful and will remind you of nature. It doesn't have too many moving pieces or aggressive visuals so it's easy to just kick back and play. What you see is, what you get.
Storyline
This is probably one of the most basic storylines that any gambling game has ever had: you're going fishing in Alaska. That's it, that's all. Sounds lovely, doesn't it?
Obviously the symbols are all fishing related in some way and the bonus round has you casting your line in secret fishing spots to hook prizes. The bigger the fish you pull in, the bigger the cash amount you will receive. This is the simple life: cast, reel, repeat.
Unique Symbols
Even though there are only 10 unique symbols in this machine you have to give them credit for not incorporating the standard 10, Jack, Queen, King, and Ace. All of them are really well designed and some of the colors are absolutely beautiful. Everything fits together perfectly and every image adds to the overall chilled out mood of the setting.
Bi-Plane
Pontoon Boat with Oars
Fishing Lure
Fishing Reel
Trophy
School of Fish
Grizzly Bear with Fish Hanging Out of Mouth
Salmon
Tackle Box (Scatter)
Alaskan Fishing Logo (Wild)
Alaskan Fishing Wilds can appear anywhere on the board and 5 of them in a row will give you 500x your bet. The 2nd most lucrative is the Trophy (with plaque) which pays 350x for 5 of a kind, then the Salmon gives you 300x, with the school of fish rounding things off with a 200x multiplier for 5 on the board.
Jackpots
You would think that a slot based on a sport would be linked to some kind of jackpot prize, however, Alaskan Fishing sadly has nothing available. The closest thing would be hitting a big win of 5 Alaskan Fishing logos and receiving 500x your wager, but this is obviously not the greatest payout ever seen.
Strangely enough, the lack of a jackpot probably won't bother anyone because those who play it, do to unwind. If you were concerned with chasing a big payday it would defeat the entire purpose for choosing this title out of the long list of machines that are available. Well, on second thought, maybe every release would be better with the chance to snatch a nice pile of loot but we're not going to deduct too many points for the omission.
Bonus Rounds
The bonus round for Alaskan Fishing is triggered by hitting the Angler on reels #1 and #5 during a spin. Once in the special feature you are taken to a private lake with 9 different fishing spots and you will have 5 chances to cast your line and land a trophy-winning fish.
You will pull out either a "Small Fish", "Medium Fish", or "Large Fish", with each awarding you a different cash prize between 2x and 15x of your original wager. Obviously, the larger your fish, the larger your win.
Free Spins
Three or more Tackle Box Scatters will take you into free spins mode where you are awarded with 15 of them every time. You will also receive a 2x multiplier on all of the money you grab as you go.
While freerolling you can also re-trigger more spins if you once again hit 3 or more Tackle Box Scatters. The new 15 are simply added on to how many you had left when you re-engaged the feature. You can also hit the Fly Fishing Bonus Round during the feature as well.
Graphics
Considering the age of this machine, the graphics are actually quite decent. Whether it is the bi-plane flying through the sky, the eagle snatching the salmon out of the water, or the grizzly bear enjoying his fresh fish – whenever there is an animation on a winning payline the graphics are good. There are tons of beautiful colors mixed together that all come together to melt away your tension headaches.
The only major criticism of the design would be that there are no on-screen guides to show you where your line wins are. Most releases will usually have the animated and colorful graphics that shoot through the reels to show you how you've won. Alaskan Fishing unfortunately doesn't have that and most players would consider it a "standard feature". Maybe the button to activate this is just hidden somewhere.
Audio & Soundtrack
The soundtrack in the regular mode is exactly what you would expect from a fishing game – a slower and melodic tune with a nice little piano riff in the middle. You can easily space out while playing this and just listen to the background music for a while, it's just so peaceful.
When in free spins mode the same song is heard, however, it speeds up and becomes more frantic as the feature progresses. Many will find this change in music tempo unnecessary because it decisively breaks up the overall tranquillity of the experience.
Also, the win audios can get a little annoying because they are accentuated with a frantic heavy metal style guitar riff and a pounding drum beat that really goes against the grain of this natural setting. Most will agree that the inclusion of this aggressive guitar audio was a huge mistake…and a very strange decision by the engineers at Microgaming.
Anyone who wants to enjoy a gambling game involving Alaskan fishing is going to want relaxing music that goes with the peaceful pastime of fishing. Therefore, it's strongly recommend to just go into the options and turn off win sounds before you even start playing.
Conclusion
As stated numerous times throughout this review, you will genuinely find this machine to be relaxing every time you play it. It's very rare to find a release these days that doesn't blast you out of your seat with booming audios and aggressive visuals.
Most won't notice the lack of a jackpot because there's more than enough going on between the regular mode and special features. It's obvious that the visuals are far from "cutting edge" but they still look good enough that you will enjoy watching them spin along the reels.
So for those looking for a simple, peaceful slot game, Alaskan Fishing is definitely for you. Just make sure you pick those secret fishing spots wisely!
Random Video of Alaskan Fishing
I've looked at many Youtube videos of Alaskan fishing trips because I want to know what to expect up there, (minus the actual fishing part). Here's a video from someone named Michael Bayouth that I think does a good job of documenting the whole experience from start to finish. Thanks, Michael!