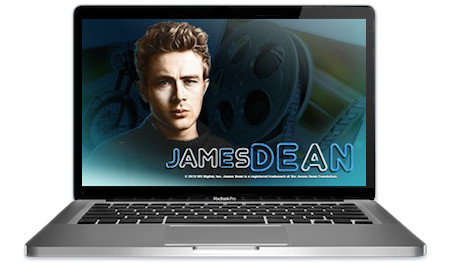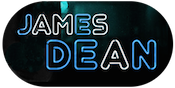 We are rarely graced with someone as pure and as talented as James Dean. He stole our hearts in the 1950s and his legend has only grown over the years, and finally there's a slot game to celebrate him.
Hollywood Legend
Tons of Free Spins
Beautiful Game Design
---
---
Review of James Dean Slots
Ask any living person over 40 years old who the original "rebel" was, and they will only give you one answer: "James Dean". After starring in only three movies his popularity soared to astronomical levels, which were pushed even higher after his tragic death.
I absolutely adore him but I do have mixed emotions about this game because I find it a little creepy – maybe it's due to the 1950s neon design or the numerous haunting photos of Dean that they chose. It all just comes together to create thoughts of haunted diners in my head, but maybe that's what the game designers intended.
We all know that it's impossible to be unbiased when discussing anything to do with James Dean, so let's just dive in and see what this game has to offer.
Screenshots
This game has a beautiful "ghostly glow" to it as you can see from the screenshots below. It's soft colors are easy on the eyes and help to set a somber mood for the game. The design on a whole is quite pleasing and I think that NextGen did a great job of making this slot look totally unique.
Storyline
Like many cultural icons, James Dean came from humble beginnings. After his mother died when he was 9 years old his father shipped him back to Indiana to live with his aunt and her husband. It was in the town of Fairmont where Dean developed a strong bond with his pastor that formed his likes and interests as an adult. Once he had graduated from high school Dean went back to California where he eventually dropped out of university after studying pre-law and drama, and by 1951 he was completely focused on becoming an actor.
Dean then bounced around the entertainment industry working odd jobs in both Los Angeles and New York City until he got his big break with "East of Eden", which earned him a posthumous nomination for Best Actor. He immediately went on to shoot his most popular film, "Rebel Without a Cause", which cemented his place in history as the ultimate symbol of troubled youth in America.
However, the world was forever changed on September 30, 1955 when Dean was speeding down a California highway and swerved to miss a car that was turning in front of him. His Porsche 550 Spyder was totalled and Dean died almost immediately from his injuries. Unfortunately we will never know what James Dean could have done if he had lived longer, his life ultimately being ended by a moment that took only seconds to occur.
Of course this slot cannot follow Dean's life in vivid detail, so the game's developers tried to capture his "spirit", which I think they succeeded in. The game's soundtrack and images come together to paint a general picture of his legacy, without focusing on any of his actual achievements or personal life.
Unique Symbols
I'm somewhat torn on the unique symbols in this game. Yes they did a good job of including certain iconic objects that we associate with Dean like his car and motorbike, but I feel like they could have used more photos of him. Or perhaps they could have had some images that would have reminded us of his movies, like the Griffith Observatory from Rebel Without a Cause.
Anyway, we got most of what we needed – here's what's on offer:
10
J (Jack)
Q (Queen)
K (King)
A (Ace)
Sun Glasses
Reel of Film
Triumph TR5 Trophy Motorcycle
Clapper
1955 Porsche 550 Spider
James Dean in Sweater (Bonus)
James Dean (Wild)
James Dean Hollywood Star (Scatter)
James Dean's '55 Porsche revs out 5,000 coins for five in a spin, and tops only his Triumph Motorcycle which pays out 2,000 coins for the same. The Movie Reel and Sunglasses symbols round things out with 500 a piece for 5 of a Kind.
It should be noted that James Dean Wilds are aloof and will only appear on reels #2, #3, and #4.
Jackpots
Just because Dean hit a jackpot with his good looks doesn't mean that you're going to get one in his game – sadly NextGen did not include any progressive or network jackpots in this slot.
Bonus Rounds
Many players will be disappointed that there isn't a proper bonus round in James Dean Slots, but it kind of makes sense if you consider the subject matter. There's no way that NextGen could have secured the rights to one of Dean's movies and had a bonus feature that was based on an actual film, so what could it have entailed? The only thing that comes to mind is a racing game of some kind, and that wouldn't really be appropriate considering how he died. Therefore, I think it makes sense for this particular game not to have a bonus round.
However, there is a James Dean Pick Em' Bonus that can award you with a 150x multiplier on your wager, or even 300x if you hit it while free-rolling. The feature also offers "Pick Again" and "Win All" prizes, but it annoys me slightly because it doesn't show you what was under the other symbols after you've picked so you never know if you made the right choice. This feature does give you an opportunity to stack up cash though – you can win a whopping 750x your bet if you trigger it while in Legend Spins.
James Dean Slots also has a gamble feature that allows you to wager your winnings on the flip of a single card. You can bet on either red or black and double your money, or you can bet on a specific suit of diamonds, hearts, clubs or spades in the hopes of quadrupling your cash. You can only double up to a maximum of 5 times so make them count. Of course, if you pick wrong at any time you will lose all of your winnings up to that point, including whatever amount you had originally won in the regular game, so choose wisely!
Free Spins
You'll be "shooting for the stars" because 3 or more symbols of James Dean's Star on the Hollywood Walk of Fame will give you 10 free spins to play with. The feature also doubles any of your wins for its entire duration.
Scooping up Clapper Board symbols will trigger the "Legend Spins" feature where all of your bonus money will have a 5x multiplier added to it. The Clapper is a special symbol that only appears on reel #3 during free games, and if triggered you'll get to play your Legend Spins once you're done freerolling.
You might really get on a roll here because it's possible to re-trigger both the free spins mode and the Legend Spins indefinitely.
In addition to all of the free games features above, you can also win three quick re-spins if you nail 3 James Dean Wild symbols in one spin. The nice thing about this feature is that either reel #2, #3, or #4 will become a James Dean Expanding Wild, and all of your bonus cash is tripled before it gets added to your balance.
Graphics
The graphics in James Dean Slots are quite good, with the reels and player controls all having been beautifully designed. Your wins are clearly highlighted with a laser-like streak that shoots through the winning paylines, and whenever the James Dean Wild symbol is involved in a win you see different images that give him an animated effect.
A fantastic visual that NextGen included in this game is the diamonds that shoot all over the screen for big wins, instead of the traditional gold coins, which are the industry standard. It's a unique sight that really differentiates it from other new slot games.
My only main criticism regarding graphics is that the photo of James that they used for his purple Bonus symbol could have been much more flattering. He looks quite gaunt and has dark circles around his eyes, and it looks like he hasn't slept in days! I'm sure that they could have found a better image, and one that he was actually smiling in.
Audio & Soundtrack
The song that plays in the Info Mode is a 1950s inspired, saxophone-heavy number that reminds me of the television show "Happy Days". It's a good rocker, but maybe it's almost a little too "happy" considering the subject matter of the game. That said, the production quality of the tune is amazing and it actually sounds like a real song that could have been released sometime over the last 60 years.
There are a few strange notes that play in the background during the regular game that are quite erie. It's reminiscent of a horror or space film, but somehow it adds to the overall "ghost-like" mood of the game. The tone is lightened up by the swinging '50s rock n' roll in the Free Spins Mode, and the jam does a good job of pumping you up to win cash prizes.
However, in the regular game the blaring rock guitars that start playing with every push of the Spin Button get annoying. They're too frantic and fade out too quickly, which makes playing this game with the music on pretty unenjoyable.
And when you play this game on auto-spin you will definitely want to mute the sounds because the jarring effect is intensified…it's quite frustrating because music in a game always helps to set the mood. However, in this case when the quick explosions of music are added to the other audios of motorbikes revving and twinkling payline wins being added to your balance, the accumulative noise in this game is simply out of control.
Conclusion
I think that most older people such as myself will find this game to be a little emotional. Sure it's a celebration of his life and career, but should a life that ended too early and so tragically be celebrated in the first place? I think that it can be if it's done in the right way, which is a difficult task to say the least. Thankfully NextGen was successful in respecting James Dean's memory and not going over the top with anything, which could have been quite easy to do with a cultural icon of this size.
Fans may complain that there aren't any video clips of Dean's movies, but as I mentioned this is probably because securing the rights would have been extremely costly, if not impossible. I do feel that the inclusion of clips would have made the game a little more robust and increased the fun and nostalgia factor, but we have to take what we can get.
To be honest, there's always a bit of a cloud that hangs over this game for me whenever I play it because I can't help but wonder "what could have been" if James Dean had been driving down that highway 5 seconds later than he did. What could one extra person in front of him in line at the gas station have changed? Sadly, we'll never know.
That said, I definitely recommend this slot for anyone who is a fan of him, or his work. Most often it brings me joy, but I have to admit that there are rare times when I have to move on to another game because I become too overrun with emotion.
So stay positive and remember that having James for only a short amount of time is better than never having had him at all.
Bonus Video of James Dean
Here is an original documentary about James Dean that was released two years after his death in 1957, and directed by Robert Altman. It's a great look into Dean's life because the memories of him were still very fresh.
It goes without saying, but many of you will want to watch this with a big glass of wine at your side…