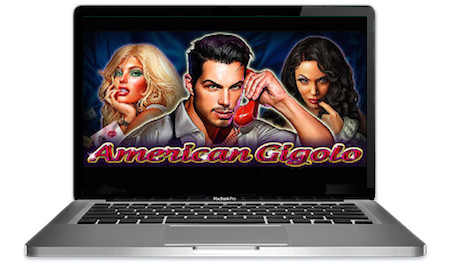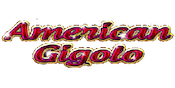 Have you ever wanted to spend some time with an American Gigolo? Or perhaps you've dreamed of actually being a suave gigolo yourself? Well here's American Gigolo Slots with a visual tutorial to get you on your way.
No Bonus Round
No Storyline
No Fun
---
---
Review of American Gigolo Slots
This was by far one of the most fun reviews that I've ever written in my life. Why? Well, it's because this release is so terrible it's laughable – if you don't crack a smile when playing this game, you simply don't have a sense of humor.
I wasn't exactly sure what to expect going in but I can tell you that after enduring it for 90 painful minutes that I still don't know who it was made for. There is one hot male, two hot females, and then a Yorkie, and also a sassy kitten cleaning itself. It feels like it was supposed to be targeted to women but was actually made by clueless men.
Please keep in mind during this scathing review of American Gigolo Slots that it is in fact quite old so a lot of my issues with it are the same ones that players of today will have. That said, I think we can safely assume that this has basically been awful since the day it was released.
Screenshots
The lameness of this machine is clearly illustrated in the screenshots below. And yes – this is as exciting as it gets. A boring set of reels and bizarre symbols are the highlights of what's on offer in this steaming pile of dung.
Storyline
Oh, the storyline – where to begin? Well first of all, there isn't one. This is of course due to the fact that there are no bonus rounds or special features. Therefore, it appears as if the player is supposed to make up their own plot based on the hot male on the telephone, the two hot females, and the house pets. I hope you have a good imagination because those are the only clues to the story the game gives you.
Regarding the ways of actual gigolos, they are simple – it's a male who is employed by women to accompany them and do whatever they ask. They exchange their time for money. I think you can figure out the rest.
Unique Symbols
The symbols in this machine really shows where the software developer's heads were at. Dogs, kittens, sexy women, and a Richard Grieco stunt double? Do these make sense to anyone? Are we supposed to be jealous of the sexy women? Should we be angry that there isn't a sexy redhead? Is that a DILP (dog I'd like to pet)? Most people will be left with more questions than answers after playing this.
And if you're asking yourself how it would be possible to enjoy a gambling game with 10 symbols, 4 of which are taken from a deck of cards…well, it can't be.
J (Jack)
Q (Queen)
K (King)
A (Ace)
Yorkie Dog
Himalayan Kitten
Sexy Blonde Woman
Sexy Brunette Woman
Rose Pedal Heart Bouquet (Scatter)
Gigolo on Telephone (Wild)
The Rose Pedal Heart will give you the most for 5 of a Kind with 1,500 coins and is the highest-paying on the board. Then it's true that blondes have more fun because the Sexy Goldilocks gives out 500 coins for five in a spin, while the Sexy Brunette only awards out 100 for the same. The top-paying are rounded out by the Kitten and the Yorkie who each dish out 100 coins for five on the board. Awesome!
Jackpots
There are no jackpots associated with American Gigolo, either progressive or otherwise. This of course is just one more thing to add to the long list of reasons why you shouldn't bother playing it.
Bonus Rounds
Unfortunately, American Gigolo Slots is too old and poorly-designed to have a bonus round. This means that you can look forward to hours of spinning the reels only to see the same 10 symbols without a break in the action. Sounds like fun, right?
Free Spins
Amazingly, you can actually win free spins in this hideous beast of a machine but you can only receive a specific amount each time. It doesn't matter how many Scatters you hit because whether it's 3, 4, or 5, you will still only receive 12.
In fairness, it does allow you to re-trigger the feature if you're fortunate enough to hit another 3, 4, or 5 Scatters while freerolling. You will then receive another straight 12 that will be added onto the total amount that was remaining.
Graphics
The graphics are exceptionally terrible in this release, with the sole highlight being that the Gigolo Wild raises his eyebrow when used in a payline win. This animation is equal parts creepy and cheesy, so don't say that we didn't warn you.
Other than the fake Ricard Grieco sexually harassing you, there really aren't any other moving parts or pieces of note.
Audio & Soundtrack
Just because American Gigolo is terrible from start to finish doesn't mean that the soundtrack is equally as terrible. In fact, this game has one of the best slot songs ever – and this is not a joke whatsoever.
Throughout the action a fantastic track rolls along with a funky guitar, sassy synth, and even a phone dialling sound during the beat. It's totally ok to open this game, not wager a dime, and just groove out to the theme song for a few minutes. It's honestly that good – it sounds like this jam – too bad they didn't put that much effort into the actual plot.
Conclusion
You can surely tell by now how I feel about American Gigolo Slots and the mere thought of anyone wasting a penny of their bankroll on it makes me shudder. Of course all of this needs to be balanced out with the fact that it's very old and simply doesn't stand up to anything that's been released in the last few years.
It's definitely a shame because any slot with "Gigolo" in the title should have tons of possibilities for symbols – specifically hot, male ones! So why does this machine only have one male? Is He the gigolo that was prophesied in the scriptures? And what's up with the frickin' yorkie? Also, why does it feel like the creators are attempting to take advantage of people with an unhealthy obsession with Richard Grieco?
So unless you're a big fan of 21 Jump Street, skip this title in favor of any other game in the world. You're welcome.
Random Video of American Gigolo
So maybe there's an inside joke here that I'm just not getting. I say this because Richard Grieco actually created a television program on Showtime called, Gigolos and based on the timeline it looks like the tv show came out after American Gigolo Slots was originally released.
Therefore, it's entirely possible that a friend of Mr. Grieco's sent him a link to this game and after seeing the uncanny resemblance to the main character decided to create a show called "Gigolos". Or perhaps he was in on its development from the beginning? Was he trying to build an entire gigolo-based empire?
Richard – please feel free to contact us about this to either confirm or deny my suspicions….we can discuss things over a quiet dinner!