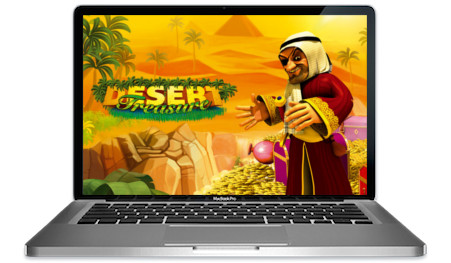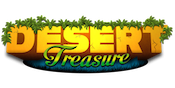 Mount that camel and head towards the oasis with Desert Treasure Slots, the classic game that has you searching for jewels and fortune. Now you can explore distant lands while trying to cash in with sage Arabic traders.
Classic Look and Feel
Large Maximum Bets
Simple Storyline
---
---
Review of Desert Treasure Slots
This machine should obviously be considered a "senior citizen" in the online gambling world, but after going back to play it for the first time in a while to write this review, I was struck by just how much fun it can be. Albeit for a short period of time.
Most people will find it entertaining for a bit but then you'll probably be wanting something a lot more modern. This review of Desert Treasure Slots will focus on the nostalgic value of the game, how it can be fun for an hour or two, and not what it has become today when compared to new, cutting edge titles.
Screenshots
Here are some of the more exciting screenshots that you'll find in this one. As you can see, the images and graphics are definitely dated but they do transport you into the desert…provided that you have a good imagination.
Storyline
The storyline here is quite simple: navigate the desert to find lost treasure. As you spin the reels you will encounter dangerous obstacles such as scorpions, cobras and spiders. However, you will also meet up with cute, harmless creatures like beetles, geckos, and garden snakes.
All of these little fellows will help you stash cash as you roam the desert in search of the ultimate destination – the Desert Treasure Oasis. You will arrive to this magical place once you have triggered the bonus round and you will then be able to pick items that hide random amounts of money. Once you have grabbed your treasure from under the curator's nose you are then sent back to the normal mode to chase wins until you are once again returned to the dreamy paradise.
Obviously this storyline is not very complicated but who doesn't like going on a treasure hunt?
Unique Symbols
The various symbols in the machine certainly add to its overall charm and nostalgia factor. The images are all quite dated and there is nothing special about the reels or interface.
10 with a Spider
J with a Garter Snake (Jack)
Q with a Beetle (Queen)
K with a Scorpion (King)
A with a Gecko (Ace)
Camel
Oasis in the Desert
Compass and a Map
King Cobra (Wild)
Smirking Arabic Man with an Eye Patch
Arabic Princess (Scatter)
The Cobra Wild is the strongest of all and 5 of them in a result awards a whopping 10,000 coins. The Desert Oasis and the Princess Scatter are the next-highest with 5 of either giving you 500 coins for 5 of Kind. The rugged Camel then lumbers in with 400 coins for five across the board.
Jackpots
Even though this release is as old as the sand in its oasis, it does offer a progressive jackpot known as the "Dollar Ball Jackpot", which is a network prize that is linked to the full list of online casinos that are participating in the pool. You can attempt to trigger this feature by placing a side bet each time the reels are spun: simply click on the "enable" button in the user controls and choose 5 numbers between 1 to 49.
Every time that the Dollar Ball is drawn a number will appear above the ones that you have previously selected. If you match a few of the numbers you will receive a small bump in your balance but if you nail all 5 numbers you will win the entire prize amount. Not bad for an ancient relic.
Bonus Rounds
The Map and Compass triggers the bonus round if 3 or more of them land on any payline that's being wagered on, with the line bet multiplying any wins. You are then brought to a beautiful waterfall oasis where an Arabic gentleman in robes, (who is now wearing an eye patch on his other eye), begins by offering you 3 items as a "reward for your efforts".
Vases, boxes, chests, and baskets of vibrant colors are laid out before you, and all of them are hiding secret prize amounts. Thankfully the machine will always reveal what was behind all of the selections once you've chosen your 3 objects so you know what you could have received.
Each time you enter the hidden oasis of the bonus area you will be given one extra selection. So the second time you enter you get 4 choices, the 3rd time you enter you get 5 choices, etc. Obviously this can really start to pad your balance the longer you play, rewarding those who can stand the scorching heat of the desert.
Free Spins
Three or more of the Princess Scatter across the board will give you 10 free spins and you can even keep stockpiling them during your freeroll. She will also multiply all of your wins by 3x, which isn't that much, but certainly better than sand in your shorts.
Don't be expecting any shiny bells or whistles in this free spins mode because there aren't any unique backgrounds, symbols, or special effects. Also, you're in a frickin' desert!
Graphics
It should be clear by now that the graphics in this machine are nothing to write home about but then again, when is the last time anyone actually "wrote" home? Let's rephrase that for our millennial readers: "the graphics in this game are nothing to Tweet about". Especially since it was released 7 years before Twitter existed.
The reels spin fine enough and the bonus round runs fluidly without freezing but this one is going to have a hard time keeping anyone visually excited for an extended period of time in this day and age. There are simply too many other cool titles out there that you can play nowadays to justify giving Desert Treasure a sizeable chunk of your bankroll.
Although most will agree that it looks extremely dated, it will put a smile on the face of anyone who enjoys something with a retro feel.
Audio & Soundtrack
Desert Treasure gives players a ton of audio settings, which you wouldn't normally expect from a machine of this age. You can choose whether or not you want to hear normal sounds, background sounds, and/or dealer voices. It even has the classic option of "ambient music for table and card games", with three great soundtracks available for your listening pleasure: "Voyage to Chill", "Violet Sun", and "Elegant Breeze".
One strange thing of note here is that the sound of the reels whirling is absolutely fantastic for some reason. The audio is just really crisp and lifelike, and new slots games could actually learn a thing or two from it: it's definitely a rare strong point of the action.
Conclusion
Desert Treasure is basically the "Seinfeld" of gambling games: it looks really dated, you know exactly what's coming, but somehow you still end up enjoying it from time to time. It's the perfect thing to play for a while when you want to take a break from all of the complicated releases out there and cleanse your virtual palate.
In fairness, it does have free spins, a small bonus round with increasing payouts, and it even has a progressive jackpot…maybe it's not so bad, after all! Maybe we can all admit that it's aging well and still has a few more years left in it…and hopefully we can say the same for ourselves!
Saddle up that cranky camel – it's time to go hunting for some treasure.
Random Video of the Desert
Whenever I hear the words "Arabic" or "Arab" I immediately think of David Bowie's fantastic song, "The Secret Life of Arabia". So as a tribute to both Arabia and one of the greatest singers whoever lived, here is an amazing homemade video for the 1977 classic cut from the Heroes album, made with private footage. Enjoy!