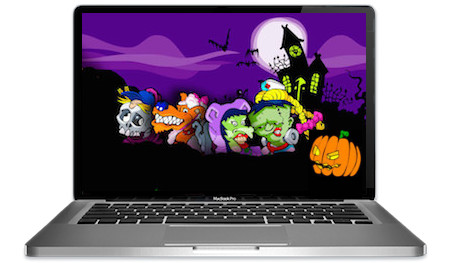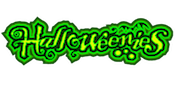 Was that a knock at the door? Oh my goodness, who is it? It's Halloweenies Slots starring a bunch of misfit monsters dressed in normal costumes who have come to demand candy. How cute! How scary! How profitable!
Generous Free Spins Mode
Pick a Pumpkin Bonus
Crazy Colors
---
---
Review of Halloweenies Slots
I always preface all of my Halloween-themed slot reviews with the fact that I am a sucker for this holiday, (yes I know it's not technically a holiday but that's how I've always treated it). I love the costumes, the candy, the parties, and everything else to do with that time of year.
Therefore, my critiques of Halloween releases are always a little less harsh than they should be. They probably deserve more spice though since the software companies never put a lot of time or effort into them because they're basically only going to be played at a certain time of the year. Which is why I think that these seasonal titles need to be judged a little less harshly than others based on film or television. To judge them strongly would be like opening your door and judging a child on their Halloween costume – it's just not right to do. It's the effort that counts and we're just happy that you came out to participate.
So lets get started with my lax and not-as-scathing-as-it-should-be review of Halloweenies Slots – what will be viewed as "cute" by many will surely be dismissed by others as a "monstrosity".
Screenshots
The screenshots below do not lie: this machine is starting to look a little dated. Well, it should be showing its age – it was released in the early 2000s and a lot of technological advances have happened since then. This shouldn't bother anyone though because you don't play Halloweenies for it's cutting edge graphics, you play it to giggle at the ridiculous symbols and cash in on the Pumpkin Patch Bonus.
Storyline
This game is somewhat strange because it is the monsters who are dressing up as "normals". Frankenstein sporting a nurse's outfit, a skeleton dressed as a lazy teenage boy, and even a Wolf in sheep's clothing. We're not sure what universe this exists in but it certainly is strange.
From what can be pieced together of this story, you are at home answering the door on All Hallows' Eve as trick-or-treaters come knocking for candies. The twist is that these ghouls are tired of children dressing up as them every year and getting all of that free candy so this year they're dressed as humans and grabbing the treats for themselves.
Ultimately, after you've given them everything that they want, the Jack O' Lantern rewards you by taking you to a magical pumpkin patch that hides cash prizes throughout. Not a bad trade!
Unique Symbols
You have to give the software developers credit for having all original symbols and not relying on any playing card ones such as the Jack or the Queen. That said, some might have problems distinguishing between some of the lower-paying ones as they do look quite similar, especially on auto play mode because it re-spins fairly quickly.
Everything you'd expect to find made it onto the reels:
Hard Candy
Soft Candy
Gummy Worms
Grandma Candy
Chocolates
Skeleton in Child Costume
Frankenstein in Nurse Costume
Witch in Bear Costume
Wolf in Sheep Costume
Monsters (Wild)
Jack O' Lantern (Bonus)
Pink Bunny (Scatter)
The highest-paying is the Wild which gives you 13,000 coins for five of a kind. Next is the Jack O' Lantern which dishes out the odd amount of 5,300 coins for five in a row. After these two, the rest of them take a nose-dive, with the Wolf awarding 900 coins for five of a kind and the Witch coughing over 450. These last couple of amounts are truly terrifying!
Jackpots
Unfortunately there isn't a Halloweenies Slots jackpot, neither in-game nor progressive. It's not surprising as older releases like this rarely have any sort of big cash prize.
Bonus Rounds
The bonus round here is very simple and is basically a traditional "pick em" style board. It's called the "Pick a Pumpkin Bonus" and you are shockingly taken to a patch where you are able to pick pumpkins that reveal random cash amounts. Who would have guessed?!
You get to pick three pumpkins and grab the money that is stuffed inside of them. The hidden amounts will be multiples of your original wager so the higher your bet, the bigger the Pumpkin Prizes will be. Once you've picked, all will be revealed to show you what was hiding inside the other ones and you will then know how well you selected.
Keep your eyes open for Pumpkins even while freerolling because special features can be triggered at any time.
Free Spins
The free spins in Halloweenies is both good and bad when compared to other online slot machines. First the bad news: your number of spins does not increase with a 4th or 5th Scatter and three or more just gives you a flat 13 each time.
The good news is that all of your wins during the round are tripled and not simply doubled like a lot of other games do and this can obviously lead to a nice pile of extra cash when it's all said and done. The other nicety in this title is that you can re-trigger it while freerolling.
Graphics
The graphics are looking quite dated by today's standards but that's actually part of it's charm. It will remind you of old Halloween cartoons or spooky candy from the 1980s.
The one element that makes it stand out is its crazy colors: this is seriously one of the most colorful games out there. Candies flying everywhere, bright nonsensical costumes…it all adds up to a totally weird gambling experience.
Audio & Soundtrack
There are no real songs to speak of in this release – just a bunch of silly sound effects like squeeze toys and wind chimes. There is a constant sound of footsteps on a hard floor and the sound of a door closing. Who was that? What was behind the door they closed? This audio is actually one of the creepier aspects of the machine.
Oddly, there's a sound of birds singing during certain times but it's obviously not that scary and it's actually kind of peaceful. The audio engineers might have been trying to make them sound like crickets but they definitely didn't succeed, if that's the case.
The audios in the regular mode are fine for the most part, however, the Pink Bunny Scatter lets out an annoying squeak every time it falls on the reels. This gets old very quickly and most of you will want to turn down the volume from the beginning.
Conclusion
If you're looking for a fun, goofy Halloween-themed slot game to play, Halloweenies fits the bill. Due to its age and graphics some of you will be moving on to another title quite quickly but for those who like vintage, it's old look will be a plus and not a minus.
So go drop a few bucks into this machine so you can figure out which side of the camp you are on. If nothing else, you will get a laugh out of the ridiculous symbols and colors – these characters were definitely born from a twisted mind.
Random Video of Halloweenies
I honestly can't believe that this Paul Lynde Special from 1976 is on Youtube – I never thought I would see it again. If you want a blast from the past featuring KISS, The Wicked Witch of the West, Betty White and H.R. Pufnstuf, it will give you everything you need.
They took the original down but here's a nice chunk of it. This was easily one of the best Halloween Specials of the 1970s. Enjoy!