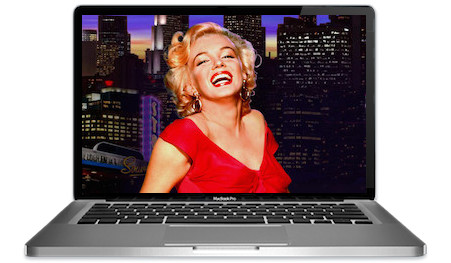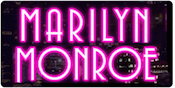 If it's true that gentlemen prefer blondes, male readers will be happy to see the original blonde bombshell immortalized in this neon pink extravaganza. Don't worry ladies, you'll agree that Marilyn Monroe has never looked better.
Beautiful Design
Tons of Free Spins
Expanding Wilds
---
---
Review of Marilyn Monroe Slots
Marilyn Monroe is one of a kind and there simply hasn't been a more iconic actress before or since. She was the first woman in Hollywood to break all of the rules and do things her way. She fought with a major movie studio and won. She fought with domineering boyfriends and won. She fought with the media and won. In short, Marilyn was one tough cookie.
In those days beautiful women weren't supposed to be smart – they were just supposed to smile and be eye candy, and Marilyn was having none of it. Her goal was always to get more serious roles and not to be typecast as an airhead. From the early days she had her career path mapped out and it unfolded almost exactly as she had planned.
In addition to being a Hollywood maverick she also started her own production company, which was totally unheard of in those days. She was tired of getting terrible movie contracts from studio executives and decided to do something about it. Talk about taking matters into your own hands!
So am I coming into this review with a little bit of a bias? You better believe that I am. Marilyn was one of the greats and she's at the top of the list of celebrities who were taken from us too soon. However, as you'll see in the sections below, I keep a level head and criticize this game where it's deserved: to be honest, Playtech could have done a much better job on this one – especially considering that the source material was sacred ground.
This expert review of Marilyn Monroe Slots will clearly explain the good, the bad, and the easy improvements that were left on the table.
Screenshots
Everyone is going to love how this machine looks. With a bold and beautiful design, the software developers paid homage to its star by making it absolutely gorgeous. Soaked in pink and purple neon, this is a gambling game that you simply won't get sick of looking at. Click on the screenshots below to see just how stunning it is.
Storyline
Norma Jeane Mortenson was born on June 1st, 1926 in Los Angeles, California. Like many historic icons she came from humble beginnings and even bounced around orphanages and foster homes until she was married at the age of 16. Her big break happened in 1944 when she was working at a munitions factory during WWII and met a photographer who helped propel her into a hot career as a pin-up model. She was extremely hard working and was one of the most successful models of the day, appearing on 33 covers in just two short years.
After her success as a model she signed a movie contract, took acting, dancing, and singing classes, and rubbed elbows with every powerful man in Hollywood at the time: "Marilyn Monroe" was born. By 1952 she was receiving top billing in every film and had many titles to her credit, and she even found time to date New York Yankee power hitter Joe DiMaggio.
From there Marilyn had an up and down career that included feuding with her movie studio, divorcing DiMaggio, opening up her own production company, dating Marlon Brando, and finally marrying Arthur Miller. She then caught her breath for a few years before divorcing Miller, moving on to date Frank Sinatra (and others), and engaging in more fights with production studios.
This release from Playtech tries to capture Marilyn's whirlwind life and take you back to the 1950s when everything was still a "different kind of cool". Unfortunately, they chose not to focus on any major events in her life and therefore the storyline is severely lacking.
Sure it's hard to make a slot that focuses on a celebrity but there were numerous ways that they could have beefed up the plot: creating a proper bonus round would have been a good start.
Unique Symbols
The unique symbols of course center on Marilyn and feature many different images of her, mixed in with a few other items from classic Hollywood. Unfortunately, Playtech ran out of ideas and felt that they had to include a "9", which will leave most fans more than a little disappointed. Anything would have been better than a 9 and this is your first hint that the designers might have gotten a little lazy on this one.
To be fair, they did choose fantastic photos of Marilyn and all of her classic images are in here.
9
10
J (Jack)
Q (Queen)
K (King)
A (Ace)
Old Time Movie Projector
Marilyn Monroe Magazines
Marilyn Monroe's Hollywood Star
Marilyn Monroe in a Red Dress
Marilyn Monroe in a White Dress
Neon Marilyn Monroe Autograph (Scatter)
Marilyn Monroe Laughing (Wild)
All of the various payouts are increased if a Marilyn Wild is used to complete the winning combination so the ones below are the maximum amounts that you can receive.
The biggest win comes with the Laughing Marilyn Wild which gives you 10,000 coins for 5 of a Kind. This is followed by both Marilyn in a red dress and Marilyn in a white dress, with each giving you 1,500x your line bet for five in a row. Finally, we have Marilyn's Hollywood Star with 800 coins, and Marilyn Magazine Covers and the Camera which dish out 500 coins each.
Jackpots
Unfortunately, there isn't a Marilyn Monroe Slots Jackpot available in this release. Don't take it personally – she was never one to be upstaged on the set so she probably didn't want a jackpot distracting you from her beautiful images.
Bonus Rounds
Every player will agree that the saddest part of this title is that it doesn't have a proper bonus round. As a result, it feels like the reels are forever spinning without a break and there's just no pause in the action to recharge and do something other than press the main buttons.
This will be a huge disappointment for many but at least now you don't have to discover it for yourself and become sad. To be clear, the regular mode is great, it's just that most people are going to be looking for at least one extra thing to enjoy aside from the reels.
There is an extra place called the Backstage Bonus that's basically a small Pick Em' style area where you select photos of Marilyn that are taped to a makeup mirror. The photos hide free spin amounts and multipliers for the next area you're about to enter so this isn't a real special feature at all.
Free Spins
The free spins are triggered by 3 or more Scatters anywhere on the board and you start off with 10 of them and a 2x multiplier that you'll add to as a result of the photos you flip over in the Backstage Bonus mentioned above. You only get to pick a total of 2 photos so chose wisely. Each will reveal either more gratis games, an increased multiplier, or a combination of the two.
You'll want to see more Scatters drop while you're freerolling because if you hit 3 or more you'll get an extra 35 spins, which is one of the highest amounts you'll ever see offered in a real money online slot game, with maximums usually being around 25. The multiplier amount that you had when you triggered the windfall will remain the same for the duration of the round.
Once you've burned through them all you'll see your total winnings which will be added to your balance as you are returned to the regular mode.
Graphics
The animations on the reels are of course amazing with Marilyn's dress blowing, her jewels sparkling, and the neon glowing. Unfortunately, as already complained about above, there aren't any special areas or extra features to show off these graphics more.
All we really get is the visuals in the regular mode and a few photos on a mirror. Don't get it wrong, the photos are absolutely beautiful and everything looks fantastic, it's just that it would have been nice if Playtech would have made the effort to take things up a notch.
Audio & Soundtrack
The main soundtrack is a very sassy, swinging number that will remind you of a smokey jazz cafe in NYC in the summer of 1952. It has a great beat that is accompanied by a smooth saxophone and frisky piano.
The jam slows down when you're in Info Mode and the piano player freestyles on the keys, with the performance being accentuated with horn blasts whenever he takes a break from tickling the ivories. Audiophiles will be sad to learn that it sounds like the horns in this tune were actually created with a synthesizer.
Each spin is highlighted with a nonchalant drumroll that's joined by a piano blast for every payline win, so you'll want to hear that piano man rocking out as much as possible as you go. When you use the Stop button to halt the reels you get an audio that sounds like a record on a turntable coming to a scratching halt.
Nothing else is noteworthy.
Conclusion
What can you say about Marilyn that hasn't already been said? Not only was she the most beautiful blonde bombshell of all time, the first real American sex symbol, and the #1 desire of men and women around the world, she was also extremely intelligent, had great business sense, and fought hard to do things her way in a male-dominated industry. Marilyn was truly a pioneer.
So is Marilyn Monroe Slots going to appeal to everyone? No, of course it's not and surely some of you will be downright angry and frustrated with it. Many will feel absolutely cheated by the lack of bonus features in a game that is otherwise stunning. It feels like Playtech were 85% of the way finished with an amazing release and then said, "Meh, good enough." And we all know that "good enough" was never good enough for Marilyn.
However, she is a femme fatale who can boost your bankroll and the design is one of the best to be put out in years, so there is definitely enough here for fans of Marilyn to enjoy themselves. It just might not be for that long because without a proper break from the regular mode many of you may find yourselves getting a little bored.
That said, diamonds are a girl's best friend and cold hard cash has to be a close second, and this game does give you tons of opportunities to win it thanks to the ever-flowing free spins it seems to pump out. So if you can look past the lack of extra features, you'll want to scratch that seven year itch and check out Marilyn Monroe Slots today.
Now I just need to figure out How to Marry a Millionaire…
Random Video of Marilyn Monroe
Here is a documentary called Marilyn on Marilyn that tells the story of her life in her own words given in interviews throughout the years. Her statements are played over photos and videos of her and it all comes together in kind of a spooky way – like it's a ghost talking.
Check it out and let me know if it made you feel the same way.