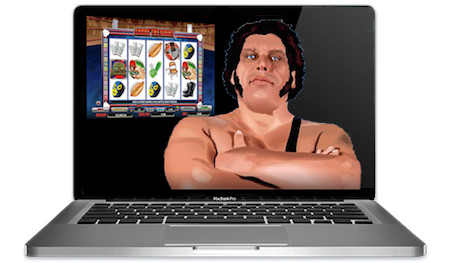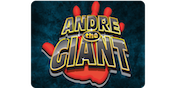 Are you ready to enter the ring and harness the power of "The Eighth Wonder of the World"? It's time to lace up your boots with Andre the Giant Slots and help the WWF Legend win the Championship belt while you win free spins and cash prizes along the way.
Awesome Bonus Round
Great Graphics
Tons of Fun
---
---
Review of Andre the Giant Slots
I was a huge wrestling fan in the 1980s so I was very happy to hear that Andre the Giant was getting his own online slot game. Although, I was a bit confused as to how they decided on Andre and not one of the other superstar wrestlers from back in the day. I would have thought that the likes of "Macho Man" Randy Savage, "Rowdy" Roddy Piper, or even The Ultimate Warrior would have had a larger fan base to appeal to.
However, after some thought it dawned on me that Andre the Giant was indeed a superstar in the 1970s, and his rabid fans followed his career all the way up to the early 1990s, picking up many new supporters along the way. This was due both to his abnormal size, as well as his unprecedented winning streak from 1973 to 1987, (although he did lose or draw a few matches outside of the WWF during that time).
In addition to the hordes of wrestling fans who loved him, Andre also endeared himself to a generation of young movie goers with his role of Fezzik in the 1987 film The Princess Bride. This movie cemented Andre as one of the most beloved big men of the 1980s.
As you can probably tell, this review of Andre the Giant Slots is going to be a little biased, but why shouldn't it be? We're talking about one of the greatest professional wrestlers of all time here. Although if you didn't see The Princess Bride, Wrestlemania I, II, III, or IV, or any of his other amazing work over the years, you'll probably be scratching your head at this point wondering what all of the fuss is about. Luckily this game has enough going for it that it will also appeal to those who have never even heard of The Giant or his many accomplishments.
Screenshots
The screenshots below show just how great the game design is, and how NextGen Gaming did a fantastic job on all of the symbols and player controls. It's clear that they put a lot of effort into creating a fun game that looks good – which Andre The Giant himself would have definitely wanted if he was still alive today.
Storyline
The storyline for Andre the Giant Slots is exactly what wrestling fans would imagine. You navigate the world of a live wrestling event via the symbols of tickets, hotdogs, and foam fingers, and every once in a while Andre stops by to kick you in the face with his "Wild Boot", which is of course the game's Expanding Wild symbol.
After you've survived Andre's boots, hopefully you hit a few Scatter symbols and are taken to the bonus round where you will stack up wrestling moves to use against your opponents in the ring. If you are victorious under the bright lights you will be crowned "Champion" and receive the massive cash purse that's up for grabs.
Andre's real-life story is that he suffered from gigantism and never stopped growing, thus turning into a "giant". This led to his successful career in professional wrestling and him earning the title of "The Eighth Wonder of the World". Oh – he could also drink around 130 beers in one sitting. What a legend!
Unique Symbols
The unique symbols for Andre the Giant Slots suit the game well as they are taken straight from the world of wrestling, with an emphasis on live wrestling matches in an arena. Personally, I would have liked to have seen a few more symbols of Andre himself during different phases of his career, but beggars can't be choosers so I'll take what the game designers came up with.
Andre himself is an Expanding Wild that appears on reels 2 and 4, which is referred to in the game as the "Andre Goes Wild Feature". Strangely there's only 11 unique symbols in this game, which does seem a little low – I would have thought that 13 would be the minimum for a 25 payline game.
Hot Dog
Lucha Libre Mask
Lucha Libre Wrestler
Andre's Wrestling Boots
Green Foam Finger
Metal Chair
Championship Belt
Referee
Wrestling Tickets
Wrestling Ring
Andre the Giant Logo
The Masked Lucha Libre Wrestler symbol gives you the most for 5 of a Kind with 5,000 coins. This is followed by the Referee with 1,000 coins for five across the board, and the Championship Belt and Wrestling Ring symbols dishing out 500 for the same.
Jackpots
There aren't any Andre The Giant Slots Jackpots to be won in this game, but the fun during the bonus rounds somewhat makes up for the omission. I'll never say "no" to a jackpot that I can chase, but in this game there are so many other things going on you don't really miss it.
Bonus Rounds
The bonus round in Andre the Giant Slots is called the "Battle Bout Bonus" and it's exactly what you want it to be – a wrestling match in front of a huge crowd. You even get to pick the opponent that you will be facing off against. But before you can grapple in the ring you have to hit three Scatter symbols anywhere on the board to trigger the Free Games Mode.
After gathering specific wrestling moves during your free spins you must then click on the attack icons you received to maneuver Andre as he fights in the ring. Your possible opponents in the bonus round are Voltage Van Zandt, Flame Bro, or Jimmy Iron Legs. I can't say that I remember any of these jobbers from WWF Superstars of Wrestling on Saturday mornings – where the heck are Barry Horowitz and Steve Lombardi?
Anyway, if you land three or more blows you will be able to select one of Andre's two famous finishing moves – the Body Slam or the Atomic Drop. Trust me, it gets very frustrating when you use an attack move on an opponent that is successfully defended, but when you finally land three attacks it is extremely satisfying to win the bout… and the grand prize that goes along with it. Don't worry – you will win cash bonuses as Andre executes the wrestling moves that you instruct him to, guaranteeing winnings even if you don't have an opportunity to use one of his finishing moves.
Free Spins
As touched on above, the Free Games Mode in Andre the Giant Slots is awesome because you know that you are on your way to the bonus round, and the free spins can give you the wrestling moves that you can turn into cash. These are the moves that you're going to need when you're trying to defeat your opponent and stack up bonus cash.
First of all, you should become familiar with the "attack icons" of the Bear Hug, Knife Edge Chop, Head Butt, and Choke Slam. You collect these wrestling moves for Andre to use once he gets in the ring. The icons only appear on reel 5 and attach themselves to the bottom corners of existing symbols, so you have to keep your eyes open for them.
Three, four, or five Scatter Symbols sends you into Free Spins Mode, where you will receive exactly 12 free spins each time, regardless of how many Scatters you received to trigger the round.
Graphics
The graphics in this game are excellent, with all of them running fluidly, even on slower internet connections. The bear hug that Andre gives the Scatter symbol when going into free games mode stands out as a good example of the game's designers going above and beyond the call of duty with their efforts. Clearly a lot of work went into creating this game.
The Andre Expanding Wild comes with a bang as his massive wrestling boot kicks through your screen and shakes your computer and it's definitely one of the best visuals that you'll find here. Also, NextGen did a great job of giving this title the feel of a classic wrestling arena, and all of the designs work well within the theme of the game.
Audio & Soundtrack
The song that plays when in the game's Info Mode is absolutely rocking. It's like an old '80s heavy metal song, but with a prog type of synthesizer that plays throughout. Although the unfortunate thing is that the song actually "skips" as it loops to repeat and misses a beat! I'm totally shocked that this error made it past the testing phase.
In addition, the song that plays once you've entered Free Games Mode also misses a beat when it reaches the point where it loops to repeat. I really have no idea how these bugs slipped by the game's creators, and it's definitely annoying.
In normal game play mode the hard-rocking guitar riff that plays with each spin is way too heavy, and it becomes intrusive after a while. Sadly, I couldn't find a way to turn off this particular audio and leave the rest on, (since the other game audios are quite enjoyable).
Conclusion
Any fan of wrestling past or present will have fun playing this game, and older fans from the '70s and '80s will be absolutely thrilled with this slot. No matter how many times I go back to play it, I'm still kind of shocked that I'm seeing Andre the Giant in a gambling game.
And don't worry, if you only know of Andre because you're in love with the movie Princess Bride, you should still get hours of entertainment from this game. But be warned: I haven't been able to find any Fezzik or David Bowie references yet.
Ultimately, with a super fun bonus round, great game design, and legendary character behind it, Andre the Giant Slots will be fun for players of all ages. Just be sure to watch out for the choke slams and head butts!
Bonus Video of Andre the Giant
We've all seen Andre and Hulk's epic battle from Wrestlemania III numerous times, so here's a lesser known match between the two. It occurred at "Wrestlefest" in Milwaukee during July of 1988, and has them fighting in a steel cage with Bobby "The Brain" Heenan in Andre's corner.
This is a rare one that I don't think many of you will have seen before. Enjoy!