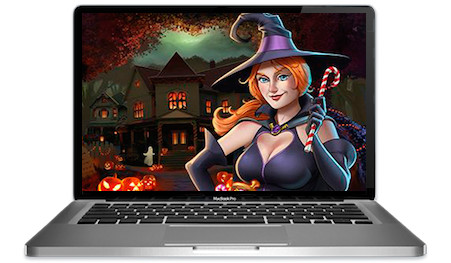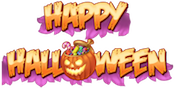 Are you ready to go to a spooky Halloween party and feast on bizarre jelly candies with a bunch of creepy guests? If the answer is "yes", Happy Halloween Slots is the only game you'll want to play this All Hallows' Eve.
Excellent Game Design
Great Sound Effects
One Million Coin Jackpot
---
---
Review of Happy Halloween Slots
I'm always happy to review a Halloween-themed slot because they're such a nice break from the usual games that focus on leprechauns or strange fruit. There's also the fact that I am an absolute Halloween junky who puts pumpkins on the front door step on October 1st, and doesn't take the decorations down in the front yard until the second week of November. (Yes – I'm one of those people.)
I can't help it, there's just something magical about children and adults dressing up in costumes, with the only limits being their imaginations and creativity. There really isn't anything I like more than opening up that door and seeing the little ones dressed up and barely able to hold out their candy bags because their costumes are so big. Transformers, robots, and characters from Star Wars always seem to be the bulkiest costumes – mom and dad can't ever seem to get the measurements right.
As I've stated on this website before, I'm partial to anything relating to this October celebration, especially fun online slots that dazzle the eyes with bright colors and crazy images. Unfortunately, Happy Halloween stretches my good will to its limit because of their refusal to put a proper bonus round in the game. So let's just say that this review is going to be slightly biased due to its theme, but in the end I will let the facts speak for themselves.
Screenshots
All of the images in Happy Halloween Slots are really well done, and the unique symbols are very detailed. Every visual is of a cartoon or animated movie quality – you can really see those gelatin deserts jiggle!
Storyline
You are attending a Halloween party at a beautiful, old house in the forest that is surrounded with party decorations and Jack O' Lanterns. Even though the house seems inviting as you approach it, something still feels a little off. Maybe it's the ghosts floating around the porch? Maybe it's just me.
Once in the party and spinning on the reels, you feast on complicated orange muffins and grotesque gelatin candies, while at the same time rubbing shoulders with party guests dressed as ghouls. Or are they actually ghouls dressed up in costumes pretending to be humans? Hopefully you figure it all out before you are thrown out of the party and into the dark forest.
Unique Symbols
The unique symbols in this game took a while for me to wrap my head around. Why is there a muffin with an orange stuck in it? Who put the skull next to it? Why is the orange-haired witch one of the hottest slots characters ever created? As I played the game more, I decided to stop asking so many questions and just go with the flow.
Whether or not you think some of the characters in this game are strangely beautiful is up to you, however there's no denying that the candy related symbols look absolutely delicious. Here's what's on offer:
Strawberry Dipped in Chocolate Web
Frankenstein with Chocolate Bar
Bride of Frankenstein with Rose
Gummy Ghost
Grape Gummy with Kitty
Orange Muffin with Skull
Smashed Bat Cake
Jelly Ball with Bone
Mummy Child
Evil Child with Lollipop
Ghost with Lantern
Jack O' Lantern (Wild)
Sexy Witch (Scatter)
The highest paying symbol in this game is the Ghost with the Lantern symbol, who gives you 1,000 coins for hitting five of a kind. Next we have Frankenstein and his Bride each paying 500 coins, with Mummy Child and Evil Child with Lollipop dishing out 400 coins each for 5 in a spin.
Jackpots
Although there technically isn't a jackpot in Happy Halloween Slots, you do have the ability to win 1,000,000 coins. In a 50 line game, with a maximum wager of 5 coins per line, and the highest paying symbol dishing out 1,000 coins for five of a kind, you're going to have to hit a full screen of Ghosts to get that one million coin jackpot. If I don't hit it first!
Bonus Rounds
Those players who are just happy to spin pretty reels without interruption will enjoy this game, but the rest of us in search of a fun bonus round will be left out in the cold. Shockingly, Happy Halloween Slots doesn't have a bonus round and only offers free spins as an extra feature.
I really don't understand how a newer game like this, that clearly had a lot of hard work put into it, was released without a bonus round. It just doesn't make any sense. Perhaps the game designers at Play N' Go were possessed?!
Free Spins
As if you wouldn't have already been on the lookout for the Sexy Witch, pay particular attention because three or more of this Scatter symbol gives you 10 free spins, and will also payout 4x on your line wager. During free games mode you will get two extra Stacked Wild symbols on reels 2, 3, 4 and 5. Why not on reel 1? I really have no clue.
It is possible to re-trigger the free games mode in Happy Halloween, but only one time per freeroll for a total of 20 free spins. Also, the first two Sexy Witch symbols must land on reels 1 and 2 to trigger the possibility of going into free games mode.
I find that free spins are given out quite liberally in this slot game, which is usually the case with games that have chosen not to include a proper bonus area.
Graphics
The graphics in this game are definitely its strength and it appears as if a great deal of time and effort went into designing the symbols, backgrounds, and introduction video. However, there aren't any different game modes in Happy Halloween except for the regular game, so players never really get to see the visuals in a new way, or experience fun animations.
So the game technically gets an 8 out of 10 for game design, but really only gets a 2 out of 10 because they didn't exploit this design to its fullest. Which is a definite shame because PLAY n' GO really had something that they could have built on here. I still have my fingers crossed that they will release Happy Halloween Slots 2 someday, and properly expand on these great graphics.
Audio & Soundtrack
The audios in Happy Halloween Slots are definitely fun and creepy. There is a soft, eerie track that plays in the background throughout the regular game that's not too loud, and adds to the fun and creepy vibe of the game. It actually kind of reminds me of the soundtrack from an old Scooby Doo cartoon.
However, in my opinion, the really good news about the song in the regular game is that it plays continuously, and doesn't restart every time you push the spin button like some of the other titles out there. All of the other game sound effects are normal and unobtrusive.
Conclusion
The graphics and audios in this game may be fantastic but they just don't make up for the lack of a bonus round. Yes – you have the opportunity to win a maximum of 1,000,000 coins when playing this game, but I doubt that most players will stick around long enough to give themselves a real chance of winning it.
Strangely, even though the design in Happy Halloween is much better than most of the other Halloween-themed slots out there, I'd still rather play some of the older ones. However, for those of you who value graphics over bonus rounds, you will certainly find this game very much to your liking. As will those who want a scary slot with a whopping 50 paylines that's backed up by a wickedly good soundtrack.
Just like ranking the candy in a loot bag, this one is all going to come down to your personal tastes.
Bonus Video of Happy Halloween
Here's an interesting video on Halloween safety from 1985, and I really don't think that many of these tips have changed over the years. Always remember that children should be able to walk and see easily when trick or treating – watch out for those bulky robot costumes! Happy Halloween!