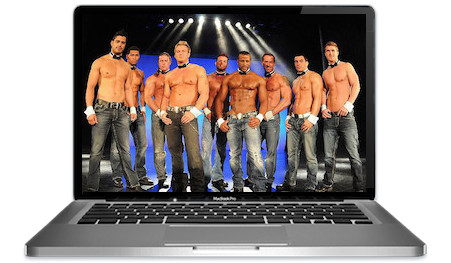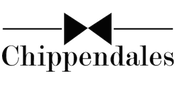 Finally we can enjoy the fun and entertainment of male strippers mixed with exciting online slots from the comfort of our own homes. So break out the bubbly and the baby oil because the bare chests are just as abundant as the cash prizes in this Chippendales-themed game from Playtech.
Sizzling Firemen
Sexy Rockers
Secret Agents
---
---
Review of Chippendales Slots
Now I'm not sure how many people reading this would actually admit to seeing the Chippendales dancers perform live, so I'll just go ahead and be the first one to raise their hand: yes I've seen them. Many times. It's an absolute blast. You get all the girls together, have a few drinks at someones house, and then pile into the taxi and head down to the club. And if you've ever seen them perform live, you know just how good a show they put on.
Could seeing Jaymes Vaughan gyrating his hips with sweat dripping off of his ripped abs two feet from my face influence my exclusive review of Chippendales Slots? Ummm yaaaa! So lets just sit back and take this game for what it is – a little bit of high-energy gambling fun that will give you the feeling that you're stepping out on the town for a night with the girls.
Screenshots
This machine is soaked with sweat and baby oil, both of which are magnified by the bright lights of the big stage. There's a lot of dancing and shaking going on in this one so you'll probably want to click on the images below to enlarge them and take a really good look at what's going on here.
Storyline
Born from a rundown discotheque in Los Angeles called Destiny II in the late 1970s, the Chippendales franchise took off like a rocket and rose to become the premier exotic male dancer company in the world. Their history is certainly a sorted one, marred by shocking murders and suicides, lawsuits, and a boatload of corruption – they even made a tv movie about the whole sorted mess.
Thankfully, the company eventually landed in the hands of reputable owners who maintain a wholesome touring dance troupe to this day, allowing millions of people in over 75 countries to enjoy the harmless fun that they offer. The boogie nights of Somen Banerjee, Bruce Nahin, and Paul Snider are long gone.
This release from Playtech ignores their checkered past and instead focuses on the good times that are had by watching talented male dancers take off their clothes to the screams of adoring fans. The plot is definitely weak but it could be argued that there's not much of a plot to a Chippendales show in general, soooo…
Unique Symbols
Not to be overly judgemental, but what kind of secret agent name is "Dave"? Shouldn't it have been a little more mysterious than that? It's pretty obvious that Dave needs to work on his character. Anyway, the guys are all good because sizzling firemen and sexy cowboys never go out of style.
Sadly, the celebrity Chippendales dancers didn't make it onto the reels, with Joey Lawrence and Ian Ziering nowhere to be found. Older fans will surely be sad that Buttman himself, John Stagliano, was not included in the unique symbols butt most will soon forget about him.
10
J (Jack)
Q (Queen)
K (King)
A (Ace)
Sizzling Fireman (Shawn)
Sexy Cowboy (Jaymes Vaughan)
Chippendales Badboy (John)
Sexy Rocker (Jace)
Secret Agent (Dave)
Bowtie and Cuffs (Wild)
Buff Silhouettes (Scatter)
Bonus Wheel (Bonus)
You'll be searching for that International Man of Mystery because Dave the Secret Agent dishes out the most with 500 coins for 5 of a Kind, (maybe he doesn't need to work on his persona, after all). This is followed by Jace, John, Jaymes, and Shawn who award 300, 225, 200, and 175 coins respectively for five of them across the board in a spin.
Don't rub your eyes, you're not seeing things: the Wild only falls on reels #2, #3, and #4 so your opportunity for wins on each payline is severely reduced.
Jackpots
There's no way that Playtech could have included a Chippendales Slots Jackpot – the machine would have just been too darn explosive. Although, most will agree that it would have been nice of them to include at least a smaller in-game progressive prize or something like that. Oh well, maybe we can look forward to one if there's a sequel.
Bonus Rounds
If you've ever watched The Price is Right you'll know how important a bonus wheel is and in this release it's no different. If you hit 3 Scatters on reels #1, #3, and #5 in a single result you'll trigger the "Sizzling Spin Bonus" which is a wheel with different amounts on it.
It's spun once and whatever you get will be multiplied by your total wager, with the top prize offered being a 100x multiplier. This is a very simple thing that requires zero thought or decision making, however, it still provides a nice break from the regular mode.
There's also something that has nothing to do with giving you cash but has everything to do with giving you a feast for your eyes – most of you will consider this a "beefcake bonus". We're of course referring to the game's "Symbol Strip Feature" that sees the five hunky stars slowly take off their clothes each time they're involved in a payline win. Please note that the boy toys are only shown from the waste up so there's no need to get shy.
Free Spins
In what has to be one of the biggest shockers ever, there are no Chippendales free spins available at any point in the action. Zero. Nadda. Bupkis. This is one of only a handful of machines that doesn't offer free spins…at least one that was released after 2005.
Sure it has a Scatter but it's treated as the rest and simply has a payout for 3 or more in a payline: they trigger absolutely nothing. It's worth noting that the Scatter is actually tied for the lowest-paying symbol in the game with the Q, J, and 10. Huh?
Graphics
If the intro video doesn't get your juices flowing for some excitement, who knows what will. It's a montage of a huge show featuring many male strippers taking it off in front of screaming women who can barely control themselves. It's a real powder keg of enthusiasm.
No matter what, the graphics here have to be given high marks since the unique symbols of the men actually strip for you as you stack them up in payline wins, which might be the only gambling game in existence that does this. Also, as you hit the various combinations, video clips blast onto the screen of the sexy men taking it all off live in front of a crowd of rabid fans and it feels just like a night out in Vegas.
The graphics of Jaymes and John, (or is it Jace and Dave? It's hard to keep track of all the hunks!), spinning the prize wheel is pretty cool and you can see every muscle on their bodies perfectly. In another beefy twist, you get a unique video clip after the special feature of the men shaking it around in practically nothing, so more sensitive players may want to avert their eyes.
There's also a virtual smoke machine that will blast you in the face with mist every once in a while after a big bonus win – it's just like going to see the real thing!
Audio & Soundtrack
The soundtrack in the regular mode is an excellent dance style track with hip hop bass. Most will really like it and it will get you dancing in your seat.
The song that's heard in Info Mode is a R&B track that has tons of lyrics and it was probably created specifically for this machine. You should be warned that the messages are a little strong, "Let me take it off, let me show you how it goes…there's a new sheriff in town and I'm laying down the law!" Well then, who are we to interfere with police business?! Please note that these are some of the "tamer" lyrics in the song.
Playtech did a great job of recreating the atmosphere of a male strip club by including constant bellows from the MC like "We gotta hear you!" and "YA!", as well as "Get those hands up in the air!", and special shoutouts for all of the unique symbols like, "Let's give it up for your Chippendales Cowboy, James Vaughan!", which were all done by someone who wasn't Richard Barsh.
Now it's not that we don't think that Jaymes Vaughan doesn't deserve tons of screams, or perhaps even prestigious awards for excellence in his field, it's just that we don't need to be told to "give it up" for him 100 times an hour. Therefore, some will find that the audios can get on their nerves.
Although, it could be argued that the constant commands for exuberance perfectly mimics any strip club MC in the world because they never shut up!
Conclusion
If you like the fun and excitement of male strippers you'll definitely want to give Chippendales Slots a try to see what all the fuss is about. You will have some good natured fun and chuckle more than once.
Unfortunately, many people might get bored after a while since there aren't any free spins available and the bonus round is very basic. It's too bad – if Playtech would have included another special feature or a freeroll, this could have been a fantastic release. Instead, the excitement level for the first 15 minutes is a solid 8/10 but after that it gets a little boring and predictable, with the MC's constant commands going from "cute" to "cringe-worthy".
So absolutely take Chippendales Slots out for a date – just be ready to leave the club as soon as you lose interest.
But until that happens…"It's getting hot in here!"
Bonus Video of Chippendales
All true fans of the Chippendales squad knows that there's only one thing that this review could end on and that's the iconic "Tall Dark and Handsome" video from 1987.
WARNING: things get very hot and heavy, so this one isn't for the faint of heart…