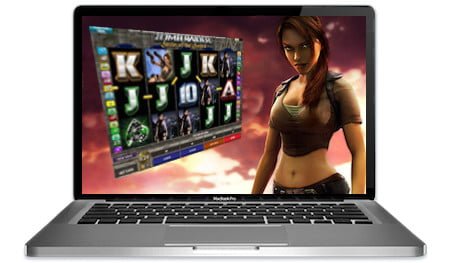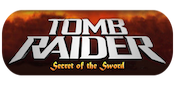 Tomb Raider Secret of the Sword Slots
Lara Croft is back in another Microgaming blockbuster and she's tougher than ever. Get ready for Lara-overload with Tomb Raider Secret of the Sword Slots, stuffed with action and excitement that will blow you out of your chair.
Tons of Free Spins
Cool Bonus Areas
Groundbreaking Audios
---
---
Review of Tomb Raider: Secret of the Sword Slots
After the great fan reaction from the original Tomb Raider Slots in 2004 it was pretty much guaranteed that Microgaming would go to the well again to come up with a sequel. It's strange because when I first saw Secret of the Sword in a game list I thought that it was going to be about the He Man & She Ra movie of the same name, but it turns out that they just borrowed the title. An odd choice, to say the least.
I recently went back to this title to write this review and I have to admit that I was pretty blown away. The free spins are awesome, the random reel features are great, it has some of the best bonus rounds I've ever played, and it has super "high-tech" audio features…and it was released in 2009! I've never seen a slot this old stay this fresh.
This was actually based on the video game Tomb Raider: Legend which was released in 2006, and is generally considered as Lara's "comeback" game, selling more than 4.5 million copies over various systems. Out of all of the different vids they had to choose from, Microgaming definitely made the right choice.
Sure I'm totally biased due to the strong female lead character but the praise that I'm about to give this slot is well-deserved. My in-depth review will completely detail why this title is hands-down one of Microgaming's best releases of all time. There's a lot to like…
Screenshots
Those familiar with the original Lara Croft slot from Microgaming will immediately notice that the graphics are quite similar, with the playing card symbols looking almost identical but with a bit of an update. This is very nice for the continuity but the comparisons will stop there because the graphics in this game are 10x better.
Click the screenshots below to enlarge them and see for yourself.
Storyline
Lara is called to Bolivia to investigate a religious stone platform in a long-forgotten city that may hold the key to the mystery of a family friend's death. She arrives and fights through mercenaries after being told of a secret sword that was dismantled many years before, only to finally confront the evil boss Rutland who hints that Lara's nemesis Amanda Evert might still be alive.
After investigating the tomb where Amanda supposedly died she realizes that she is in fact still alive and probably working with Rutland to find all the pieces of the sword to reunite them and use its power for evil. Lara now has to be one step ahead of them and unify the sword herself to save the world from tyranny.
This slot from Microgaming puts you in Lara's boots as she travels around the world visiting mystical places in search of the pieces of the sword. Every country you visit is beautiful and unique, and will give you exciting new ways to win cash prizes. This is definitely one of the better plots we've seen in an online slot machine as it stays true to the source material and is quite detailed.
Unique Symbols
If the last installment of Tomb Raider Slots didn't give us enough Lara, it's possible that Secret of the Sword might actually give us too much, thanks to the five different Lara symbols. This is probably "two Laras too many" because it's hard to keep track of them all – they should have mixed in a couple of different ones to keep things easily distinguishable.
Blue 10
Green J (Jack)
Yellow Q (Queen)
Orange K (King)
Red A (Ace)
Lara Croft
Lara Croft Driving Red Motorbike
Lara Croft Shooting Two Guns
Lara Croft Climbing
Lara Croft Close Up (Wild)
Medallion of Light (Scatter)
Passport
With five Lara symbols throughout the game you could probably guess that she's going to be the highest-paying, but which one? Well, it's the Lara Close Up Wild that will give you 7,500 coins for five across the reels. The prizes then tumble like an archaeologist falling down a mountain with Lara Climbing, Lara Shooting, Lara Driving, and Lara Standing paying 2,000, 1,000, 500, and 300 coins respectively for 5 of a Kind.
Jackpots
Lara does this for the adventure, not the money and would never consider retirement. You'll have to do the same since there's not a Secret of the Sword Jackpot available that would allow you to quit your day job.
Bonus Rounds
In the Global Adventure Bonus you'll be off to Bolivia, London, Ghana, Nepal or Tokyo to gather Hidden Sword Fragments of the secret sword. It arrives by hitting the Passport Symbol in the middle of each of the 5 reels, with each Passport that falls being logged and accumulated when it lands on the reels. Alister shouts words of encouragement to you every time they land – what a nice bloke!
Once triggered, you'll want to dig around carefully to find the Hidden Treasure Bonus because it will give you one of these prizes:
All of the prizes available in that location
2x Multiplier
Random Cash Bonus
Transport you into the "Shootout Bonus"
The Shootout Bonus is an awesome Pick Em' style game that gives you a 3×5 board of ancient golden discs that are each covering the prize amounts that are listed down the righthand side of the screen. At the beginning of the feature all of the prize amounts are visible and then they start to get quickly mixed up before disappearing. You're then allowed to pick one and only one, and you'll receive whatever prize amount that is eventually revealed, (you'll automatically shoot the discs one by one to see what's behind them). As they're blown away the corresponding prize amounts are removed from the right side of the screen, eventually leaving you with the one that you picked.
As you make your way across the globe you can win up to a total of 70x your average bet size before triggering the round. However, as an experienced archaeologist, you already know that there are booby traps all around the world and this game is no different. If you stumble into 2 of them you'll end your bonus round but sometimes it's possible to be saved – you'll just have to vanquish an old foe to do it.
Free Spins
You'd better bring a big jewelry box because hopefully you'll be snagging tons of the Medallion of Light symbols since it's the Scatter for the game, and 3 or more across the reels will trigger the free spins mode. This is actually one of the highlights due to the "Rolling Reels" feature which can give you multiple winning paylines.
This happens as the symbols in a winning line disappear from the game board and the symbols above them fall down to take their place, (these are sometimes also referred to as "Collapsing Reels"). If these new ones create another winning payline you will get the payout and in a fantastic twist, you'll also receive a multiplier that will increase by 1 each time, which will of course drastically increase the odds of boosting your bankroll.
The process will repeat itself until you've finally hit a losing combination and then the multiplier will go back to 1 so you'll have to start at the beginning again and jack it back up through more Rolling Reels wins. The maximum multiplier amount you can receive is 5x and unlike the first Tomb Raider release, you cannot retrigger free games whilst freerolling.
However, there is a Secret of the Sword Super Mode that will randomly give you 5 free spins with Sticky Wilds that will hang around for the entire feature. There's no rhyme or reason to when this will be triggered so you'll have to be patient.
Graphics
There aren't many crazy graphics to speak of in the regular game, except for the quick animation on the Wild Symbol when it's used in a payline win. It shows Lara doing a summersault as she falls into a canyon and then her legs pumping as she runs; this is exactly as exciting as it sounds. Luckily there's also the animation of the Medallion of Light spinning when it graces you with its presence, which does look pretty decent.
However, once you hit the Super Mode you'd better buckle your seatbelt because the graphics get really intense and will give you some of the best animations in the game. As soon as you hear the bass drum and erratic strings start up, Lara will climb up onto the reels from the bottom of the game board and do her trademark flip to get in position to shoot out lower-paying symbols to make them Wild. Or she might decide to swing in from the side of the screen and take care of business with a surprise kick attack.
In addition to all of this action, sometimes there's an insane "Showdown" feature that has Amanda blast into your bonus round and call you out for being too slow. The two of you then face off in an awesome double-handed shoot out with the last person standing taking the piece of sword – this is definitely one of the coolest features I've ever seen in an online slot!
Malcontents will claim that the game controls look very dated but that's part of it's charm, in my opinion. Every other effect was cutting-edge at the time and still looks better than most new games being released today.
Audio & Soundtrack
This machine is more adventurous in the soundtrack department compared to its predecessor, boasting a full orchestral number that continues for a very long time without looping. It's easily one of the longer scores I've encountered in a game and it helps to build the drama and tension…especially with the occasional frantic blasts of pan flute that always seem to come when you're least expecting it.
Then just when you think that the original audios are over, Microgaming surprises you in the Free Games Mode with a new track that features chanting monks and a heavy Euro trance beat. Think "Enigma mixed with KLF" and you're on the right track. Oh, not to mention that there's a frantic tune for the Super Mode that will have you on the edge of your seat. The game's creators have set the bar for slot machine soundtracks…and they did it back in 2009!
The back and forth between Lara and Alister is quite groundbreaking, especially considering the year that this title was released. The constant conversation between the two of them flows like a real video game, and it's definitely one of the major strengths of Secret of the Sword. And be sure to leave Alister waiting in the bonus round to discover a few easter eggs.
The regular game sounds are pretty good but they're not as fun as the first one from 2004. This is because the original sounded very much like an actual "one-armed bandit" on a Las Vegas casino floor. Oh well, with all of the other audio treats that are stuffed in here, I'm not going to complain.
Conclusion
If you love Lara Croft as much as the rest of us do, you'll want to check out Tomb Raider: Secret of the Swords Slots, if only to check out the fantastic updated images of her – she's definitely changed a bit since the late '90s. The shocking thing is that even though this machine was released in 2009, it's still a lot of fun to play today.
It has tons of free spins available, multiple unique bonus areas, and cutting-edge audio techniques that have never been duplicated in another slot since. It truly is one-of-a-kind and the team at Microgaming deserves a lot of credit for their efforts. Oh, don't forget about the Rolling Reels in the free games mode that will have symbols exploding while the multiplier amount gets pumped up – this really is a fantastic game.
The soundtrack is massive with numerous long songs that won't annoy you with choppy loops and they seem to play forever. It's hard for me to understand why so many games today have terrible audios with short sound clips that loop like a skipping record, when this title perfected sound effects back in 2009. Game designers should really use Tomb Raider 2 as a blueprint for all of their future releases.
If you're looking for a great game that won't drown you in paylines or befuddle you with complicated features, Secret of the Sword Slots is the one you'll want to load up on your computer. It's insane how well this game as held up and it's still loads of fun to play today – it's absolutely one of my all-time favorites.
Bonus Video of Secret of the Sword
Here's a fan-created video detailing the evolution of Tomb Raider over the years and how Lara Croft has changed in each version. It's pretty interesting – I had actually forgotten about a few of these incarnations. Enjoy!