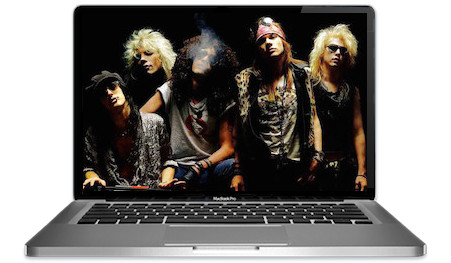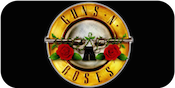 Get ready to step on stage with Axl, Slash, and the rest of the boys in Guns N' Roses Slots and stack up cash prizes while you rock out. With amazing bonus features and a killer soundtrack, the jungle has never been better.
One of the Greatest of All Time
Amazing Graphics
Tons of Bonus Features
---
---
Review of Guns N' Roses Slots
How in the world would it ever be possible to write a neutral review of anything that Guns N' Roses released? Just their name alone elicits strong reactions from rabid fans and angry critics alike. So I might as well just tell you right now that I'm squarely in the category of "rabid fan".
Like everyone else on the planet who has ears, I was blown away in 1987 when I first heard the groundbreaking album, Appetite for Destruction. Rock anthems such as "Paradise City" and "Welcome to the Jungle" were played constantly both on the radio and at home. I was a little younger in those days so I didn't fully understand the lyrics, but one thing I did know was that I had never heard anything like Guns N' Roses before.
This band was basically the soundtrack of my childhood and then into my young adult life – so ya, I think it's fair to say that you can expect some bias in this review. I'll try to keep my unbridled praise to a minimum. Yesterday's got nothing for me…
This exclusive review of Guns N' Roses Slots will "breakdown" the facts and tell you why it's one of NetEnt's greatest-ever releases.
Screenshots
This machine looks absolutely fantastic as you can easily see from the screenshots below. The designers clearly put a lot of time and energy into how it looks and the payoff was tremendous. Everything from the symbols to the bonus rounds to the backgrounds are fabulous and the team over at NetEnt should be extremely proud of their efforts.
Storyline
The members of Guns N' Roses first met in the seedy downtown area of Los Angeles in 1985. They were a ragtag group of alcoholics and addicts that were blessed with the ability to write and perform amazing rock n' roll music. Before drug addiction and mental breakdowns took their toll on Axl Rose's psyche and he broke up the band, the group was able to release 3 ground-breaking albums, along with 2 other albums that were very good.
Unfortunately for us super fans, Guns N' Roses Slots doesn't draw upon any of the real life stories from their rowdy, booze-soaked past. Which totally sucks because who doesn't want to play a game based on the infamous Montreal riot in 1992! Or the riot in Vancouver in 2002. Or the riot in St. Louis. Or…
Seriously though, just getting to play a game that has the members of Guns N' Roses in it is going to be good enough for most people. Any diehard GnR fan will just be ecstatic that it was released in the first place and it takes quite a while for the shock to wear off when you're playing it for the first time.
Anyway, we can sum up the plot of the game as, "amazing music group rocks out to screaming fans". The end.
Unique Symbols
As much as we love Guns, we have to be critical of some of the elements of this release, especially its unique symbols. Given what NetEnt had at their disposal in regards to possible symbols, it is downright horrifying that this game has 10s, Jacks, Queens, Kings, and Aces. Where is the Izzy symbol? Where is Steven? Their likenesses were "approved" or licensed for that big Appetite for Destruction Wild symbol that's in the game so why couldn't they have received their own symbols as well?
The game also could have included Gilby Clarke, Matt Sorum, and/or Dizzy Reed, but still they chose to have Qs and Ks instead. Many will assume that Axl might have had the final say about who made it into the machine and chose to snub his former bandmates. Technically there could have even been a Buckethead symbol which actually would have been pretty funny.
The other obvious ones they could have included are: Use Your Illusion I album cover, The Spaghetti Incident album cover, Slash's hat, Slash's Gibson Les Paul, and of course, a bottle of Jack Daniels. Here's what we ultimately got:
10
J (Jack)
Q (Queen)
K (King)
A (Ace)
Duff McKagan
Slash
Axl Rose
GnR Lies Album Cover Pick
Use Your Illusion II Album Cover Pick
Guns N' Roses Vinyl Record (Bonus)
Guns N' Roses Symbol (Wild)
There is also a special "Appetite for Destruction Wild" which is pictured in a screenshot above that comes at random covering reels #3, #4, and #5, and gives you the highest possible payline wins, (besides the Bonus symbols, of course).
Lastly, you're not going to believe this, but Axl W. Rose is the highest paying symbol in the game. Ya, we didn't see that coming either. Get 5 Axls in a payline and you will enjoy 750 coins. This is followed by Slash and Duff who throw out 500 and 300 coins respectively for 5 of a Kind.
Jackpots
There aren't any Guns N' Roses jackpots to speak of, however, there are tons of extra bonus features that will boost your bankroll throughout the action. The lack of a big cash prize is standard for all of the music-themed slots that have been released by NetEnt over the last few years, so Don't Cry because the omission.
Bonus Rounds
It's all about the vinyl and 3 Bonus Album symbols anywhere on reels #1, #3, and #5 will get you into the Guns N' Roses special features where you'll be able to spin the album to have it randomly select which area you're sent to. The various sections on the Bonus "Wheel" are:
Encore Free Spins
Crowd-Pleaser Bonus
Cash Prizes (Coin Win Amounts)
The Crowd-Pleaser Bonus is a simple Pick Em' game where you select objects that reveal prizes. There are eight images of guitars, drums, and even Axl's whistle, and you are only allowed to pick three of them. If the three images that you select reveal a total amount that passes the crowd meter threshold on the left of the screen you'll advance to the next level.
The next level simply consists of the same eight images reset and with new prize amounts behind them. Again, if the three that you select give you a total amount that moves the crowd meter high enough, you'll again move up a level. The amounts you need to acquire to level up are 60 coins in round #1, and 300 coins in round #2. If you get a total of 800 coins after round #3 you can double your total cash winnings with a 2x multiplier.
Sometimes the prize amount will also come with a "+1 pick" that allows you to select an extra symbol and add that amount to your total. Also, some prize amounts come with a "Free Spin" attached and if you get 3 of these you are awarded 10 free spins that will have a Stacked Wild on every spin. This is super rare to get so if you ever hit it, you should consider it a "mini-jackpot".
In addition, the machine boosts your bankroll through a cool little reel feature called the "Solo Multiplier" which randomly attaches to symbols in a winning payline, giving the win a 4x to 10x multiplier. This can appear when all of the winning paylines have a minimum of 3 matching symbols, and this even includes ones that have Wilds in them. The Solo Multiplier will only apply to only one of the symbols but then all of the winning paylines will be multiplied by it. Sweet Child!
Free Spins
You'll want to leave your heart on the stage and get the crowd chanting for one more with the "Encore Free Spins" which will give you a straight 10 free games each time. You'll rock out with the boys as there are Stacked Wilds for Axl, Slash, and Duff that will appear on reels #2, #3 or #4 during each free spin and their corresponding game symbols on the other reels will become Wilds for that spin as well.
Another option on the Bonus Wheel is "Legend Spins" that once activated will give you a Stacked Wild on reel #3 for that spin. You then get 2 extra free spins with Stacked Wilds on reels #1 and #5 for the first free spin, and then Stacked Wilds on reels #2 and #4 for the second one. It's kind of strange that it was designed like this and it's actually kind of confusing.
Most players will notice that this release is pretty liberal with the freerolls and it feels like you're triggering something every few minutes.
You're my Rocket Queen.
Graphics
The graphics in Guns N' Roses Slots are absolutely awesome and extremely detailed at every point in the action. There are tons of great video clips that play before the bonus rounds that are of HD quality and get you totally pumped up to play. All of the images of the band members are sharp, with everybody appearing to be a perfect version of themselves. There are many other nice design touches like the beautiful roses that surround the playing card symbols and the crowd moving around under the floodlights of the stage in the background.
The intro video will get you amped up every time you load this machine up as images of many of the band's iconic moments and images are flashed across the screen. Axl has never looked angrier as he asserts his musical dominance over you.
In short, every animation moves fluidly and is never clunky. Whether it's the reels, the Bonus Album, or the crowd meter, everything just looks fantastic. It honestly feels like it's a gambling game from the future.
Said baby you've been looking real good.
Audio & Soundtrack
The music that plays throughout is a Guns N' Roses song so you know the soundtrack is killer. However, out of a setlist that includes five songs that you can play, one of them is "Chinese Democracy", which of course is the album that Axl Rose is hellbent on legitimizing as a "real GnR record". This is simply a smack in the face to the fans who have been supporting him and the band for decades.
Every hardcore fan knows that although Chinese Democracy was a decent release, it will never be a real Guns record and it doesn't matter how many times Axl forces Slash and Duff to play its songs on their reunion tours. It's never going to be accepted. Does anyone consider "Strange Voices" a real Doors record? Hell no: and based on Ray Manzerek's jazzy, swaggering voice throughout the album, it should have been called "Smug Voices". Manzerek Slam! (Rest in peace, Legend.)
Anyway, you can choose the song that plays while you spin which is definitely a nice touch. Simply click the "Set List" in the bottom left corner of the screen to choose from full versions of the following tracks:
Welcome to the Jungle
Sweet Child O' Mine
Paradise City
November Rain
Chinese Democracy
The game does get some bonus points for its sound effects and there are some great little nuggets that you'll stumble across. For example, each time you push the spin button it sounds like a disco gunshot and when you click the same button to stop the reels it has a "gun reloading" sound effect, which is an obvious nod to the moniker of the band.
Every other audio is fine with nothing standing out one way or the other.
Conclusion
Between the three amazing releases of GnR, Jimi Hendrix, and Motörhead Slots, NetEnt has without a doubt, set the bar for music-based releases and are the undisputed champions of this genre (for now). They have basically thrown down the gauntlet and challenged their competition to do better. Can they? Only time will tell.
Of course it's reasonable to believe that there will be better ones released sometime in the future, but it's hard to think of which artists will be featured and how this batch of titles can be improved on. Based on this one, the only areas for improvement could be animations/graphics, more imaginative game symbols, and a wider song selection.
That all said, Diehard GnR fans will be annoyed by the inclusion of Chinese Democracy but we really can't be that surprised since it's a classic "Axl move". However, since you can manually select which song plays at all times in regular mode, you don't have to listen to it if you don't want to.
However, with tons of bonus features, a beautiful game design, non-stop action, and some of the greatest Rock N' Roll ever recorded, Guns N' Roses Slots is one of the best games out there today. Sure it could have been slightly better with a few tweaks but it doesn't matter – hardcore fans will take whatever we can get.
Now take me down to the Paradise City…
Bonus Video of Guns N' Roses
Well now that we're all wound up for some classic Guns N' Roses, why don't we sit back and enjoy one of the best stops on the 1992 leg of the Use Your Illusion Tour? Here is their full show from Argentina, with close to 30 songs. This is Axl and the boys in their absolute primes and it's shows like this one that firmly cemented their place as one of the best in Rock N' Roll History.