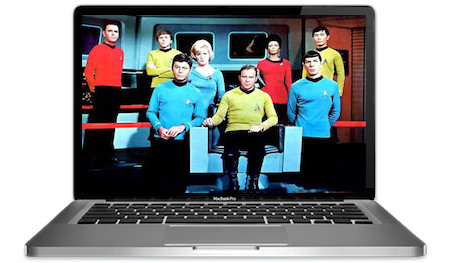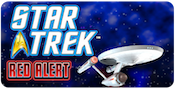 Star Trek: Red Alert Slots
Space: the final frontier. These are the voyages of the starship Enterprise. Now you can join Kirk and his crew on their travels through space from the comfort of your own home and discover new worlds as you win cash prizes.
Original Characters
Tons of Special Features
Non-Stop Action
---
---
Review of Star Trek: Red Alert Slots
Most television junkies consider the cancellation of Star Trek in the late 1960s to be one of the worst decisions in American TV history: not to mention that they did this after a massive campaign by millions of people had saved the show the year before. NBC just didn't understand the cultural jewel that they had in the palm of their hands.
This show broke all the rules of the day by having a strong black female in a lead role, a multicultural main cast, and a "satanic looking" character, (that would soon become a coveted sex symbol). Spock fantasies aside, this show will always be very important for all of these reasons and of course the amazing stories that they told: it was totally groundbreaking.
So I'm sure you're thinking, "Ok – this is going to be a totally biased review influenced by silly nostalgia of a TV show that didn't last more than three seasons." Well you're absolutely right but this one doesn't need sentimentality and fond memories to prop it up because it's so much fun that it easily stands on its own two feet.
This expert review of Star Trek: Red Alert Slots will clearly explain why it will appeal to all generations of Trekkies and is absolutely one for the ages.
Screenshots
The graphic designers over at WMS did a fantastic job building this machine, with every image, symbol, and background looking sharp and colorful. The entire board looks great and the images below honestly don't do it justice – this is definitely one of the best-ever releases from Williams Gaming.
Storyline
The story was simple: it's all about the USS Enterprise NCC-1701 and her crew cruising through deep space and boldly going where no man has gone before. Lead by Captain James T. Kirk, the main group of the starship included Mr. Spock, Dr. Bones McCoy, Scotty, Uhura, Chekov, and Sulu, who all helped to keep things in order each week as they encountered strange new worlds and bizarre alien life forms.
Sometimes the inhabitants of a newly found planet were friendly but more often than not they were twisted or evil in some way, putting the crew of the Enterprise in over-exaggerated danger. It would then be up to Kirk and his first officers to turn the tables on the aliens at hand and escape unharmed – and without interfering with the planet and violating their "prime directive". Unfortunately, many of the ship's members died in the process each week, with an abnormally high number of them wearing the dreaded "red shirt".
This release from WMS gives us some fantastic images and videos from the original show that easily brings back memories of the great plots from the series. Although the software developers could have went a little deeper into specific storylines, there's enough going on here to feel like there's an episode of "TOS" unfolding in front of you.
Unique Symbols
One of the best things about this machine is that all of our favorite characters are here with images of the original actors who played them. There are no simulated "caricatures" that are juuust dissimilar enough to not get sued by the relatives of the person's estate. What you expect is what you get.
The only complaint here is that there aren't unique symbols of Walter Koenig as Pavel Chekov, George Takei as Hikaru Sulu, or Nichelle Nichols playing her groundbreaking character of Lt. Nyota Uhura. Yes all three of them are here in a limited capacity but many will feel that they deserved their own symbols – especially when you consider the fact that John Colicos' character of Kor the Klingon was given one. An odd decision to say the least.
Let's not get too hung up on what's not here because there is plenty to enjoy:
Klingon Disruptor
Klingon Communicator
Klingon Tricorder
Shields 100%
Medical Tricorder
Phaser Pistol (Version 2265)
Communicator
Klingon D6 Battle Cruiser
Kor the Klingon (John Colicos)
Chief Medical Officer Leonard "Bones" McCoy (DeForest Kelley)
Science Officer Mr. Spock (Leonard Nimoy)
Captain James T. Kirk (William Shatner)
Starfleet Insignias
Star Trek Logo (Wild)
Chief Engineer Montgomery Scott Wild (James Doohan)
Rock (Horta Wild)
Feature Explosion (Scatter)
From the moment you start at the Starfleet Academy your ultimate goal is to one day get that "weird A" on your shirt so it makes sense that the classic Insignia is the highest-paying, giving you 1,500 coins for five on a line. Of course the crew has to be next in line with Kirk, Spock, and Bones serving up 1,000, 500, and 400 coins respectively for 5 of a Kind.
Before starting you will want to note that there is a mandatory extra wager of 10x your bet amount per payline, which is referred to as the "Win Warp Bet". This is the cash that fuels all of the special features so you shouldn't have a problem making the donation because it's totally worth it for the fun that you receive in exchange.
Jackpots
Contrary to the rumors out there on the internet, there is not a Star Trek Red Alert Jackpot in this machine so don't be fooled. Many online slot review sites are actually quoting the maximum win amount that you can get if you hit a perfect bonus round on a max bet but how many of you plan on wagering $105 each spin?
This is why so many readers come here for our reviews: truthfulness! We don't know if the other reviewers out there are deceptive or just plain sloppy but we do know that we work hard to always bring you the straight facts.
Anyway, the Red Alert "jackpot" is simply the maximum result that's available so let's just move on.
Bonus Rounds
Get ready when Sulu shouts out "Win Warp!" because it will trigger 1 of the 4 cool special features that are available in Red Alert and all of them are totally unique. It can come at anytime after a winning result so be ready for action and to hopefully stack up some extra cash.
First we have the "USS Enterprise Fly-By" that will change all losing symbols in a result into one of these profitable ones: Bones, Spock, Kirk, Insignia, Wild, or Feature. Next is the "Scotty Wild" that's triggered when Scotty has had "a bit too much" down in the engine room and explodes with a stern warning to the captain and an aggressive Expanding Wild that randomly covers either 1 or 2 reels.
Then we have the "Mr. Spock Multiplier" that is swift, logical, and doesn't mess about. He simply appears over the reels and gives you a 3x to 10x multiplier on the money you just won – thanks, Vulcan! Another possibility is the "Rock Creature Multiplying Wild" which gives you a disgusting rock with tentacles squishing across the screen, depositing a 3x to 10x Multiplying Wild to pay you back for grossing you out. He's technically a "Horta" and it's one of the most disturbing things ever. Enjoy!
Finally, there is a great "levelling up" ability in Red Alert that will allow you to access more "episodes" of Star Trek, which are simply more unique Trekkie-themed gambling games from WMS like "Explore New Worlds". You steadily earn medals based on your performance in both the regular mode and the extra areas, sometimes getting a few medals at once.
You need to be awarded 50 medals to move on to the next episode and if that's not enough of a motivation, your Starfleet Rank also goes up slowly based on the amount of medals that you earn. Your number of medals is always displayed at the top of the screen and the software will save them and remember your total even if you close it down for a while.
Believe us when we say that you'll feel quite proud and accomplished once you hit Lieutenant Commander. The medals flow pretty freely thanks to all of the different areas and it only takes about 3 hours of playing to hit the 50 mark and level up.
Free Spins
This game is all about staying on your toes and being ready for battle so it's no surprise that the free spins mode is called the "Red Alert Feature", which of course is a recurring theme throughout the television series. It's triggered by 3 or more Scatters that say "Feature", with 4 Scatters giving you an extra 125 coins and 5 giving you an extra 1,250. Oh, you'll also get 1 medal added to your total each time it's triggered so there's plenty to get excited about.
The free spins has a unique set of reels with a few different symbols on it because the character images are now different. There's also a bonus board above the reels that lets you follow all of the action and how much gratis money you're winning as the action progresses.
You start the round with 5 "shields" and lose one every time you take a hit from a fiendish Klingon cruiser. Of course, you get to fight back by shooting them with photon torpedos while you also hunt for the prize multipliers that they're hiding with the Enterprise's phasers.
With each winning result you will shoot a cruiser that is guarding a multiplier amount between 2x and 15x which will then be applied to your cash. You will also get a medal every time you expose the elusive 15x multiplier so set your phasers to "kill". However, whenever you encounter a losing result you'll get rocked by enemy fire and lose a level from your shield.
Once the Enterprise's shields have dropped to zero you have an important choice to make: you become Lt. Uhura and make the final decision about which channel to use to hail Starfleet Command. You can choose either Channel A or B and if you choose correctly you will either get your shields reset to full and continue the freeroll, or you'll get a "Spin till you win" prize that will give you extra re-spins until you've hit a profitable result. Choose incorrectly and you'll get warped back to the regular mode to collect your funds and wait to fight another day.
You can also be revived and continue to do battle if you hit 3 or more "Shields 100%" symbols while you're freerolling. No matter what level your shields are at they will go back to 100% and if you hit 4 of these you'll get an extra 125 coins, with 5 of them giving you an extra 1,250. So these can be your best friend during the battle if you want to maximize your winning potential…and who doesn't?
Graphics
The graphics in this release are pretty darn good since they walk the perfect line between "modern" and "retro", and look new while exuding a vintage feel. The decision to make the reels transparent was the correct one because players are able to look at the beautiful journey of travelling through outer space, with purple clouds and stars moving through the screen softly.
The space battle that's triggered between the Enterprise and the Klingon Cruisers is awesome to watch as they blast each other above the reels and it's definitely one of the visual highlights. Also, the swirling star clusters that change your medal count is flawless and is another example of a small visual effect that doesn't jump out at you, but is still great and adds to the fun experience.
The level of detail in the images is really going to impress even the most fickle of fans and the design team at WMS deserves high praise for their efforts. For example, the Klingon Disruptor pistol symbol in the free spins area is perfect, with every line and curve looking exactly as it did in 1966.
There's even a bit of visual comedy included in this title. When the Win Warp is triggered you might chuckle to yourself at the site of Sulu and Checkoff turning around simultaneously like a cheesy, '60s choreographed dance move – it's absolutely ridiculous.
Finally, it's unclear who's in the "Spin till you win" video message that gives you more reinforcements in the bonus round and he certainly doesn't look familiar from the show. He actually looks more like a WMS employee making a cameo than a grizzled 1960s actor.
Audio & Soundtrack
You will find some of the best sound effects ever in this one because all of the classic sounds are here, and exactly as you remember them. Phaser blasts, warp speed, you name it – there's even a few bars of the original music from the show's opening credits that play as you go along. Sadly, at no point in the action do we get to hear the full theme with the wonderful theremin lead that was written by Alexander Courage. (And if that's not one of the greatest composer names of all time, we're not sure what is.)
The game is filled with lots of soundbites of Captain Kirk shouting out commands, especially during the Red Alert feature where Shatner really takes it up a notch. There's also a small sampling of Spock sprinkled throughout but there should have been a lot more. Hearing Nimoy say, "Congratulations on your new rank," is nice and all that but players will want to hear some of his famous speeches and catchphrases. Oh well, we really shouldn't be too greedy.
The biggest complaint from fans of the show is going to be that it is not the real Scotty saying, "We can't take much more," and "I can't keep her together much longer". It sounds as if the lines are said by a random WMS intern who was rushed into a sound booth when they realized that they couldn't use James Doohan's real voice. Regardless, it's clear that something weird is going on because it is Doohan's voice when the Scotty Expanding Wilds are triggered and he says that he "can't change the laws of physics", so this whole thing is a mystery.
The most out of place audio in the machine arrives when you hit a big win and a robotic voice gives you random praise such as, "fantastic" or "unbelievable", which triggers a high-energy Euro dance beat that pumps out of the speakers as the prize amount is added to your balance. This is found in many WMS titles but why they chose to include it hear is bizarre. However, since it's more "hilarious" than "annoying" we're not going to worry about it too much. Just shake your head and laugh every time it's triggered – it's like a quick trip to a Berlin discotheque in 1989. Scheisse!
Conclusion
Fans young and old are going to be extremely happy with Star Trek: Red Alert Slots and there's definitely a little something here for everybody. Diehards will love the attention to detail and the original characters playing the roles, while casual fans will love the overall campiness and retro Sci-Fi vibe.
With tons of bonus features and an intricate free spins mode that you can re-trigger indefinitely, this title packs in a lot of fun and excitement. Not to mention that winning medals and levelling up never gets old so you'll always be focused and engaged as you're spinning.
It's safe to assume that Gene Roddenberry himself would have strongly endorsed this release because it stays true to the spirit of the series and doesn't deviate from the script. There's really not much more that Super Trekkies could ask for.
The Enterprise was on a 5 year mission to explore new worlds and seek out new life and you could probably play this game for just as long and still not get bored. Simply stated, this is a fantastic television-themed slot so get yourself over to the transporter room and try it out today.
Beam me up, Scotty!
Random Video of Star Trek
Well here's something that we had never seen before – a 10 minute long blooper reel from the original series. There's all kinds of flubs and laughter and it's definitely strange to see Kirk and Spock frolicking around the set with such abandon. Enjoy!