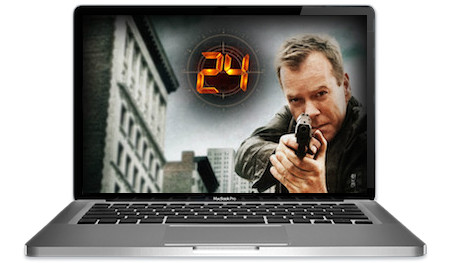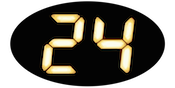 These events occur in real time. Join super duper federal agent Jack Bauer in 24 Slots and chase bad guys and cash prizes at the same time. Just make sure to keep an eye out for snipers – and your bankroll.
Television's Toughest Action Hero
Few Clips from the Show
Disappointing Bonus Round
---
---
Review of 24 Slots
When 24 first premiered in 2001 I was instantly hooked – just like millions of other viewers across the U.S.A. However sometime during season 3 I began to lose interest, and shortly after that I stopped watching entirely. I can't remember what my reasons were, but as we all know, life before DVRs was hard!
I tell you this story because I want you to know that I did like the show at one time, but I just got too busy to watch it. I wanted to prepare you because this review of 24 Slots is going to be pretty harsh, and I didn't want you to think it's because I didn't like the show – it's not that at all. The review is harsh simply because the game itself is bad.
This title is quite possibly the "E.T. Atari Video Game" of the slots world: a game that was quickly thrown together to capitalize on the popularity of a show, that ultimately ended up being a huge disappointment. I suggest that you try this one out for free before investing any money in it because you might find yourself yawning after only a few minutes.
"I'm federal agent Jack Bauer. And today is the longest day of my life." Well I know just how you feel, Jack – playing 24 Slots was definitely the longest 45 minutes of my life. Here's why…
Screenshots
I already know what many of you are going to think when you look at the screenshots below: "Couldn't she have found some more exciting images from the game to publish in this review?" Well the answer is, "no, I couldn't". This is literally as exciting as the game gets…and I found it hard to even find ones that were this "exciting".
Storyline
There is only one man standing between the safety of the U.S.A. and it's total annihilation – federal agent Jack Bauer. Day after day, and season after season, Jack must thwart terrorist plots to assassinate the president, or to blow up a landmark and kill thousands of innocent civilians. Wherever there is a chance of a catastrophic occurrence, Jack is there to stop the bad guys and save the day.
Sadly, there is absolutely no storyline to 24 Slots and it's just made up of random images and soundbites from the television show. There are no goals to achieve, or even a clear enemy to fight. They could have easily taken any one of the plots from the show's nine seasons, but instead iSoftBet decided to play this one safe and not reference any of the stories. What a disappointment.
Unique Symbols
When it comes to unique symbols, 24 Slots lets down fans big time. There are only a couple of original symbols, and they even chose to have a symbol that says "Wild" to be their Wild symbol. They also rely on playing card symbols of 9, 10, J, Q, K and Ace, which are designed in the same "digital clock" font as the 24 title card from the television show. I really couldn't be more disappointed with the game designers. Oh wait, yes I could…
9
10
J (Jack)
Q (Queen)
K (King)
A (Ace)
Gun
CTU Crest
Jack Bauer
Wild (Wild)
Badge (Scatter)
24 Logo (Bonus)
The Wild symbol will only appear on reels 2, 3, and 4, and will give you a re-spin in addition to changing to a symbol that will give you a winning payline. The highest paying symbol is of course Agent Bauer, followed by the CTU Crest and gun.
Jackpots
There are no true progressive jackpots in this game, but 24 Slots claims to have a "Bonus Jackpot" that can be won during the bonus round by shooting bad guys. I don't think that most people would agree that the potential prize amounts are large enough to hold the title of "jackpot".  I think it's false advertising.
I will neither address nor make jokes about the fact that this game stars someone named "Jack", but the game doesn't have a jackpot. "Jack-pot" – get it? Yes – my puns are terrible.
Bonus Rounds
Three Jack Bauer symbols gets you into the bonus round, and it starts off with a bang. A hand lunges in and hurls a bundle of dynamite sticks at the reels which blows some of the symbols up and makes them Wild. Then, a machine gun come in from below and blows some symbols up, revealing more Wild symbols, followed by a 9mm hand gun blasting away at the board to reveal even more Wilds. Talk about action-packed!
If you hit enough Scatter Symbols you will then be brought to a bomb that you have to defuse by cutting wires. Each time you cut the right wire you add to your free cash or get a larger multiplier, but clip the wrong one and you will exit the bonus round and collect your winnings. The number of Scatter Symbols that you hit to enter the round will determine how long you have to disarm the bomb, but time will increase as you reveal multipliers. You have the opportunity to win up to 100x your original wager amount in this particular bonus round.
As referenced above, with each spin in normal game mode a timer counts down in the corner of the game. Once it hits zero you will be taken to a bonus stage where you can win a "bonus jackpot" if you shoot the terrorists in masks and outlined in neon orange. The cash prize amounts awarded will vary.
The bonus round finishes with a loud bellow of "THIS IS OVER!" by federal agent Bauer.
Free Spins
As mentioned previously, you get one free spin every time you have a 24 Wild symbol involved in a payline win, which doesn't sound like a lot, because it isn't. However if you happen to get a scatter symbol on reel 3, you will receive 10 free spins, which isn't that bad.
After hitting a 24 Wild symbol it will freeze in place, and if the re-spin mode was triggered by more than one Wild, all of the Wilds will freeze in place for the free spin. Additionally, the Wild symbol will turn one, two, or three other symbols wild for that free spin.
Graphics
For a boring, unimaginative game, I do have to give the graphic designers of this game a little respect. The spinning Wild 24 symbols look great when you hit three or more of them on the reels. The main issue of course is that the graphics basically stop there. The game does have a quick little video clip of Jack Bauer aiming a gun if you hit that symbol in a payline win, but it really isn't anything to write home about.
The main background images behind the reels rotate between action shots of federal agent Jack Bauer: sometimes he's holding a gun, sometimes he's looking cool in sunglasses, and sometimes he's leaning on a wall staring at you with a sexy look on his face. Side images of the bleak offices of the Counter Terrorist Unit (CTU) accentuate the game board.
Audio & Soundtrack
There are strange random audios that scream out at you during this game. Weird phrases such as, "Open the door!!" and "Lemme see your hands! LEMME SEE YOUR HANDS!!" I personally find these audios to be jarring and unnecessary. "DO YOU WORK FOR HIM!?!?" Geez, take it down a notch, Jack. "TELL ME WHAT I WANT TO KNOW!!!" Ok! I'll tell you!! This game is terrible, and I'm not going to play it anymore!
Regarding the soundtrack, the song that plays in the background of the regular game is harmless enough, however it doesn't add any excitement or drama to the spins. If I remember correctly, it is the musical score from the show.
Conclusion
This is probably one of the worst reviews that I've ever given to a game, but 24 Slots definitely deserves it. Whether it's the lack of unique symbols, the lack of a Free Games Mode, the unnecessary loud screams, or the boring bonus rounds, this game just doesn't deliver on any level.
However, if you are a diehard Jack Bauer fan you will probably get a few hours of entertainment out of this game. Or if you are someone that loves slot games that randomly shout aggressive phrases at you, this game is probably for you, as well.
"THIS IS OVER!!!"
Bonus Video of 24
Here is a great clip of Kiefer Sutherland on The Tonight Show with Jimmy Fallon. In it he discuses the history of the show 24, and how his classic catchphrase of "Dammit!!" came to be. Although Kiefer plays one of the toughest guys on television, he always seems so nice and genuine in interviews. You gotta love him!