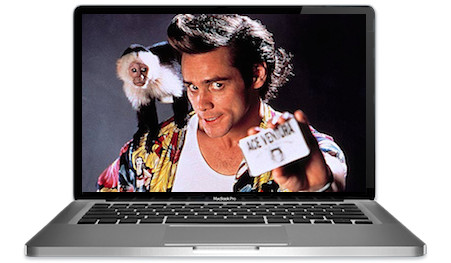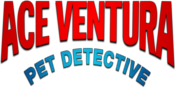 Ace Ventura: Pet Detective Slots
All righty then! Who's ready to relive one of Jim Carrey's funniest movies of the 90s? Grab your capuchin monkey, pack your bags for Miami, and lets get spinning with Ace Ventura Slots and win cash while solving animal crimes.
Tons of Respins
Hilarious Game Features
Multiple Bonus Modifiers
---
---
Review of Ace Ventura Pet Detective Slots
When I first saw Ace Ventura in the movie theaters I was doubled over in laughter for the entire two hours because I simply hadn't seen a comedy like that before. Jim Carrey was fresh off of his departure from the hilarious In Living Color sketch comedy show and was anxious to prove himself as a leading actor, and boy did he ever succeed.
As you can probably already tell, this review is going to be a little biased. However, it is both deserved and to be expected. Who doesn't love Jim Carrey? Oh wait – anyone who saw The Incredible Burt Wonderstone is probably not too happy with him but how do you stay mad at a comedic king? This is just another reason to relive his glory days from the mid 1990s and remind ourselves just how funny this guy actually was.
This expert review of Ace Ventura Slots will breakdown every aspect of the machine and let you know what you're in for – diehard fan or not.
Screenshots
The screenshots below just scream out "MIAMI" with all of the bright neon colors and outrageous designs. There simply isn't enough room on this page to post images of all of the features in this one so you'll just have to trust us that it's totally action-packed. Click on the images to enlarge.
Storyline
One of the driving forces behind the success of this movie is its unique storyline and lead characters. Ace is a private detective for missing animals and therefore he has trouble getting respect from most of the people in his life – especially the local police department. However, once he proves himself to be a hero by rescuing Snowflake the Dolphin and his sidekick Dan Marino from a deranged ex-football player, the city of Miami embraces the lovable hunk.
This game basically walks you through the plot of the original movie without diving too deep into any specific part of the plot. The film clips and sound bites do an excellent job of transporting you back to the first time you watched it and they should definitely put a smile on your face.
Unique Symbols
All of the unique symbols in Ace Ventura Slots are bright and fun and come directly from the film. It should be noted that Ace's hair looks fantastic on each of the six symbols that he's on, although some might argue that six is "overload". It would be a fair criticism and they could have included a few more animals from the movie instead but we're not complaining.
Most fans will be totally fine with what we got:
J (Jack)
Q (Queen)
K (King)
A (Ace)
Ace in a Blue Car
Ace in a Jeep on Safari
Ace in Tutu with Football
Ace with Asparagus Hanging from Mouth
Ace with Monkey
Ace Ventura Pet Detective Badge
Ace Ventura Holding Wild Card (Wild)
Rhino (Bonus)
Most 243 payline slots have lower payouts for each set of symbols and Ace Ventura is no different. The best is the Pet Detective Badge and its 200 coins for 5 of a kind. The next-highest are Ace with his Monkey, with Asparagus, and in a Tutu with 150, 120, and 120 respectively for five in a spin.
Also, due to the 243 ways to win, if you hit three or more of the same ones on consecutive reels, regardless of their placement, that is considered a winning payline. However, unlike other 243 line titles it only pays from left to right.
Finally, it should be noted that in this machine your total bet each time is your coin value multiplied by 40 coins, not coin value multiplied by each payline. This is totally usual for 243 and 1,024 Ways games since there is a minimum wager to cover all of the possible combinations.
Jackpots
There aren't any jackpots offered in Pet Detective, however, the crazy amount of free spins that Ace dishes out almost makes up for it. You may find unique prizes attached to it at some of the best online casinos for slots but this will obviously vary from place to place.
Bonus Rounds
There are no traditional bonus rounds in Ace Ventura which is an absolute shame when you consider the amount of comedic material they had at their disposal. Playtech could have easily created some hilarious extras that really would have put it over the top but since the rest of it is so darn entertaining, they get a pass on this one.
That said, there are technically two "mini features" via the on-reel craziness so there is something to shoot for. First is "Jungle Friends" where Ace calls upon the various animals to drop extra Wilds on the board and this always leads to a larger-than-normal payout.
Secondly, there is the "Sneaky Walk" mini-bonus where Ace shuffles onto the screen and throws Stacked Wilds onto every spot he stops at, which more often than not leads to you hitting 5 of a kind. It's not an award-winning inclusion but it still adds to the overall fun and excitement.
Free Spins
The various elements of the free spins are unlocked as you hit modifiers on the reels in the regular mode. These arrive as the symbols of the lost posters of the missing pets that you must help Ace find.
The Rhino on reels #1, #3, and #5 will give you 7 spins but there's a twist: if you hit two or more of the "Amazing Animal Modifiers" in the regular mode those extra modifications will be applied to your freeroll. Remember that these modifiers will be saved with the bet amount that you hit it on and if you hit the same one twice you'll simply win a cash amount instead.
The Amazing Animal Modifiers are:
"Cuddles" the Ape (Symbol Upgrade)
"Ellie" the Elephant (Expanded Reels)
"Winged Spawn of Satan" the Bat (Random Wilds)
"Albie" the Pigeon (Reel #3 Wild Multiplier)
"Snowflake" the Dolphin (Mystery Win Multiplier)
"Not-Snowflake" the Shark (Extra Free Spins)
Most will agree that the best modifier is Ellie the Elephant because when you get expanded reels the number of paylines goes up to an insane 1024, basically guaranteeing you winnings every time. Furthermore, when this mode also has Random Wilds added to it courtesy of the Bat modifier, your bankroll gets pumped up significantly. Yes, you understood the previous sentence correctly: you can actually combine modifiers as long as you have collected some of them with your keys during the regular mode. These will arrive at random and unlock locks in the top left corner of the screen.
In addition to the above, the "Loser Re-Spins" are a great way to turn lemons into lemonade. This happens randomly when you have a losing spin and Ace shuffles out to give you a re-do. He'll also continue to increase your win multiplier until you cash it in. Thanks, budday!
Graphics
This machine has excellent graphics when compared to other titles out there today and most players will be very impressed. For example, the Rhino becomes animated once two of them have landed on the reels and the words disappear to reveal Ace trying to climb out of the rhino's rear end! It will make you laugh every time you see it – it's just so ridiculous! All of the other animations look great and are very silly as well.
Overall the look is bright, warm, and colorful and the designers at Playtech succeeding in giving us a "South Beach" vibe in every feature. Pink and teal were the perfect colors to build the game around.
Audio & Soundtrack
Sadly, the music in the regular mode is quite annoying and it's made even worse because it's one of those "broken soundtracks" that always restarts from the beginning with each spin. The tune sounds like it's basically an instrumental version of "The Lion Sleeps Tonight" which was in the original movie. Many people hate that song and the annoying whistling that goes with it so it's a strange inclusion to say the least.
The jam in the Information Mode is a great synthesizer-heavy banger that sounds like it's straight out of the mid 1980s. In fact, it's almost like they borrowed heavily from Sheena Easton's hit "Strut", (for those of you who are old enough to remember that song).
The animal audios during the reel animations are entertaining, like when you hit 3 of Ace with a Monkey and the furry creature screams and laughs. However, the best sound effect to be found has to be the "Allll righty then!!" that he shouts out after hitting 5 of a kind, especially since it symbolizes a big win.
Also, Ace screaming "Damn I'm good!" when you hit a nice combo in free spins mode is always entertaining, as is the "Can you feel that?!?!" he exclaims when you get a "Super Big Win".  He also cries "Yes! Yes! Oh ya!" for a "Mega Big Win". Now that's encouragement.
Conclusion
Fans of Pet Detective should be very happy with this release since it has tons of Jim Carrey with lots of images and clips from the film, not to mention that it gives you 243 ways to win every time. Gamblers worried about their bankrolls will enjoy the fact that it constantly pumps out free spins, with the extra ability to add special features on top of them, which is extremely rare to find.
Although it loses a few points for not having a proper bonus round, Ace Ventura Slots is definitely worth checking out, if only to see that clip of him and the rhino: it's easily one of the funniest things ever put into an online slot machine. Most will find this game wildly entertaining so give it a go as soon as you can – you won't be disappointed.
Now where the heck did my capuchin monkey run off to?
Random Video of Ace Ventura
Well we can't just talk about how funny Ace Ventura is, we should actually watch a little video of him to see it firsthand. Here are his Top 7 funniest moments from the films, presented in no particular order. Enjoy!