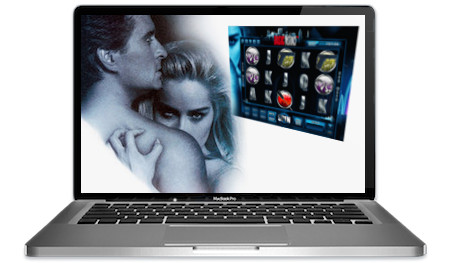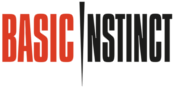 One of the most controversial movies of the 1990s is back with Basic Instinct Slots and Sharon Stone has never looked better. Now you can grab cash and prizes as you hunt for dangerous killers in this sexy and foreboding game.
Shocking Subject Matter
243 Ways to Win
No Michael Douglas
---
---
Review of Basic Instinct Slots
For those who are old enough to clearly remember the release of Basic Instinct, you know how much controversy this film created. Whether it was the depiction of bi or gay individuals, or the hotly debated "leg crossing scene", this movie made headlines for most of 1992.
Like every other curious housewife at the time I met up with my friends, had a few glasses of wine, then we giggled our way to the theater. I didn't really feel like the film was an "edgy work of modern art" and it seemed like more of a car wreck on the side of the road that you can't help staring at. On the flip side, Michael Douglas is always enjoyable and the film was somewhat interesting due to the taboo subject matter and sexy backdrops.
Regardless, this review will not be tainted by any bias, except for the fact that we're very bitter that Michael Douglas is nowhere to be found in this game. In any event, strong feelings either way about the movie don't really matter…we'll probably all come to the same conclusion about this release.
Screenshots
The screenshots below show you pretty much everything that's on offer here. It looks cool and sexy but there's not a lot of substance when you start to dig deeper…just like the source material's script.
Seriously though, it is a good looking game, it's just that they could have easily added some more effects to spice things up a little. Click on the images below to enlarge them.
Storyline
I actually had to go read up on this movie to jog my memory about the actual plot – the sex scenes and controversies were the only things that I clearly remembered. This will probably be the case for most of the people who only saw the original release in the theaters.
Sharon Stone plays Catherine Tramell – a sex-crazed, drug-using author who is suspected of the murder of a popular rock star. She is questioned by the San Francisco Police Department, with Michael Douglas' character of Detective Nick Curran taking the lead on the case.
As you can imagine, there is a spark between Catherine and Nick which goes down dangerous and sexy paths. There are many twists and turns throughout the movie as the investigation unfolds and the police try to find the deranged killer. Spoiler alert: they find him.
The software developer behind this release, iSoftBet, didn't carry over too much of the storyline from the movie into the game, which kind of makes sense. How could they have tastefully brought hard drug use and graphic sexual content into an online slot game that appealed to larger numbers of players? That said, the Expanding Wilds and brief movie clips add to the overall theme and mood that you'll remember from the film.
Unique Symbols
The unique symbols in Basic Instinct feel a little boring and unimaginative, although it is quite funny that an ice pick made it into the game, (anyone who has seen the movie will know why this is humorous).
They definitely should have had a few of the characters from the film as symbols, considering the fact that there was a huge pool of people to choose from. Any of the following performers probably would have been happy to be immortalized in this slot game: Jeanne Tripplehorn as Dr. Beth Garner, Leilani Sarelle as Roxy Hardy, and most importantly Wayne Knight as John Correli…Helloooo, Newman!
10
J (Jack)
Q (Queen)
K (King)
A (Ace)
Handcuffs
Gun
Police Badge
Black Lotus Esprit Sports Car
Ice Pick with Blood Droplets
San Fransisco Skyline (Wild)
Catherine Tramell (Bonus Wilds)
The all-important Ice Pick awards the most of any symbol for 5 of a kind with 1,500 coins. This is followed by the Police Badge, Gun, and Handcuffs which pay 500, 450, and 400 coins respectively for five of them in one spin. Surprisingly, the coolest looking symbol, the Black Lotus Esprit, only pays 300 coins as its top prize.
Jackpots
There is a progressive jackpot available in Basic Instinct Slots that is a little hard to understand. I's a "progressive pool" that increases by 0.5% of the total wagers and is seeded with the equivalent of 10,000 Euros each time after it's won.
The jackpot payout will depend on your coin value and will always be displayed as an amount that is in proportion to the coin size that you've selected. This obviously means that the larger your wager is, the more money the jackpot will give you if you win.
Like many progressive jackpots, this one can be triggered randomly at any time. In this case it's technically part of the game's bonus round and can be won as you're making selections from the 12 Mystery Boxes. You will want to be in "full detective mode" because if you find a gun in a box it rewards you with the "Killer Progressive" and the big cash prize is yours.
Bonus Rounds
The bonus round in Basic Instinct Slots is the one part of the game that truly has the ability to transport the player back to the original movie. This is because the backdrop for the round is Sharon Stone being interviewed at the police station in the famous "leg crossing scene" that everyone went crazy about many years ago.
The feature is basically a Pick Em' style bonus round where you get to select boxes that reveal cash prizes which get added to your bankroll. When you pick a box that has the Handcuffs symbol your bonus round ends and your winnings are collected.
Sharon sits in the background silently judging you as you pick, so try not to let her distract you while you're choosing.
Free Spins
It wouldn't be right if the game's developers didn't give Sharon Stone the opportunity to shine, and they thankfully give you tons of her on the Wild symbols. There are three different Wilds available, all of which feature Sharon from a specific scene in the movie.
Bonus Wild: Sharon in her white outfit from the police station interview will bring you into the bonus round. Only available on reel #3.
Free Spins Wild: Sharon in business attire with the Lotus Esprit gives you free spins. Only available on reel #3.
Wild Drop: Sharon in a glittering evening gown looking mischievous will act as a "Dropping Wild symbol" that slowly drops off of the board with each subsequent spin. Available on reels #1, #3 and #5.
The game will only award you the above prizes if the Stacked Wild covers all three rows of the board and is fully exposed and visible, otherwise they will just turn into normal Wild symbols on the paylines. The Wild Drop is definitely one of the highlights because it boosts your bankroll every time it hits.
You can also win more spins while freerolling if you hit the Sharon Free Spins Wild during your free games, with the extra spins just getting added to your total. In addition, the various other bonus rounds and reel features are also available during the mode.
Graphics
As previously mentioned, the graphics in this release are perfectly fine, but there's just not a lot of variation between the unique symbols or the clips from the movie. Instead of inspiring flashbacks to the movie or adding to the mood of the game, the visuals only bring you to a certain point and then let you down.
For example, when you hit the full version of the Sharon Stone Wild with the Lotus Esprit, the movie clip that plays is the car chase in the mountains. This looks great, but it only plays for a few seconds and then ends. They should have included a much longer clip from the film to get players pumped up, with a "skip" button for those who aren't interested in watching it. This same criticism could be applied to all of the other movie clips in this game, as well.
That said, the game's neon nightclub background, police station interrogation room, and San Fransisco skylines all look nice, and they certainly help to recreate the mood from the movie.
Audio & Soundtrack
The general audios during the regular game are heavily synthesized and wins are punctuated with a "BA BA BAMP!" This of course gets annoying after only a short period of time.
The song that plays during Free Spins Mode sounds like a dance song that would have been popular at that time, with someone singing "Can't stop!" over the beat. Maybe it's from the original motion picture soundtrack?
Those of you who like audios with your game animations will be happy to know that there are tons of sound effects for symbols that are used in winning paylines. Car revving noises when the car symbol is used in a payline win, gun symbols give you a gun shot noise, and handcuff symbols give you a sound effect of locks clicking – all very bold choices indeed.
Conclusion
Unfortunately this game is only going to be for the most devoted Basic Instinct fans, and just how many of those could there be? This slot genuinely feels like it was released in 2006 and not 2016 because everything is just so darn basic. (Pun intended).
Whether it's the lack of movie clips, sound bites, storyline, or the inexcusable omission of Micheal Douglas, this game just comes up short in too many categories. It's not overly exciting or fun to play but major fans of the film will probably find more to like about it.
The game's designers did get the overall setting right and it does feel like California in the 1990s. However, they left a lot on the table that would have improved things: more characters, signature audio snippets…the list is quite long.
So what's your assessment of this slot game, Detective Curran? "What is this? Some kind of JOKE?!"
Woah! Firm but fair, Det. Curran…firm but fair.
Bonus Video of Basic Instinct
For those of you who like to laugh, here's a funny breakdown of everything that's wrong with Basic Instinct presented in a short video. They go through the movie pointing out the inconsistencies, errors, and things that just don't make any sense. These videos are always good for a chuckle and this one is no exception. Enjoy!