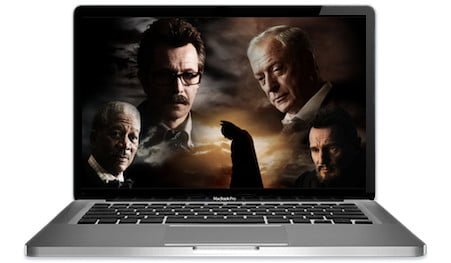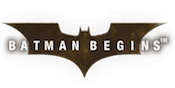 The Caped Crusader stars in Batman Begins Slots, battling The League of Shadows and helping you stack up cash in the Batcave. Just watch out for Scarecrow and his lunatics as you fight your way through Gotham.
Outstanding Graphics
Tons of Reel Features
Six Different Wilds
---
---
Review of Batman Begins Slots
Movie producers finally got a comic book adaptation right in 2005 with Batman Begins starring Christian Bale as the "Caped Crusader". The addition of Liam Neeson gave the film some legitimacy and bringing on the extremely talented Christopher Nolan to direct was the icing on the cake. As a result, most fans agree that this was one of the best superhero films ever made and it's pretty impossible not to agree with them.
So obviously Playtech didn't have an easy task when they decided to release a gambling game based on the film – surely they knew that purists would scrutinize it closely, and of course, they did. Thankfully, it's crystal clear that they put a lot of time and effort into this creation and took the task seriously.
This no-holds-barred review of Batman Begins Slots will examine every corner of the Batcave and even go under the seats of the Batmobile to look for loose change. Will we have compassion or set a purging fire? Spoiler alert: we'll do both!
It's not who I am underneath, but what I do that defines me.
Screenshots
The screenshots below only give you a small taste of what you'll find in this release because every background is beautifully animated and takes on a life of its own. Click on the images to enlarge them so you can admire how beautiful the design is, including the symbols and user controls.
Storyline
After his wealthy parents are murdered by a street thug right beside him, Bruce Wayne grows up wanting to get the ultimate revenge on him and also dreams of eradicating injustices throughout the world. Years later he's found in a foreign prison and trained by the League of Shadows, who he ultimately turns on once he learns of their plans to obliterate Gotham. They believe that total destruction is the only way to finally free the city from its corruption once and for all.
Upon returning to Wayne Manor "Master Bruce" begins his transformation into Batman as it is slowly revealed who the true Ra's al Ghul is and how he plans to poison Gotham's water supply. Twists and turns occur throughout the story as attorney Rachel Dawes and Scarecrow battle for their own versions of justice in a world that's far from "black and white".
This release has many images from the original film but sadly there is no storyline whatsoever to speak of. You will be reminded of the various plot elements as you spin and travel from level to level – there's just no end to the journey.
Unique Symbols
Most of the main characters from the film made it in but there are a few notable omissions that fans would have wanted to see. Of course Michael Caine as Alfred Pennyworth will be on everyone's Wish List but not inviting Katie Holmes' character of Rachel Dawes to the party ensured that this release was going to be a huge sausage-fest.
The character that will be missed the most of course is Henri Ducard played by Liam Neeson. As the leader of the League of Shadows he absolutely should have been included, no matter what the cost was to the game's creators. Talent comes with a price.
And yes – they included a "9" playing card symbol which is the worst a machine can have, but since there are six unique Wilds to be found on the reels, we won't complain too much.
9
10
J (Jack)
Q (Queen)
K (King)
A (Ace)
Bruce Wayne (Christian Bale)
Lieutenant Jim Gordon (Gary Oldman)
Scarecrow (Cillian Murphy)
Ra's al Ghul (Ken Watanabe)
Jonathan Crane (Cillian Murphy)
Batman (Christian Bale)
Gotham City with Batman Logo (Wild)
Flower Wild
Petrol Wild
Batmobile Wild
Bat-Signal Wild
Microwave Wild
You read that list correctly: the board is absolutely overflowing with Wilds because they are the main bonus features that were included. Each one is unique and will surprise you with it's capabilities.
Other than Wilds, you'll of course want to see lots of Batman since he dishes out 1,000x for 5 of a Kind, followed by Ra's al Ghul with 700x. The payouts then slowly drop off with Jonathan Crane, Scarecrow, and Commissioner Gordon giving you 500x, 300x, and 250x respectively for the same combination. Steely-eyed Bruce Wayne in his tuxedo finishes off the character symbols by paying out 200x for five across the reels.
Make sure to remember that this game is fixed at 20 paylines so you'll be wagering 20 times your line bet each and every time.
Jackpots
You'd better believe that the world-famous DC Comics Super Hero Jackpot is in full effect, with all four of its prizes up for grabs. If you're lucky enough to trigger it randomly you'll get a shot at winning the Grand prize which always starts at a minimum of €200,000: that would probably be enough loot to build your own Batcave.
There are a few different amounts that could be won once triggered so strap yourself in if you're lucky enough to ever hit it.
Bonus Rounds
If you like fun and exciting features prepare to be disappointed because there aren't any in Batman Begins, so you're always just staring at spinning reels. There are five unique stages available, each arriving with its own Wild, and since there's not a "true bonus round" we'll have to consider each level as a "mini-bonus area". It's far from ideal but it's the best we get.
Every stage will always have two different meters at the top of the screen and a "hotspot" in the middle of the 3rd reel. When you fill a meter you'll be taken to the stage that it represents and as a result, you constantly bounce around from area to area as you play.
You will always start in The Temple level whenever you load up the game, however, as you go from level to level you can also get bounced back to it if you hit Ra's al Ghul symbols in The Monorail level's hotspot. Confused yet? I think it's easier if we just list the five levels you will visit and then you can experience how to level up for yourself:
The Temple
Wayne Manor
Batcave
Arkham Asylum
Monorail
We won't bore you with which specific symbols in which specific hotspots transport you to which specific levels: all you need to know is that once you fill up 4 bars in a given meter you're going to that stage. Plus, since it's all random there's no way for you to target a specific level anyway.
The best part about the different areas are their unique Wilds since they all have something to do with the theme of the level that you're in. You'll start off by enjoying the beautiful Lotus Expanding Wilds which will sprout out diagonally and pollinate other symbols to turn them into Wilds as well.
Then in Wayne Manor you'll be bombed with Spreading Petrol Wilds which will light up adjacent symbols with its flames as they spread across the board. Upon entering Arkham Asylum you'll get Bat-Signal Wilds that will randomly multiply your line wins by an amount between 2x to 50x.
Finally, once you've found yourself taking public transport in the Monorail level you'll be greeted with Microwave Wilds that will substitute lower-paying symbols surrounding it for higher-paying ones. Zap!
Free Spins
The most shocking thing in this release occurs when you realize that there aren't any Batman Begins free spins to be had and you're only ever able to win "respins"…and even then, it can only be done in one specific level. This has to be one of the few machines put on the market since 2010 that doesn't have a freeroll capability – it just doesn't make sense at all.
However, in the Batcave level you can trigger the Batmobile Wild Feature which will award you a respin every time it lands. It will also screech over to the reel on the left of it each time to allow you to get extra milage out of the Wild and hopefully stack up more wins.
Graphics
The mood is set for what you're going to experience throughout the action when you start off in the gorgeous Temple Level, with falling snow over beautiful trees and mountains. This is probably one of the best backgrounds ever put into a machine and it's not an exaggeration at all. The other ones are nice too, with each glowing the same color as the character symbol that triggers it and all of them are ridiculously detailed in their designs.
Since this title is based on a huge box office blockbuster there are obviously tons of clips from the original film, the scariest of them all being the visual of bats flying out of Scarecrow's mouth when he's used in a payline win. There are other random videos that aren't necessarily powerful or intense but still add to the overall mood, the clip of Bruce Wayne tugging on a blue lotus flower being a perfect example.
The bonus rounds also have scenes from the movie except these clips will roll longer if you hit larger wins. So when you have a nice hit with a bunch of Batman symbols you'll get a longer clip of the Batmobile racing around the streets than you would if the prize was smaller. Again, a small touch but a nice touch, indeed.
The animations are of course top-shelf, with the best being the exploding Petrol Wilds in the Wayne Manor level. As they spill onto the reels the flames lick adjacent symbols until they too burst into a fireball and the effects are very realistic.
Audio & Soundtrack
As soon as you boot up the machine you'll recognize the powerful main score from the original movie composed by Hans Zimmer and James Newton Howard. Unfortunately, there aren't many different tracks throughout the action so you'll end up learning every note of the stern "Vespertilio", which of course accentuates the action perfectly.
The spinning, stopping, and winning audios are all very nice and blend perfectly into the haunting score. There's also some cool sound effects on the various Wilds like fires crackling and tires screeching.
For something that's based on a loud film with lots of action and explosions, it's not that abrasive at all and it's actually kind of relaxing to play due to the soundtrack.
Conclusion
Everybody who enjoyed the film will want to try out Batman Begins Slots if only to see how it was adapted by Playtech. It would have been impossible for them to release a game that was as exciting as the movie so it was an uphill battle from the beginning. Although it's clear that they put a lot of hard work into the graphics and soundtrack, ultimately there's just not enough action to keep even diehard fans entertained for long periods of time: it just gets boring after a while.
With no true bonus round to look forward to, many players will find themselves moving on once they've had their fill of the various levels. Sure there are 5 different areas, each with beautiful and unique backgrounds, (again, visually it's a beauty), but it's like a mystical journey that goes nowhere. It's a never-ending road trip with amazing views.
That said, if you've enjoyed any version of the Batman franchise over the years you'll want to try this machine out for at least a little while to enjoy the initial rush of the graphics and crazy special features. Then whenever you've had enough you can cash out and move along to the next.
It was a solid effort by Playtech but they fell a little short of the mark. Hopefully they'll learn from this and improve any future releases. After all…
Why do we fall down, Bruce? So that we can learn to pick ourselves up.
Random Video of Batman Begins
Well let's take a look back at the red carpet premier of Batman Begins in 2005 to see how it's aged. Everyone was a lot younger then and appear to be taking this premier very seriously.