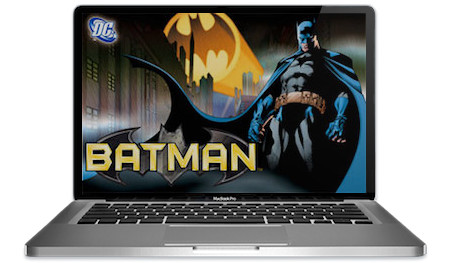 The criminally insane prankster The Joker is terrorizing the citizens of Gotham again but now you can join the fight in Batman Slots and win cash prizes as you help the Dark Knight to victory. Time to put up the Bat-Signal!
Fantastic Imagery
Awesome Features
Bonus Bet Ability
---
---
Review of Batman Slots
You have to be careful when reviewing anything based on Batman because many people feel that this story is sacred ground and needs to be honored accordingly, (and if you ever saw Arnold Schawartenegger's performance as Mr. Ice you will understand just how far off track the franchise can get). In fairness, that was over 20 years ago and the latest instalments starring Christian Bale were absolutely fantastic.
Needless to say that the Caped Crusader is most people's favorite superhero and many observers feel that without him DC Comics would have gone bankrupt back in the 1980s when Marvel was dominating the newsstand. Well thank goodness they stayed afloat long enough to release the cinematic masterpiece, The Dark Knight in 2008.
In any event, this exclusive review of Batman Slots will cover all of the important features, including the graphics, bonus rounds, and extras. Thankfully in the end, most fans will agree that this machine respects the graphic novels while providing players with an extremely fun gambling experience.
Screenshots
As you can see from the screenshots below, this title has a classic look and feel that stays true to the older comic books. The images show the Wilds and Scatters as well as the different backgrounds that are in the game, depending on what mode you are in. For those of you searching for a machine with an "old school" Batman vibe, you have to agree that the software developers at NextGen did a great job of designing this one.
Storyline
The city of Gotham is crumbling due to wide-spread government corruption and the fearless criminals who prey on its citizens. Now it's up to Billionaire Bruce Wayne to dawn a mask and cape to fight for justice, and defend freedom and the American way of life. As The Dark Knight fights the twisted villains of the city he is constantly beaten and bruised while being misunderstood by many who think that he is just as evil as the miscreants he's battling.
This release from NextGen is obviously set in Gotham, with Batman attempting to thwart the sadistic exploits of The Joker and bring him to justice. You must ultimately battle the sadistic enemy face to face, along with his henchmen, to try to defeat him once and for all…and if you are successful you will receive more than just the accolades of Commissioner Gordon this time.
Unique Symbols
One of the best things NextGen did was not rely on the same old Ace, King and Queen symbols that many software companies settle for. Therefore, every image on the reels is unique to the Batman Universe and was designed beautifully. They did a great job of staying true to the graphic novels and the illustrations look like they're straight out of Gotham.
Commissioner Gorden
Joker's Squirting Flower
The Joker
Joker Playing Card
Joker's Gag Gun
Batclaw (Grappling Hook)
Batcycle
Batmobile
Batarang
Bat Signal
Batman Symbol (Scatter)
Batman (Wild)
The highest-paying is the evil Joker who gives you 2,000 coins if you get him 5 times across the board. This is followed by Commissioner Gordon who awards 200 coins for five of a kind, and then the Batmobile and Batcycle each give out 150 for the same.
Jackpots
There are no jackpots in Batman Slots which is a shame because…who doesn't like big cash prizes? They did such a great job in so many of the other areas, why not complete things with a nice in-game jackpot for players to chase? It definitely would have pushed this title up to one of the top comic book-themed releases of all time but let's not get too greedy here.
Bonus Rounds
There is an awesome special feature in Batman Slots called "Descent Into Madness" that is triggered by three Bat symbols going left to right. It consists of you throwing Batarangs at The Joker and his psychotic supporters in the creepy Arkham Asylum for the insane. Each time you hit one of the inmates defending The Joker you beat prize amounts out of their wounded bodies which are multiples of your original wager and are given at random.
Once you have beaten up on enough inmates that they all decide to scurry off and hide, The Joker comes out from the backroom that he has been taunting you from. You are then able to throw Batarangs at him to earn cash prizes and if you successfully capture him and save Gotham, you will win 100x your original bet amount. So obviously the more you wager, the higher your award will be.
However, you'll only have access to this feature if you have activated the Bonus Bet button in the bottom right corner of the screen that costs you 10 extra coins every time. It's definitely worth it if you want to have access to everything that's on offer and it would be a pretty boring time without it.
The machine also randomly adds an extra Batman on reels #2, #3 or #4 when the Bonus Bet is activated that increases the theoretical return to player from 92.2% to 95.7%, for those of you who are interested in those kinds of stats.
Free Spins
This particular Batman gambling game calls its free spins "re-spins" and they are awarded when Commissioner Gordon and the Bat Signal appear together on reels #1 and #5. While in Re-Spins Mode all wins are doubled and reel #2, #3 or #4 will turn into a Stacked Wild that will dish out more extra cash after paying out on the normal winning lines. The reel that has the Stacked Wild then locks into position while all of the others spin an additional three times, giving you more chances to bump up your bank balance.
In a shocking twist, Batman allows re-spins to be re-triggered while you freeroll to give you an extra little shot at snagging more loot. Many machines don't offer this capability so it's certainly welcomed.
Graphics
The graphics in this release are super cool and the designers at NextGen did a fantastic job of recreating the look and feel of the classic comic book. Gotham City and the Batman come across darker than ever and The Joker will totally creep you out with his fiendish sneer.
However, the special feature is where the visual effects really shine – you could even compare them to some of the Batman video games for Xbox or Playstation that kids in the 1990s loved. In addition, the visuals of the reels whirling actually looks like a real cartoon show and everything comes together wonderfully to give you an overall great experience.
Audio & Soundtrack
The soundtrack is very subtle and plays quietly in the background, which is exactly what it should do with a genre like Batman. The main song is dark and moody and builds the suspense as you spin your way through Gotham. It sounds like it could actually be performed by a real symphony and if it was, they're quite good.
The other audios throughout are fairly standard and don't elicit a strong opinion one way or the other. The only thing that could have been added were some vocal tracks from Adam West, which would have obviously been amazing. "Of what use is a dream, if not for courageous action?" Just kidding – this corner of the DC Universe is not campy whatsoever.
Conclusion
If you're looking for a Batman-themed slot that focuses on the comic books and not the movies, this one is definitely going to be for you. The eerie mood and creepy settings will transport you to the streets of Gotham and The Joker's laughing and taunting will have you grasping for your Batarangs. For the record, hitting him in the head during the special feature is one of the most satisfying things that you'll ever do in a gambling game and they got the graphics on that one perfect.
It has lucrative Stacked and Sticky Wilds, a crazy Bonus Bet Button, and a beautiful array of unique symbols – what more could you ask for? It's sad that this release gets overshadowed by all of the machines based on the movie versions of The Caped Crusader and not a lot of players know about it. It's truly a hidden gem: the fantastic imagery and design is what really pushes Batman to the top of the list of comic book-themed slot games and makes it an instant classic.
So if you want a break from "the usual" and want to visit a darker corner of Gotham, check this one out today – you'll be very happy that you did.
File this one under "hidden gem".
Random Video of Batman
Does anyone else remember the original Batman cartoon from the 1960s? It looks campy now but at the time it was pretty darn cool…and creepy. Check it out and see how it's aged.