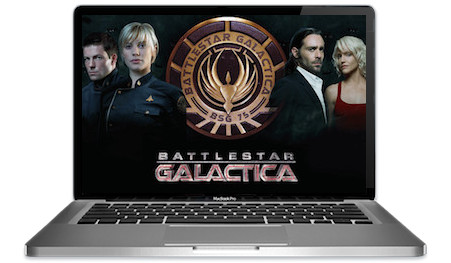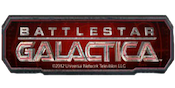 Battlestar Galactica Slots
With all of the best soldiers from the Twelve Colonies of Kobol, crazy intense bonus rounds, and Colonial Vipers ready to blast Cylons, Battlestar Galactica Slots will blow you away with it's nonstop action and special features.
Ranking Up Ability
Three Different Game Modes
Amazing Graphics
---
---
Review of Battlestar Galactica Slots
Many fans were skeptical in 2003 when they learned that the Sci-Fi Channel was going to be rebooting their beloved childhood television series, Battlestar Galactica. At the time it was assumed that this was going to be another terrible remake like Starsky and Hutch or The Dukes of Hazard but this couldn't have been further from the truth.
From the very beginning fans were hooked on the new series thanks to the interesting characters, awesome special effects, and deep storylines. Everything about the show was outstanding and most would agree that it easily eclipsed the original series.
Make no mistake, this exclusive review of Battlestar Galactica Slots is definitely being written by a fan of the series, but impartiality is paramount when publishing opinion pieces. The great news is that the graphics and features are so amazing even people who have never seen the show are going to love it and there's absolutely zero reason to exaggerate the findings.
Let's blast off and go over everything that matters with this futuristic gambling game that will take your excitement to another level.
Screenshots
Here are some screenshots that show just how much work went into the design. Check out the smaller details like the backgrounds, symbols, and user controls which all turned out beautiful. Everything looks absolutely perfect and fans won't want to change a thing.
Unfortunately these images are just stills and cannot show the insanely cool spaceships that are constantly flying around in the distance, or the video clips that play on the symbols when activated. They're seriously outstanding and Microgaming should be applauded for their efforts.
Storyline
The Twelve Colonies exist many star systems away from us and were almost blasted into extinction by the man-made Cylon robots who decided that humans were a scourge in need of cleansing. Now only a few Colonials remain to fight off the Cylons with their old trusty spaceship the Battlestar Galactica. With their small intergalactic fleet they search for a new home – a rumored planet oasis called "Earth".
The 75 episode television series chronicles the battles between humans and robots, and the struggle for mankind to survive. They try to find refuge in space and destroy the Cylon-making technology but has Man's future already been written?
This release from Microgaming follows their journey for salvation through clips from the original show, tons of characters, and detailed special features. Needless to you will be battling a nonstop barrage of Cylons so make sure that you're ready for combat.
Unique Symbols
Ok, lets get right to it – where the heck is the Cylon symbol!? It's somewhat understandable that Microgaming probably wanted to save any Cylon imagery for the unique extras or whatnot, but come on…a lot of fans are going to be disappointed with this omission. Not making them more prominent in the regular mode is perplexing to say the least.
A general lack of Cylons is pretty much the only thing the software developers can be criticized for and really it's made up for by the fact that we were given "Splitting Wilds". These are Wilds that can randomly split into two, creating more winning paylines in the same spin.
Those familiar with the show will be happy to know that all of your favorite human characters got their own symbols and all of them become animated with dialogue when activated. Here's what you'll find:
10
J (Jack)
Q (Queen)
K (King)
A (Ace)
Kara "Starbuck" Thrace (Katee Sackhoff)
Lee "Apollo" Adama (Jamie Bamber)
Dr. Gaius Baltar (James Callis)
Number Six (Tricia Helfer)
Ellen Tigh (Kate Vernon)
Colonel Saul Tigh (Michael Hogan)
Karl "Helo" Agathon (Tahmoh Penikett)
Cally Henderson Tyrol (Nicki Clyne)
Colonial Viper (Scatter)
Battlestar Galactica Logo (Wild)
Hopefully you will have five Colonial Vipers swoop onto the screen often because they will award you with a whopping 1,500x your wager each time. You will also want to keep your eyes open for Starbuck and Apollo because these characters award 400 coins a piece for 5 of a Kind.
Next we have Baltar and Six who each give out 300 coins for five across the board, with Colonel Tigh and Helo rounding things off with 200 coins for the same.
Jackpots
There is no Battlestar Galactica Slots jackpot available so as they would say on the Colony, "go rust yourself!" Seriously though, it's kind of a shame that there's not a jackpot because they could have linked the amount to whatever rank you have achieved: the higher you go, the more cash you can win. It would have been fun to chase a prize like this and it would have made total sense in the context of the game. Oh well, maybe next time.
Bonus Rounds
There is an awesome reel feature in Battlestar Galactica that is basically a "mini-bonus round" that can occur randomly at any time. This is when the "Ion Storm" arrives and turns entire reels into Wilds and it can actually do it to all five of them at once, so when you see it coming you'd better be ready for excitement.
There is also something special during the "Run Mode" which involves the FTL symbol, which stands for "Faster Than Light". If this FTL appears on reel #3 it will blow up all of the lesser-paying symbols around it, (10, J, Q, K, A), changing them into the same matching one. This of course leads to more profits and can often result in you getting five of a kind or some other balance bump due to it paying from left to right, as well as right to left.
Once in Run Mode there is another area you can access called "Fight Mode" where you can experience symbols randomly turning into Wilds. Furthermore, Wilds can be split into 2 separate ones that will result in more winning paylines among the 243 on offer.
Finally, as referred to in the section above, there's also a feature that allows you to "rank up" while you go. Every spin adds to the experience bar that determines your rank so the longer you play the machine, the higher it will become. Each time you move up a level you will unlock new video clips and cool extras: unsurprisingly, the experience bar is also tied to your wager size and moves up faster with larger bets.
Free Spins
You will enter the free spins mode whenever you hit 3 or more Colonial Viper Scatters anywhere across the board. You're then awarded with 15 spins for three Scatters, with four or five giving you an extra 5 each. You will automatically be given a respectable 3x multiplier on all of your wins for the duration of the round.
Unfortunately, you cannot re-trigger these unless you have won them while in Fight Mode…and re-triggering spins has never been more fun. This is because you will have two turret laser guns appear above your user controls that will blast away at Cylon spaceships that fly onto the screen as you go.
If you hit them they will blow up and take a few symbols on the board with them, changing them into Wilds. Or if you're really lucky they will explode to reveal extra spins that will be added to your total…and this whole experience is just as much fun as it sounds: it's absolutely awesome.
Graphics
Let's be clear, the graphics here are outstanding and you will be hard-pressed to find a machine with such an intricate background. There are tons of space ships flying around the whole time and it's so detailed that you can almost see people walking past the portholes of each ship.
Also, the Wilds become animated when used in a payline win and slide open to reveal the beautiful old warship Galactica flying through space. Then when Stacked Wilds appear in the Ion Storm area the reels play video clips from the show that are of the absolute highest quality.
Sometimes during the action Colonial Vipers will swoop in at random to shoot the board and turn a few symbols into Wilds, thereby giving you more money for the result. Add this to the constantly changing background images and borders, and you will have to agree that this release gets almost perfect marks when it comes to graphics.
Lastly, a subtle inclusion for diehard fans is when it shoots Colonial Cubit Coins at the screen for big wins, instead of the usual generic gold coins that most other online slots use. Again, just another small detail that shows how much work went into creating this.
Audio & Soundtrack
The soundtrack when first starting is quite intense: it sounds like it's preformed by a Middle Eastern symphony and has a very serious tone, with almost an Arabian theme. It only plays for a while in the beginning to psych you up for space battle but it also returns during dramatic points in the action.
The tune that's often heard throughout is the soft symphonic song from the television show. It's quite relaxing and never gets old or annoying when going on for long periods of time. However, the song during Run Mode is the same Arabian-themed banger from the intro video and the drum beat that pounds is hard enough to make your ceiling fall down. Good times.
Lastly, when you hit 5 of a Kind of a specific character, video clips from them on the show will be activated. Some may not like the random audios but these ones usually make you laugh as well as add to the general ambiance. So brace yourself for such memorable phrases as, "All right people! This is what we do!" and "Come on! Lets go!" and "I'm in love with a woman who isn't a woman!"
To be honest, these audio clips are probably the lamest part of the game but those obsessed with the show will probably welcome them with a smile.
Conclusion
It's quite rare to find a branded release that should appeal to everyone and not just fans of that particular musician, comic book, movie, or television program. Battlestar Galactica Slots is one of those unique titles that many people will enjoy playing regardless of their level of knowledge of the original show. Sure they won't get a lot of the references or understand the context of the video clips but that doesn't matter too much – the game looks too darn good and is too much fun to play.
Obviously it's going to appeal more to those who are interested in space and science fiction but that's to be expected. However, with tons of features, cool bonus rounds, and the opportunity to level up and unlock new stuff, this machine will also appeal to those who are just looking for something exciting.
Of course the real winners here will be the longtime fans of the show who will simply be blown away by the fact that Microgaming chose to make it and also invest the time to make it highly enjoyable.
This one is an absolute gem. It's as clear as the Nubian sun. So say we all.
Random Video of Battlestar Galactica
Here is a fantastic five minute trailer from the original launch of the series. If you never had an opportunity to watch this show, please watch this video clip to find out exactly what you've been missing…