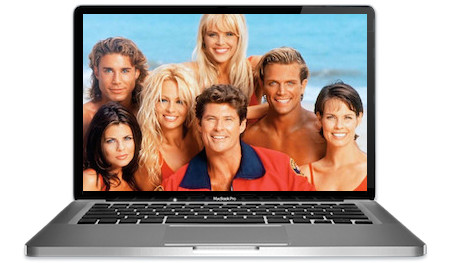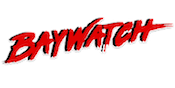 C.J. and the team are back on duty in Baywatch Slots to save bad swimmers and rowdy surfers while they hand out cash prizes. So put on your bathing suit and fanny pack and join them under the sun to get in on the action.
Super Fun Bonus Round
Amazing Graphics
Great Free Spins Mode
---
---
Review of Baywatch Slots
Anyone who was alive in the 1990s and had access to a television couldn't help but watch at least a few episodes of Baywatch – the syndicated gold mine that David Hasselhoff led both on screen and off. Millions of people around the world fell in love with Mitch Buchannon and his team of lifesavers from Australia to Finland, the show attracted legions of adoring fans.
Many of us loved sitting down and unwinding to this show and its beautiful backdrops and simple storylines. A Saturday afternoon episode of Baywatch and a glass of wine is all anyone needed to relax and enjoy the day. Well at least that's all I needed.
This show will always have a special place in my heart due to both the show itself and the decade that it was created in so expect just a drop of bias as we stroll down memory lane. There's just something about television shows made in the 1990s…and David Hasselhoff's chest hair, of course.
Now this exclusive review of Baywatch Slots will leave no grain of sand unexamined in the pursuit of determining its true rating.
Screenshots
Click on the screenshots below to enlarge the images so you can have a good look at just how great the graphics are. Whether it's the symbols, the board, or the special features, this machine gets full marks for its visual appeal. The colors will immediately transport you to the beaches of sunny California…and who doesn't want to visit there from time to time?
Storyline
This section could probably be left blank and not one reader would complain because we all know the storyline of Baywatch. However, for those of you who might be too young to remember or those who are reading this review from under a rock, here you go: Baywatch is about people who watch a bay. More specifically, it is about a team of lifeguards who patrol a section of the beautiful California coastline assisting anyone who is drowning or in need of help.
Throughout the show's 11 seasons the team helped people through natural disasters like earthquakes and unusually large waves, to more violent crimes such as murders and assaults. In short, there was nothing that the Baywatch squad couldn't assist with, (as long as the situation was on, or close to a beach).
This release from Playtech stays true to the "beach theme" but sadly doesn't dive into any of the numerous plot lines that many fans will be wanting to see.
Unique Symbols
Let's address the massive elephant in the room right out of the gate: there isn't any Mitch Buchannon! That's right, David Hasselhoff is nowhere to be found in this game, which will probably have both the women and the men more than a little disappointed.
Also, the brunette woman has to be Yasmine Bleeth because it really couldn't be anyone else, although it's very hard to tell for sure. Yasmine – feel free to contact us to confirm!
Here's who came to the party:
J (Jack)
Q (Queen)
K (King)
A (Ace)
Jet Skier
Surfer
Matt Brody (David Charvet)
Caroline Holden (Yasmine Bleeth)
C.J. Parker (Pamela Anderson)
Lifeguard Beach Tower
Sun (Wild)
Speed Boat (Special Wild)
Life Preserver (Scatter)
The Lifeguard Beach Tower pays off the most with a whopping 1,000 coins for 5 of a Kind. C.J. Parker, Matt Brody, and Caroline Holden are the next highest for five in a row with 750 coins, 500, and 250 respectively.
Jackpots
Now before you get too excited about the Baywatch Slots progressive jackpot, let's explain exactly what it is and how it works. It's actually an in-game progressive that is built upon every time a Life Preserver Scatter lands on the reels. The preserver is thrown into a pile that stacks up over time but it also rises up to add to the cash amounts for the jackpot symbols that are located above.
This is referred to as the "Progressive Jackpot Trail" and the 3 triggering images are:
Rescue Man
Rescue Woman
Rescue Child
Each one has different prize amounts that can be won once in free spins mode and it's triggered by 3 Life Preservers across the board. These Rescue symbols are only seen during freerolls and once it's over all of the amounts are reset back to zero. They then begin to increase as you once again start to collect the life preservers.
During the frantic action all of the preservers that you've collected are thrown back onto the reels each spin to save drowning swimmers and add to your winnings. If one is thrown into a square on the board that has a Rescue symbol land on it you win the progressive prize that is associated with it.
As you can see, referring to this bonus round as a "progressive jackpot" is pretty misleading since it isn't linked to a network and rarely awards a large amount of cash. Having said that, we'll still happily take it.
Bonus Rounds
The "Wet N' Wild Bonus Round" is when the speed boat comes zooming in from the horizon to splash the board and give you a Stacked Wild across reel #3, as well as random Wilds on the other ones. They're only there for one spin but the winnings tend to be quite big.
This occurs at random when the hidden Wild reel set is activated and the Speed Boat Special Wild appears on reel #3 during the regular mode.
Free Spins
The free spins mode in Baywatch Slots is accessed by the traditional way of 3 or more Scatters, which is the Life Preserver, or "lifebelt" as they call it. Sadly, this machine doesn't reward you for getting more together, so regardless of the amount of Scatters you hit, you will only be given 12 spins each time.
As explained above, the real fun during this is that you have the opportunity to trigger the progressive jackpots that you have been building up…in addition to saving lives, of course!
Graphics
It might take you a while to notice how detailed the graphics are here but it's obvious that the design team at Playtech worked very hard on this one. The symbols have transparent borders so you can see the ocean behind them and it looks absolutely real: the way the water moves and shines, you'll swear that it's a real video rolling in the background.
Furthermore, when the speedboat roars in from the horizon to start the bonus round the graphics are absolutely amazing and the attention to detail is astounding. Add this to the flipping life preservers, detailed character images, and Pamela Anderson's hair blowing in the breeze, and you have a visually-appealing machine that will please even the most critical of players.
Audio & Soundtrack
Fans of the show will be very happy to know that Jimi Jamison's signature track, "I'm Always Here" is heard throughout the action. It's actually done in a clever way – each spin has the introductory drum beat of the song but the entire jam only plays when you're in one of the special features.
If you're really picky, you might be miffed with the fact that we never get to hear the full version of "I'm Always Here" because the song always loops back to the beginning of the first verse right before the chorus. It's actually pretty frustrating for diehard Baywatch fans and they should have included the full track.
Other than that, there are no issues whatsoever with the audios. The win sounds are pleasant and all of the effects for the water and boats aren't intrusive, and they definitely add to the general beach vibe.
Conclusion
Fans of the show will really enjoy Baywatch Slots but it will be hard for them to get over the omission of David Hasselhoff, (and his hairy chest). Things never do feel quite right without him and it's somewhat incomplete. Thankfully, there's enough imagery from the original show to give you the nostalgic feeling you're looking for even without The Hoff dropping by for a slow run along the beach.
For those of you who never watched Baywatch and are just curious about what this title has to offer, the bonus round, free spins mode, and glamorous setting are more than enough reasons for you to try it out at least once. Whether you know the show or not, it actually is a fun game to play for a few hours – just don't forget your sunscreen.
This release is just like the source material: a guilty pleasure that's always enjoyable when the mood strikes.
It's time to go back to the beach…
Random Video of Baywatch
We can all agree that there's only one way to end this review and that's with the show's theme song, "I'm Always Here", the masterpiece by Jimi Jamison. This was the official music video so it's obviously loaded with tons of beach and rescue scenes. It even has Jimi rocking out with his guitar on a lifeguard tower. Oh how I miss the '90s….