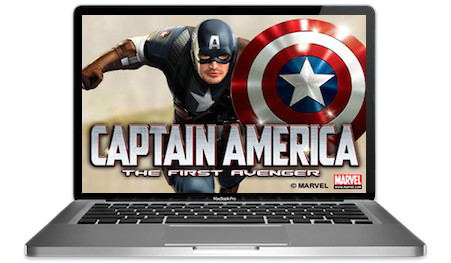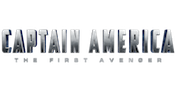 Captain America: First Avenger Slots
Out of the destructive chaos of World War II, one of the USA's greatest superheroes rose from the ashes. He defeated the Axis powers in the war that raged in the Marvel Universe and now you can help him battle Red Skull and his army in Captain America Slots and defend the people of the world.
Fantastic Free Games Mode
Super Spins Feature
Marvel Mystery Jackpot
---
---
Review of Captain America: The First Avenger Slots
As a red-blooded American, of course my review of Captain America Slots is going to be biased – its my civic duty after all! However, the good news is that this slot from Playtech actually deserves a bit of praise – they could have totally mailed it in, but they actually did a good job. Although as I will explain below, "good" is pretty much the highest compliment that can be given to this game.
Personally, he's never been one of my favorite superheroes, but every time I hear Captain America's name mentioned I get a small feeling of pride in my heart. There's just something about a crime fighter who takes on the name of your country as his moniker. Those of you who reside in the U.S. will know exactly what I'm talking about, and the rest of you reading from around the world will just have to trust me. That's why I was disappointed with this game – it just doesn't live up to the greatness that something with "America" stamped on it should be.
Perhaps this review should have been more critical of the game, but this is as harsh as I can be…
Screenshots
The screenshots below give you a taste of the action and an idea of what's on offer. The imagery is sharp and there are a ton of effects that add to the enjoyment of the game, with the Expanding Wilds being one of the highlights. However on the flip side, there is a lot of grey in this game, and an overall shortage of unique symbols – so you just might find yourself feeling a little bit hungry for some more.
Storyline
After taking a hiatus with most of the other comic book heroes from the 1940s, Captain America re-emerged in the mid 1960s when the American public was ready for graphic novels once again. The story picked up where it left off, depicting the classic battle of good vs. evil.
Known in mortal form as Steven Rogers, this soldier was used as a guinea pig for the government's secret Super Soldier project and acquired human perfection through an experimental serum. Since that time he has been protecting the U.S.A. from evil, and defending the freedoms of liberty-loving citizens around the world.
This game basically follows the plot of the movie, Captain America: The First Avenger, through its imagery and characters, beginning with the transformation of Rogers into a hero. You even get to battle super villain Red Skull head-on in the hopes of defeating him and winning huge cash prizes along the way.
Unique Symbols
Even though Captain America Slots breaks my cardinal rule of using a 9 as one of their symbols, I still have to give them a decent overall grade in this category. They actually split the symbols into good and evil, with two versions of each, one for each side.
So there are 2 shields, 2 pilots, and 2 sets of dog tags. Oh – they definitely get a few extra points for having two Wild symbols, as well!
9
10
J (Jack)
Q (Queen)
K (King)
A (Ace)
Red Iron Cross
Super Soldier Dog-Tags
Steven Rogers
Super Soldier
Captain America Shield
Hydra Logo
Captain America Logo (Scatter)
Captain America (Expanding Wild)
Red Skull (Expanding Wild)
Free Games Logo
The Captain America Shield and Hydra Logo symbols pay the most for five across the reels with 2,000 coins each. The payouts then drop dramatically with Steven Rogers and the Super Soldier paying 300 coins for 5 of a Kind, and bringing up the rear are the symbols of Super Soldier Dog-Tags and Red Iron Cross with 150 coins for five.
Jackpots
As with most Marvel Slots games, Captain America is linked to their "Mystery Progressive Jackpot", which offers four different prizes. This means that at any time, during any spin, you could be whisked away to their progressive jackpot area where you keep flipping tiles until you have matched 3 of the same prize symbol. The jackpot round is then over and you win the corresponding prize amount to whatever you've matched.
These prizes have been known to grow quite big, with the largest usually being well into the 6 figures. It's one of the best progressive network jackpots around and it's definitely one of the main attractions of Marvel games.
Bonus Rounds
So this game is kind of weird when it comes to bonus rounds. I believe that many would argue that there is not a "real" bonus area in Captain America Slots, but I would disagree with that. Technically you enter a bonus round before you begin your free spins mode because first you are presented with a block of 9 tiles that you can choose from. These tiles will give you more free games, increase your prize multiplier, or dish out a special prize. So doesn't that sound like a "bonus round" to you? It does to me!
Each time after you choose a tile, Red Skull shoots a lightning bolt at Captain America, but he deflects it with his shield and blows up the square that you selected to reveal the prize that was hidden underneath. The graphics of the battle are fun, but certainly not ground-breaking by any means.
The bonus round/free games are triggered when you hit Captain America anywhere on Reel 1, the Free Games Icon anywhere on Reel 3, and Red Skull anywhere on Reel 5 during the same spin.
Free Spins
The "Super Energy Free Games" in Captain America Slots is one of the game's stronger points, and every time is different because the round depends on what you previously revealed in the bonus area. Your choices determine the cash prizes that you win since the bonus wins are multiplied by whatever amount you have revealed. So if you keep flipping over shields that have "+1x Multiplier" under them, your multiplier will continue to grow until you hit a "Collect" symbol.
In addition, there is also a special mode that awards 2 "Super Spins" – the Villain Super Spin and the Hero Super Spin. If you nail this whopper of a prize you will get an Expanding Wild symbol on a reel, and an extra wild symbol added to the game as well. With each Super Spin only the symbols from that character are on the reels, (good or evil), so it is much easier to get 3, 4, or even 5 of a kind.
Lastly, while free-rolling you can also receive the Tesseract (the glowing cube) which adds even more free spins to your total. This comes at random and is always a welcome boost to the bankroll.
Graphics
Playtech did a great job on the animations of the game symbols like the Super Soldier and the Wild. Whether it's the zoom effect on certain items, or having planes flying behind the images in a symbol, the game has a perfect amount of moving pieces, in my opinion. The game always seems to be active, but not so much that it's distracting or annoying.
Audio & Soundtrack
The soundtrack to this game is quite addictive, and I have to admit that I am a big fan of it. I think it might be something the kids call "techno music". It was definitely made on a synthesizer and it sounds space age. I think that most of you will find it to be a nice background accompaniment to the game.
This slot has a few extra audios courtesy of the actual voices that speak to you during certain times. For example, "You win free games with Power Features" is dryly said in a Brooklyn accent whenever you access the bonus round.
All of the other game audios are pleasant, such as the reels stopping or payline wins being added to your balance.
Conclusion
Fans of Marvel Comics are going to want to try this game out, and rightfully so – it's a ton of fun when you first start playing it and there's a lot going on. However, I think that many players will be like me and not go back to it that often once the original excitement has worn off. The reels just seem a little bare when compared to all of the other games out there and the lack of action really dampens your spirits.
Others may find the Captain America special features too uneventful and cash out as soon as they've seen them once. I think that the lack of a proper bonus round is what will push most players away from this game. That said, there's definitely enough meat on the bone to satisfy those who worship the Captain America franchise and just want to play anything that has his name attached to it.
Although this game looks fine and is ok to play, it's pretty much exactly like the original motion picture – lacking in substance to the point where you'll probably be left feeling underwhelmed and cheated. True fans should manage their expectations accordingly.
Bonus Video of Captain America
We've posted a lot of these CinemaSins videos on the website because they're always funny and we just can't get enough of them. Here is one of the best one's they've ever done: "Everything Wrong with Captain America: The First Avenger".
Be warned: if you are a super fan of this film you will not want to watch this video – they absolutely crush it. And it's hilarious. Enjoy!