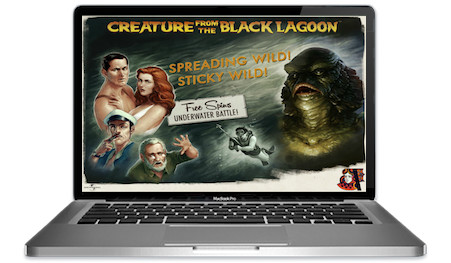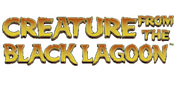 Creature from the Black Lagoon Slots
There are many strange legends in the Amazon. Even I, Lucas, have heard the legend of a man-fish. Well now that legend has appeared from the murky depths of the Black Lagoon to star in his own slot game.
Classic Film
Fun Free Spins Mode
Great Graphics
---
---
Review of Creature from the Black Lagoon Slots
Horror movies were much different in the 1950s than they are today. They used to rely more on uneasiness and tension, and less on gory special effects. One of the all-time classics will always be The Creature from the Black Lagoon because it strikes the perfect balance between suspense, campiness, and setting an eerie mood.
The crew over at NetEnt reached pretty far back into the movie vault for this one considering that the original film was released in 1954, which is more than 40 years before their company was even founded. However, they will certainly get praise from old crusty traditionalists like me who love the "revival movement" that we're seeing these days with online slots. It seems like no movie is too old to be dusted off and made into a gambling game, and more and more are being released all the time.
We can all agree that a little nostalgia is alright, so you can expect this review to be a little biased, but it's to be expected. We're talking about one of the classics, after all! There are no guarantees that we'll continue to see an influx of classic movie-themed slots in the future so let's enjoy this trend while we can.
This review of Creature of the Black Lagoon Slots will clearly explain how NetEnt turned a "clunky classic" into a fun and modern game.
Screenshots
The screenshots below show the game's weird combination of "vintage" yet "contemporary" imagery, which somehow ended up working together quite well. All of the illustrations on the game symbols are top-notch, and the overall design is beautiful. It kind of feels like it could have been released the same year as the movie for some reason.
Storyline
After discovering an interesting fossil of a human skeleton hand with webbed features, Dr. Carl Maia convinces his old buddy Dr. David Reed to have his boss Dr. Mark Williams bankroll another Amazonian expedition to keep searching for an answer to the mystery. The three of them commission Captain Lucas and his steamship Rita to take them back to the Amazon, with Reed's girlfriend Kay and Dr. Edwin Thompson rounding out their crew.
Once back at the dig site they find that the entire research team that Dr. Maia left behind has been killed, but they shrug it off as the work of a savage jaguar and not The Creature that was the true source of the carnage. After not finding any more of the strange, webbed skeletal remains, the group decides to check one last place: The Black Lagoon. This is where the crew comes into direct contact with the annoyed Creature and where they will ultimately have to fight for their lives.
This slot from NetEnt stays true to the original plot of the movie and they did a good job of keeping things very creepy. The storyline from the film is fairly clear but they definitely would have had a few more chunks of action if they'd have done a few things differently, which will be detailed below.
Unique Symbols
The Lucas symbol does not look anything like the Lucas in the movie so it's possible that the estate of Nestor Paiva didn't grant NetEnt permission to use his likeness in this game. If that's the case, it's both confusing and disappointing. Maybe the software creators just didn't spend too much time on designing it, but that doesn't seem very likely. Also, is it asking too much for a Richard Denning symbol portraying Dr. Mark Williams? Apparently it is.
That said, we won't slam them too hard since they successfully avoided using any playing card symbols and created every image from scratch. In lieu of the traditional Jack, Queen, or King, here's what they came up with:
Binoculars
Radio
Oxygen Tank
Lucas (Nestor Paiva)
Carl Maia (Antonio Moreno)
David Reed (Richard Carlson)
Kay Lawrence (Julie Adams)
Underwater Free Spin
Target Symbol
Green Creature from the Black Lagoon Logo (Wild)
Yellow Creature from the Black Lagoon Logo (Spreading Wild 1)
Orange Creature from the Black Lagoon Logo (Spreading Wild 2)
Since there are a ton of free spins and re-spins in this machine, the payouts in the regular game aren't going to be as high as many of you were probably hoping for. Kay Lawrence is the best paying in the game with 750 coins for five across the reels and this isn't exactly "huge" for a top-paying symbol. She is followed by David Reed, Carl Maia, and Lucas who pay 600, 500, and 400 coins respectively for 5 of a Kind.
Also, the Wild symbols in this game are insane and there are actually three different types. The normal Wild which is green, then the Spreading Wild 1 which is yellow, and then the Spreading Wild 2 which is orange. All of the Wilds are sticky and will stay on the board for one re-spin to hopefully award more cash.
Jackpots
One of the greatest frustrations of an archeologist is to spend large amounts of time digging but not ultimately finding anything for their troubles. Therefore, we will save you some time now if you're digging for a Black Lagoon jackpot – there isn't one. Go home.
Bonus Rounds
Now we get to the biggest disappointment of The Creature from the Black Lagoon Slots: there isn't a proper bonus round or major bonus feature. This harms not only the storyline of the game but also the level of excitement and engagement that you'll have when playing it. Even a simple Pick Em' Bonus would have broken up the constant spinning of reels, so it's very strange the NetEnt decided not to include something. Especially when we all know that it would have been very easy to do.
That said, there is one tiny reel feature of Sticky Wilds hanging around during both re-spins and free spins to help you build your bankroll. During re-spins they will stick on the reels for consecutive spins until no new Wilds have fallen on the board. Of course, this is small potatoes compared to how great a special bonus area would have been.
Movie-themed slots that don't have a unique feature never have a good storyline and it usually ends up ruining the game and turning players off. Thankfully for The Creature, NetEnt put a lot of effort into their free games mode and it somewhat makes up for the omission.
Free Spins
The free games are flowing in this Black Lagoon and there's definitely a healthy supply. Three or more Underwater Free Spin symbols across the reels will trigger a freeroll, with more possibly coming as additional symbols fall.
3 Symbols = 10 Free Spins
4 Symbols = 15 Free Spins
5 Symbols = 20 Free Spins
As you're freerolling you'll want to keep your eyes open for Target symbols on reel #5 because those are how you get to shoot The Creature when he pops onto the right side of the reels and tries to attack you. Each time you blast him it will knock a bar from his power meter which will unlock 4 different levels as you go.
Level 1: Sticky Wild symbols added to the reels.
Level 2: 1st Spreading Wild is triggered and stretches over the left reel.
Level 3: 2nd Spreading Wild is triggered and stretches over the right & left reels.
Level 4: 10 more free games are triggered by collecting 9 Target symbols.
The Spreading Wilds will only ever stay on the reels for 1 re-spin and can spread out even further than 1 reel in certain situations. There is a long list of rules for this bonus mode so just consult the game rules if you feel like learning more. The only thing you really need to remember is that you want to shoot The Creature with your harpoon gun as many times as possible.
Graphics
The graphics are great in this game with the animations having a vintage vibe to them, and all of the moving pieces look quite modern. It's hard to strike a perfect balance between the two but the game's designers nailed it.
The intro movie that plays at the beginning is pretty scary and it's of an HD cartoon-like quality. Also, there is a mini movie that rolls when you trigger the free spins mode that's very cool and it's definitely creepy when The Creature comes aboard the boat in search of a girlfriend.
Also, when The Creature scrambles out from the bottom of the screen for a big win it will give you a start each time – they made him look too realistic! Some of you might even jump out of your chair so be careful.
Finally, the unique underwater background during the free games is quite beautiful and it's extremely intricate in detail: you can even make out the ridges along the seafloor. After the round is over you'll see your win amount displayed on an old piece of parchment with the hero carrying Kay back to safety. The intentional aging of the graphics in this game is just another example of how they achieved the classic look.
Audio & Soundtrack
There are beautiful sounds of nature throughout the regular game of birds chirping and squawking, wind rustling through the trees, and a gentle waterfall in the distance. When this is added to the nice little tune that plays in the background it all comes together to create quite the peaceful setting. The background soundtrack is of the classic movie variety that you would expect, with no surprises or disappointments.
However, when you hit any payline win the music blasts as the coins crash and clang onto your balance, making you both annoyed and confused. It's highly recommended to click on the wrench icon to go into the audio settings and unchecking the box that says "Sound Effects". It really is a totally different game with these noises turned off – try it out and you'll immediately see the difference.
There are funny little sound bites that play from the movie throughout the game that always make you smile. It's not that the lines of dialogue are actually funny, it's just that it takes you back to the original film and they sound a little out of place in an online slot.
The soundtrack that plays during the free games mode is intense and frantic, and it definitely pumps you up to shoot The Creature in the belly when he swoops in to attack you. Overall, this game gets high marks for its sound effects…minus the win noises, of course.
Conclusion
You never know what you might find on a geology expedition, especially in the depths of the Amazon. Sometimes you'll find fossils but sometimes you'll find hellish sea-dwelling creatures, and now you can play a game that will give you both of these things and cash prizes.
Many players are usually leery of new slots that are based on classic films but The Creature from the Black Lagoon is one that's actually a lot of fun to play. The creative free spins mode is enough of a reason for anyone to give it a whirl, but as discussed, since there's no real bonus round some of you might lose interest quicker than others.
This game will definitely appeal more to those who are older, which was probably their target market in the first place. Although, if you're younger and love watching old movies, you should definitely enjoy this game as well.
Just make sure you have your harpoons handy.
Bonus Video of Creature from the Black Lagoon
Here is a special feature from The Colgate Comedy Hour that has Abbott & Costello meeting The Creature from the Black Lagoon…and Frankenstein! This is a true blast from the past that fans of all ages will want to check out. Enjoy!