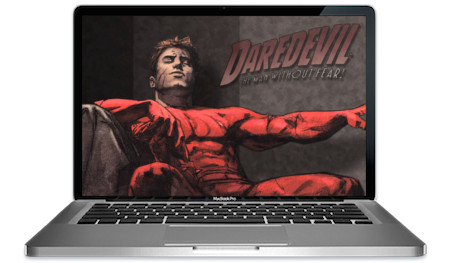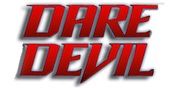 Matthew Murdock is back to defend us from the evil crime bosses of the city in Daredevil Slots, dishing out cash prizes as he goes. Now you can team up with him and boost your bankroll while you try to bring Bullseye to justice.
Marvel Jackpot Network
Cool Side Games
Generous Wild Symbols
---
---
Review of Daredevil Slots
Since 1964 Daredevil has been practicing his brand of justice across the Marvel Universe, defending people in courtrooms as a lawyer by day and defending citizens of the city as a superhero by night. "The Man Without Fear" began his crime-fighting career after his father was viciously murdered by gangsters and now you too can help him unleash revenge on evildoers such as Bullseye and Kingpin.
Playtech decided to release this title in 2010, which was seven years after the movie came out, so the timing does seem a little strange. As this machine is starting to get a bit older now, this review will concentrate on the aspects of why it still deserves a few spins today: just because something is getting a little long in the tooth doesn't mean that it's no longer any fun.
I never read any Daredevil comics when I was younger but like most other people I was offended by Ben Affleck's portrayal of him in the poorly-written film. However, the reboot of the character by Netflix rekindled many people's interest in him.
This expert review of Daredevil Slots will cover everything you need to know, including the fun side games and that crazy Marvel Mystery Jackpot that everyone is always talking about. This is far from an A+ title but it's still worth a bit of your time.
Screenshots
So obviously we can't claim that this release looks like its from the 1990s if we don't provide some visual proof. Therefore, allow us to introduce these screenshots into evidence, in exactly the same sarcastic way that lawyer Matt Murdoch would do. Do they not look a little dated? Of course they do but they're still kind of cool…and yes, they have a '90s feel to them.
Storyline
The storyline here loosely follows the same theme as the 2003 movie in regards to its place and time in the Marvel Universe. It all begins with Daredevil's alter-ego, Matthew Murdock, being blinded as a child by a radioactive substance that leaks from a passing vehicle. Matt was heroically pushing someone to safety who was about to get hit by a truck when the dangerous contents spewed out into his face and changed his life forever.
Although the accident blinded him, his other senses became much stronger and he even developed a superhuman "radar sense" that allows him to battle criminals in hand-to-hand combat without sight. So now Matt Murdock is an unassuming lawyer in New York City by day and is the crime-fighting Daredevil at night, protecting citizens from harm. An interesting footnote is that the vicious mercenary, Elektra Natchios who even has her own slot game, is his love interest even though he botched a rescue of her kidnapped father which resulted in his death. This is worth mentioning because Elektra also appears in this one, along with her Okinawan Sai Swords too.
This release from Playtech has you rolling through the back alleys of NYC at night, targeting Daredevil's long-time enemies The Kingpin and Bullseye to take them down and bring them to justice. Unfortunately, there isn't a proper bonus round so we never get the opportunity to dive deeper into the plot lines from the original graphic novel.
Unique Symbols
As already touched on, one of the major weaknesses here is in the graphics department and it really appears as if they simply ran out of ideas when they were designing the symbols for this game. After only five minutes of research they could have found a ton of possible ones that would have been great to include like the Purple Man, the Jester, Mr. Fear, Death-Stalker, Cobra, and Mr. Hyde. It's quite shocking that they left so much on the table.
Sure it's true that tons of other releases have 10s, Jacks, Queens, Kings, and Aces due to the fact that they already have a lot of other cool symbols, but comic-book themed slots don't qualify for this exception. Fans want to see as many characters and as much imagery as possible from the stories and it's the software developer's job to give them what they want.
Therefore, it's an absolute crime that they included the Ace all the way down to the 9! We have yet to play a machine that has a true need for a 9 and this probably tells you everything you need to know about the amount of imagination that was used in the planning process.
9
10
J (Jack)
Q (Queen)
K (King)
A (Ace)
Elektra's Okinawan Sai Swords
Daredevil's Billy Club
Bullseye
Electra
The Kingpin
Daredevil (Wild)
Daredevil "DD" Logo (Scatter)
The Daredevil Wild pays out the most with 5 in a spin giving you 5,000 coins, and is then followed by his girlfriend Elektra with 1,000 coins for hitting five of her across the reels. The characters then finish off with The Kingpin dishing out 750 coins for 5 of a Kind and Bullseye giving you 500 coins for the same.
Jackpots
The majority of Marvel releases are linked to a network progressive prize called the "Marvel Mystery Jackpot" which is won randomly with no rhyme or reason. They've always claimed that the machine was configured so that you have a better chance to hit it if you are wagering larger amounts but no one really knows exactly what the math is behind this claim.
The Marvel Jackpot is a little tricky because once you have accessed it there are actually four unique prizes that you could activate. These are named "Power", "Extra Power", "Super Power" and "Ultimate Power", with each of them having different amounts. Once triggered, you are taken to a bonus area and given a 4×5 grid of squares that you must click on until you match three of the same type. As soon as you hit 3 of a Kind you win whatever the corresponding prize is.
Slower or superstitious players should note that there is a timer ticking down the entire time so you have the choice to pick for yourself or let the software randomly pick for you.
Bonus Rounds
Unfortunately, Daredevil doesn't have a bonus round so the action does get a bit stale after a while if you're not a diehard fan – unless you hit the Marvel Mystery Jackpot, of course! Most players would agree that the special features can really make or break an online gambling game so if there's nothing offered whatsoever, there's a good chance that you'll get bored sooner rather than later.
That said, Daredevil does have a little extra nugget of fun where you can place a bullseye target anywhere on the 15 positions across the reels and if the character Bullseye lands in your targeted spot, you win 3x your total bet. This is actually a lot more fun than it should be because you'll begin to second-guess yourself as to where it should be placed.
So be warned, you can actually frustrate yourself a lot with this feature because you are able to move the target every spin. There is nothing more infuriating than leaving the target on one symbol for many results in a row and not hitting him and then moving the target only to have Bullseye appear on the square that you just had it on.
Free Spins
If you hit 3 or more Daredevil "DD" Logos anywhere across the reels you will receive 10 free spins with random wilds, which will substitute for all symbols except the DD Scatter. The payouts follow the standard procedure of paying Scatter wins before random symbols morph into Wilds.
Most players will be disappointed to see that there aren't any special backgrounds or images during the round and it's just more of the same of what you've already been playing. It wouldn't have taken much effort to spice things up so it's confusing why Playtech didn't do something.
Thankfully, you can keep winning spins while you freeroll so sometimes you go on a hot streak and really go nuts. The liberal abundance of free spins might be an attempt to make up for the fact that it doesn't have any bonus rounds but that's probably just wishful thinking.
Graphics
The graphics in Daredevil are not that appealing – unless you like a vintage look and feel, of course. They do look a little like they came from a late '80s arcade video game but that's what gives them a bit of charm. A lot of these Marvel Slots made by Playtech will actually remind you of old Sega Genesis titles from years ago, and there's just something about them that just brings back memories of Sonic the Hedgehog.
There aren't that many moving pieces to be found throughout and there's not even an opening video, (we only get a load screen while we wait for it to launch). So those of you who were hoping to be blown away by special effects will want to skip this one in favor of something a little more modern.
Audio & Soundtrack
The soundtrack continues the retro theme with its extremely synth-heavy arrangements and they're reminiscent of a 1980s cop movie where the police are about to bust Russian arms dealers in a dockyard warehouse. Also, when you hit a few of the same symbols in a row, depending on which one it is, you can hear heavy '80s guitars or sound effects that are reminiscent of an old tv game show. Odd to say the least.
Many will like the classic sounds when you hit a big win and your credits roll upwards because it's just like those in many land-based slots machines in Las Vegas and you will immediately recognize it. However, the audio effects of free spins and other wins are very loud and jarring and some of you will want to turn the volume down and save your ears.
Conclusion
This release will definitely appeal to diehard Daredevil comic book fans but players who are only familiar with Ben Affleck's movie adaptation will probably end up getting a little bored. That said, it's certainly worth 10 minutes of playing to try it out – the Bullseye Feature alone is worth a few dollars of your bankroll.
Although this was created in the new millennium there are many aspects of it that make it seem like it could have come out in the early 1990s, such as its 64 bit graphics and synth-dominated soundtrack. So if you're not interested in a blast from the past you'll want to take a pass in favor of something a little fresher.
Those who read many different Marvel Comics will probably want to save most of their money for more popular titles like Wolverine Slots but a couple of spins on Daredevil now and again might be good to mix things up a little. Just remember to always choose your target wisely: Bullseye can be very hard to hit.
So what do you think, Daredevil – is there any chance you could save this game and make it more fun?
Can one man make a difference? There are days when I believe; and others when I have lost all faith.
Well, it looks like it's going to be a coin flip then.
Random Video of Daredevil
Recently Netflix has really been concentrating on producing their own content but it was a shock to many when they announced that they would be making a new series based on Daredevil. Here's the trailer for anyone who's interested in seeing what all the fuss is about. Enjoy!