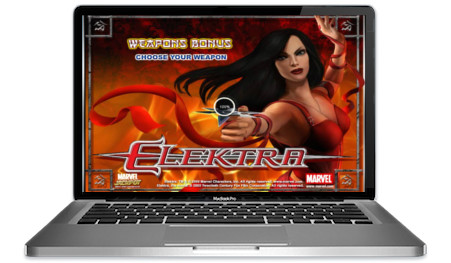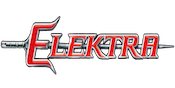 She's one of the toughest women in the Marvel Universe, skilled in some of the deadliest weapons ever created. Now you have access to her lethal arsenal in Elektra Slots to battle through the reels and cash in along the way.
Marvel Universe's Deadliest Assassin
Tons of Cool Weapons
Linked to the Marvel Mystery Jackpot
---
---
Review of Elektra Slots
As a female it's impossible for me not to love Elektra and her role in the Marvel Universe since her creation in 1981. She's as tough as they come, and can kill her enemies with a wide variety of cool weapons. Oh, and her boyfriend is Daredevil…need I say more?
Male fans will probably be more interested in her amazing beauty, however she also happens to have a vast knowledge of the highest levels of martial arts. And if you're thinking that you'll be able to play mind games with her if you were lucky enough to date her, sorry boys – Elektra can climb into the minds of others and make them see things, tell her information, or simply use them like puppets to attack her enemies.
I think it's safe to say that this review will be slightly biased due to the game's main character, but that's to be expected. When you're one of the leading ladies of the Marvel Universe, you're going to catch some breaks!
It should be noted that this game is all about weapons, so if you are someone that does not like violence or references to violence, this slot is definitely not for you. However, if you are the type of person that likes ninja-related weaponry and a cool backstory, you will definitely want to hear more about Elektra Slots and why this title deserves a small portion of your bankroll.
Screenshots
Here are some screenshots from the game to give you an idea of what it looks like. Again, this slot is all about weapons so it won't appeal to everyone, however, those who do choose to play will certainly enjoy the game's comic-themed graphics, abundant Expanding Wilds, and cool unique symbols.
Storyline
Born in the Greek Islands as Elektra Natchios, this deadly assassin was trained by ninjas and then fought her way through life to become the main love interest of fellow superhero Daredevil. Her complete backstory has a few different versions, and her childhood is somewhat of a mystery. What we do know is that from the age of 9 she has been battling evildoers and training in advanced martial arts, primarily with a strange group of ninjas known as the "Hand".
After growing tired of being their best assassin, Elektra left the group and ended up dating Matt Murdock, (otherwise known as Daredevil), in New York City while attending university. Their relationship has been strained many times as Daredevil has a clear vision of right and wrong, and finds that Elektra's unconventional methods cross over to the dark side too often.
This slot game ignores most of her backstory and feuds, and focuses on her arsenal of weapons that she uses to battle her opponents. As a result, unfortunately the storyline in Elektra Slots is probably its weakest element.
Unique Symbols
Although Elektra Slots utilizes my most hated slots symbol of the 9, Playtech made up for it by incorporating all of Elektra's best weapons into the game. If you're an avid reader of this graphic novels, you will be very happy with how her character is represented.
The Elektra Wild symbol appears on the 3 middle reels and will substitute for any other symbol except for the Scatter. When in the bonus round, Elektra becomes an expanding wild that will stretch over multiple paylines giving you even bigger prizes.
9
10
J (Jack)
Q (Queen)
K (King)
A (Ace)
Bow and Arrow
Arm Band
Chain Whip
Okinawan Sai Swords
Shuriken Throwing Star
Elektra (Wild)
Elektra Logo (Scatter)
The game's designers made the obvious choice of the Okinawan Sai Swords to be the top paying symbol in the game, dishing out a fantastic 5,000 coins for five of a kind. This is followed by the Shuriken Throwing Star and Bow and Arrow symbols paying 1,000 coins for hitting 5 of them on a spin, and then the Chain Whip and Arm Bands symbols paying 500 coins for the same result.
Interestingly, Elektra is one of the few slot games that I've seen that pays you out for hitting 2 of a kind – usually the minimum number in a game is 3 of a kind. Please note that this payout on 2 of a kind only occurs with the five weapon symbols and not the others.
Jackpots
As Elektra is a strong, independent woman from the Marvel Universe, you know that she demanded that her game be linked up to the Marvel Mystery Jackpot Network. This bonus can go off at any time and without warning, so be prepared for action if you hit it because there's a time limit if you want to make your own choices.
It's a matching game of the four possible jackpot logos, and when you get a match you get the corresponding jackpot prize. However if you take too long to make a decision the game will make random choices for you and end the jackpot round.
Bonus Rounds
The other major weakness of Elektra Slots besides its plot is the bonus round…because the game's creators didn't include one. That's right, there are no cool battles or ways to win free bonus cash, so I of course understand if some of you want to stop reading this review now and move on to another game. This is a very sad and puzzling omission, and I honestly would have expected better from a company with the stature of Playtech.
Free Spins
When you first enter the "Weapons Bonus" round you will be asked to choose your item, with each one offering you a different path for the free games. The Shuriken Throwing Star gives you 14 free spins with a 2x multiplier, the Okinawan Sai Swords give you 10 free games with no multiplier, and the bow and arrow gives you 7 free games with a 4x multiplier. Also, the symbol of whichever weapon you choose swaps in for the other two symbols, which obviously gives you more chances of winning big.
You enter the Free Spins Mode by landing three scatter symbols anywhere on the reels, and during your free games the Wild symbols will become Expanding Wilds on reels 2, 3 and 4.
Graphics
There are some cool visual effects on the throwing stars when they are involved in a payline win – they spin and blue sparks fly off of them. Also, when the Wild is involved in a win, Elektra pulls out her swords and grinds them together which creates a crazy little spark show. In addition, the arrow tips get red hot as it they're drawn back over the bow and shot when used in payline wins.
All of these effects add up to make Elektra a dated, but funky looking slot game.
Audio & Soundtrack
The songs used in the background of this game are really good, and I honestly don't find myself getting sick of them after playing for long periods of time. The reel audios and spinning sounds all have an "outer space" feel to them.
Most of us will agree that the music during Free Spins Mode is way over the top, but it totally fits into the theme of the game. It sounds like a real uptempo superhero theme that plays whenever there is an intense battle.
None of the game audios during regular play are too loud or intrusive, although I wish that most of them played for shorter amounts of time when used in line payouts of a lower value.
Conclusion
Any diehard fans of Elektra will be more than pleased with this online slot machine due to its graphics and unique symbols, and anyone like me will just be happy that she got her own game. In addition, most fans of Marvel Comics in general will get some kicks, even if it's only for a short amount of time.
However, the lack of a real bonus round will push away casual players who are just looking to mix things up by trying out a less popular comic-themed title. Although the hope of hitting the Mystery Jackpot might keep some of you sticking around for a little longer.
Ultimately, this game is starting to show its age but it's still worth a few bucks of your bankroll if you enjoy stepping into the less-traveled corners of the Marvel Universe. After all, she is the deadliest assassin. She is as tough as they come.
She is Elektra Natchios, and not even the stars are safe in the sky.
Bonus Video of Elektra
The Elektra movie released in 2015 starring Jennifer Garner is widely accepted as being an absolute train wreck, and you can count me among those who think that everyone involved with it should be ashamed of themselves.
For those who have never seen the film and want to know why it's so bad, here is a video documenting everything wrong with the movie. And yes… the people that put this video together have a pretty good sense of humor…