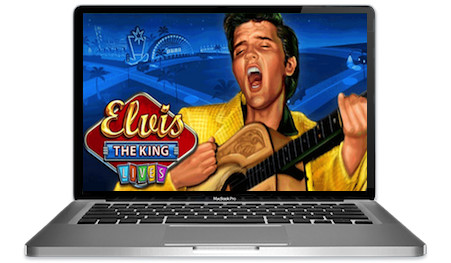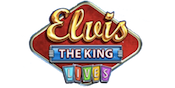 Elvis: The King Lives Slots
The King may have left the building but his memory will always live on. So dust off your blue suede shoes and make your way to the end of Lonely Street to try out this Elvis-themed slot from WMS Gaming.
Greatest Performer of All Time
Original Songs
Eleven Reel Game
---
---
Review of Elvis: The King Lives Slots
Women wanted to marry him and men wanted to be him. From the very first time that he took the stage, Elvis Presley has been the undisputed "King of Rock N' Roll" for millions of fans around the world. Growing up I adored Elvis and I still listen to him today because it always gets my hips swinging, and they just don't make good music like that anymore.
I choose to ignore most of the "peanut butter, jelly, and bacon sandwich" stories that float around about Elvis, most of which were just started by bitter people who couldn't control their jealousy towards one of the greatest entertainers of all time. And no, I don't think that he faked his own death – although I certainly would be happy to be proved wrong on that one.
It's absolutely impossible for anyone over 50 years old to review anything Elvis-related without bias, so I'm not going to pretend that I am. Unfortunately, not even my deep love for the King could make me give this game high grades, but there is juuust enough to warrant you spending a few bucks on this slot. Here's why…
Screenshots
As you can easily see in the screenshots below, this game is starting to look a little dated – and it was only released a few years ago! At least The King looks more youthful than ever with his pompadour perfectly greased. Click the images below to enlarge them and see exactly what an eleven reel slot game looks like.
Storyline
I don't think that we need to cover who Elvis Presley is and what he and his music mean to countless people around the globe. However, like many celebrities who have had slot games made in their image, Elvis left us far too soon (at the young age of 42) and has been considered a musical legend ever since.
Even though his legacy was tarnished towards the end of his career due to his escalating drug addiction, he was still cranking out hit songs…albeit on the country and gospel charts. However, by the time of his death in the summer of 1977 his concerts had become unwatchable as he couldn't remember the lyrics to his songs, and would go on extended incoherent rants. It was an absolute shame.
The storyline is pretty much what you would imagine from a game that states that "The King Lives". It's simply Elvis in his glory without any of the bad times, and his hit songs are referenced by numerous photos and animations – which will probably be just enough of a plot to get us diehard fans interested.
Unique Symbols
I'm giving the unique symbols in this game a passing grade because they give us enough Elvis, and the rest of them are just adorable. A pink teddy bear? That's cute and relevant!
J (Jack)
Q (Queen)
K (King)
A (Ace)
Pink Teddy Bear
Blue Suede Shoes
Hound Dog with Top Hat
Acoustic Guitar
Elvis in Pink Blazer
Elvis in Yellow Blazer
Elvis in Gold Blazer
Elvis Sneering (Wild)
Elvis Record Album (Scatter)
Elvis is The freakin' King so it only makes sense that all of his symbols pay the most in this game, and the best of them all is the Elvis Sneering Wild which pays 250 coins for 5 of a Kind. Next is Elvis in a Gold Blazer, Yellow Blazer, and Pink Blazer, which pay 250, 150, and 150 coins respectively for five in a payline.
Please note that I've documented the fixed coins per line as "0.5" because each wager covers 2 lines, up to the maximum of 80. Don't worry, you get used to this betting pattern fairly quickly.
Also, you should be warned before playing that with 11 reels, the layout of this slot is kind of confusing. There are technically 2 different types of reels: two 2x2s and a 3×6, which definitely takes some time to wrap your head around. For example, to complete certain combinations you will have to get 2 of the same symbol on the first 2 mini reels and then adjacent symbols on the bigger ones. I recommend just jumping in and playing it because that's the quickest way to figure out how it works.
The main rule to remember is that all of the paylines have to start from the far left of the game board, which means that the big reels of #9, #10, and #11 are useless if the 2×2 reels haven't given you anything to work with. Ultimately, it's another strangely designed game from WMS, similar to the bizarre KISS online slots that they released a few years after this one.
Jackpots
Elvis has left the building and so has any hope for a King Lives Jackpot – come on now, don't be cruel! There are no big cash prizes in this game whatsoever so you can take your request and return to sender…and clean up your own backyard. (Sorry, I couldn't resist.)
Bonus Rounds
Sadly, there isn't a true bonus round in The King Lives Slots so players might be left hankering for more after a while. Sure there are some great tunes and whatnot, but without a proper bonus feature you never really get a break from the spinning reels.
There is a smaller bonus area called the "Jukebox Feature" which is basically your entrance into the free games mode. The jukebox has cash prizes that are 1x, 2x, or 5x your bet amount, mixed in with 4 of Elvis' best songs, and the warm glowing lights will then tell you what has been triggered. You'll definitely have your fingers crossed to hear specific records because each comes with different prizes:
Big Hunk O' Love: 8x multiplier on total wager
Blue Suede Shoes: 12x multiplier on total wager + 5 free games
Teddy Bear: 12x multiplier on total wager + 5 free games
Hound Dog: 25x multiplier on total wager + 10 free games
As you can plainly see, being high-classed and catching rabbits certainly pays dividends in this game, so channel your inner hound dog to reap maximum rewards.
Free Spins
There are tons of different free spins options in Elvis: The King Lives, all of which are accessed through the jukebox bonus area I just described above, and it's triggered in two different ways. Firstly, if you hit 4 of the same symbol on reels #1 to #4 and/or #5 to #8 you make a "square" of the same symbol and get 5 free spins with no multiplier. You can also get this prize by having 3 Scatters fall across reels #9, #10, and #11.
However, if you're lucky you can get the same square of symbols on the lefthand reels with the Scatters in the same spin, which will trigger 20 free games that come with a whopping 100x multiplier on your total wager.
Remember that the symbol that triggers the feature will also dictate the theme of your free games. For example, hitting 4 Hound Dog symbols in all 4 sections of the smaller reels will trigger a a trip to the jukebox…and the classic song from Elvis.
The game gives you a unique set of reels during the free spins mode with the Feature only showing up on reels #9, #10, and #11. In addition, it offers something that I have never heard of before in all my days of playing online slots: "clumped symbols". These occur when the "square" reels of #1 to #4 and/or #5 to #8 don't have any matching symbols fall in all 4 positions, so then it is changed to one big symbol that is 2×2 and behaves as if it were "4 clumped symbols". Magnificent.
Finally, you can re-trigger free games while you freeroll if you hit 3 Scatter symbols on reel #9, #10, and #11, which will give you an extra 5 free spins each time.
Graphics
The intro of this game will definitely stir your emotions as it flashes through candid polaroids of Elvis at various stages of his life. They are crisp black and white photos and they convey how Elvis was just a human like the rest of us, but the glint in his eye tells us that he's destined for stardom.
Sadly, after the intro video is finished we only get one other video of Elvis that isn't a symbol on the reels, (although the graphic of Elvis dancing on the record symbol is pretty sweet). It's a clip from his appearance on the Ed Sullivan Show that gets you really pumped up, but it quickly mixes into the studio version of the song as your freeroll starts. Greedier players like me will make a fuss that there's not more videos, and I think that we have a legitimate complaint.
Since there's no full live performances of Elvis in the game it was nice of WMS to include some still images of The King that flash on the screen when certain free spins modes are triggered. They're always nice to see and they provide a nice little break from the spinning of the eleven reels.
Design-wise there are a few nice touches like the purple background for the Teddy Bear free spins, and the betting controls built into the front of a jukebox. The main jukebox in the bonus features looks pretty cool too – prepare for flashbacks of Happy Days.
Audio & Soundtrack
Anyone playing an Elvis-themed slot is going to want to know one thing: how good is the soundtrack? Well, in The King Lives we get a bit of a mixed bag of tunes that spans the entirety of his career, but some of you will probably be disappointed in the length of the audio clips. We don't get to hear any songs in their entirety which definitely takes away from the overall experience.
However, Williams Gaming made the excellent choice of not playing an Elvis record during the regular game, but it is definitely reminiscent of that era with a rock n' roll beat, (it actually sounds like it could have been based on "Teddy Bear"). Some might take offense to this but I argue that it actually makes the Elvis songs that are included in the game much more special and enjoyable when they're triggered. You don't get sick of hearing them.
The crowd screaming randomly throughout the game charges you with excitement and reminds you of just how crazy the audience was at Elvis concerts. As mentioned above, I believe that the audio was taken from an Ed Sullivan appearance, but I could be wrong.
The most powerful effect in this slot is when "Viva Las Vegas" kicks in for big wins during the regular game. It is the perfect explosion of music and fun, and it really takes the excitement to the next level. And when a song is triggered for a free games mode things really get taken up a notch, with "Teddy Bear" being my personal favorite.
It must be noted that WMS has continued their ridiculous tradition of having imposters say lines throughout their slot games; for example, "Man that bonus is one for the money." It's clearly not Elvis himself speaking, but let's just hope that it's one of Las Vegas' best Elvis impersonators, (I highly doubt that it is).
Also, "Time for the bonus. Hang up that tambourine and go." is just plain weird because again, it is so obviously not the King. I feel like WMS could have tried a little harder on this one. Although in fairness, when Fake Elvis proclaims,"That bonus had me all shook up, how 'bout you?" it does kind of feel like you're chatting with him…kind of. "Elvis has left the bonus".
In total, the classic Elvis songs included are:
Viva Las Vegas
Blue Suede Shoes
Hound Dog
A Big Hunk O' Love
(Let Me Be Your) Teddy Bear
That is a nice sampling of Elvis' work and I think that for a music-themed online slot it's the perfect amount of songs. Especially when you consider that this game was released many years ago when expectations weren't as high as today.
Conclusion
As a great philosopher once said – you ain't nothing but a hound dog! I'm happy to report that there's definitely enough going on in Elvis: The King Lives Slots to keep his fans entertained for a while, but ultimately I think this game is starting to show its age. The design is looking dated and it could really use a freshening up.
Also, players today usually demand that their games have special bonus rounds and features, so many will have suspicious minds when they see that this title only has a few different free spins modes on offer. That doesn't mean that they should check into the Heartbreak Hotel and be lonesome tonight, it just means that they're probably only going to enjoy playing this game for short periods of time.
The King Lives Slots will get you all shook up for a while, but eventually you'll want a little less conversation and a lot more action. Ok, ok – I know I've gone too far with the song references. Sorry!
This review has now left the building…(and jumped the shark)…
Bonus Video of The King
Here's a hilarious montage of bloopers from Elvis' amazing '68 Comeback Special, and he even jokes around with the crowd about his trademark sneer. Looking back, it's clear that The King knew that his time had come and gone, and it was time to step aside for the "Flower Power" generation that was taking over society with their music and messages.
Oh well, fans like me know that The King still rules…