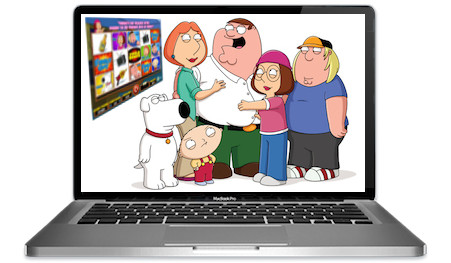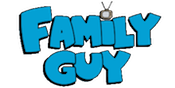 After shocking audiences around the world with it's outrageous and offensive stories, Peter Griffin and the gang from Quahog are here in Family Guy Slots to dazzle us with crazy bonus rounds and adult humor. Sweet.
One of the Funniest Shows on TV
Tons of Unique Bonus Rounds
Constant Comedic Action
---
---
Review of Family Guy Slots
It seems today that all you see is violence in movies and sex on TV…
When I first tuned into Family Guy years ago I was totally expecting a ripoff of Fox's other hit cartoon, The Simpsons and an overall disappointment of a television show. Boy was I ever wrong. It was very funny in its own unique way and pushed the boundaries of good taste a lot further than any show had ever done before. Many of the plot lines were absolutely shocking but audiences still laughed…and complained.
Fans of The Simpsons will always say that Family Guy owes the show a direct debt of gratitude for paving the way and these people are 100% correct – without The Simpsons, there would be no Family Guy. However, I refuse to pick sides and like both shows equally for different reasons. Both bring something different to the table: The Simpsons feels more like Cheers and Family Guy feels more like Seinfeld. One show is the comfortable, safe place you like to regularly visit, while the other pushes you out of your comfort zone and takes you on new adventures. (Many people just hated those comparisons.)
So although I haven't been as loyal a watcher of Family Guy as I have been in the years before, I am still an old school fan who was excited to hear that this game was on the way. And just in case you are reading this review and you've never watched the show, you should stop here and move on to another game…or go watch the first 10 seasons and then come back here when you're done – up to you.
It's safe to say that this game will only be entertaining for existing fans and it will have everyone else scratching their heads wondering just what the hell just happened.
In any event, this exclusive review of Family Guy Slots will breakdown every one of its many special features to explain why it's an instant classic.
Screenshots
The screenshots below really don't do the game any justice because you have to play it for yourself to properly appreciate it. There are so many crazy animations, ridiculous audios, bonus rounds, and moving pieces that it would be impossible to capture them all in three still images. That said, these screenshots do show that the game has HD television quality and that the graphics of all the characters are absolutely fabulous.
And yes – that is a screenshot of Peter farting onto the game board to give you a bonus win. Un-frickin-believable.
Storyline
Everyone reading this will probably already know the story behind one of the most successful animated shows in television history, but just in case some of you would like a refresher, here's a quick recap. The Griffin family consists of father Peter, mother Lois, son Chris, daughter Meg, son Stewie, and their talking dog, Brian. All of them have their quirks, with some being worse than others, (Brian the dog being an alcoholic, cocaine-abusing, sex addict comes to mind).
The series follows the various members of the family on their adventures through the town of Quahog, Rhode Island, which is based on the real life burrow of Cranston, RI. Many stories involve Peter's bumbling friends Glenn Quagmire, Joe Swanson, and Cleveland Brown. Often they can be found drunk in their favorite bar, or drunk anywhere across America. Hijinx always ensue.
The storylines of this machine cover everything fun and exciting that you've seen in Quahog. From Lois and Peter's private romantic encounters, to Peter's violent feud with a giant chicken, and even the guys sitting down and getting hammered at the Drunken Clam – no stone is left unturned. There are also minor sub-plots that run throughout the game but you should discover those for yourself.
Unique Symbols
Fans will be happy to learn that all of the symbols in this game are unique and come directly from the television show. Unfortunately, IGT decided to include a Meg symbol – just kidding, Meg! No really though, you are terrible.
Regular readers of Queen of Online Slots will know that we usually jump all over the unique symbols of a game and tear them apart, and we always have strong opinions on how the designers could have done better. Well, not this time – IGT hit this one out of the park and fans of the show will be ecstatic with all of the symbols that were included.
Pickier fans may complain that there should be more character-based symbols like Greased Up Deaf Guy, Mort, or Mayor Adam West, but this simply a case of being greedy. Plus, we have to leave some options on the table for Family Guy Slots Part II.
Pawtcuket Beer Bottle
Television
Rupert the Bear
Stewie's Ray Gun
Meg
Chris
Stewie
Brian
Lois
Peter
Family Guy Logo (Wild)
World Bonus
The highest paying symbol in the game is the Family Guy Wild Logo which dishes out a healthy 500 coins for 5 of a Kind. Peter and Lois are next on the ladder with each paying 250 coins for five in a spin. This is followed by Stewie and Brian each paying 200 for five, and comically, Meg gives you the same amount of coins as the Ray Gun and Rupert the Bear. The people behind the scenes clearly have a sense of humor.
These payouts may seem a little low to veteran slots players but you have to remember that the coins you're wagering each spin are helping to fund the insane amount of bonus features that were included. This title is absolutely packed with action as you will read in the sections below.
Jackpots
With all of the bonus rounds, free spins, unique symbols, and crazy graphics, there just wasn't room in this game for a Family Guy Slots jackpot. Although no one will probably even notice given all of the madness that's going on.
Well, technically we could consider Peter's reel feature as a jackpot since he can pay out up to 5,000x the coin amount that triggered him. This is when he arrives on the board and farts all over your reels. Lovely!
There are actually four "Griffin Family Features" that offer special prizes besides Peter's so let's quickly touch on them in this section. Stewie's Feature has him appear beside the reels and shoot his ray gun to turn up to 3 symbols into Wilds which will give you a larger payout. Also, Brian can run up to the reels and trigger the World Bonus Round with only 1 Bonus symbol instead of 3 in his Game Feature.
Lois's Feature is kind of complicated because her bonus can pull out any of the character symbols and assign a higher prize value to them. Her, Peter, Brian, Stewie, Chris, and Meg all payout different amounts of credits, and of course the prize also depends on how many times the symbol has landed on the board.
Peter pays the most with a max of 1,000x, and Meg pays the least with 1x. And yes – 1 times your prize amount doesn't change its value. Thanks, Meg!
Bonus Rounds
There are actually 3 different bonus rounds in Family Guy Slots with one of them technically being their free spins mode. To access the bonus area you will need 3 World Bonus symbols anywhere on reels #2, #3 and #4 and once triggered you will spin the globe and it will randomly stop on one of the following three bonus features:
The Drunken Clam
Chicken Fight
Lois' Hot Free Spins
The Chicken Fight Bonus allows you to pick either Peter or the Giant Chicken as your fighter, with the battle having a total of 3 rounds. Your fighter will have a multiplier attached to him, which begins at 1x but increases every time you win a round.
Round 1 gives you a 1x or 2x multiplier
Round 2 gives you a 2x or 3x multiplier
Round 3 gives you a 3x, 4x, or 5x multiplier
As you punch each other silly during the rounds you will earn 1 to 7 "picks" that you will use to choose bags holding additional multipliers. Each one will have anywhere from 5x to 1000x that will be applied to your original line wager. The total of that bonus will then be multiplied by whatever number your fighter ended up getting during the battle to give you a total amount.
This feature can get very frustrating, however, since you get to see how many picks the fighter that you didn't choose received. Choose wisely or you'll end up kicking yourself. Cock-a-doodle-damn!
Free Spins
If you want to get your hands on some Family Guy Slots free spins you'll have to hit 3 Bonus World symbols in any position on reels #2, #3, or #4, and then hope that the globe you spin lands on the "Lois' Hot Free Spins Bonus". This is due to the fact that the free games mode in this machine is technically one of the special features and can therefore only be accessed in the bonus area.
You are initially given 10 free spins but you have the opportunity to win more. You can also snag a "Giggity Retriggity" symbol with Quagmire schwinging out on it and this will give you 5 extra free spins each time. Unfortunately, he only Giggities on reel #3 so you'll only see him if you're very lucky.
Believe it or not, when in free spins mode there is yet another bonus game that you can play. You will notice at the bottom of the screen that there are 4 images of Lois with 3 empty hearts beside each. You want to fill these hearts up quickly because once they're full the corresponding symbol will become Wild for the rest of your free spins. What do they need to be filled with? Well of course it's the Wild symbol of naked Peter in a heart, which unfortunately only streaks through on reel #5.
It should be mentioned that all of the game symbols change when in Lois' Hot Free Spins mode and the payouts are different than in the regular mode. All of the new ones are romantic and feature items such as pink candles, roses, and chocolate dipped strawberries – and when Lois goes Wild, her symbol image changes to a different one that is more "romantic".
Graphics
The graphics in Family Guy are cutting edge and stack up to any of the best slot games out there today. They involve everything from symbol animations to background movements, to real HD television cartoon quality design. Every time a symbol is activated in a win there are tons of different animations and if it's a character from the show they can be involved in various situations or wearing different outfits. There are tons of video clips throughout the game, with most of them occurring in the special features.
Actually, to be honest, this release might just have the best graphics of any game that we've ever played. Family Guy feels like it's the future of gambling games and you almost find yourself not believing how excellent the visuals are as they're unfolding in front of you.
Also, the people behind this release again deserve praise for the fact that the Meg symbol does not have an animated graphic when used in a payline. It's hilarious because as all fans know, Meg is useless and boring – both on the show and in this game. There are tons of other hidden jokes to be found throughout but we'll let you come across these on your own.
Audio & Soundtrack
After so many seasons on the air without so much as even a note changing, the Family Guy theme song that constantly plays throughout this machine can certainly get annoying and it's one of the only main weaknesses here. They should have saved it for a specific bonus round so that you would actually be happy to hear it. Shockingly, we could not find a button to mute the background music but there has to be one somewhere, right?
There is of course harsh language throughout this game, for example Peter exclaiming, "Take it up with my butt 'cause he's the only one who gives a crap." Although the other offensive audio in the game is due to its actual sound and not any bad language, and it occurs when you're stacking up lots of payline wins. The sound effect they chose is quite shrill and loud, and its' absolutely annoying.
It should be noted that there are dozens and dozens of lines of dialogue in this game but we won't ruin anything for you here. Go play the game and you'll immediately start hearing the wisecracks and zingers.
Lastly, the funky music that starts the free spins mode will have you grooving and will probably remind you of an old Barry White jam. However, once some Lois Wilds have been activated the music gets a little more upbeat and flows like a classic disco tune: this particular song is definitely the highlight of the game's soundtrack.
Conclusion
Anyone who loves the television show will be ecstatic with Family Guy Slots and will be thoroughly entertained for as long as they want to play. There are tons of things going on: wacky bonus rounds, a parallel reel universe in the free games mode with totally different symbols, and games within games within games. Most of the major characters are featured at some point and IGT ensured that all of the best jokes from the show are referenced in some way.
This is honestly one of the only machines I've ever played and thought, "I don't think that this game will ever get boring," and I believe that this is the highest praise that anyone could ever give an online slot – it's simply fantastic. It's just so stuffed with action and reel features that you don't even consider switching machines.
Just make sure that you're ready for a little "blue" comedy and all of the cartoon passion that's involved with Lois' bonus feature.
Giggity, giggity, goo!
Bonus Video of Family Guy
Let's have a quick look back at some of Glenn Quagmire's funniest Family Guy moments from the previous seasons. And it goes without saying, but…
WARNING: The following video may have scenes that are disturbing to some viewers.
Just kidding. They're all fine…