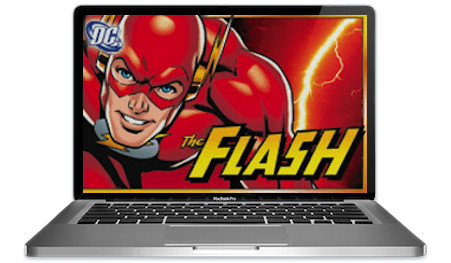 The Flash: Velocity Slots
The fastest superhero on the planet is back in The Flash Slots to battle all of his old enemies. Now you can team up with him to save the day and win cash and prizes as you streak through the reels in this awesome game.
Lightning Fast Action
Fantastic Graphics
Great Soundtrack
---
---
Review of Flash: Velocity Slots
Here we have another DC Comic title by NextGen which uses the same design template as both their Batman and Green Lantern machines. Not that there's anything wrong with using the same interface numerous times, it's just that if you didn't like the other ones for some strange reason, you probably won't like this one either.
Of course the opposite is true as well and I am actually a pretty big fan of those other ones so I was excited to try this instalment out for the first time. However, in a surprising twist, out of all three of them I ended up liking this one the best due to its graphics and features, which were some of the best out there at the time.
I didn't know what to expect with this machine because my only real exposure to The Flash were the campy cartoons from the late '60s that played during The Superman / Aquaman Hour of Adventure, plus a few comic books and of course the times he appeared in episodes of the Super Friends. To be honest, he was never one of my favorite DC heroes, which is why it's kind of odd that I liked this title so much: that is, until I took a closer look and realized just what makes it so darn cool.
So here is our totally unbiased review of The Flash: Velocity Slots by NextGen and why you should break it off a nice piece of your bankroll.
Screenshots
There was no shortage of "flashy" screenshots that we could have included in this review because there always seems to be someone running or gesturing, or lightning bolts going off, or tons of other fantastic graphics flashing around the screen. In short, the images below are just a small taste of what this release has in store so you'd better be looking for something that moves at a breakneck speed.
Storyline
Most people don't know that The Flash has actually been a few different people over the years and hasn't been one consistent character. The version that most of us are probably familiar with is forensic scientist, Barry Allen, who acquired his insane power of speed through being doused with chemicals that were struck by lightning on a shelf in his laboratory.
After realizing the good that his super powers could do he devoted his life to fighting the criminals of Central City, USA and protecting its citizens. His powers of speed, walking through walls, and even time travel have all been integral to battling the numerous villains of the DC Universe.
This particular release from NextGen concentrates on The Flash's traditional enemies of Captain Cold, Mirror Master, and Gorilla Grodd so you'll have to be ready for constant action. Fighting three enemies at once is hard work to say the least!
Unique Symbols
Finally a comic book themed machine that doesn't use a "9" on the reels or even a "10"! That's right – Flash Velocity has so many unique symbols that they only use the Jack, Queen, King and Ace. This is rare for branded titles as many developers usually incorporate at least the 10 to the Ace to make up for their lack of imagination.
Here's what we get:
J (Jack)
Q (Queen)
K (King)
A (Ace)
Mirror Master
Gorilla Grodd
Captain Cold
Clock
Flash's Fast Feet
Flash's Ring
Flash Logo (Scatter)
Flash Logo (Bonus)
Flash (Wild)
When playing with the Bonus Bet activated, all win amounts are multiplied by 5 if the Flash Wild is used in the payline during the normal mode, and they are multiplied by 10 in the special features under the same circumstances. Also, The Flash sometimes runs across the screen and changes a normal symbol into a Wild thanks to the "Speedster Feature" which occurs at random.
The Flash Scatter can appear on any reel and trigger a win on any line, even inactive ones. The additional good news is that you only need to hit a minimum of 2 Scatters on the board to boost your bankroll because this machine is so generous it pays out if you get 2, 3, 4 or 5. Sure two Scatters only gives you 2 coins but this is basically a gift because most games only recognize three or more.
The highest-paying is the Flash Wild which gives you a windfall of 10,000 coins for 5 of a kind. The payouts then drop dramatically with the next-highest being Captain Cold, Mirror Master, and Gorilla Grodd all awarding 250 coins for five in a row.
Jackpots
Unfortunately, as with all real money online slot games made by NextGen for DC Comics, Flash Velocity does not have a jackpot. However, you probably won't even notice that it lacks a big prize because there's so much constant action in the regular mode. The special features and free spins are more than enough to keep even the most demanding players fully occupied.
Bonus Rounds
Make no mistake: it's definitely worth the extra 10 coins each time to activate the "Bonus Bet" because if you don't, you will stay in the regular mode and won't be able to access any of the extras. And who the heck wants to play a gambling game without any extra fun stuff?
Another benefit to activating the "hot button" is that you increase your theoretical payout percentage from 92.48% to 95.47%, which will be considered quite a large jump for those who are obsessed with Return to Player statistics. However, as loyal readers of this website will already know, we're not really into numbers and we're more concerned with how much fun a machine actually is, rather than its mathematical odds of winning.
Anyway, when three Flash Logos that say "Bonus" drop anywhere on the reels you access the Rogues Feature which is detailed in the section below.
Free Spins
All of the DC NextGen titles offer what is basically a mixture of a bonus round and free spins. This is because they always offer you a choice of which area you'd like to go to and each of them usually has very unique characteristics. Flash Velocity is no different than the others so when it's triggered you are taken to the Rogues Feature where you can choose between 1 of 3 different areas, all of which give you 12 gratis spins.
Captain Cold offers re-spins that freeze Flash into an Expanding Wild for one re-spin. Gorilla Grodd will push a Roaming Wild around the board, changing its position after every result to maximize your winnings. Finally, Mirror Master can take you back in time to replay the last 4 spins that you had, so you'd better hope that they were good ones.
Captain Cold is fast-moving and exciting with a high-energy soundtrack and seems to yield more cash than the others…or maybe it's just the speed of the action causing a few hallucinations.
Many will be torn on the Mirror Master round because it's really only fun if your last 4 spins had lots of winnings. If they didn't, you're forced to sit there and relive the disappointment all over again. Therefore, unless you're feeling particularly frisky and want to gamble, don't choose this one.
Most will agree that their least-favorite one is Gorilla Grodd because the action and the music are pretty tame. The gorilla just emerges from the bottom of the screen every time and shakes his head around to give you an extra Wild. Although, considering how fast the pace of the normal mode is, maybe some people will want to slow things down for a bit to catch their breaths.
Graphics
The animation that kicks in on the Flash Wilds is pretty intense because at certain times he runs directly at you and the visual is absolutely amazing. He also runs across your screen when you hit a big win involving Wilds, and yet again, the graphics are nothing short of stupendous.
All of the machine's symbols are extremely detailed and you can tell that the designers put a lot of work into making them look good. Even the most fussy players will have nothing but compliments for Velocity's graphics, both in the regular mode and in the bonus rounds.
Audio & Soundtrack
The soundtrack for Flash Velocity is pretty freakin' good. It's a slow, building jam with weird effects and beautiful singing over the top of it. The singing is either a real chorus in an opera house performing or perhaps it was created on a synthesizer – it's hard to tell for sure. Either way, this soundtrack sets the stage perfectly for the speed of the game and its many features.
During the free spins the music becomes quite dramatic and it totally sucks you into the action that's unfolding on the screen. When your round is over and the normal soft song comes back on you will probably feel a little bit relieved to be done with the intense bonus battle that you were just in. Feel free to take a moment and collect yourself.
Conclusion
If you have made it to this point of the review you can probably guess what our concluding thoughts on this release will be. Stated simply, it is hands-down the best title from the series of DC Slot Games created by NextGen. Whether it's the unique symbols, crazy features, or the action-packed bonus rounds, this machine fires on all cylinders. And let's not forget the lightning-fast graphics and outstanding soundtrack that's heard throughout.
More often than not we finish reviews of comic book themed online slots by saying something like, "this one might only be for diehard fans", however , Flash Velocity is a totally different animal. Whether or not you liked "the fastest man alive" in graphic novels or watched his cartoons or the movie, chances are you'll still love playing this release all the same. There really is that much going on.
Heck, even those of you who have never even heard of The Flash until today will probably really enjoy this title.
Just make sure you fasten your seat belts before blasting off to Central City.
Random Video of The Flash
Here's a "Flash-back" for all of you who are old enough to remember the ridiculous Flash cartoon from the 1960s. (Stop shaking your head – you should know by now that my puns are terrible.) However, if you liked the joke in the previous sentence you will definitely enjoy the cheesiness of this classic show. Fromage!