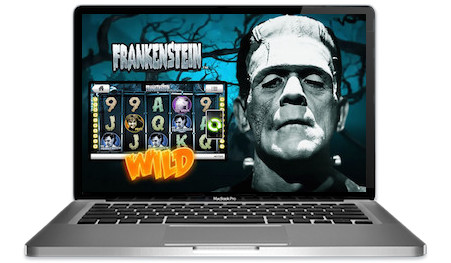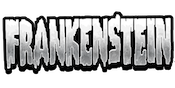 It's alive!! Two words that changed the life of Dr. Frankenstein forever. Now you can join him in the laboratory as he pieces together stolen body parts to create monsters and chases big cash prizes down at the old mill.
Classic Horror Film
Original Cast
Unique Design
---
---
Review of Frankenstein Slots
These days it's quite rare to find an online gambling game based on a vintage movie and in this case the source material in question was actually an adaptation of a novel first published in 1818! That's not to say that the 200 year old story hasn't aged well, in fact it's quite the opposite. Ultimately, it's just refreshing to see a new release that's related to classic literature instead of big budget action films or comic books.
We should all be able to agree that out of the group of classic horror characters, Frankenstein is the most lovable. Dracula is too needy, the Werewolf sheds too much, and the Mummy's bandages always get filthy no matter how many times a day you change them.
Frankenstein or The Modern Prometheus was a book that many people had to read in high school and it was certainly a movie that everyone over 40 has seen at least once. There have been a few different interpretations over the years so it was hard to know what to expect or which version we were going to get.
Most will be pleased that NetEnt chose to base the content on the original film from 1931, but sadly they didn't put enough effort into incorporating the suspense and drama of the movie into it. Also, the special features are basically nonexistent so there's not too much to get excited about. This review of Frankenstein Slots will clearly explain why it will be a huge disappoint for many fans and have them running for the hills in droves.
So grab your pitchforks and torches because we have a monstrosity to hunt down and kill…
Screenshots
This machine has a funky retro vibe mixed with a modern control panel and the resulting look is pretty unique. The software developers did a good job on the overall design thanks to the sharp images on a classic background and choosing to use bright colours over dark ones.
Storyline
Young scientists should always have someone keeping an eye on them and Dr. Henry Frankenstein is no exception. This is because he and his hunchbacked assistant, Fritz, like to go on midnight walks together in search of human body parts, usually just stealing fresh ones from nearby graveyards. They want to play God and patch together a new "person" that will be brought to life through surgery and bizarre scientific equipment.
Stuck in an old watch tower, Dr. Frankenstein toils away at his craft, hell-bent on creating life to satisfy his God complex. One night during a lightning storm his girlfriend crashes into the lab just in time to see "the monster" come to life and climb off of the operating table. Unfortunately, Fritz grabbed the brain of a criminal while they were grave robbing and this gave their subject a very irritable temper, which they quickly realize can flare up unexpectedly.
The Monster then goes through his short life being misunderstood by those he comes across, getting judged simply on his appearance. We watch as his lack of intelligence leads him to make the wrong decisions, sometimes resulting in fatal errors. We revel in his innocence as he experiences the simple joys in life like watching flowers float, but we're reminded of the beast within when he doesn't understand his own strength.
This release from NetEnt attempts to capture the complexities of Mankind and our internal struggles with human frailty in their online gambling version of Mary Shelly's classic tale. Unfortunately, we do not get to experience the plot in any great detail due to the lack of a proper bonus round and special features: the storyline here is very thin.
Unique Symbols
The mad scientists over at NetEnt should have stayed in the lab a little longer since they ended up using a "9" as a symbol in this game, and there of course is absolutely no need for this. They could have easily included Mae Clarke's character of Elizabeth Lavenza or John Boles as Victor Moritz. Most would have settled for Lionel Belmore as Herr Vogel, the Burgomaster!
If you've read any of the other reviews on Queen of Online Slots you'll already know that we are of the firm opinion that if a software company doesn't show any imagination with their unique symbols, chances are they didn't use too much imagination when they designed their bonus rounds and reel features. Where there isn't any smoke, there isn't any fire.
When it comes to this release, there simply aren't enough images and when you're spinning you always have the feeling that something is missing. The reels look bare and the few images they did include don't have enough animations when they're used in a payline win.
On the bright side, NetEnt used the actual actors from the 1931 film so they do deserve a few points for staying true to the original movie.
9
10
J (Jack)
Q (Queen)
K (King)
A (Ace)
The Brain
Fritz (Dwight Frye)
Dr. Henry Frankenstein (Colin Clive)
The Monster (Boris Karloff)
Lightning Wild
Fire Wild (Only in Free Games)
Burning Mill (Scatter)
Of course The Monster is going to stomp in with the highest-paying image with 1,500 coins for five in any one spin. This is followed by Dr. Frankenstein, Fritz, and The Brain which award 1,200, 700, and 500 coins respectively for 5 of a Kind.
Jackpots
Unfortunately for jackpot hunters, Dr. Frankenstein spent all of his time in the lab creating monsters and didn't have time to sew together huge cash prizes. Therefore, there isn't a life-changing pot of treasure to be found in this title.
Bonus Rounds
Ok sure, a lot of online slots don't have jackpots but very few movie-themed releases don't have a bonus round, which is going to shock many of you the first time you play this game. It's crazy that Frankenstein was put onto the market without a special feature and it was definitely a grave mistake, (pun intended).
At the very least they could have had a Pick Em' style area that had body parts for The Monster laid out over an operating table that the player got to pick from them until they hit a "Collect" symbol. How hard would that have been? (Answer: not hard at all.)
There is a very small nugget of fun with "Linked Wilds" which travel across the reels to turn 2 or more symbols Wild as it spreads. This linking occurs with both the Lightning Wilds and Fire Wilds – it looks cool but it's a tiny consolation prize.
Free Spins
Since there isn't a bonus round in Frankenstein Slots you'll want to be on the hunt for the free spins mode, which is really the only break you'll get from the regular action. The feature is fairly average and they again missed an easy opportunity to create some excitement.
Three or more Burning Mill Scatters will give you a flat 10 spins every time so don't get too happy if you see five of them blaze across your reels since it's always going to give you 10. However, you can re-trigger free spins while freerolling and they'll get added to your remaining total, with 2 Burning Mills giving you an extra 5, and 3 of them giving you an extra 10.
During your Frankenstein Freeroll you'll want to keep an eye on reel #5 because every time the multiplier appears there your multiplier amount will be jacked up by 1x, up to a maximum of 5x. Also, the Fire Wild will swap in for the Lightning Wild and can light random symbols beside it on fire to make them wild as well.
Graphics
As already complained about, the big issue with this title is that there simply aren't enough moving pieces and there really aren't any fun animations of note. That's not to say that the design itself isn't nice, because it is – it has a unique feel and the graphics that were included look good. It's just that there's not enough going on to keep things interesting.
The best visual effect we get is the creepy grave digging intro that plays as its loading, which does an excellent job of getting you to sit straight up in your seat and paying close attention. Gathering corpses for scientific experiments is serious business, after all.
Another graphical highlight is when you trigger the free spins mode and chase The Monster with pitchforks, which leads to a different background and changes the mood from "creepy" to "violent". The video is well done but it obviously doesn't make up for all of the other omissions.
Audio & Soundtrack
Thunder crashes as windmills fall and electricity sizzles and cracks when you hit the Lightning Wilds. Also, a scary orchestra blasts out short bursts of music depending on whats falling on the reels and you'd better believe that these audio clips are quite jarring and unnecessary. They're very loud and abrupt so they blast you out of your seat every time.
Sadly there isn't a soft, creepy soundtrack that plays in the background throughout the action. NetEnt could have easily added a dark symphonic number that lilted throughout the regular mode to better set the mood: another miss in a long list of easily-avoided errors.
The audio each time you press the "Spin" button is kind of funny because it sounds like pulling a lever in Dr. Frankenstein's lab but it does get annoying after a while. However, if you keep it on auto-spin the audio is not activated so you don't have to listen to it.
Conclusion
The story of Frankenstein will always be relevant while Mankind strives to play god and create artificial life where there wasn't any before. As long as people continue to choose to pass judgement on those who they know nothing about, The Modern Prometheus should be required reading in every school across the land.
The other major themes in Frankenstein are fear and anger so it's ironic that most of you are going to be quite upset with NetEnt for releasing a game that feels 75% complete. Fans of the original movies or novels will be excited at first with the intro video and graphics but then that excitement will quickly turn into boredom and eventually anger.
With no bonus rounds, no jackpot, no flashy effects, and no special features, Frankenstein Slots is going to disappoint more people than it pleases, and probably by a very wide margin. It's just not that much fun.
NetEnt should either bury this game in the graveyard or put it back on the operating table for some upgrades because this current version is simply incomplete.
Yes – they have created a monster…and it will destroy both you and your bankroll!
Crazy am I? Well go play it for yourself and see whether I'm crazy or not…
Random Video of Frankenstein
After finishing a depressing review about a lacklustre machine we need to raise our spirits a little bit. So here is Huey Lewis and the News at the height of both their popularity and their narcism. You really have to think highly of yourselves to release a music video with a massive 3 and a half minute intro skit.
So here's their take on the classic Frankenstein tale with "Doing It All For My Baby". Enjoy?