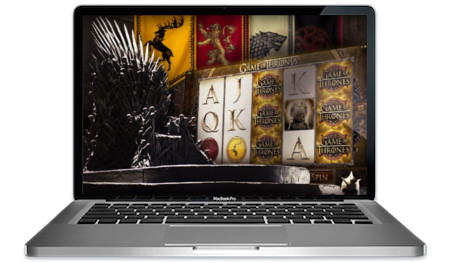 The power-hungry Houses of Stark, Lanister, Baratheon, and Targaryen battle for decisive victory in Game of Thrones Slots, so you'd better be ready for battle. Guard your bankroll from destruction in this obvious cash-grab.
No Storyline
No Bonus Rounds
No Original Characters
---
---
Review of Game of Thrones Slots
A lot of people used to get angry with me when I told them that I didn't watch Game of Thrones so I eventually gave in and watched a few episodes, and after episode four I was totally hooked. I binge-watched three seasons in a week and became a rabid fan just like the other millions of viewers around the world.
Therefore, I was both excited and worried when it was announced that they were making an online slot based on the HBO blockbuster – I just couldn't envision how they were going to pack all of that action into one game. Well, it turns out that they couldn't envision it either and opted to use family crests instead of images of the popular characters, which was a huge mistake and basically makes this game unplayable.
If I had to guess, I would say that there aren't any characters from the show because if the game's creators included them they would have had to pay the actors a ton of royalties to use their likenesses. Which if true, is a terrible thing to do and doesn't respect the fans whatsoever, so lets just pretend that this didn't happen. (But I think we all know that it probably did.)
Unfortunately, this review of Game of Thrones Slots is not going to be what I was hoping for, and if you're a true fan of the show you might want to not read any further and totally skip this game. Trust me, I wish that's what I'd done. It's pretty clear that this was nothing more than a cash grab by the show's creators and Microgaming, and it should go down in history as one of the most disappointing television-themed slot games ever. Think I'm being too harsh? Please read on…
Screenshots
There's not too much action in Game of Thrones Slots so I struggled with the screenshots that I should include in this review. As always, you need to know what to expect from an online slot machine before playing for real money, and images directly from the game certainly help with that.
Since this game is going to immediately attract fans from around the world, I don't want anyone looking for specific characters from the show and be disappointed like I was. So here are a few of the more exciting parts of the game.
Storyline
This slot is loosely based on the hit HBO fantasy series Game of Thrones, which is set in Westeros and its Seven Kingdoms, with numerous Houses and characters battling to sit atop the Iron Throne. The game's developers would lead you to believe that players get to ride through the Kingdoms to join with Houses and form alliances in preparation for battle, however all you're really doing is clicking on a House flag to choose your number of free spins and the cash multiplier. Sounds like an interesting plot, right?
I'm not going to go into the actual storylines of the Game of Thrones show in case there's someone reading this review who's never watched it. And if you are someone who's never seen an episode, I beg you to turn off your computer and immediately go watch every single season – the show is simply fantastic.
Anyway, those of us who've watched the show know exactly how great this slot could have been, and the numerous plot lines that they could have introduced into the game. However, with no bonus round and no actual characters from the show this is pretty much impossible and as a result, there is zero story whatsoever.
Unique Symbols
So if Microgaming didn't use characters from the show as symbols, what did they use? Well, not too darn much – just a couple of crests and playing card symbols like Jack and Queen. Exciting! I cannot overstate how disappointing it is that there isn't a symbol of Peter Dinklage dancing around as a drunken Tyrion Lannister, or Kit Harington as Jon Snow battling White Walkers, or any other character from the show doing anything at all.
To be clear, this game shouldn't have even made it past the first meeting to discuss it. As soon as everyone realized that there would be no Nikolaj Coster-Waldau as Jaime Lannister, no Lena Headey as Cersei Lannister, no Aidan Gillen as Petyr Baelish, and no Emilia Clark as Daenerys Targaryen, someone should have pointed out how ridiculous a Game of Thrones slot game would be if it didn't have any of these people in it. Then everyone could have agreed, thanked the person who pointed this out for saving them tons of embarrassment, and everyone could have knocked off and went to the pub for the rest of the day. Instead, we didn't even get a Gilly symbol.
Here's what the "Greatest Television Show Ever Made" has for symbols in its namesake slot game…
J (Jack)
Q (Queen)
K (King)
A (Ace)
House Baratheon Coat of Arms (Stag)
House Stark Coat of Arms (Direwolf)
House Lannister Coat of Arms (Lion)
House Targaryen Coat of Arms (Dragon)
Game of Thrones Logo (Wild)
The Iron Throne (Scatter)
The highest-paying symbol is the Game of Thrones Logo Wild, followed by the Coat of Arms of Baratheon, Lannister, Stark, and Targaryen, in that order. I think that most fans will agree that having the Baratheon Coat of Arms as the top-paying House symbol is yet another blunder in an already long list of mistakes that this game makes.
Jackpots
Unfortunately, Game of Thrones Slots does not have a jackpot of any kind, which obviously eliminates your chances of hitting a massive cash win in a single spin. I could easily use this omission to bash the game some more but it is very rare to find a 243 payline slot with a jackpot, so I'll cut it some slack.
This game does have a small bonus prize that will be triggered if two or more scatter symbols appear anywhere on the reels during the same spin. Each time it happens a flaming dragon's egg will appear on the game board and give you a random amount of free coins.
Bonus Rounds
There is only one feature in Game of Thrones Slots that could be considered a "bonus" and that's the Gamble Feature, which is basically the same as all of the other ones that you've ever played. After a win of any kind you can choose to gamble it and head into the map room of the Kingdom to "choose your side". Instead of choosing a side on which to wage war with, you are choosing which side of the Braavosi coin you would like to gamble on – heads or tails.
The coin is then flipped and the result revealed. If you win you can choose to double up again, but if you lose, you lose the amount that you just won plus the amount that was brought into the double up area with you. There are four stops on the Double-Up Trail through Westeros and Essos: 3 Eyed Raven, White Walker, Dire Wolf, and Dragon. As long as you keep winning the coin flip you will keep moving along the trail.
The Gamble Feature ends when you have visited all four stages, the win amount limit is reached, or if you choose the wrong side of the Braavosi coin at any time. The maximum amount of coins that can be won in this round is 7,500, which doesn't make sense to me. This is about gambling for real money – shouldn't we be able to bet as much as we want to and try to win a huge cash prize?
Be warned: the joy of winning a double up wager isn't as strong as the feeling of pain that you'll feel after losing one, so always bet with caution. This feature can really eat up your balance if you let it.
Free Spins
The one decent part of Game of Thrones is the Free Spins Mode, which is triggered when you hit 3 or more Iron Throne Scatter symbols. You then have to choose which House you will serve, with each option coming with a different number of free games and a specific win multiplier:
House Baratheon: 8 Free Spins with a 5x Multiplier
House Lannister: 10 Free Spins with a 4x Multiplier
House Stark: 14 Free Spins with a 3x Multiplier
House Targaryen: 18 Free Spins with a 2x Multiplier
It's great that you're able to choose the number of spins and your multiplier so you can customize the round to how you like things. Personally, for the 40 minutes that I played I always chose to serve House Baratheon since it had the largest win multiplier, but everyone is going to have their own strategy, (if anyone even plays it after reading this review).
Regardless of which House you choose to serve there are stacked Wilds available that will jack up your win amounts, just like in the regular game. There's a pretty high maximum win of 50,000 coins during the Free Spin Mode, so to be fair there is a decent opportunity to cash in.
Graphics
Since there's no action in Game of Thrones Slots, there aren't really any graphical elements for me to review. As I've already mentioned a few times, the symbols are detailed but boring and there are no special visuals besides the Gamble Feature to discuss. Here you will find short videos that play every time you gamble correctly on the Braavosi coin. The clips are only generic shots of things like a three-eyed crow and The Capital, but it's still cool to see these things integrated into an online slot machine.
The videos are well done, which should come as no surprise – the entire franchise is built on amazing special effects. So why do you think that the game's creators chose to have mythical creatures from the countryside rather than real characters in these clips? If your answer wasn't immediately "money", you're more delusional than Stannis Baratheon waging an under-supplied war in the middle of winter. (Baratheon Slam!)
Even if you've only ever watched one episode of this series you know exactly what the potential was here to do something special with the graphics and visual effects, so it's extremely frustrating and enraging for huge fans of the show, like me.
Audio & Soundtrack
Thankfully, Game of Thrones Slots has the original soundtrack and it plays ominously in the background throughout the game. It's the same heart-pumping piece from the opening credits of the show, and other than the Iron Throne, Braavosi coin, and House Coat of Arms, it is the only thing that is familiar.
There is a slight build up of intensity and volume during the Free Spins Mode and it certainly elevates the suspense of waiting to see how much free money you're going to win. They use the same audio tactic when you hit 2 Iron Throne symbols and you are waiting for the 5th reel to stop to see if the 3rd symbol drops to trigger the free games.
There are no other audios or sounds in this game worth mentioning.
Conclusion
I'm sorry to have to report that fans of the show are going to be extremely disappointed with Game of Thrones Slots and that it should be burned at the stake like a sacrificial child and never thought of again. Whether it's the zero characters from the show, the absence of any semblance of a storyline, or the shocking lack of bonus features, this game simply doesn't deliver on any level. And given the subject matter that Microgaming had at their disposal, this is absolutely inexcusable.
I don't even think that diehard fans will get a small kick out of this game and I imagine that most players are going to have their expectations crushed after only a few spins. A Lannister may always pay their debts, but you'll never get back the time you waste playing this game. It really is a disappointment.
What do you think, Melisandre? The night is dark and full of terrors.
Yup. Winter has arrived.
Bonus Video of Game of Thrones
If you are behind and want to get up to speed on Game of Thrones, I highly recommend that you watch this hilarious recap video narrated by the one and only Samuel L. Jackson. Given the nature of the show and the person narrating there is of course some colorful language, so parental discretion is advised…enjoy!